This post may contain affiliate links. Please read my disclosure policy.
Strawberry Rhubarb Pie is what summer tastes like!
A great Strawberry Rhubarb Pie is juicy, sweet, tangy and tart all wrapped up in a flaky, buttery crust.
This memorable Strawberry Rhubarb Pie is one your family will request year after year. If you've never tasted rhubarb before, start with this pie!
Rhubarb and strawberries have always been great partners when it comes to creating the perfect balance of flavor. This dynamic duo is spring's best combo. The sharpness of the rhubarb brings out the sweetness in the strawberries. That zing of tart flavor is always a pleasant surprise, from the first bite to the last.
What is rhubarb?
You might be surprised to know that rhubarb is actually a vegetable, not a fruit. It has a fairly short growing season, usually from April to June. Rhubarb is easily recognized by its bright red stalks, which look a little like red celery. When eaten raw, rhubarb is excessively tart and sour so don't go there unless you're really brave.
Stalks of rhubarb can vary in color from bright red or pink, to pale green. These color variations are not indicators of flavor or ripeness.
Is rhubarb poisonous?
Stalks of rhubarb are completely edible and not at all toxic. The leaves however, are
poisonous
. Be sure to clean the stalks well, remove any leaves and tough ends. You're good to go!
What does rhubarb taste like?
It's hard to explain the flavor, other than it has a sharp, tart zing. Some say rhubarb is similar to an excessively tart Granny Smith apple. Rhubarb is juicy and gets sweeter when cooked, making it the perfect ingredient in baked desserts with sugar.
How do you prepare rhubarb?
Trim any leaves, stems and tough ends from the rhubarb. Remember, never eat the leaves of the rhubarb plant as they can be toxic. Also, if there are rough spots or blemishes on the stalks, remove them with a vegetable peeler or small paring knife.
Wash the stalks throughly and drain. Cut the rhubarb into 1/2-inch thick slices for this pie recipe.
Can you freeze rhubarb?
Rhubarb is easily frozen and keeps well for up to a year. Clean the rhubarb as mentioned above, then slice into 1-inch pieces. Place the rhubarb in a single layer on a parchment or wax paper lined baking sheet.
Flash freeze for several hours, then transfer to a freezer zipper bag and seal. Rhubarb can be used when thawed and drained.
How to make Strawberry Rhubarb Pie
All great pies start with an equally amazing
pie crust recipe
. You'll need a double pie crust for this strawberry rhubarb pie recipe, one for the bottom and one for the top. Our
Perfect Pie Crust
, in 3-easy steps, makes the exact amount of pastry needed for this pie recipe.
For the double pie crust you'll need:
all-purpose flour
granulated sugar
salt
solid vegetable shortening, like Crisco (not vegetable oil)
cold unsalted butter
ice water
For the filling you'll need:
rhubarb
strawberries
granulated sugar
tapioca
orange zest
salt
1. Prepare the double crust pie pastry and refrigerate at least an hour.
I usually make my pie crust the day before needed. Divide the dough in half and form into disks. Cover each disk in plastic wrap and refrigerate until needed.
Our pie crust recipe can also be frozen for up to 3 months. Thaw overnight in the refrigerator before using.
2. Prepare the filling.
Clean and slice the rhubarb and place in a large microwave safe bowl. Toss the rhubarb with the granulated sugar then microwave for 1 minute. Stir and microwave for another minute or until the sugar starts to dissolve.
Add the strawberries and stir to combine. Let this mixture sit at room temperature for 30-minutes.
Add the remaining filling ingredients and fold together gently.
3. Roll out the dough
Roll out the pie crust and ease into a deep-dish 9-inch pie plate. Add the filling, then top with the second pie pastry. If you want to create a lattice crust, watch our how-to video for detailed instructions for creating a crust like ours pictured here. Otherwise, cut a few slits in the top crust to vent steam.
4. Brush and Bake!
Brush the unbaked pie crust with a beaten egg mixed with a little milk. Generously sprinkle coarse sugar over the crust and bake. Done!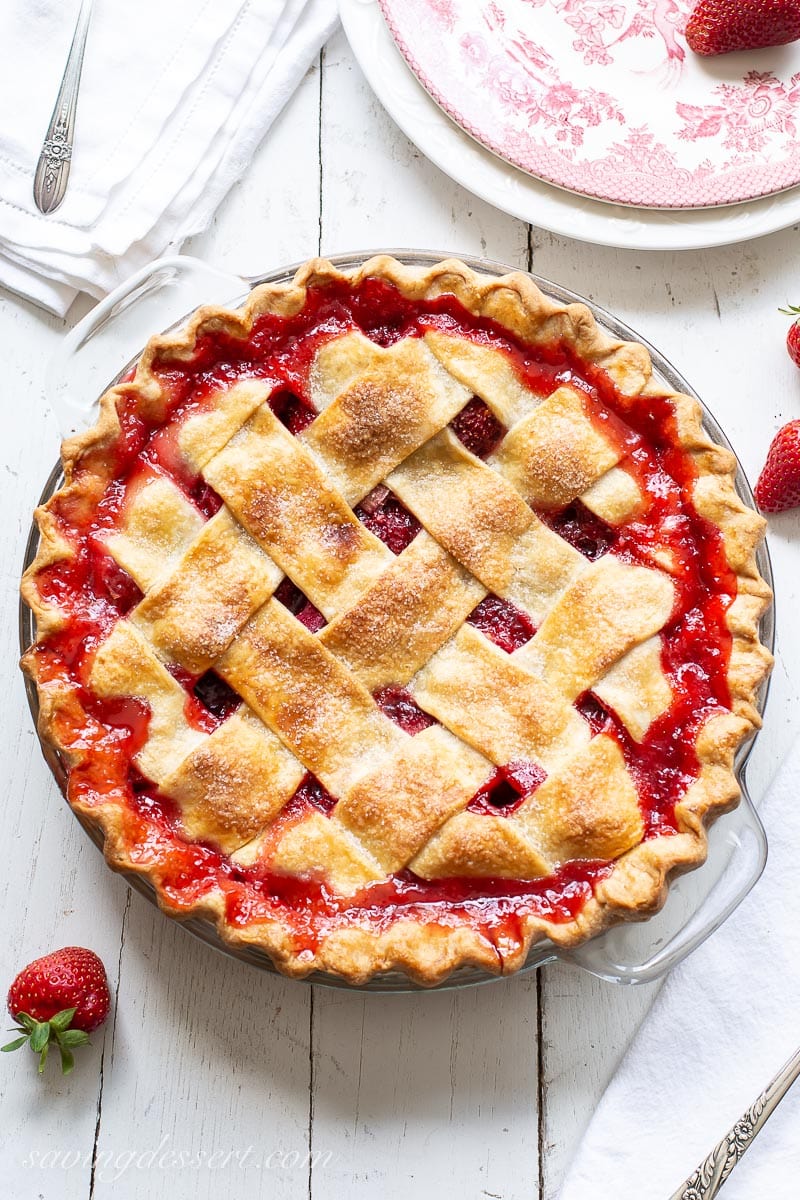 How to make Strawberry Rhubarb Pie with tapioca.
As a thickener in fruit pies,
Minute Tapioca
is hard to beat. It's very effective at creating a glistening, vibrant sauce from fruit juices. In addition, the filling won't be cloudy or dull, which sometimes happens when using flour as a thickening agent.
Allow the tapioca to soak in the fruit juices for at least 15 minutes before baking. As a result, the tapioca will start to absorb the fruit juice and get to work even before it's baked in the oven!
What is tapioca?
TIPS for making the best Strawberry Rhubarb Pie:
Make the pie crust dough the day before it's needed allowing plenty of time to chill.
If the pie crust dough starts to split when you're rolling it out, it's just a bit too cold. Allow it to rest for a few more minutes at room temperature and try again.
While assembling this pie, place the crust back in the refrigerator between steps. This helps keep the pie crust dough well chilled. Cold pastry makes for flaky crusts!
Bake all your double crust fruit pies on a preheated heavy-duty foil-covered baking sheet or pizza stone. There are two reasons this is helpful. First, if the pie juice bubbles over, you won't have a giant mess in your oven floor.
Second, placing the pie on the hot pan helps prevent a soggy bottomed pie. The pie starts baking immediately, from the bottom up. You won't believe what a difference this makes in this crispness of the pastry.
Once mixed, leave the filling to rest for at least 30 minutes before filling the pie. This helps all those wonderful juices emerge from the fruit.
Serve slightly warm or at room temperature. However, for a completely set filling, refrigerate before cutting.
How long will Strawberry Rhubarb Pie keep?
This pie is best made at least 4 hours before serving. That amount of time allows the juices to set without refrigeration, but still be thick enough to hold in the filling. Warm pie will be a little more juicy, but oh so good to eat!
If keeping longer than one day, leftovers should be sealed in a container or wrapped in plastic and refrigerated. However, this pie will keep well for up to 5 days, if refrigerated.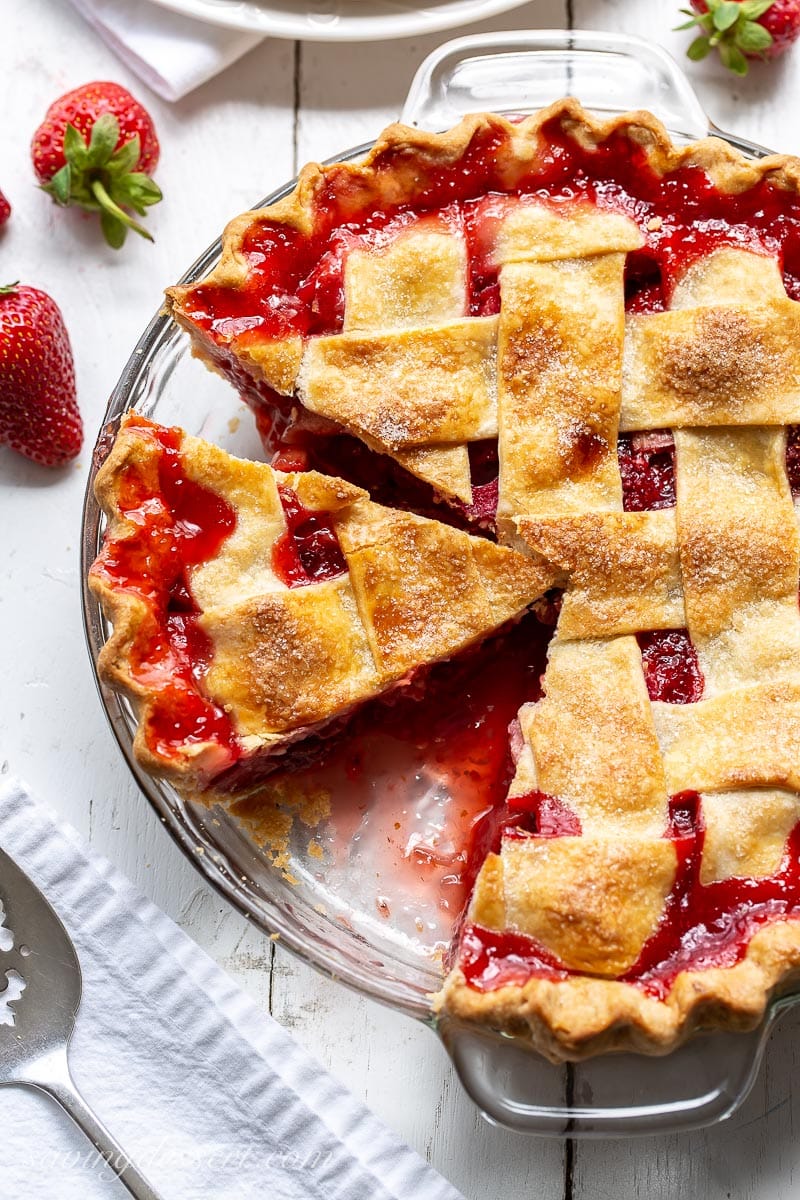 Can you use frozen rhubarb and strawberries for this pie?
If using frozen rhubarb for this pie, measure while still frozen, then thaw completely in a strainer. Don't press out the liquid, just allow it to drain well. The strawberries can be used while still mostly frozen.
Finally, top with a scoop of vanilla ice cream or a dollop of whipped cream and enjoy!
Thanks for PINNING!
Let's be baking friends! If you make our recipe please feel free to leave a comment on this post. I'm sure your experience and insights will help all our readers, and it helps me too. Also, if you're on Pinterest feel free to leave a comment and photo there if you have one! If you share on INSTAGRAM tag @savingroomfordessert so we can stop by and give your post some love. FOLLOW Saving Room for Dessert on FACEBOOK| INSTAGRAM| PINTEREST | TWITTER  and subscribe to our YOUTUBE channel for all the latest recipes, videos and updates.
PRINT THE RECIPE!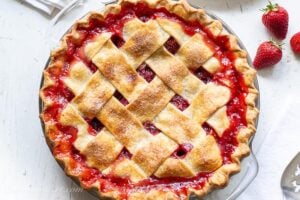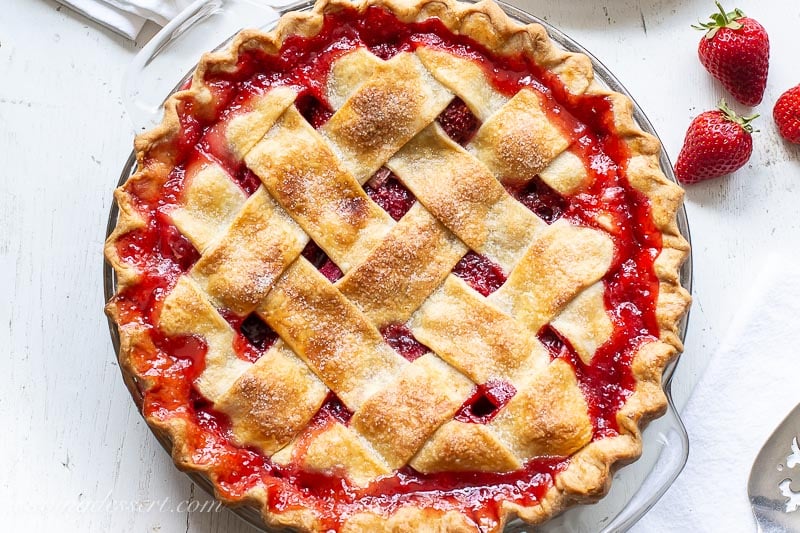 Strawberry Rhubarb Pie
Cook Time:
1

hour
10

minutes
Total Time:
1

hour
55

minutes
Juicy, sweet, tangy and tart all wrapped up in a flaky, buttery crust.
Ingredients
4

cups

rhubarb stalks,

cut into 1/2-inch pieces (about 1 lb)

1 ¼

cups

granulated sugar

(270g)

3

cups

strawberries,

cleaned, quartered or halved (about 1 lb)

¼

cup

instant tapioca

(38g)

¼

teaspoon

salt

zest of 1 orange

1

egg mixed with 1 teaspoon milk for brushing on top before baking

1

tablespoon

coarse sugar for sprinkling on top
Instructions
Line a heavy-duty rimmed baking sheet or pizza stone with foil. Place in the oven on the middle rack. Preheat oven to 400°F.

In a large mixing bowl combine the rhubarb and granulated sugar. Microwave the rhubarb on high for 1 minute. Remove and stir then microwave on high, one minute more. Add the strawberries and fold gently to combine. Set aside for 30 minutes, stirring halfway through.

While the rhubarb and strawberries macerate, roll out half of the prepared pie dough. Roll the pastry into a circle large enough to fit in a deep dish pie plate with a 1-inch overhang. Gently ease the pastry into the pie plate taking care not to stretch the dough while pressing into the corners. Place the pie plate and pastry in the refrigerator to chill until needed.

Add the tapioca, salt and orange zest to the rhubarb and strawberry mixture. Fold gently to combine. Pour the fruit and any juices into the prepare pie crust. Return the pie plate to the refrigerator to keep cool while rolling out the top crust.

Roll the top crust into a circle about 2-inches larger than the top of the pie plate. Cut into strips for a lattice crust and create a weave design over the fruit. Trim the excess dough and fold the over-hang up over the lattice pieces. Pinch together to seal and crimp into a decorative edge, as desired.

Brush the pie crust lightly with 1 egg beaten with 1 teaspoon of milk. Sprinkle with coarse sugar and place on the prepared baking sheet in the oven.

Bake at 400°F for 25 minutes. Reduce the temperature to 350°F and continue baking for an additional 40 to 45 minutes or until the crust is golden brown and the juices are bubbling.

Remove from the oven and allow the pie to cool on a rack at room temperature. Serve slightly warm, room temperature or chilled. Top with a scoop of ice cream, if desired.
Recipe Notes
Refrigerate leftovers. If well sealed and refrigerated, leftover pie will keep for 4 to 5 days.
Nutrition information is calculated using an ingredient database and should be considered an estimate. When multiple ingredient alternatives are given, the first listed is calculated for nutrition. Garnishes and optional ingredients are not included.
Nutrition
Calories:
279
kcal
|
Carbohydrates:
54
g
|
Protein:
3
g
|
Fat:
6
g
|
Saturated Fat:
2
g
|
Polyunsaturated Fat:
1
g
|
Monounsaturated Fat:
3
g
|
Trans Fat:
1
g
|
Cholesterol:
20
mg
|
Sodium:
171
mg
|
Potassium:
287
mg
|
Fiber:
3
g
|
Sugar:
36
g
|
Vitamin A:
99
IU
|
Vitamin C:
37
mg
|
Calcium:
69
mg
|
Iron:
1
mg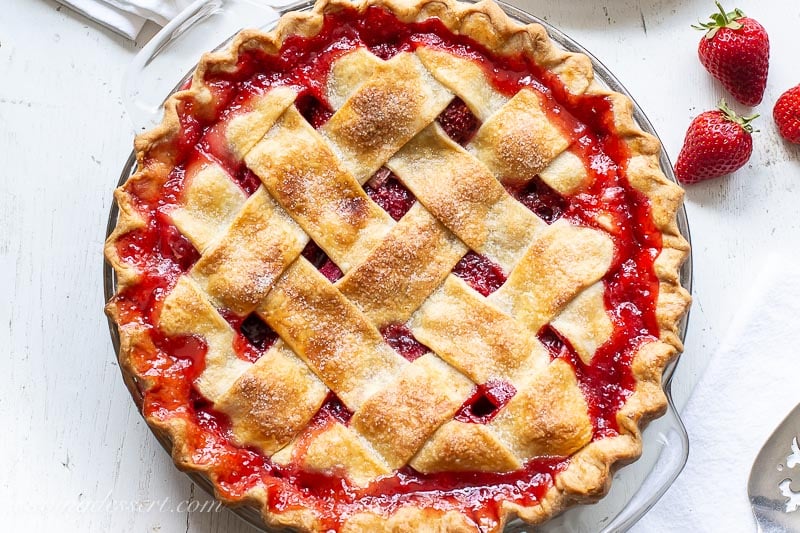 Originally published May 2011, text and photos updated June, 2020.