This post may contain affiliate links. Please read my disclosure policy.
Pioneer Woman's Cinnamon Rolls with maple frosting

Tender, flaky, buttery and sweet, and loaded with cinnamon.
Pioneer Woman's Cinnamon Rolls are some of the best sweet rolls I've ever had. I first made these cinnamon rolls in January, 2011. Ree's original recipe was developed with the idea that you'll share entire pans of these cinnamon rolls with friends, family, neighbors, coworkers, etc.
As developed, the original recipe makes 7 or 8 disposable foil pans filled with sweet cinnamon rolls, depending on how thick you cut each roll. Needless to say, there are plenty to share, and enjoy!
Pioneer Woman's Cinnamon Rolls are one of the easiest yeast roll recipes I've ever made.
Have you ever tried making cinnamon rolls only to have them not rise properly, over-proof due to vague instructions or turn out to be a total disaster, waste of time and money? If you said yes to any part of that question, I encourage you to try this recipe.
The recipe seems completely foolproof and very forgiving, and each and every roll comes out of the oven filled with deliciousness.
I've made a few changes to the original recipe.
For this updated post I've tweaked Ree's original recipe by cutting it in half, fine tuned the ingredient measurements, and provided more detailed instructions. This recipe is a keeper; you'll want to share the recipe, as well as the rolls, with all your baking buddies.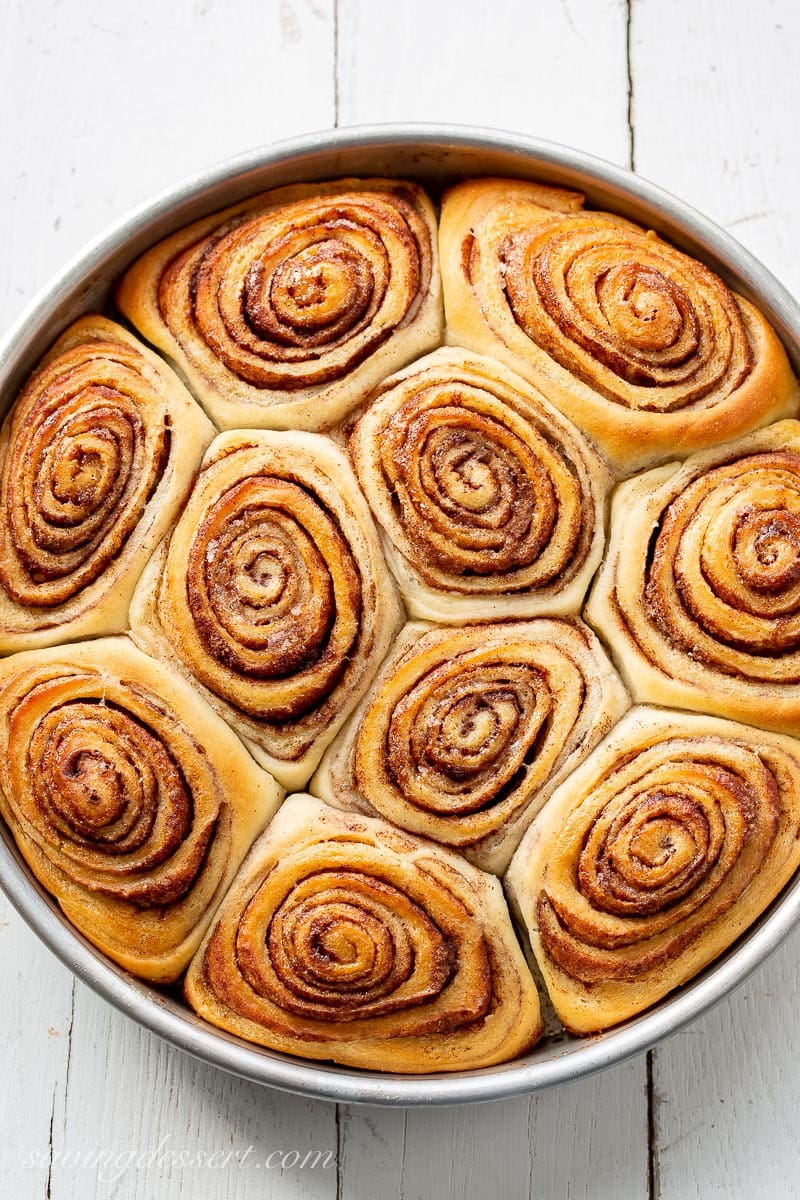 What makes Pioneer Woman's Cinnamon Rolls so good?
Ree's cinnamon rolls are some of the best things I've ever eaten.

 

They're easy, gooey, a little bit messy and oh so wonderful. The dough is rolled out very thin, allowing for great amounts of filling made with melted butter, sugar and cinnamon. The ratio of filling to roll is utter perfection and the spirals are so pretty! 
Our resized cinnamon roll recipe makes three 9-inch pans with 10 rolls each.
A note of warning about these cinnamon rolls. Be absolutely sure you have several special someones to share these with. If you keep all these rolls for yourself, I guarantee you'll want to devour them all.  They are addictive.
You can bake your rolls in four disposal 7-inch foil pans, which are perfect for gifting.  Or, make these rolls in four 8-inch cake pans or three 9-inch cake pans as I've done here.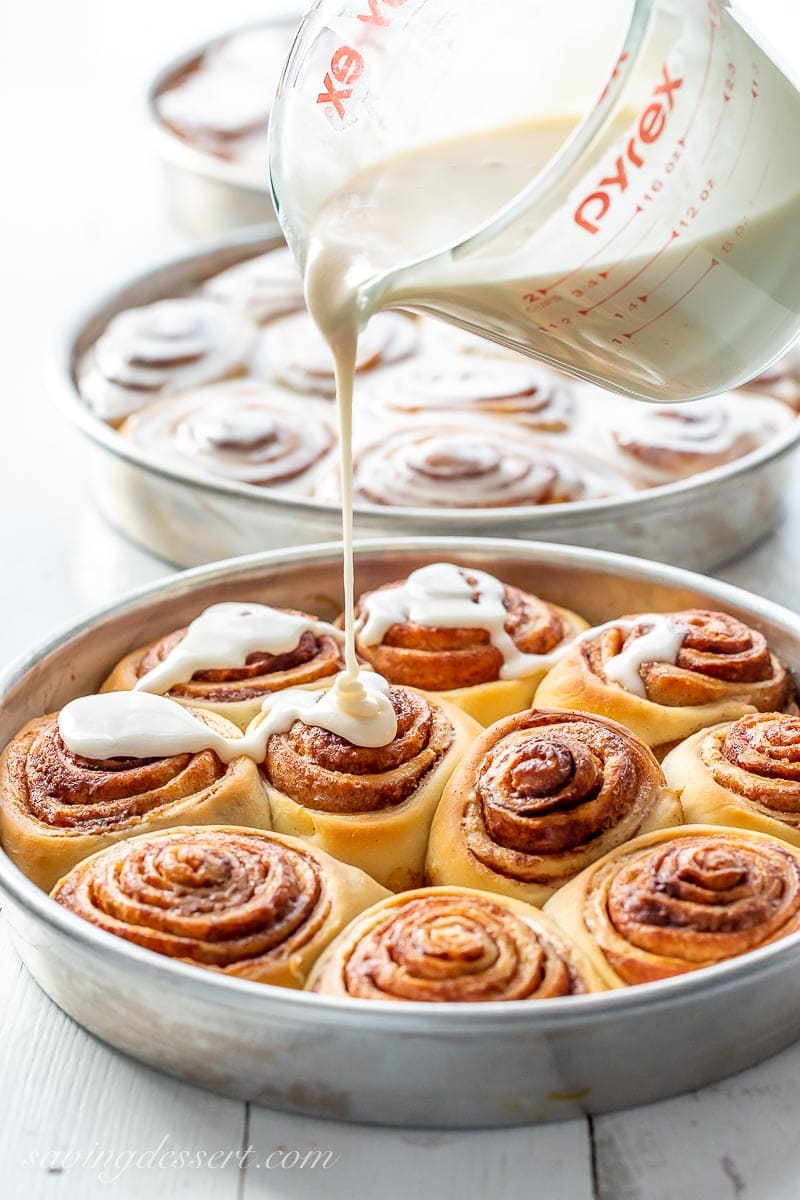 Another reason Pioneer Woman's Cinnamon Rolls are so good is the unique maple frosting recipe.
In addition to the fantastic cinnamon filling, another stand-out feature of this recipe is the maple frosting. Made with powdered sugar, maple extract, milk, butter and a little brewed coffee, this frosting is generously drizzled over warm rolls.
Just one tablespoon of strong brewed coffee gives the frosting a unique flavor that blends perfectly with the cinnamon. I never would've thought to combine coffee and maple extract, but it really works.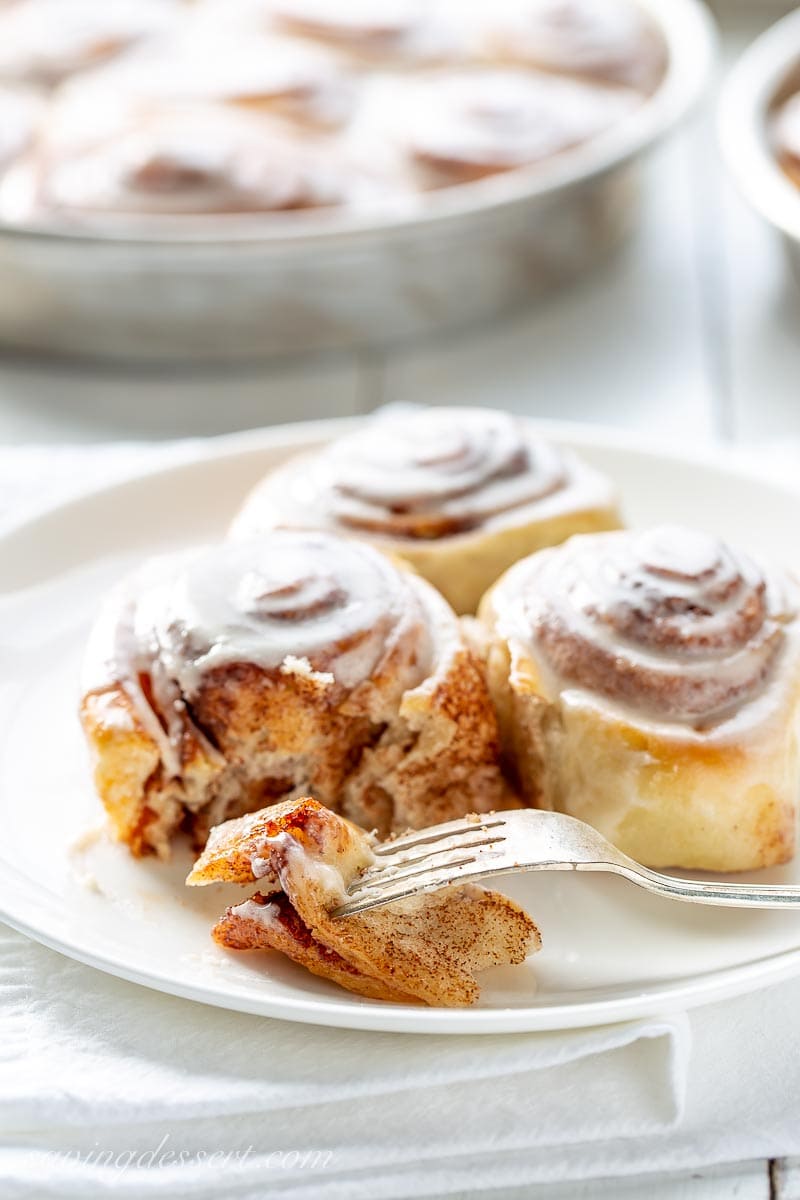 The addition of baking powder and baking soda is unique in a yeasted dough.
To achieve a soft sweet-bread texture and yeasty flavor you'll find in a true cinnamon roll, this recipes uses yeast, baking powder and baking soda. It's very unusual for a recipe to call for three leavening agents, but it really works for these rolls!  This bold combination of leaveners means the rolls only need 30 minutes of rise time after shaping into spirals.
Also, a lower oven temperature ensures they have enough time to rise high before the tops set. The end result is soft, puffy, flaky rolls that are not at all chewy. They practically melt in your mouth!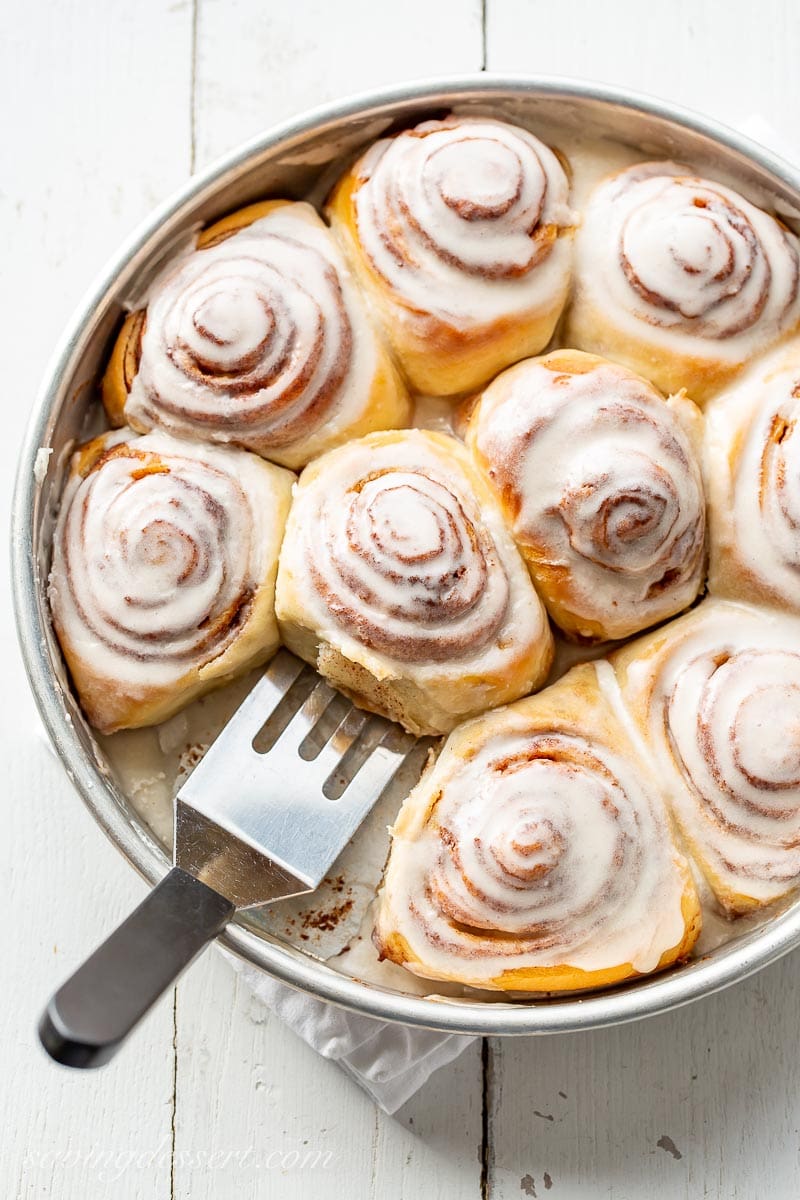 Can you freeze Pioneer Woman's Cinnamon Rolls?
I have not tried freezing these rolls before baking. However, I have frozen multiple pans of these rolls after they were baked but before they were frosted, with great results.
Can these cinnamon rolls be made ahead?
This cinnamon roll dough can be made up to 3 days ahead. Keep the dough well covered in the refrigerator and check it at least once a day. Punch the dough down if needed to keep the size under control. With a very short rise time of 30-minutes for the finished rolls, this a great recipe to make ahead and bake when needed.
Can you double this recipe for cinnamon rolls?
Yes, this recipe can easily be doubled so you have plenty of rolls to share. If you double the recipe, place the dough in a large pot or Dutch oven to rise in the refrigerator overnight. The sweet dough grows a good bit, and needs room to expand.
Thanks for PINNING!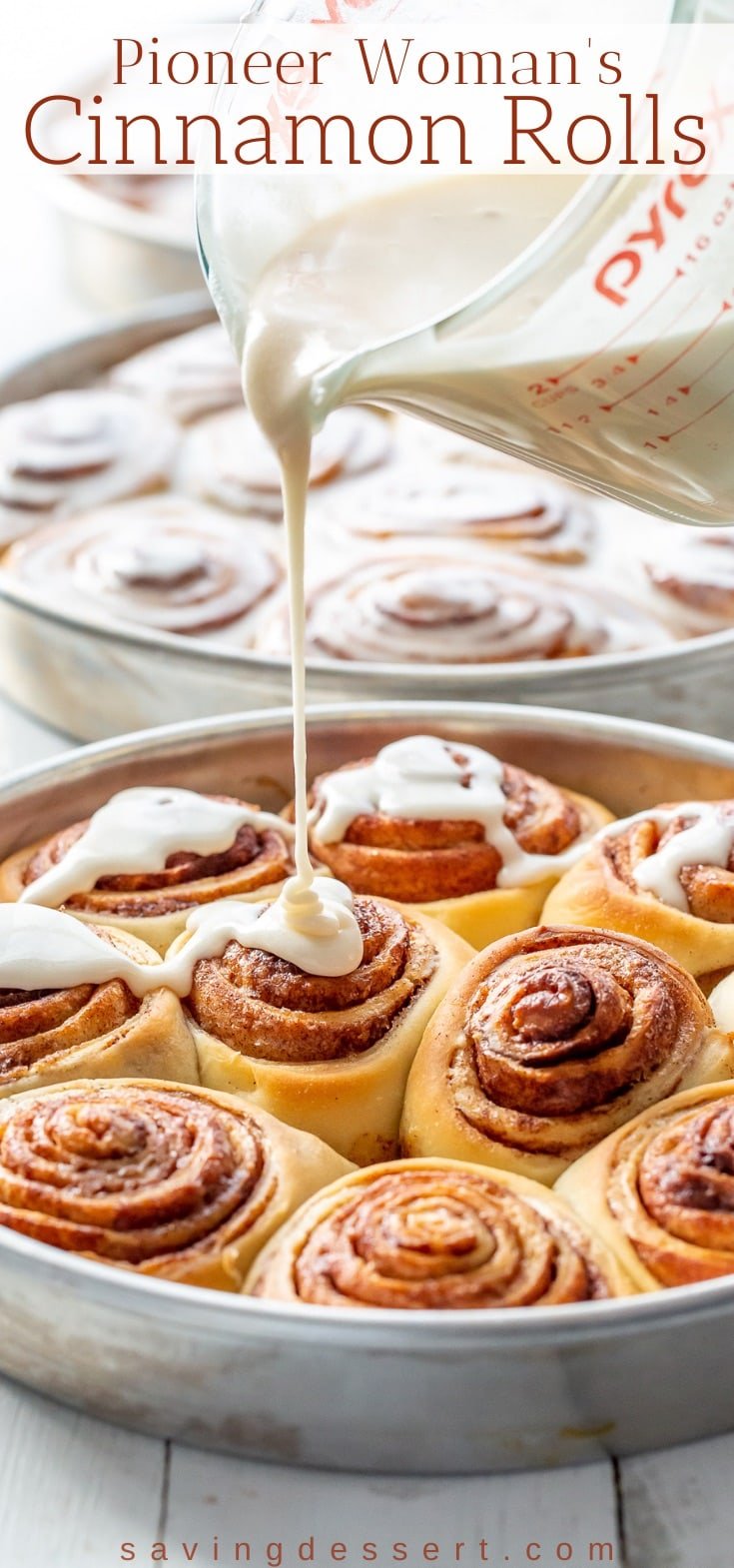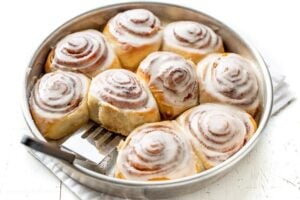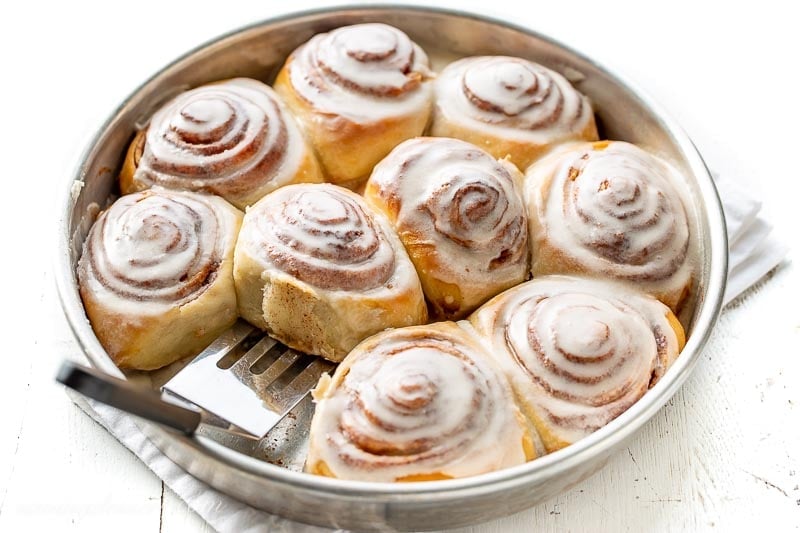 Pioneer Woman's Cinnamon Rolls
Total Time:
1

day
2

hours
15

minutes
Course:
Bread, Breakfast or Brunch
Tender, flaky, buttery, sweet and loaded with cinnamon.
Equipment
instant read thermometer

rolling pin

3 (9-inch) cake pans
Ingredients
For the cinnamon rolls:
2

cups

whole milk

(16oz)

½

cup

vegetable oil

(4oz)

½

cup

granulated sugar

(110g)

1

(.25 ounce) package Active Dry Yeast

(2 1/4 teaspoons)

4 ½

cups

all-purpose flour

separated (586g)

½

teaspoon

baking powder

heaping

½

teaspoon

baking soda

1

teaspoon

salt
For the filling:
3

tablespoons

unsalted butter

melted for greasing pans

12

tablespoons

unsalted butter

melted (6oz)

⅔

cup

granulated sugar

(135g)

3

tablespoons

ground cinnamon
For the maple frosting:
4

ounces

powdered sugar

sifted (1 cup or 115g)

½

teaspoon

maple flavoring

2

tablespoons

milk

1

tablespoon

unsalted butter

melted

1

tablespoon

strong brewed coffee

pinch

of salt
Instructions
To make the dough:
Mix the milk, vegetable oil and sugar in a small sauce pan. Warm over medium heat just until the sugar is dissolved and the mixture reaches 95-100°F (lukewarm) on an instant read thermometer. Remove from the heat and pour into a large mixing bowl. Cool, if needed, until the milk reaches 95° to 100°F on an instant read thermometer.

Sprinkle the yeast over the lukewarm milk mixture and set aside for 5-10 minutes. Add 4 cups of the flour and stir until combined (you can do this by hand with a wooden spoon or use the dough hook of a stand mixer). Cover and let rise for one hour in a warm location. The mixture should be bubbly and puffed.

In a small bowl or 1 cup measure, combine the remaining ½ cup of flour, baking powder, baking soda and salt. Stir together until blended. Add the flour mixture to the dough and mix until all flour is incorporated. Loosely cover the bowl with plastic wrap and refrigerate overnight, or for a day or two, if desired. If rising for more than a day, watch the dough and punch down if needed to prevent overflowing.
To make the cinnamon rolls:
Grease 3 (9-inch) cake pans with melted butter, set aside.

Heavily flour a large, clean work surface. Lightly punch down the dough and scrape out onto the countertop. Using floured hands, and a floured rolling pin, press and roll the dough into a rectangle at least 30-inches wide and about 18 to 20-inches deep. The dough will be very thin.

Brush 12 tablespoons of melted butter over the surface of the dough, leaving a 1-inch border along the 30-inch side farthest away from you.

Sprinkle ⅔ cup of sugar over the butter layer, followed by the ground cinnamon.

Roll the dough into a log starting at the 30-inch side closest to you. Gently pull the dough toward you, then tuck and roll, and repeat, keeping it pretty tight as you go. Next, pinch the seams to seal.

Using a ruler as a guide, cut the rolls into (30) 1-inch slices. You can use a large, thin, sharp knife to cut the rolls, or a long piece of dental floss works very well, too. Place the rolls, cut side down, into the prepared pans.

Let the rolls rise in a warm location for 30 to 40 minutes. Once risen, the unbaked rolls should be puffed and smooth. To ensure the rolls have risen properly, gently press the edge of a roll with a knuckle. If the dough does not quickly and completely fill back into the depression, the rolls are ready. Bake at 375°F until light golden brown, about 15 to 20 minutes.

Transfer the pans to a rack to cool while preparing the frosting.
To make the frosting:
Using an electric mixer or whisk, combine the frosting ingredients and blend until smooth. The frosting should be thick, but pourable. Generously drizzle over the warm rolls. Feel free to go little crazy and don't skimp on the frosting. Serve immediately.
Recipe Notes
Recipe adapted from Pioneer Woman.
Leftovers can be stored in an airtight container in the refrigerator. For best results bring the chilled rolls to room temperature for 30 minutes before serving.

Unfrosted rolls may be kept at room temperature.
Nutrition information is calculated using an ingredient database and should be considered an estimate. When multiple ingredient alternatives are given, the first listed is calculated for nutrition. Garnishes and optional ingredients are not included.
Nutrition
Calories:
179
kcal
|
Carbohydrates:
27
g
|
Protein:
3
g
|
Fat:
7
g
|
Saturated Fat:
4
g
|
Polyunsaturated Fat:
1
g
|
Monounsaturated Fat:
2
g
|
Trans Fat:
1
g
|
Cholesterol:
18
mg
|
Sodium:
112
mg
|
Potassium:
49
mg
|
Fiber:
1
g
|
Sugar:
12
g
|
Vitamin A:
217
IU
|
Vitamin C:
1
mg
|
Calcium:
36
mg
|
Iron:
1
mg
Pioneer Woman's Cinnamon Rolls were originally published on Saving Room for Dessert in January 2011, and updated December 2019
Here are a few more swirly bread recipes you might also enjoy: