This post may contain affiliate links. Please read my disclosure policy.
Soft and sweet and loaded with jam and diced strawberries, you're going to love these Strawberry Sweet Rolls!
Fresh from the oven all warm and soft, these flavorful jammy sweet rolls are impossible to resist! Slathered with a little cream cheese icing and I'm over the moon in love. These sweet rolls have the perfect balance of sticky strawberry jam with chunks of fresh berries wrapped up in a flaky, soft, sweet bread. Oh the aroma of these coming out of the oven. It's utterly intoxicating!
Never over-proof your dough again!
Take the guesswork out of proofing yeast dough by marking an easy-to-read storage container with a rubber band. Once the dough has reached the mark, you know the first rise is done! The caveat is that you have to actually check the dough from time to time to see if it's reached the mark. It doesn't automatically stop rising when it reaches the rubber band (haha!) Just wanted to make that clear 🙂 Been there done that! Set a timer for periodic checks just in case you get busy and forget. Not that you'll forget like me… just saying.
Proofing dough in a mixing bowl has always been hard for me as I could never figure out when it was actually doubled, and more often than not it had been over-proved. This storage container was a game changer for me when it comes to making bread, rolls and sweet dough. Now I have perfectly risen dough every time, as long as I remember to check! Click on the link at the bottom of this post for more information or to purchase this container from Amazon.
The easy filling is made with a good smear of strawberry jam and fresh diced strawberries.
PRO TIP: Don't get carried away with the jam or strawberry filling and add way too much. You don't want it oozing out all over the place! When rolling up the filling into the dough, make sure to tuck the jam and strawberries in and not push them all the way out. You'll want a pretty tight cylinder but need the filling evenly distributed. You'll see what I mean when you roll it up. No squishing the filling!
This strawberry sweet roll dough bakes up soft and flaky.
The sweet roll dough used in this recipe has been a favorite of mine for many years. It was originally adapted from a recipe published by the one and only, Paula Dean! We've used the same base dough recipe for our Lemon Sweet Rolls with Lemon Cream Cheese Icing and these luscious Apple Cinnamon Rolls with Apple Cider Glaze. Bet you'd love them all!
Have you ever found yourself looking for reasons to make sweet rolls?
Oh no, we have extra strawberries; better make sweet rolls! My yeast is going to expire (in 6 months); better make sweet rolls again! I have the perfect pan for those … better make sweet rolls! You get the picture, we have a thing for sweet rolls. I am inspired by sweet rolls, and well, I just love them. All these sweet rolls are giving me a few rolls of my own. You only live once right? Maybe I should have learned to play the piano instead of baking. Nah. Hope you'll give these Strawberry Sweet Rolls a try.
Thanks for PINNING!
Let's be baking friends! When you try our recipe please leave a comment on this post. If you loved this recipe we'd appreciate a 5-star rating! Sharing your experience, variations and insights will help all our readers, and it helps me too. If you're on Pinterest feel free to leave a comment and photo there if you have one. If you share on INSTAGRAM tag @savingroomfordessert so we can stop by and give your post some love. And we'd be very happy if you'd FOLLOW Saving Room for Dessert on FACEBOOK| INSTAGRAM| PINTEREST | TWITTER  and subscribe to our YOUTUBE channel for all the latest recipes, videos and updates. Thank you!!!
PRINT THE RECIPE!
Strawberry Sweet Rolls
Total Time:
3

hours
5

minutes
Course:
Breakfast, Brunch
Soft and sweet and loaded with jam and diced strawberries.
Ingredients
For the sweet rolls:
¼

ounce

package Active Dry Yeast

½

cup

warm water

(about 95 degrees F on an instant read thermometer)

½

cup

warm milk

¼

cup

granulated sugar

⅓

cup

unsalted butter,

melted

1

teaspoon

salt

1

large egg

3 ½

cups

all-purpose flour,

more or less depending on humidity

vegetable oil
For the strawberry filling:
⅔

cup

strawberry jam

1

cup

fresh diced strawberries
For the cream cheese icing:
2

ounces

cream cheese,

room temperature

1

cup

powdered sugar

¼

teaspoon

vanilla extract

1

tablespoon

milk,

more or less as needed for desired consistency
Instructions
To prepare the sweet rolls:
In a small bowl dissolve the yeast in the warm water. Set aside for 15 minutes.

In the bowl of a stand mixer fitted with a dough hook, combine the milk, sugar, melted butter, salt and egg. Blend the mixture by hand using a spatula, until combined. Add two cups of flour and turn the mixer on low. Blend until all the flour is incorporated. Add the yeast/water mixture and continue mixing on medium-low until incorporated. Add 1 more cup of flour and mix until blended.

Finally add the remaining ½ cup of flour to make a soft dough that is just a little sticky. Turn the mixer on medium-low and knead for 5 minutes or until you have a smooth dough. Add one tablespoon of flour if needed to help clean the sides of the bowl toward the end of mixing. Don't add too much flour as the rolls will be dry.

Place the dough in a clean, wet oiled bowl and turn to coat the dough. Cover the bowl with plastic wrap and move to a warm location free from drafts. (I use my microwave as a proofing oven with the task light on for warmth.) Allow the dough to rise until doubled in size, about 1 to 1.5 hours.

Grease two 8 or 9-inch round baking pans, or a 13x9-inch pan. Sprinkle the bottom of the pan with 2 teaspoons coarse sugar. Set aside.

When the dough has doubled in size, gently punch it down and turn out onto a clean, lightly floured work surface. Roll the dough into a 15x10-inch rectangle. Spread the jam all over the dough leaving a 1-inch border on the 15-inch side farthest away from you. Sprinkle the chopped strawberries evenly over the strawberry jam.

Roll the dough up beginning on the 15-inch side with filling (closest to yo- rolling towards the side with no jam or berries along the edge. Roll the dough somewhat tight, tucking and pulling slightly to create a cylinder. Lightly dampen the 1-inch border with water using your finger. Pull the dough up and pinch to seal the seam.

Cut the cylinder in half, then cut each half in half again. Cut each one-forth section into 3 equal size rolls. Place the rolls cut side up in the prepared pan(s).

Move the rolls to a warm location free from drafts and allow them to rise for 45-60 minutes or until doubled in size and puffy.

30 minutes before baking, preheat oven to 350°F.

Bake the rolls for 20 to 25 minutes or until nicely browned.

Mix the icing ingredients together and drizzle on the warm rolls. Serve immediately.
Recipe Notes
Rolls are best eaten the day they are made but will keep at room temperature up to 2 days.
Dough recipe adapted from Paula Dean
Nutrition information is calculated using an ingredient database and should be considered an estimate. When multiple ingredient alternatives are given, the first listed is calculated for nutrition. Garnishes and optional ingredients are not included.
Nutrition
Calories:
320
kcal
|
Carbohydrates:
57
g
|
Protein:
5
g
|
Fat:
8
g
|
Saturated Fat:
5
g
|
Polyunsaturated Fat:
1
g
|
Monounsaturated Fat:
2
g
|
Trans Fat:
1
g
|
Cholesterol:
34
mg
|
Sodium:
228
mg
|
Potassium:
106
mg
|
Fiber:
2
g
|
Sugar:
25
g
|
Vitamin A:
261
IU
|
Vitamin C:
9
mg
|
Calcium:
33
mg
|
Iron:
2
mg
Kitchen Essentials – perfectly proofed dough!

No need to worry if you're over-proofing the dough. This durable square food storage container makes it easy to see when the yeast dough has doubled in size. It also works great for brining meats, or any of your food storage needs. This inexpensive container does not come with a lid, but there are many others that do. Click on the photo for more information or to purchase from Amazon.
Saving Room for Dessert is a participant in the Amazon Services LLC Associates Program ~ I earn a small commission, at no additional cost to you, which I use to pay for web hosting and services for this blog. 
Here are a few more baked strawberry recipes you might enjoy:
Bake the season with our Easy Strawberry Cobbler. Dessert doesn't get much better than this! Click HERE to get the recipe for Easy Strawberry Cobbler.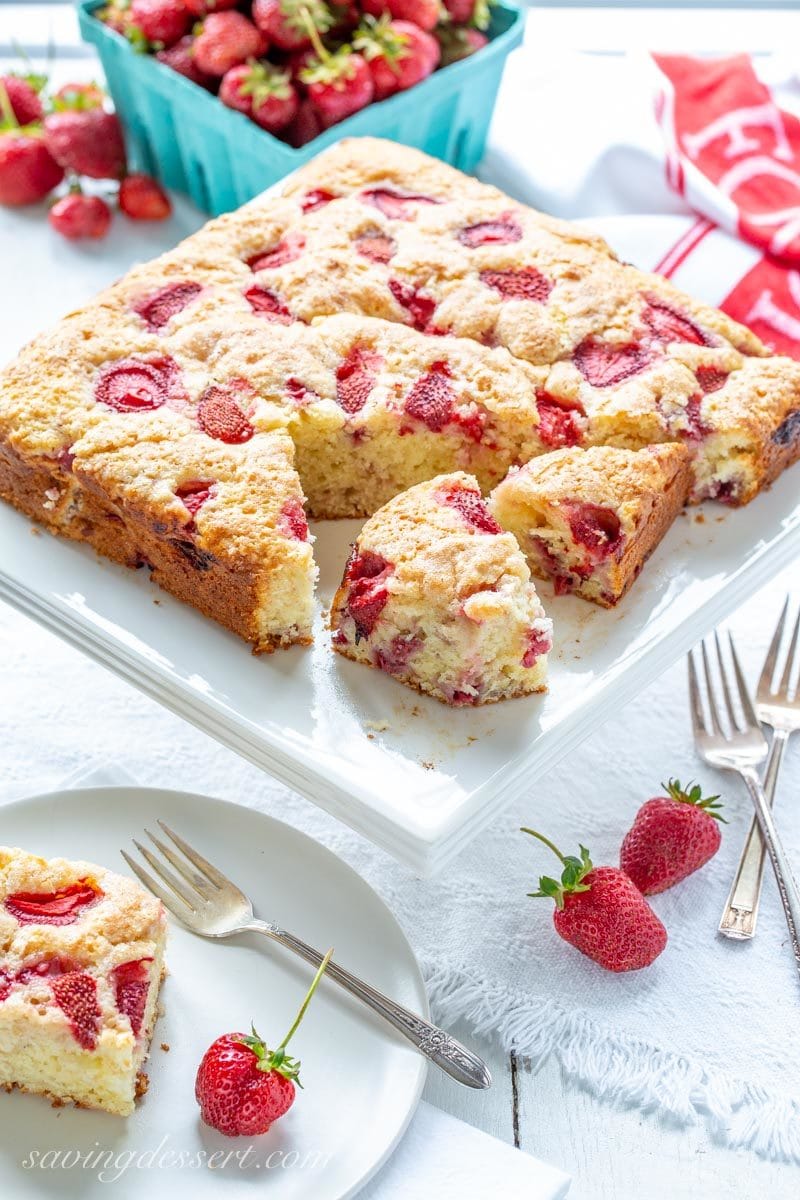 Strawberry Breakfast Cake made with fresh juicy strawberries tucked into a moist sour cream batter. Not overly sweet, this cake is terrific served for breakfast, brunch or as a light dessert. Click HERE to get the delicious recipe!
Easy Strawberry Buckle – made with just a few pantry ingredients and loads of fresh strawberries, this tasty custardy-cake comes together in just minutes. Click HERE to get the recipe for Strawberry Buckle.
Thanks so much for stopping by! Tricia