This post may contain affiliate links. Please read my disclosure policy.
Strawberry Shortcake Cake has all the flavors we love in a delicious shortcake, but in cake form!
Strawberry shortcake is always a great choice for a spring or summer dessert. Whether you make this Strawberry Shortcake Cake, individual shortcakes, Strawberry Shortcake Scones or Strawberry Shortcake Ice Cream, your strawberry loving guests will come back for seconds and maybe even thirds!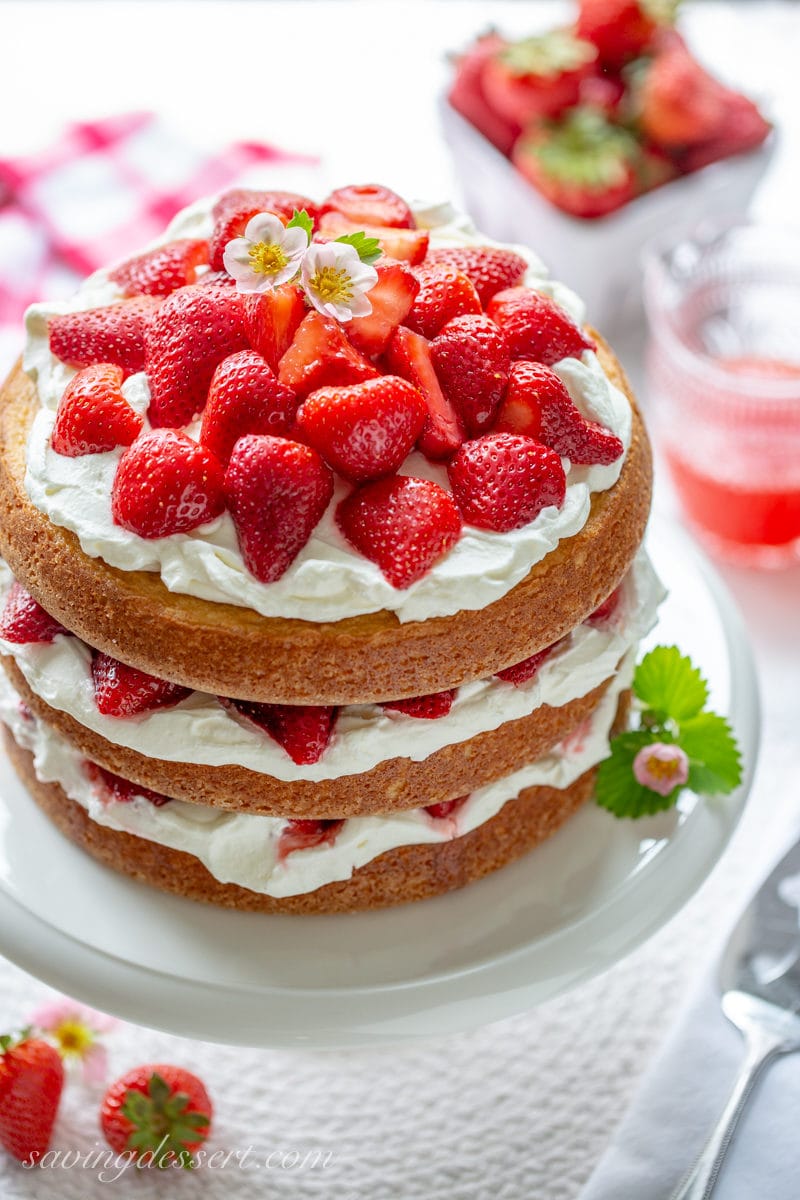 Why make this Strawberry Shortcake Cake instead of traditional strawberry shortcake?
Both desserts are on our list of favorite ways to enjoy seasonally exceptional strawberries. However, if you're looking for a make-ahead company-worthy dessert with a pretty presentation this Strawberry Shortcake Cake is the one! There are many things we love about this cake, and a few that make it stand out from traditional shortcake.
The vanilla scented cake is light but still sturdy enough to hold up under the weight of the strawberries and cream. The cake pans are dusted with coarse sugar creating a crunchy sweet crust on the bottom of each layer. This helps prevent the cake from becoming damp or wet from the strawberries, giving the whole dessert a longer shelf life.
Traditional shortcakes are more biscuit-like than cake, so this has a fancy dessert vibe you'll love.
The whipped cream filling is stabilized with cream cheese so it won't deflate or ooze out the sides. Cream cheese adds a lovely richness to the filling without overpowering the flavor.
This cake can be assembled ahead of time and served hours later. The cake will hold up well for several days, but for the prettiest presentation is best served the day it's made.
Our Strawberry Shortcake Cake is served with a drizzle of strawberry syrup so you won't miss out on that yumminess either. The strawberry syrup is not overly sweet or cloying, and only enhances the intense strawberry flavor.
The cake can be baked in two 9-inch round pans if you prefer.
To serve at a pot-luck or neighborhood BBQ bake the cake in a 13×9-inch pan. Make a half batch of the whipped cream and spread on top of the cake.  Refrigerate until ready to transport. Store the strawberries separately and spoon over the cake when ready to serve. The whipped cream won't hold up well on super hot summer days so if serving outdoors wait as long as possible before exposing to the heat. Drizzle a little strawberry syrup over individual slices when cut.
Grocery store strawberries can sometimes be hit and miss.  Here are a few tips for finding the best:
Look for strawberries with light colored seeds. If the seeds on the outside are dark brown and dried up, the strawberry probably is too.
Buy local strawberries if at all possible. Less time traveling to your kitchen will yield fresher strawberries, thus better flavor. If you're buying strawberries from another country they may have been picked before they were fully ripe to survive the long distance commute.
Look for strawberries that are red all the way to the top. If the top is white, the middle of the strawberry will be too. White strawberry tops yield less flavor.
Visit your local farmers market during peak season for the best strawberries.
Finally, if you can pick your own strawberries at a local farm – go for it!
PRO TIP: If you're worried about this towering Strawberry Shortcake Cake staying upright, insert a few wooden skewers cut to fit through the layers, top to bottom.
The skewers help anchor the cake especially when slicing. For the prettiest slices avoid pushing straight down with the knife but instead use a light sawing motion to cut through the strawberries. Make sure your knife is good and sharp too. Our Strawberry Shortcake Cake is really pretty easy to make and assemble. Read through the recipe a time or two before beginning and you'll master this cake on the first try!
Don't forget to drizzle on a little extra strawberry syrup when serving!
Thanks for PINNING!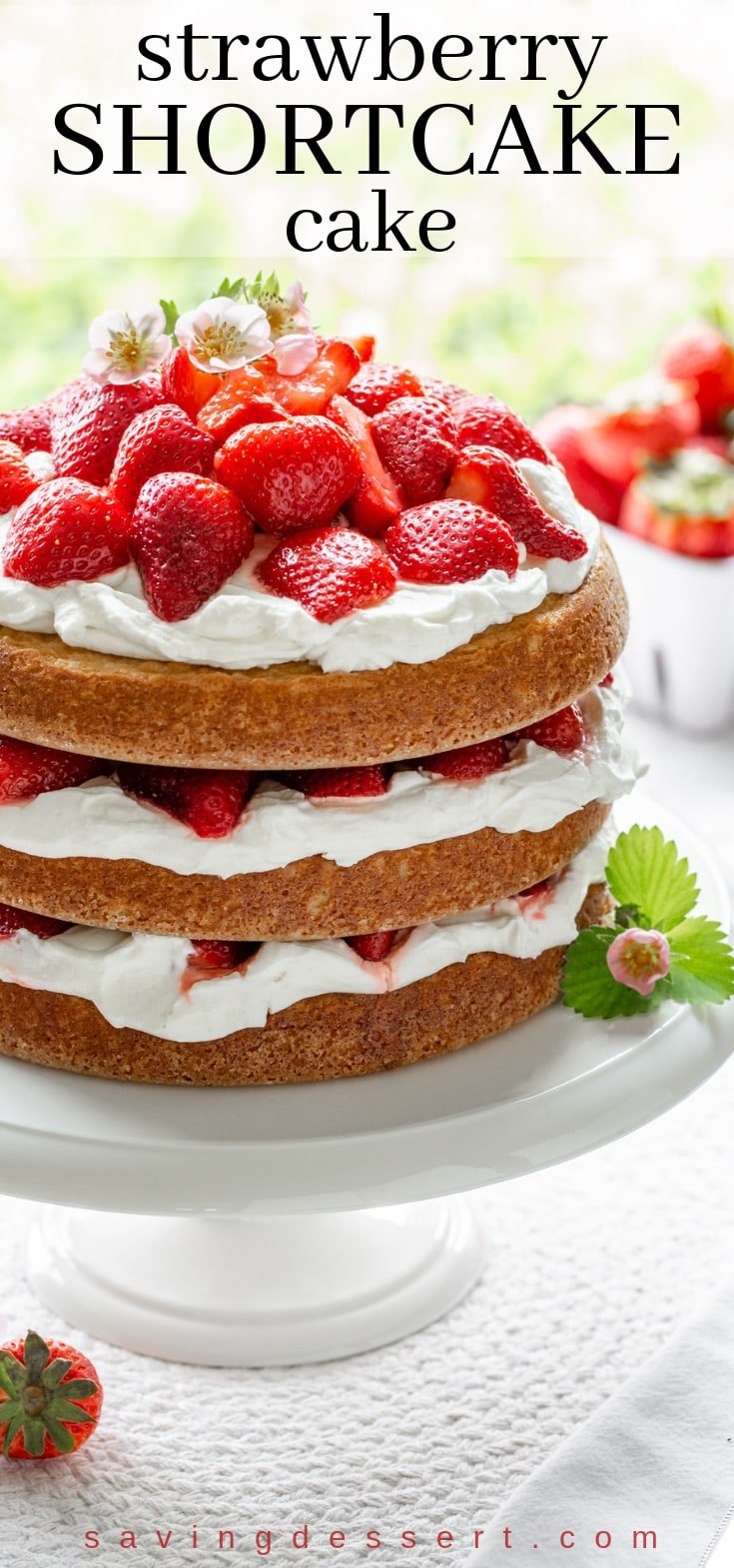 Let's be baking friends! If you make our recipe please feel free to leave a comment on this post. I'm sure your experience and insights will help all our readers, and it helps me too. Also, if you're on Pinterest feel free to leave a comment and photo there if you have one! If you share on INSTAGRAM tag @savingroomfordessert so we can stop by and give your post some love. And we'd be very happy if you'd FOLLOW Saving Room for Dessert on FACEBOOK| INSTAGRAM| PINTEREST | TWITTER  and subscribe to our YOUTUBE channel for all the latest recipes, videos and updates. Thank you!!
SRFD's Favorite 8-inch Cake Pans

We love the look of a towering three layer cake! This set of (2) 8-inch round cake pans from Wilton will get you started! These round cake pans feature even-heating aluminum for uniform baking. With a generous 2 inch depth for higher cakes in case you only want to make two layers instead of three. These affordable Wilton pans are usually available at WalMart, Michael's and other craft stores, or just click on the photo and check them out on Amazon!
Saving Room for Dessert is a participant in the Amazon Services LLC Associates Program ~ I earn a small commission, at no additional cost to you, which I use to pay for web hosting and services for this blog. Thanks for supporting SRFD!
PRINT THE RECIPE!
Strawberry Shortcake Cake
Total Time:
1

hour
5

minutes
All the flavors we love in a delicious shortcake, but in cake form!
Ingredients
For the strawberries:
2

pounds

strawberries

¼

cup

granulated sugar

juice of ½ lemon,

about 1 tablespoon

pinch

salt

1

teaspoon

cornstarch
For the cake:
6

tablespoons

coarse sugar

12

tablespoons

unsalted butter,

room temperature

1 ½

cups

granulated sugar

2

large eggs

2 ½

cups

cake flour

1 ¼

teaspoons

baking powder

¾

teaspoon

baking soda

½

teaspoon

salt

1

cup

sour cream

½

cup

milk

2

teaspoons

vanilla bean paste or vanilla extract
For the whipped cream:
2

cups

heavy whipping cream

8

ounces

cream cheese,

room temperature

⅔

cup

powdered sugar,

sifted
Instructions
To prepare the strawberries:
Clean the strawberries and remove the hulls. Slice each vertically into halves or thirds depending on their size. Place the sliced strawberries In a large bowl and gently toss with the sugar, lemon juice and salt. Lightly cover and set aside for 2 hours or up to 3 hours.
To prepare the cake:
Preheat oven to 350°F. Grease 3 (8-inch) cake pans. Sprinkle 2 tablespoons coarse sugar into the bottom of each pan. Shake the pan and turn to coat the entire pan bottom. Set aside.

In a large mixing bowl combine the butter and sugar. Using an electric mixer beat the mixture until light and fluffy. Add the eggs, one at a time, mixing just until the yolk disappears.

In a small bowl whisk together the flour, baking powder, baking soda and salt. Set aside.

In another small bowl, blend the sour cream, milk and vanilla together. Set aside.

Add ½ of the sour cream mixture to the sugar mixture and blend on low until incorporated. Next add ½ of the flour mixture and mix on low until blended. Scrape down the sides and bottom of the bowl as needed. Add the remaining sour cream and blend, then all the remaining flour. Blend on low just until incorporated. Scrape down the sides and bottom of the mixing bowl with a spatula and gently stir one more time.

Divide the batter equally between the three prepared 8-inch cake pans and bake until a toothpick inserted in the center comes out clean, about 20-25 minutes, rotating the pans after 15 minutes. Do not over bake!!! Cool in the pans for 10 minutes, then turn the cakes out and cool completely on a wire rack.
To prepare the strawberry syrup:
Drain the strawberries using a fine-mesh strainer set over a bowl. Remove ¼ cup of the strawberry syrup to a microwave safe bowl and combine with the cornstarch. Microwave the syrup and cornstarch mixture on high, stirring every 10 seconds, until the mixture is very thick and translucent, about 30 seconds total. Add the thickened mixture back into the bowl with the remaining strawberry syrup and stir until combined. Refrigerate until ready to serve.
To prepare the filling:
In a large mixing bowl beat the cream cheese until smooth. Add the powdered sugar and beat until blended. With the mixer on low, slowly add the whipping cream mixing until incorporated. Turn the mixture to high and beat until creamy but stiff peaks form. Don't over-beat.
To assemble the cake:
Place one cake layer on a cake plate or platter. Top the layer with ⅓ of the whipped cream cheese mixture spreading almost to the edge of the cake. Top the whipped cream with ⅓ of the sliced strawberries arranging decoratively in a single layer.

Top the strawberries with the second layer of cake, then ½ of the remaining whipped cream, and ½ of the strawberries. Top with the last cake round. Mound the remaining whipped cream on top and then the remaining strawberries. Refrigerate until ready to serve.

If needed, insert a wooden skewer or two into the cake to help hold the layers in place. To slice use a light sawing motion with a large, thin sharp knife to cut through the strawberries and cake layers. Serve each slice with a drizzle of the strawberry syrup.
Recipe Notes
Store leftover cake in the refrigerator. Cake will keep for several days but is best served the day it is made. The cake holds up longer than the fresh cut strawberries will.
Do not use frozen strawberries for this recipe. 
Cake may be made in two 9-inch cake pans if desired.
Nutrition information is calculated using an ingredient database and should be considered an estimate. When multiple ingredient alternatives are given, the first listed is calculated for nutrition. Garnishes and optional ingredients are not included.
Nutrition
Calories:
958
kcal
|
Carbohydrates:
105
g
|
Protein:
11
g
|
Fat:
57
g
|
Saturated Fat:
34
g
|
Polyunsaturated Fat:
3
g
|
Monounsaturated Fat:
15
g
|
Trans Fat:
1
g
|
Cholesterol:
215
mg
|
Sodium:
478
mg
|
Potassium:
380
mg
|
Fiber:
3
g
|
Sugar:
71
g
|
Vitamin A:
2058
IU
|
Vitamin C:
67
mg
|
Calcium:
188
mg
|
Iron:
1
mg
Here are a few more of our favorite Strawberry Shortcake recipes you might enjoy:
Strawberry Shortcake Scones made with sweet, ripe strawberries spooned between fluffy scone layers, drizzled with the berry juices and topped with sweetened whipped cream – summer perfection! Click HERE to get the recipe.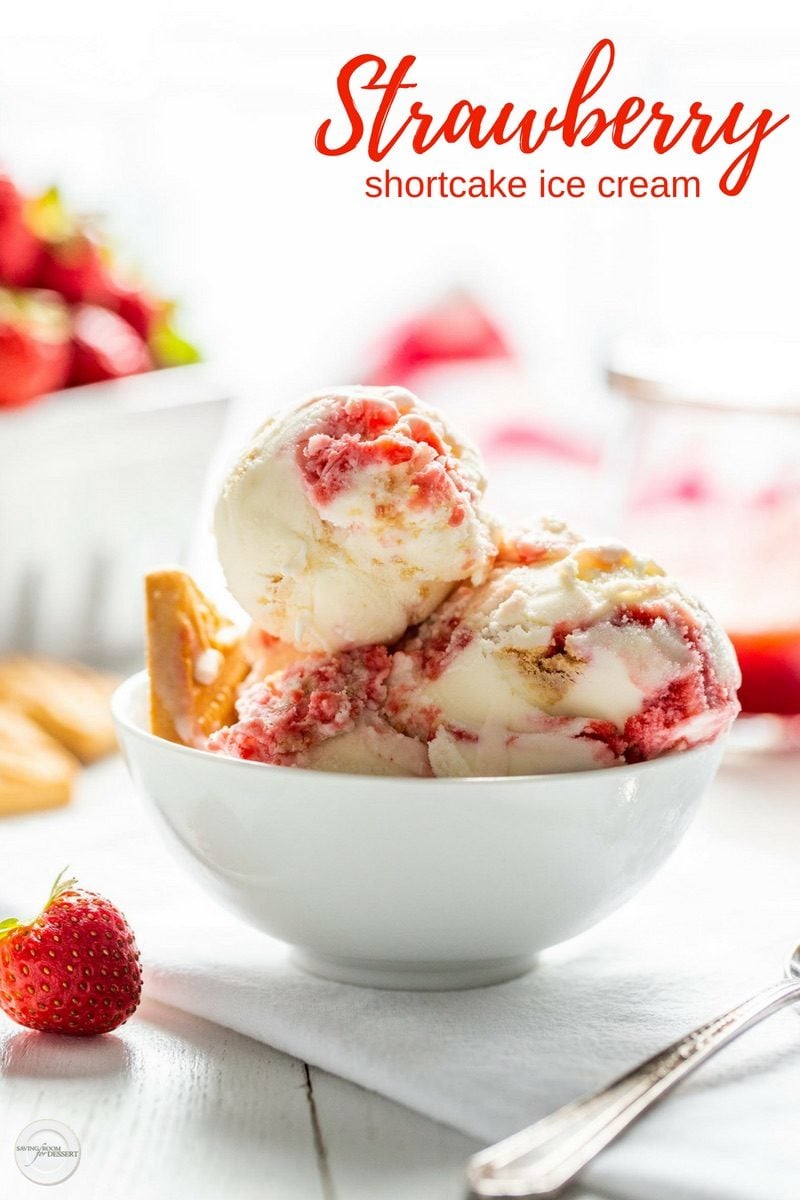 Strawberry Shortcake Ice Cream – don't let summer pass you by without making this luscious, rich vanilla ice cream with ribbons of fresh strawberry sauce and crushed shortbread cookies throughout. Click HERE to get the recipe.
Thanks so much for stopping by!  Tricia