This post may contain affiliate links. Please read my disclosure policy.
Delicious and filling Wild Rice Mushroom Soup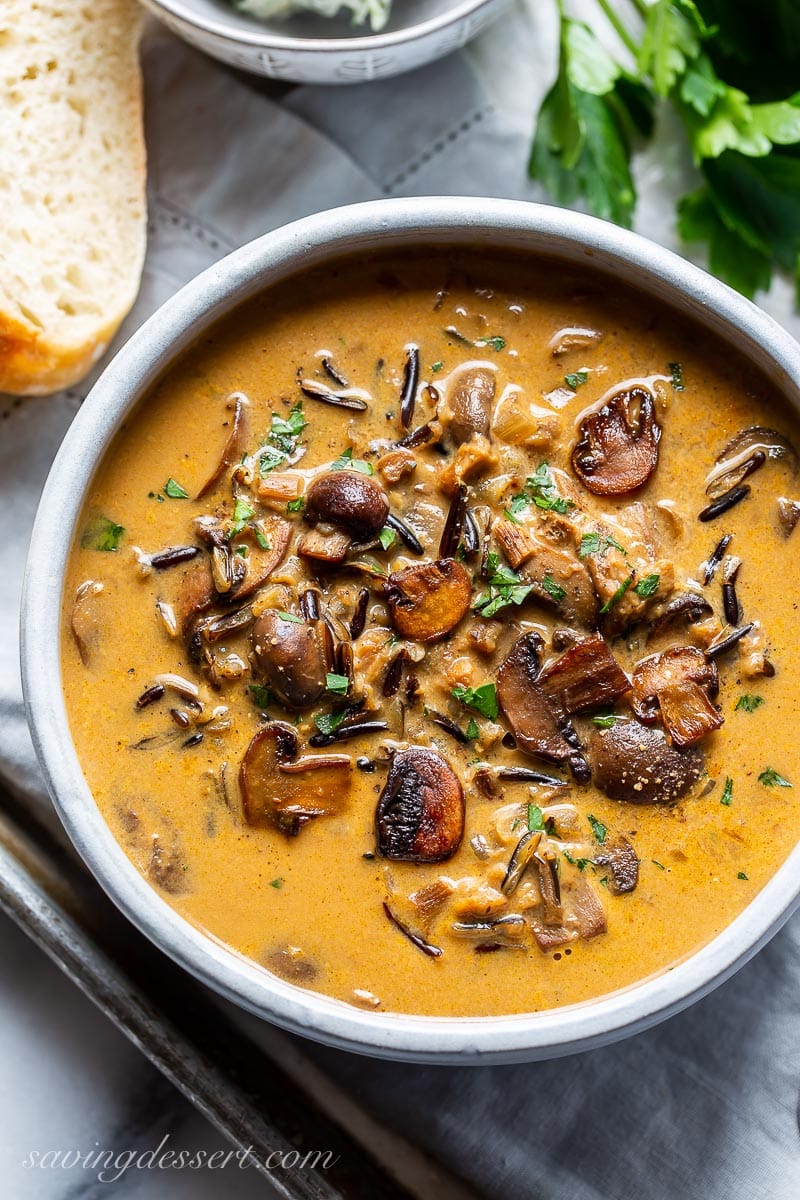 This soup is nutty, rich and filling with fantastic mushroom flavor.
It's hard to beat a comforting bowl of soup on a chilly day. Vegetarian Wild Rice Mushroom Soup does just that by warming your belly with earthy mushrooms and hearty, chewy wild rice. Our soup is very filling and incredibly flavored with two kinds of mushrooms, wine, shallots and plenty of nutty wild rice.
Ingredients needed to make Wild Rice Mushroom Soup:
For the wild rice:
For the soup base:
dried porcini mushrooms
unsalted butter
olive oil
fresh mushrooms – any kind will do in this soup. I usually select whichever small mushroom looks best such as Cremini, button or white, and Baby Bella.
shallots or a small leek – we often make this soup with either one, or even a small sweet onion.
garlic
tomato paste
all-purpose flour
vegetable broth –  use low-sodium or salt free
dry white wine
heavy cream or half and half
soy sauce
For the parsley butter (optional):
unsalted butter
salt
ground black pepper
fresh parsley leaves
What is wild rice?
Wild rice is actually a semi-aquatic grass grown and cultivated in the Great Lakes region of the United States. It contains an impressive amount of several key nutrients, including protein, manganese, phosphorus, magnesium, and zinc. Wild rice contains more protein than other types of rice, but has the same amount of fiber as brown rice.
You can find wild rice with other rice and grains, or in the bulk bins of your local grocery store. It's also available from Amazon, of course.
Where to find dried porcini mushrooms in the grocery store:
Most well stocked grocery stores and even Walmart carry dried porcini mushrooms. They are often found in a small clear plastic clamshell container in 1/2-ounce portions.
However, each store may stock them in different departments. Save yourself a little time hunting and gathering and ask the customer service representative at your store where to find dried mushrooms.
I usually find dried porcini mushrooms in the Italian specialty section with the capers and pasta. Dried mushrooms might also be in the produce section with the garlic, onions or the fresh mushrooms. Finally, check in the canned vegetable aisle where you find canned mushrooms.
Porcini mushrooms are worth the effort!
How to make Wild Rice Mushroom Soup:
First, prepare the wild rice. Combine salt, thyme, garlic and water in a medium saucepan. Bring to a boil and add the wild rice. Cook for 30 to 35 minutes. Discard the thyme sprigs and garlic, and drain the rice. Set aside.
Place the dried porcini in a 2-cup heatproof measuring cup. Cover with boiling water and set aside to soften.
Next, brown the mushrooms in a stainless soup pot or light colored (inside) Dutch oven. I like to use a light colored pot because I'm able to see the browned bits on the bottom and better tell when they're done. Add the garlic, shallots and tomato paste. Sauté briefly then add the chopped, softened porcini.
Sprinkle flour over the vegetables and cook until a dark fond forms on the bottom of the pot.
Next, pour the wine over the vegetables and deglaze the bottom, scraping up any browned bits.
Add the vegetable broth and porcini soaking liquid to the soup pot. Bring to a boil and simmer for 15 minutes.
While the soup is simmering, make the parsley butter if using.
Stir in the wild rice and cook for 10 minutes more. Finally, remove from the heat and add the cream and soy sauce.
Serve immediately with a dollop of parsley butter and a hunk of crusty Artisan bread.
If stored for several days the rice will eventually soak up some of the liquid. This is not a bad thing however, and only makes the soup thicker and more stew-like. Add a splash of additional vegetable broth to thin, if preferred.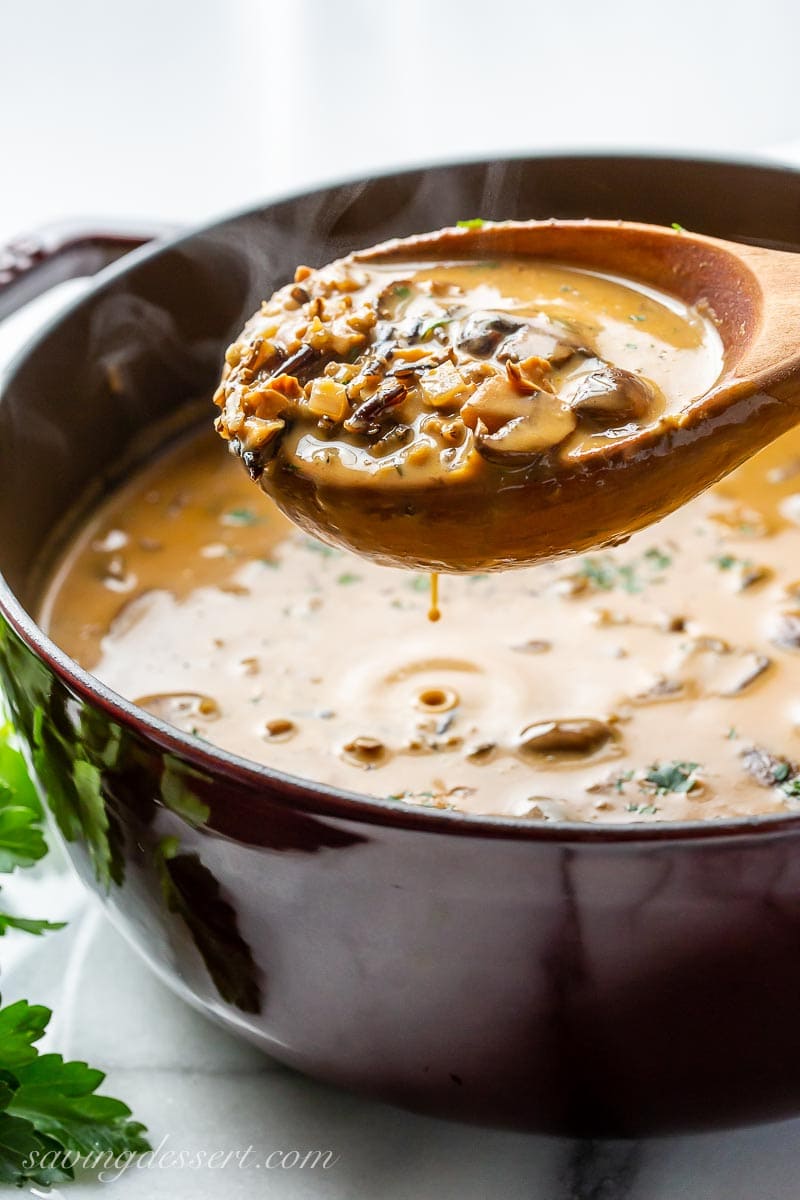 TIPS for making a deeply flavored, golden hued soup
The first few steps of this recipe are easy but critical to building the best flavor. If you don't cook the mushrooms properly they'll end up gray and therefore their full potential for flavor will be diminished.
First, spread the mushrooms out in the hot butter and olive oil. Even though all the mushrooms will not fit in a single layer, most of them will be browned properly. Cook undisturbed until the moisture is released and evaporated, and the mushrooms are dark brown on the bottom. This step takes 8 to 10 minutes.
Next, and most importantly, cook the floured vegetables until a dark fond forms on the bottom of the pot. This is just like making amazing gravy by starting with a dark roux.
Finally, deglaze the pot with white wine, then scrape up all those flavorful browned bits.
These simple little steps build flavor, and as a result, make a big difference in the finished soup.
Shortcuts:
For example you can purchase pre-sliced, pre-cleaned fresh mushrooms to speed the prep time.
Also, plan ahead and cook the wild rice then refrigerate until needed.
Finally, you can buy a pre-cooked wild rice product like this Cultivated Wild Rice Pouch sold at Target stores. Simply open the pouch and then add it to the soup!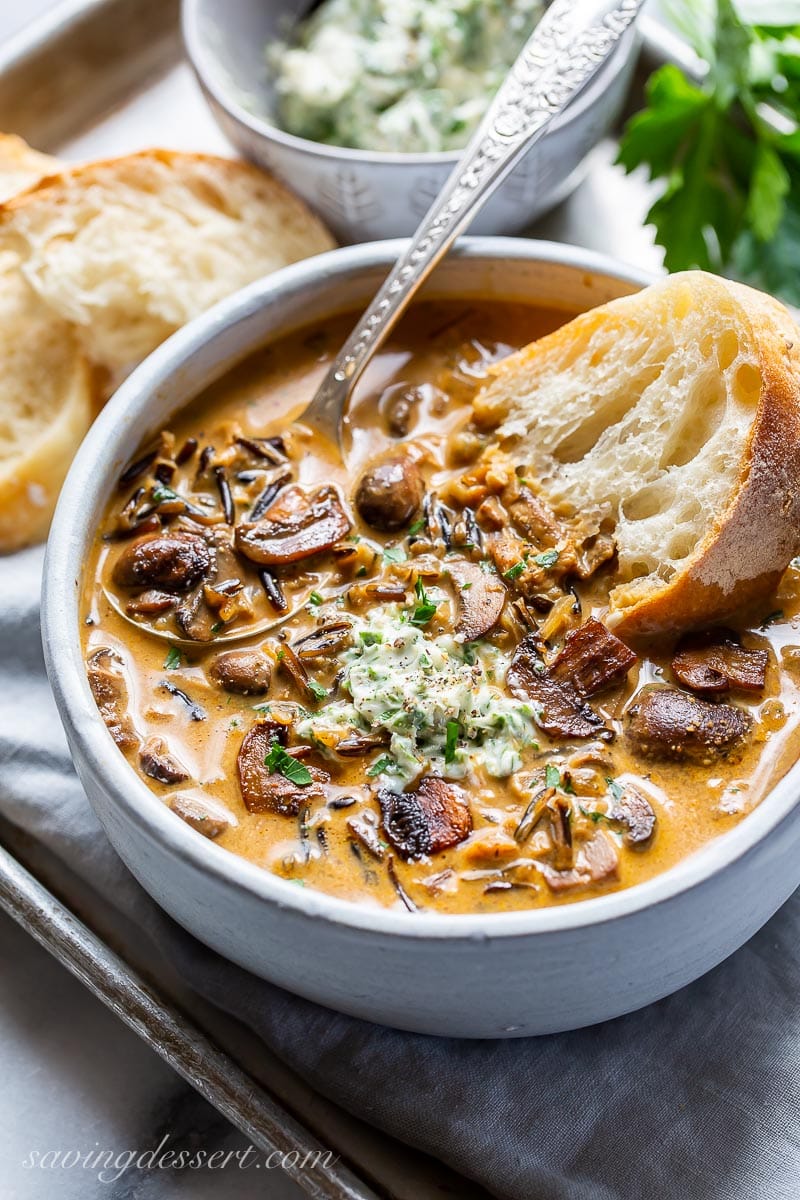 Earthy, hearty and seriously comforting, this Wild Rice Mushroom Soup is for mushroom lovers!
We love both wild rice and mushrooms and incorporate them into our recipes every chance we get. In other words, if you're a mushroom love too, try these amazing recipes!
Skillet Chicken and Mushroom Wine Sauce is our most popular recipe year after year. Serve over wild rice, mashed potatoes or noodles for an incredible meal the whole family will love. And, all our readers say you should double the sauce, it's that good.
Chicken Wild Rice Casserole is another personal favorite of mine and I bet it will be one of yours, too!
Creamy Chicken Wild Rice Soup is another hearty soup with a nutty bite from the wild rice and a wonderful, flavor packed broth.
And finally, Wild Rice and Mushroom Pilaf is a deliciously filling side dish that goes great with just about any meal. Enjoy!
Thanks for PINNING!
Let's be cooking friends! If you make our recipe please feel free to leave a comment on this post. I'm sure your experience and insights will help all our readers, and it helps me too. Also, if you're on Pinterest feel free to leave a comment and photo there if you have one!
If you share on INSTAGRAM tag @savingroomfordessert so we can stop by and give your post some love. FOLLOW Saving Room for Dessert on FACEBOOK| INSTAGRAM| PINTEREST | TWITTER  and subscribe to our YOUTUBE channel for all the latest recipes, videos and updates.
An earthy, hearty and comforting vegetarian soup uniquely flavored and perfect for the mushroom lover
Ingredients
For the wild rice:
1

teaspoon

salt

1

fresh thyme sprig

1

clove

garlic

peeled and cut in half

6

cups

water

1

cup

wild rice

or wild rice blend (6 ounces)
For the soup:
1

ounce

dried porcini mushrooms

1

tablespoon

unsalted butter

2

tablespoons

olive oil

12

ounces

small fresh mushrooms

sliced (cleaned of dirt, tough stems removed)

2

large

shallots

diced (or 1 small leek)

1

clove

garlic

minced

1

teaspoon

tomato paste

2

tablespoons

all-purpose flour

1

cup

dry white wine

(8 ounces)

4

cups

low-sodium vegetable broth or stock

(32 ounces)

½

cup

heavy cream

(4 ounces)

1

tablespoon

soy sauce
For the parsley butter:
4

tablespoons

unsalted butter

softened

3

tablespoons

parsley leaves

chopped

1

teaspoon

fresh ground black pepper

¼

teaspoon

sea salt
Instructions
To prepare the wild rice:
Combine the salt, thyme sprig, clove of garlic and 6 cups cold water in a medium, heavy bottom saucepan. Bring to a boil and add the wild rice. Reduce the heat to medium-low but maintain a steady boil. Cover and cook until the rice is almost tender, about 35-40 minutes. Remove the thyme stems and garlic clove and discard. Drain the rice through a fine mesh strainer. Cover to keep warm and set aside.
To prepare the soup:
While the wild rice is cooking prepare the remaining ingredients. Place the dried porcini mushrooms in a 2-cup heat-proof measuring cup. Carefully pour 1 ½ cups boiling water over the mushrooms, stir and set aside to soften about 15 minutes. Remove the porcini from the hot water using a slotted spoon reserving the soaking liquid. Chop the porcini and set aside.

In a large soup pot or Dutch oven melt 1 tablespoon butter and 2 tablespoons olive oil over medium-high heat. Add the sliced fresh mushrooms (not porcini) and stir to coat. Distribute the mushrooms to cover the bottom of the pot. (not all mushrooms will be touching the bottom.) Cook the mushrooms, undisturbed, until the moisture is released, then evaporates and they turn a deep golden brown about 8 to 10 minutes. Stir and continue cooking until crusty bits start to form on the bottom of the pot, another 10 minutes.

Add the shallots, minced garlic and tomato paste to the mushrooms. Cook stirring constantly until the garlic is fragrant and the shallots start to soften, about 2 minutes.

Stir the chopped porcini to the soup pot. Sprinkle the flour over the mushrooms and shallot. Cook, stirring constantly, until the flour sticks to the bottom of the pot and turns golden brown. This fond is essential to building flavor. Slowly add the wine and deglaze the pot, scraping up any browned bits. Add the vegetable broth and reserved porcini liquid pouring slowly to leave any grit behind. Discard the dirt and grit. Bring the soup to a boil. Reduce the heat to medium-low to maintain a steady simmer. Cook for 15 minutes.

Add the cooked wild rice to the soup and cook for 10 minutes. Remove from the heat and add the cream and soy sauce. Stir until combined. Serve immediately with a dollop of parsley butter on each bowl, if using.
For the parsley butter:
Combine 4 tablespoons very soft butter, chopped parsley, black pepper and sea salt in a small bowl. Serve each bowl of soup with a spoonful of parsley butter on top.
Recipe Notes
Wild Rice: The wild rice can be made ahead, cooled and refrigerated until needed. You can use all wild rice, or a wild rice blend in this recipe. Also, wild rice can be made in a rice cooker according to the manufacturers instructions, if desired. TO MAKE AHEAD: Prepare the wild rice and refrigerate. Make the soup up through step No. 4. Cool and refrigerate until needed. Rewarm the mushroom soup until steaming, add the cooked wild rice and simmer for 10 minutes stirring occasionally. Off-heat, add the cream and soy sauce and serve. Inspired by a recipe on MyRecipes.com Nutrition information is calculated using an ingredient database and should be considered an estimate. When multiple ingredient alternatives are given, the first listed is calculated for nutrition. Garnishes and optional ingredients are not included.
Nutrition
Calories:
283
kcal
|
Carbohydrates:
25
g
|
Protein:
6
g
|
Fat:
16
g
|
Saturated Fat:
8
g
|
Polyunsaturated Fat:
1
g
|
Monounsaturated Fat:
6
g
|
Trans Fat:
0.3
g
|
Cholesterol:
36
mg
|
Sodium:
516
mg
|
Potassium:
363
mg
|
Fiber:
3
g
|
Sugar:
3
g
|
Vitamin A:
587
IU
|
Vitamin C:
4
mg
|
Calcium:
34
mg
|
Iron:
1
mg
If you decide to purchase something at Amazon after following my affiliate link, I receive a small commission, at no additional cost to you.
Originally published September 2015, updated February 2021
SaveSave
SaveSave
SaveSave
SaveSave