This post may contain affiliate links. Please read my disclosure policy.
Get out the easy button because you're going to want to put this Air Fryer Boneless Chicken Breast recipe on repeat. I've been making this recipe at least once a week since I bought my air fryer. Who knew such a simple and quick recipe could become my favorite easy way to make chicken without an oven.
Easy and Delicious Air Fryer Boneless Chicken Breast
If you're looking for a quick and hassle-free way to cook boneless chicken breasts, then look no further than your trusty air fryer!
This incredible kitchen appliance will produce tender and juicy, tenderized chicken in no time. Get ready to enjoy a mouthwatering meal with minimal effort perfect for an easy weeknight dinner.
Air fryer basics for boneless skinless chicken breasts
If you've been on the fence about owning yet another kitchen appliance, let me help you. Years ago I got on the Instant Pot bandwagon but never really embraced it like I have the Air Fryer. This is the easiest appliance ever.
You can quickly cook almost any frozen foods like chicken nuggets and french fries. The Air Fryer crisps fresh vegetables, cooks juicy burgers, hot dogs, potatoes, quesadillas, fish or just about anything.
This Air Fryer is also very easy to clean with a little soap and water. Use a spritzer filled with olive or vegetable oil to lightly grease the inside to prevent anything from sticking. Most appliances have a nonstick interior surface that makes cleanup a breeze.
Watch for sales on Amazon especially on Prime days or during the holidays.
I love this Air Fryer so much I bought one for my daughter and another for my daughter-in-law. We all use our Air Fryers frequently for meal-prep, main course meals and appetizers.
If you're looking for more delicious recipe ideas, check out our favorite Air Fryer Cookbook.
We participate in the Amazon Services LLC Associates Program, an affiliate advertising program designed to provide a means for us to earn fees (with no cost to you) by linking to Amazon.com and affiliated sites.
Simple steps to make air fryer chicken breasts
Ingredients needed to make this recipe

:
How to make air fryer chicken breast recipe

:
First place thawed chicken breasts in a zipper bag or airtight container. Add some of your favorite Italian dressing, seal and place in the refrigerator for a few hours or up to 12 hours.
When ready to cook preheat the air fryer for 5 minutes at 400 degrees F. Once preheated lightly spritz the air fryer tray with olive oil, canola or vegetable oil.
While the air fryer is preheating remove the chicken from the marinade allowing any excess to drip back into the bag. Discard the marinade.
Sprinkle your favorite seasoning blend over both sides of the chicken and add to the air fryer basket leaving plenty of space between the pieces.
Air fry chicken breasts at 400 degrees for 6 minutes. Flip and continue to cook for another 6 minutes for total of 12 or 13 minutes cooking time. To be safe, cook chicken breasts until they reach an internal temperature of 165 degrees F on an instant read thermometer.
Allow the chicken to rest for 3 to 5 minutes before serving.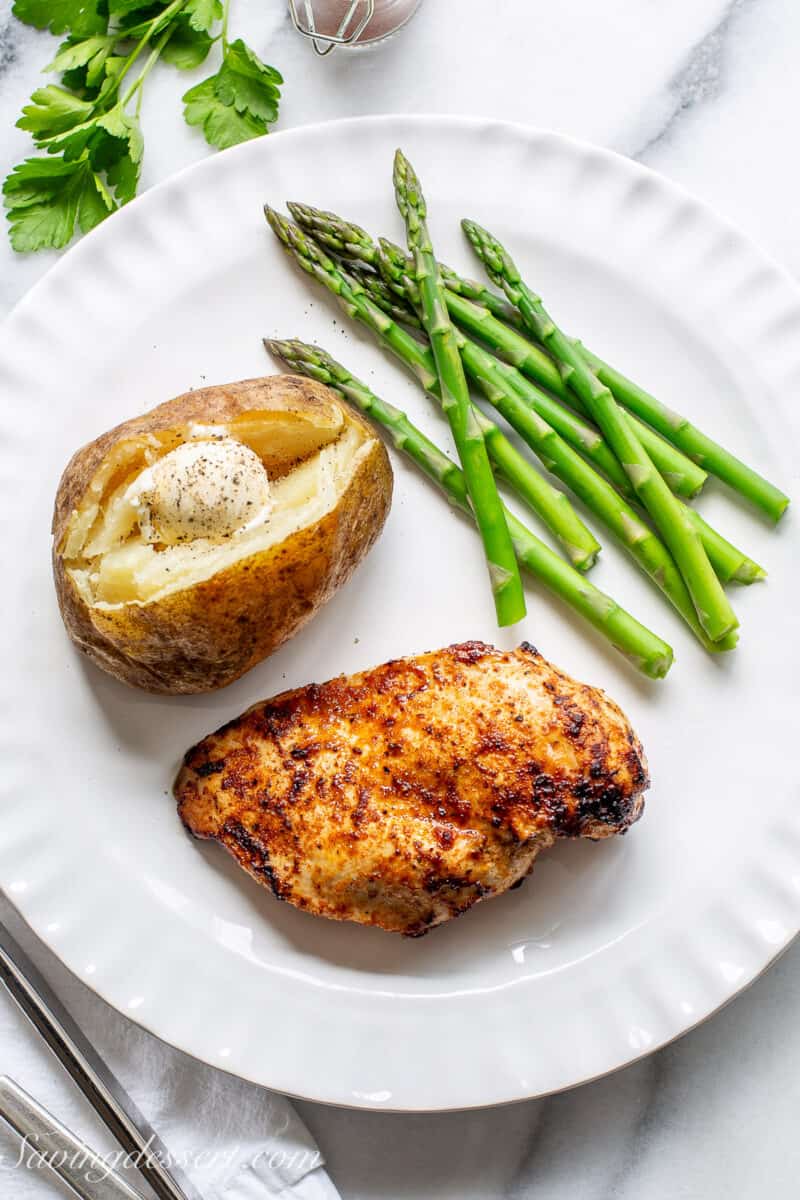 Delicious Ways to enjoy Air Fryer Boneless Chicken Breast
We often serve air fryer chicken breasts as a main course protein with vegetables like asparagus and potatoes. We also chop it up and toss it in salads, sprinkle on BBQ chicken pizza and layer on sandwiches. We also use the chicken in a quick fried rice and our Chicken Alfredo recipe.
For Mexican inspired recipes like chicken tacos and burritos use taco seasoning in place of the rotisserie blend.
Air frying produces flavorful chicken breasts that are loaded with flavor, very simple to make, takes about 15 minutes to cook and is juicy and tender!
Thanks for PINNING!
Air Fryer Boneless Chicken Breast
Total Time:
4

hours
20

minutes
A quick and easy way to make amazingly juicy, tender and delicious Air Fryer Chicken
Ingredients
2

boneless skinless chicken breasts

(any size is fine, just check for doneness with an instant read thermometer)

⅓

cup

Italian dressing or marinade

(we like Ken's Italian with aged Romano Cheese)

2

teaspoons

rotisserie chicken seasoning

homemade or store-bought (more or less to taste)
Instructions
Place the chicken breasts in a zipper bag. Pour the Italian dressing or marinade over the chicken, seal and refrigerate for 4 hours or up to 12 hours.

When ready to cook preheat the air fryer to 400°F for 5 to 6 minutes. Spritz the air fryer basket with oil.

Remove the chicken from the marinade allowing any excess to drip back into the bag. Discard the marinade. Season both sides of the chicken with the rotisserie seasoning.

Place the seasoned chicken breasts in a single layer in the air fryer basket. Make sure they are not touching or overlapping for even cooking.

Slide the basket into the air fryer and cook the chicken at 400°F for about 12 to 13 minutes, flipping halfway through the cooking time. Cooking time may vary depending on the thickness of the chicken breasts.

To ensure the chicken is cooked thoroughly, use a meat or instant read thermometer to measure the internal temperature. The chicken should reach 165°F to be safe to eat. If it's not fully cooked, return it to the air fryer and cook for another minute or two.

Once the chicken reaches the desired temperature, remove it from the air fryer and let it rest for a couple of minutes. This resting period helps the juices redistribute, resulting in more tender and flavorful chicken.
Recipe Notes
Substitute boneless chicken thighs if desired and cook to an internal temperature of 175 degrees F.
Nutritional information is calculated using an ingredient database and should be considered as an estimate. When multiple ingredient alternatives are given, the first listed is calculated for nutrition. Garnishes and optional ingredients are not included.
Nutrition
Calories:
228
kcal
|
Carbohydrates:
6
g
|
Protein:
24
g
|
Fat:
11
g
|
Saturated Fat:
2
g
|
Polyunsaturated Fat:
5
g
|
Monounsaturated Fat:
3
g
|
Trans Fat:
0.04
g
|
Cholesterol:
72
mg
|
Sodium:
553
mg
|
Potassium:
490
mg
|
Fiber:
1
g
|
Sugar:
4
g
|
Vitamin A:
641
IU
|
Vitamin C:
2
mg
|
Calcium:
17
mg
|
Iron:
1
mg
That's it! With these straightforward steps you can achieve perfectly cooked juicy chicken breasts in your air fryer. I hope you enjoy this hassle-free cooking experience with delicious results.