This post may contain affiliate links. Please read my disclosure policy.
Homemade Rotisserie Chicken Seasoning isn't just for chicken! This simple blend of aromatic spices will unlock a world of delicious possibilities in all your savory recipes.
Simple Homemade Rotisserie Chicken Seasoning Blend
You'll find countless ways to use this magical savory seasoning blend even in your everyday cooking. Try Rotisserie Chicken Seasoning sprinkled on turkey, steaks, pork chops, fish, roast chicken, burgers, potatoes and even grilled or roasted vegetables.
Don't forget to sprinkle a little into your favorite creamy dressing or dip, too. These spices will elevate your salads and appetizers to a whole new level.
Customizable Rotisserie Chicken Seasoning blend couldn't be easier to make with just a few ingredients
Onion Powder
Made from dehydrated ground onions this simple pantry staple adds a savory richness to any recipe. If using onion salt in place of powder be sure to omit half the added salt in the recipe.
Cayenne Powder
Don't be tempted to skip a sprinkle of cayenne pepper in this spice blend. It adds a gentle hint of warm heat without the burn, adding zing to all your recipes. Feel free to cut the amount in half or add more for extra pizzazz!
Chili Powder
Made from dried ground chili peppers adding loads of flavor to this all-purpose spice.
Smoked Paprika
We've tested this recipe with both sweet and smoked paprika and definitely prefer smoked. The smoky kick adds just the right amount of deep woodsy flavor to the mix.
Garlic Powder
We add a healthy helping of garlic powder for its pungent charm and flavor enhancement magic. If using garlic salt instead of powder omit half the added salt in the recipe.
Lemon Pepper
The key to great rotisserie seasoning is to add a nice citrusy component. We use salt-free Mrs. Dash Lemon Pepper which is a life saver to those of us watching our sodium intake.
Table Salt and Fresh Ground Pepper
With a pinch of salt and a twist of fresh ground black pepper we created a blend of spices that work together in perfect harmony.
Variations, Add-ins and Inspiration
This basic recipe for a homemade spice blend is easily adapted to your favorite recipes and flavors.
Sprinkle in a little red pepper flakes for added heat.
A small amount of ground cumin adds a little Mexican magic to the mix. Add this inspired blend to ground beef or chicken for taco filling.
Change it up with some basic herbs like dried thyme, tarragon or rosemary.
Brush grilled chicken skewers with a glaze made from the seasoning, honey and fresh lemon juice. The sweet and tangy flavor combination is truly memorable.
Rub on a chuck roast before browning and then roasting.
Sprinkle the mixture over a whole chicken for slow-roasted rotisserie flavor.
Use on all your favorite chicken recipes whether grilled, roasted, sautéed or cooked in the air fryer.
Instructions
Simply mix the spices together in a small bowl and taste. Add a little more salt or any other ingredient you think might achieve the flavor you're looking for.
Why you should make homemade spice blends
I'm all about convenience and easy weeknight dinners for my family. However, I often find some shortcuts can be made just a little healthier and better when you make your own.
You probably already have these spices in your pantry so why not use them up before they get too old? If you don't have them on hand, all are easily found in the spice section of your local grocery store.
With zero prep time and effort you can transform ordinary meals into unforgettable feasts. Embrace the magic of spices and let your taste buds enjoy a delicious journey!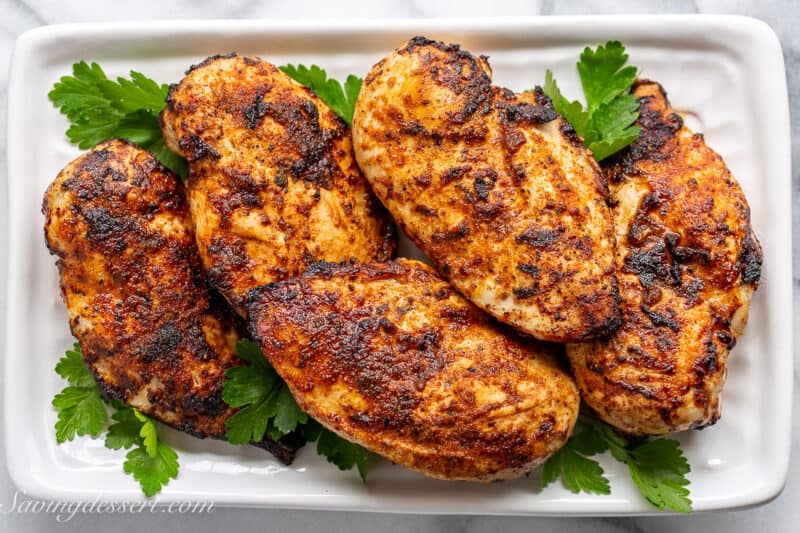 How to store Rotisserie Chicken Seasoning
Keep your homemade spice blends well sealed in a glass mason jar or airtight container to prevent moisture from causing clumps. If you have a shaker style spice jar that's no longer being used, it'd be perfect for this.
Store the jar of seasoning in a cool dry location just like you would with any of your other seasonings.
Thanks for PINNING!
Rotisserie Chicken Seasoning
Explore countless ways to use this Rotisserie Chicken Seasoning in your everyday cooking. Sprinkle on meats, potatoes or vegetables or stir into dips and dressings to add a little pizzaz
Ingredients
1

teaspoon

table salt

1

teaspoon

onion powder

¼

teaspoon

cayenne pepper

more or less to taste

1

teaspoon

chili powder

1

teaspoon

garlic powder

½

teaspoon

smoked paprika

1

teaspoon

salt-free Mrs. Dash Lemon Pepper

or any citrus seasoning blend

1

teaspoon

fresh ground black pepper
Instructions
Combine the spices in a small bowl. Store in an airtight container at room temperature.
Recipe Notes
Store seasoning in an airtight container or jar in a cool dark location.
This spice blend will keep indefinitely.
Nutritional information is calculated using an ingredient database and should be considered as an estimate. When multiple ingredient alternatives are given, the first listed is calculated for nutrition. Garnishes and optional ingredients are not included.
Nutrition
Calories:
4
kcal
|
Carbohydrates:
1
g
|
Protein:
0.2
g
|
Fat:
0.1
g
|
Saturated Fat:
0.02
g
|
Polyunsaturated Fat:
0.03
g
|
Monounsaturated Fat:
0.01
g
|
Sodium:
236
mg
|
Potassium:
18
mg
|
Fiber:
0.3
g
|
Sugar:
0.1
g
|
Vitamin A:
132
IU
|
Vitamin C:
0.1
mg
|
Calcium:
4
mg
|
Iron:
0.1
mg
Great recipes for super seasonings
How to make dry Sriracha Powder Seasoning that's intense, spicy, hot and flavorful. You're going to love this sprinkled on just about everything from grilled meats, tacos, eggs and soups too!
Easy Homemade Popcorn Seasoning – Seven favorite popcorn flavors from herby ranch to gingerbread!
And finally, check out these 13 Copycat Spice Blends that you'll want to make over and over again.