This post may contain affiliate links. Please read my disclosure policy.
Try these authentic grilled kebabs made with pork, beef and lamb at home! Serve with a cucumber-yogurt sauce, pita wedges and plenty of fresh vegetables just like they do in Greece.
We love to travel and enjoy eating foods we don't always get at home. On a recent trip to the Island of Crete, we tried the most amazing kebabs at the Tamam restaurant in Chania. These homely little balls of meat may not look like much, but oh my goodness they are loaded with flavor and juiciness. I practically begged our waiter for the recipe and to my surprise, he mentioned that the recipe is in their cookbook, which is for sale! You know I bought a copy immediately and made these kebabs as soon as I got home. I made a few tweaks to the original recipe, mostly because a few things were lost in translation. And now, you can enjoy this authentic Greek dish at home too!
The well spiced mixture is formed into small, football shaped meatballs and grilled on skewers.
Once the kebabs are cooked through, they are removed from the skewers and served on a platter with pita wedges, crisp cucumber, ripe tomatoes, sliced red onion and a big helping of cucumber-yogurt sauce (tzatziki). Don't be tempted to make your kebabs too big, however. Large kebabs won't stay on the skewers and may fall off before they're cooked through. Keep the kebabs small and they'll cook quickly and beautifully! These kebabs do not include any fillers such as bread crumbs so the mixture is extremely moist. They're loaded with herbs, onion, egg and olive oil for an incredibly juicy bite!
Serve these kebabs with a fresh cucumber-yogurt sauce.
This lovely sauce comes together in minutes and is terrific served with burgers, grilled Greek chicken and these delicious kebabs. It can also be made up to a day ahead and refrigerated until needed. Made with Greek yogurt, olive oil, fresh dill, garlic and shredded cucumber, it couldn't be easier to make. Get the recipe below!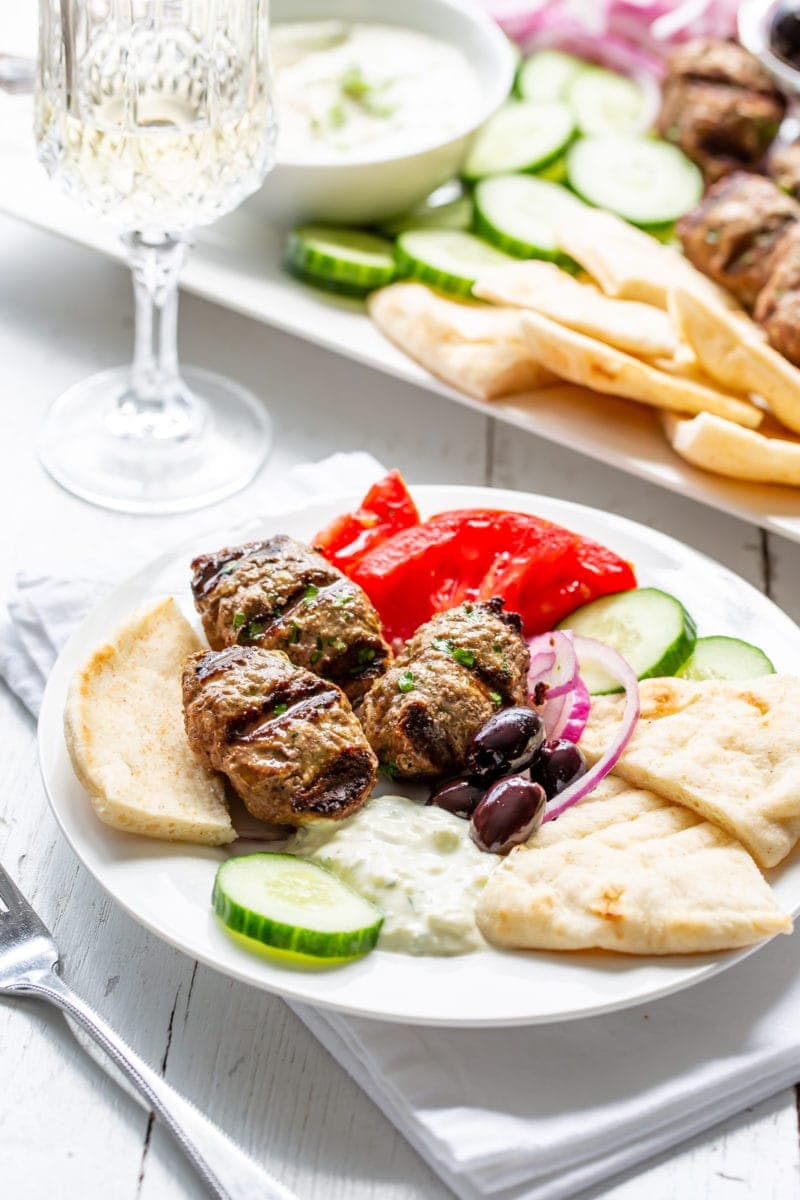 Spicy kebabs are perfect served with fresh vegetables.
Fresh ingredients with plenty of vegetables and olive oil is the way Greeks serve their signature dishes. These beef, pork and lamb kebabs are perfect for a meze-style spread, intimate dinner or party on the deck. Kebabs are terrific served with ice cold beer and plenty of fresh pita bread too!
Thanks for PINNING!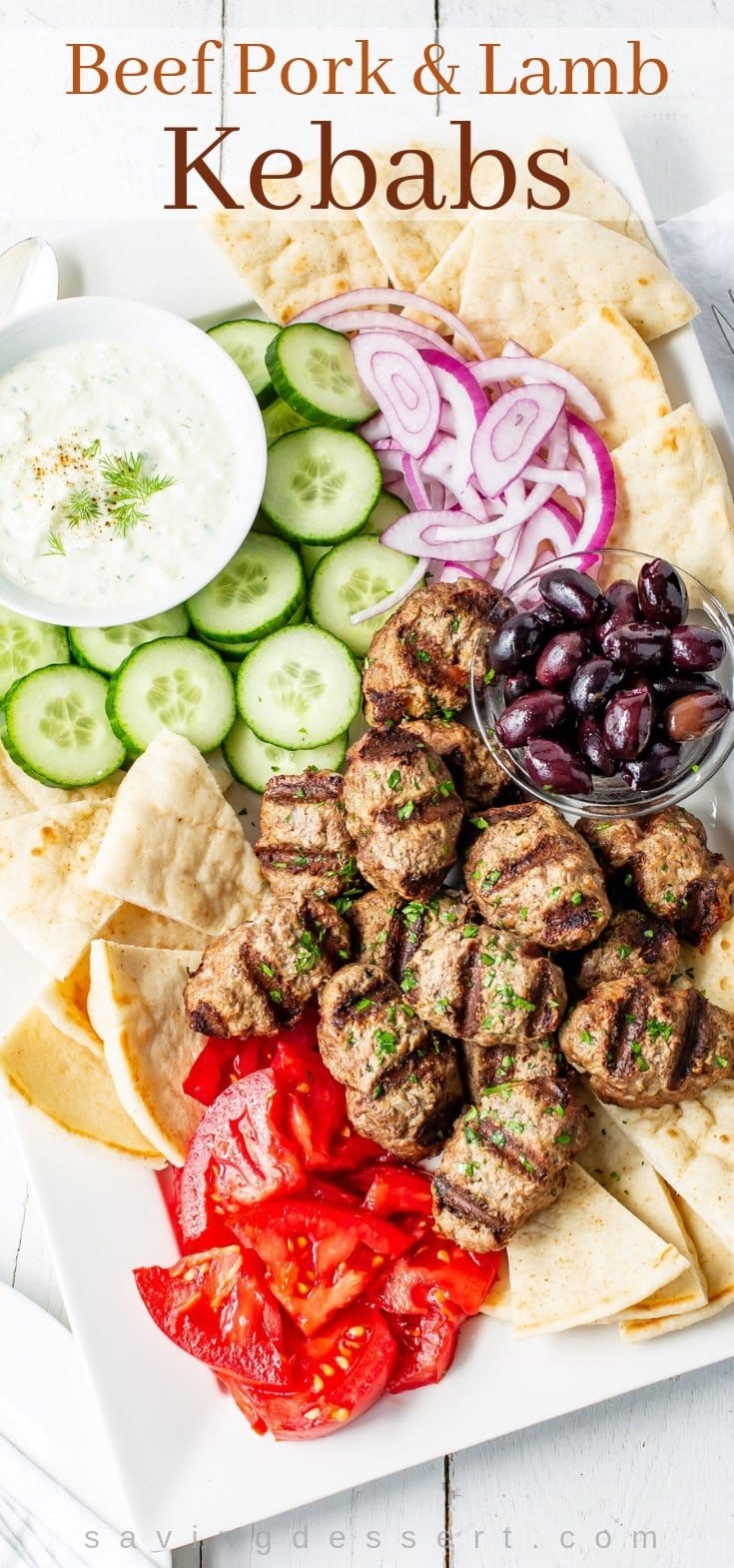 Let's be cooking friends! If you make our recipe please feel free to leave a comment and a star rating on this post. I'm sure your experience and insights will help all our readers, and it helps me too. Also, if you're on Pinterest feel free to leave a comment and photo there if you have one! If you share on INSTAGRAM tag @savingroomfordessert so we can stop by and give your post some love. And we'd be very happy if you'd FOLLOW Saving Room for Dessert on FACEBOOK| INSTAGRAM| PINTEREST | TWITTER  and subscribe to our YOUTUBE channel for all the latest recipes, videos and updates. Thank you!!
PRINT THE RECIPE!
Kebabs
Ingredients
For the cucumber-yogurt sauce:
1/2

English cucumber

1

cup

plain Greek yogurt

2

tablespoons

extra-virgin olive oil

2

tablespoons

minced fresh dill

2

tablespoons

minced fresh parsley leaves

1

garlic clove,

minced

1/2

teaspoon

black pepper

1/4

teaspoon

salt
For the kebabs:
1

pound

ground lamb

1/2

pound

ground beef

1/2

pound

ground pork

1/3

cup

chopped parsley leaves

1/2

large onion,

diced

1/4

cup

extra-virgin olive oil

2

large eggs,

lightly beaten

1

teaspoon

salt

1

teaspoon

black pepper

1/2

teaspoon

garam Massala

1/2

teaspoon

ground cumin

1/2

teaspoon

ground coriander

1/4

teaspoon

ground nutmeg

1

tablespoons

fresh oregano leaves,

chopped

1/4

teaspoon

sumac

(optional)
Optional for serving:
pita bread

sliced cucumber

tomatoes

red onion,

sliced thin

olives

hummus
Instructions
To prepare the sauce:
Peel half an English cucumber and slice in half lengthwise. Using a spoon, scoop out the seeds and discard. Shred the cucumber into a small bowl using a large box grater. Add the remaining ingredients and stir to combine. Cover and refrigerate until ready to serve. May be made 24 hours ahead. Serve the remaining 1/2 cucumber with the kebabs.
To prepare the kebabs:
In a large mixing bowl combine all the kebab ingredients and mix well. The mixture will be wet. Form into kebabs approximately 2x3-inches and slide onto skewers. Thread the meat onto the skewers leaving a small space in-between each kebab or at least not tightly pressed together. Place the kebabs on a baking tray and refrigerate until ready to grill.

Preheat grill on high for 10-15 minutes. Generously grease the grates of the grill using long tongs and folded paper towels soaked with vegetable oil. Reduce the heat to medium-high and grill the kebabs about 5 minutes on each side, turning once until well browned, juicy and cooked through.

Serve the kebabs with cucumber-yogurt sauce, pita wedges, sliced red onion, tomatoes, cucumbers and olives, if desired.
Recipe Notes
Kebab recipe adapted from the Tamam restaurant cookbook, Chania Crete
Finally, here are a few more Greek inspired recipes you might enjoy:
Try our Easy Greek Salad Recipe made with crisp, fresh vegetables, feta cheese and olives, and simply dressed with herbs, oil and vinegar. Click HERE to get the recipe for Greek Salad.
If you're looking for tender, juicy and flavorful all in one delicious bite, you'll LOVE this Grilled Greek Chicken Recipe! Click HERE to get the recipe.
This might look like a plain old veggie sandwich, but it's so much more! The Greek flavors are bright, briny, fresh and delicious and the sandwich is easy to put together. Click HERE to get the recipe for Greek Salad Hummus Sandwich.
Thanks so much for stopping by!  Tricia