This post may contain affiliate links. Please read my disclosure policy.
Chicken Francese (or Chicken French) is a popular restaurant quality dish you can make at home with tender chicken cutlets nestled in a buttery, lemon pan sauce.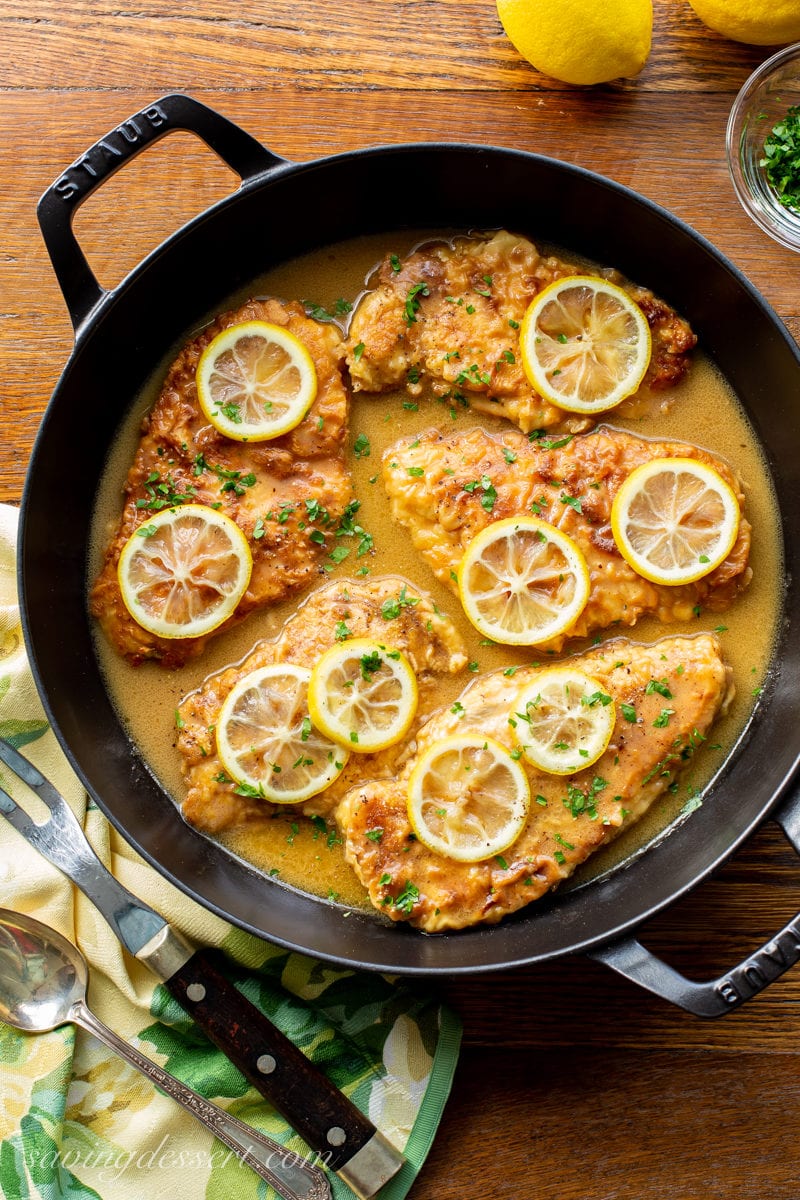 Simple and Quick Chicken Francese
It's about this time each year I start craving all things lemon. Lemon is a great way to brighten up the day with a little sunshine on a plate.
The dreary days of winter are here but that doesn't mean our dinners have to be dreary too! Queue up this delicious, easy, wonderfully different chicken dish your whole family will love.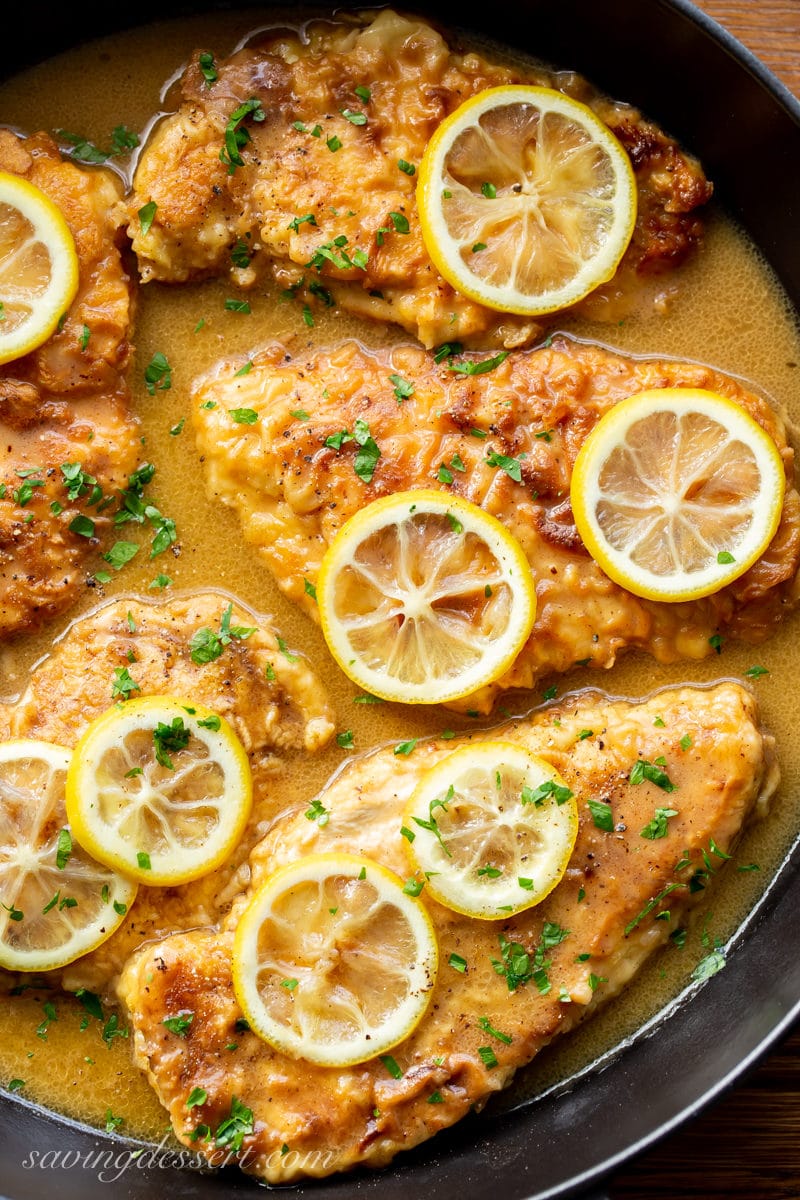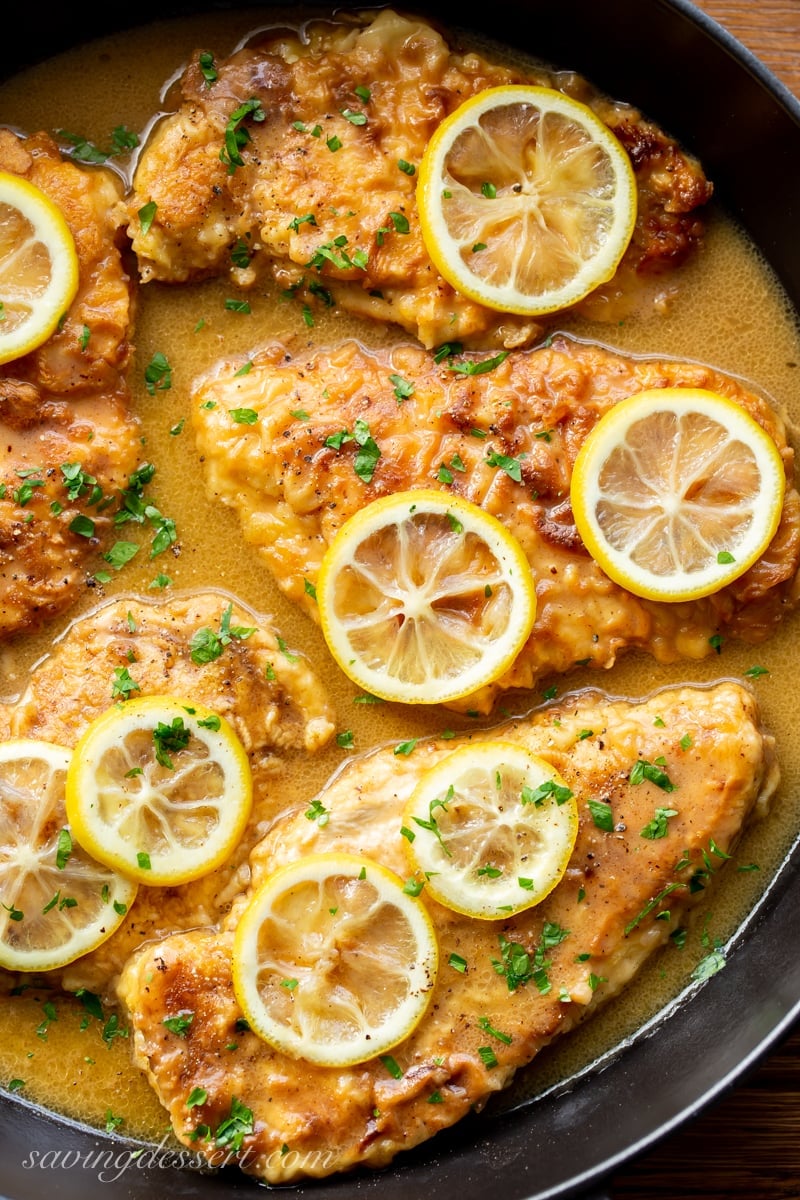 Use skinless, boneless chicken breasts or store-bought chicken cutlets for this recipe.
Chicken cutlets are a great quick dinner tool. The cutlets cook through in about 10 minutes leaving a tender, moist, thin breast that soaks up plenty of flavor from the buttery, lemon wine sauce.
If you can't find prepared cutlets in your local grocery store make your own by slicing boneless breasts in half. For easy preparation and slicing, freeze the chicken breasts for about 15 minutes before cutting in half.
Don't worry if each cutlet is a little different size, there's no need for them to be perfect.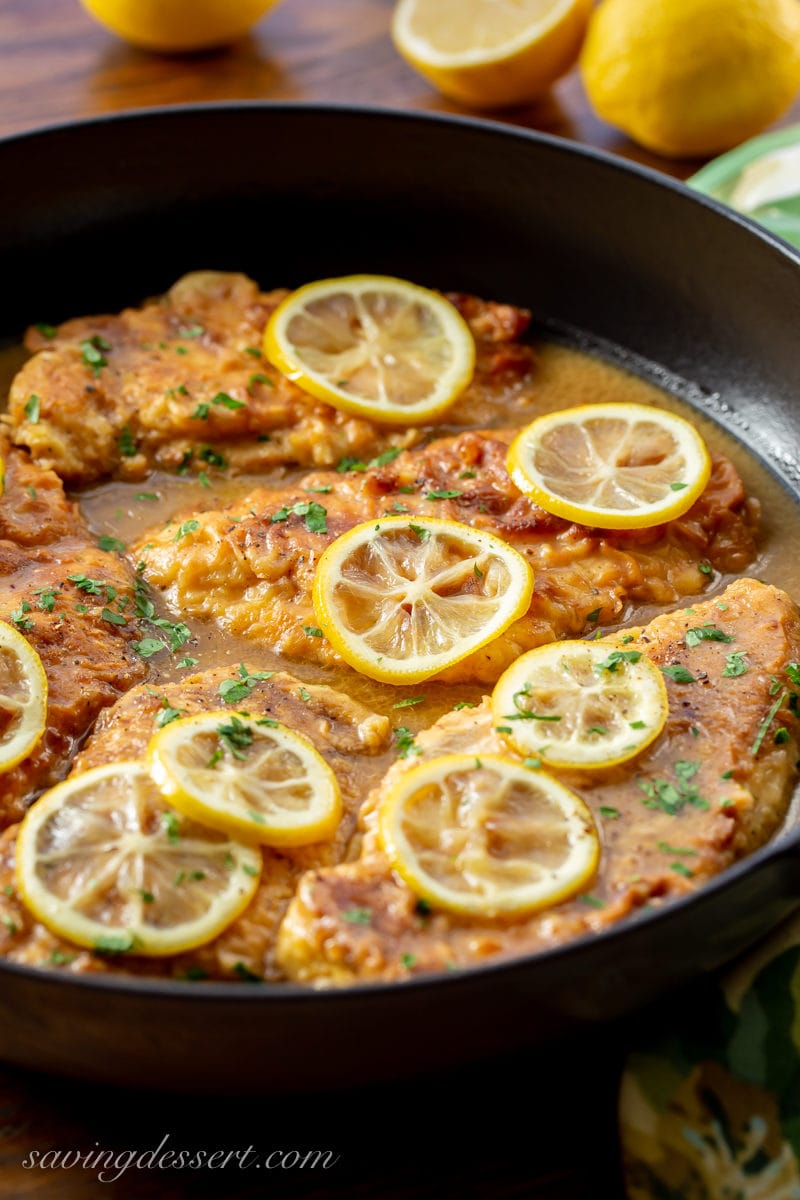 'Francese' means French in Italian, however this lemony chicken dish is an Italian-American creation.
The basis for this recipe was brought to America by Italian immigrants and may have been created as a less expensive alternative to Veal Francese. Recipes for Chicken Francese are similar to another popular dish, Chicken Piccata.
Chicken cutlets are dredged in seasoned flour, dipped in eggs, then back in the flour before pan frying until golden brown. The sauce is made in the same pan with a full quarter cup of fresh lemon juice, butter, dry white wine and chicken broth.
This dish requires the right amount of salt to bring out all the flavors however, so be sure to check the seasoning before serving.
Overview of ingredients for Chicken Francese
For the chicken

:
boneless skinless chicken breasts or cutlets
eggs
milk
salt and pepper
all-purpose flour
unsalted butter
olive oil
For the sauce

:
unsalted butter
onion
all-purpose flour
dry white wine
fresh squeezed lemon juice
low-sodium chicken broth or stock
salt and pepper to taste
minced fresh parsley leaves for garnish
sliced lemon for serving
The buttery lemon pan sauce is great served over pasta.
Serve Chicken Francese with a simple steamed vegetable and plenty of hot spaghetti for a complete, satisfying meal. Garnish with sautéed thin sliced lemons, chopped parsley and fresh ground black pepper for picture perfect Chicken Francese!
Thanks for PINNING!
Chicken Francese Recipe (Chicken French)
A delicious restaurant quality dish with a buttery, lemon pan sauce. This chicken is terrific served over hot pasta.
Ingredients
For the chicken:
4

boneless skinless chicken breasts

(or 6-8 chicken cutlets)

2

large eggs

2

tablespoons

milk

½

teaspoon

salt

½

teaspoon

pepper

1

cup

all-purpose flour

2

tablespoons

unsalted butter

2

tablespoons

olive oil
For the sauce:
4

tablespoons

unsalted butter

divided

¼

cup

minced sweet onion

2

tablespoons

all-purpose flour

½

cup

dry white wine

¼

cup

fresh squeezed lemon juice

(about 2 juicy lemons)

2

cups

low-sodium chicken broth

(or chicken stock)

salt and pepper to taste

minced fresh parsley leaves

for garnish

sliced lemon

for garnish
Instructions
To create chicken cutlets:
Line a small baking sheet with wax paper. Remove the rib meat/tenderloin from the breasts. Reserve for another use or cook with the cutlets. Place the chicken breasts on the pan and freeze for 15 minutes. This step makes it easier to slice the breasts creating cutlets. Hold the breasts firmly against the cutting board with one hand. Using a sharp chef's knife, carefully cut the breasts in half horizontally with the knife parallel to the cutting board. If you purchased chicken cutlets, skip this step.
To prepare the chicken:
While preparing the chicken, set a pot of water over medium high heat for the pasta.

In a shallow bowl, whisk together the eggs and milk. Set aside. Combine the salt, pepper and flour in a separate shallow bowl and place next to the egg wash. Line a baking sheet with paper towels and set aside.

In a large skillet, heat two tablespoons butter and two tablespoons olive oil over medium heat until the butter is melted and the foaming stops. Using tongs, dredge the chicken cutlets in the flour mixture shaking off the excess. Dip the chicken in the egg mixture allowing the extra egg to drip back into the bowl. Transfer to the flour once again, turning to coat. Shake off the extra flour and place in the hot skillet. Cook 2 or 3 cutlets at a time, turning once, until the chicken is well browned, about 3 minutes on each side. Transfer to the prepared paper-towel lined baking sheet. Repeat, adding more butter and olive oil if needed until all chicken is cooked. Set chicken aside. Discard the grease and wipe out the skillet with clean paper towels.
To prepare the lemon sauce:
Add 3 tablespoons butter to the now empty skillet over medium heat. Add the minced onion and cook, stirring occasionally until soft. Add 2 tablespoons of flour and stir for 2 minutes. Add the wine, lemon juice and chicken broth. Increase the temperature to medium-high and bring to a boil, stirring constantly. Reduce the heat to medium and cook the sauce, stirring frequently, until it is reduced to about 1 ½ cups and slightly thickened, about 10 minutes. Pour the sauce through a fine mesh sieve to remove the onions if desired. Return the sauce to the pan and reduce the heat to low. Add the last tablespoon of butter to the sauce. Stir gently until melted. Check the seasoning and add salt and pepper as needed. The lemon flavor will be intense.

Cook your pasta, if using.

Add the chicken cutlets to the sauce and heat gently for 4 to 5 minutes, turning once, or until heated through. Top the chicken with sautéed lemon slices and garnish with minced parsley and plenty of fresh ground black pepper. Serve immediately.
Recipe Notes
There are a few moving parts to this recipe, but everything happens in the same skillet in a few easy steps. Read through the recipe a few times to understand the flow and have all ingredients pre-measured, chopped and ready. With just a little prep work, this recipe comes together in a flash.
Inspired by recipes on the New York Times and Cook's Illustrated
Nutritional information is calculated using an ingredient database and should be considered as an estimate. When multiple ingredient alternatives are given, the first listed is calculated for nutrition. Garnishes and optional ingredients are not included.
Nutrition
Calories:
371
kcal
|
Carbohydrates:
21
g
|
Protein:
22
g
|
Fat:
20
g
|
Saturated Fat:
9
g
|
Polyunsaturated Fat:
2
g
|
Monounsaturated Fat:
8
g
|
Trans Fat:
0.5
g
|
Cholesterol:
133
mg
|
Sodium:
331
mg
|
Potassium:
439
mg
|
Fiber:
1
g
|
Sugar:
1
g
|
Vitamin A:
461
IU
|
Vitamin C:
5
mg
|
Calcium:
33
mg
|
Iron:
2
mg
Looking for a few more easy chicken recipes?
Try our classic Chicken Piccata recipe. With a light lemon sauce and plenty of briny capers, this tasty chicken will be a family favorite.
Our most popular chicken recipe is for this company-worthy, restaurant quality Skillet Chicken with Mushroom Wine Sauce. Just check all the 5-star reviews! This recipe is a must-make for chicken and mushroom lovers. ⭐️⭐️⭐️⭐️⭐️
For a unique and delicious change of pace enjoy our delicious Chicken Fricassee with Apples. This recipe is made with gently stewed chicken breasts in a creamy white sauce with apple cider and a splash of apple cider vinegar. Onions and apples give this dish a light fresh sweetness and a surprisingly complex flavor.
And finally you'll love this super fast and easy Spicy Honey Lime Chicken Thigh Recipe. Made with boneless, skinless chicken thighs it cooks quickly and is finished in a delicious garlic infused sauce that's sticky, sweet and spicy. We've got so much flavor going on here… nothing boring about this chicken dinner!