This post may contain affiliate links. Please read my disclosure policy.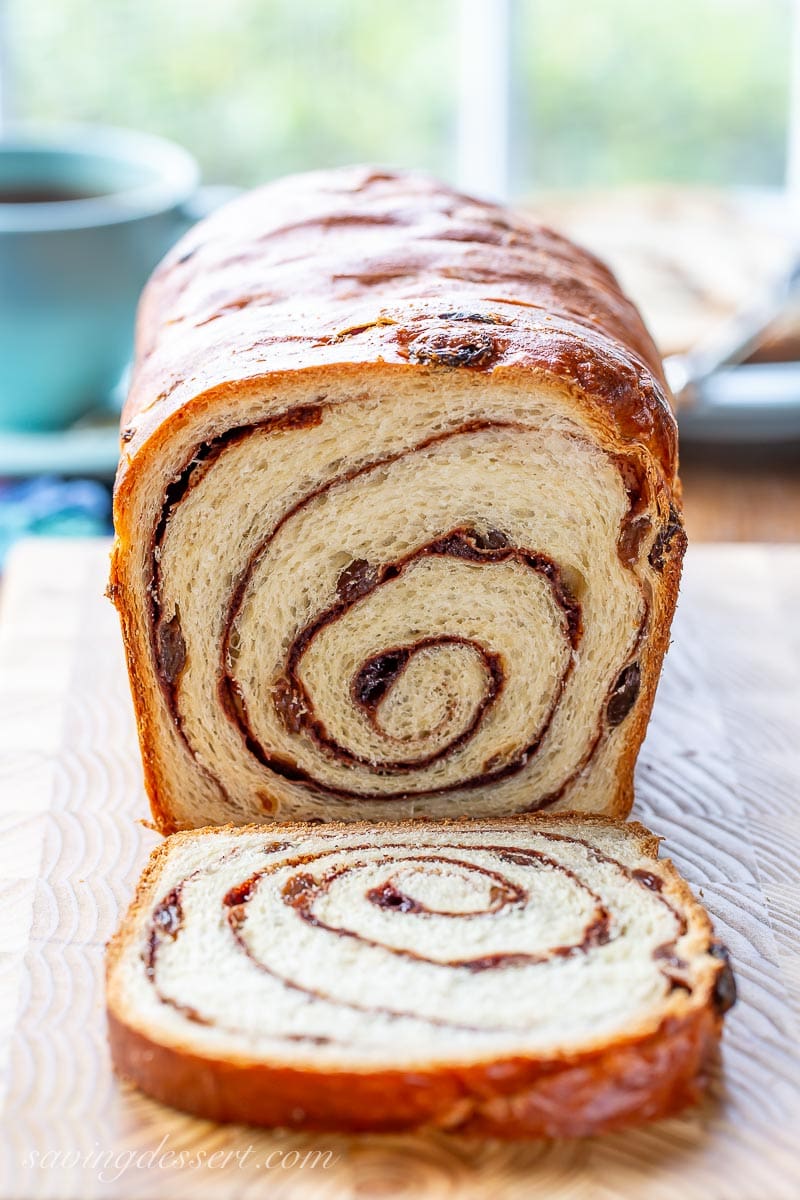 Light and airy, homemade Cinnamon Swirl Bread with raisins!
I've said it before, and I'll say it again, making homemade yeast bread is a soul satisfying experience! During the dark, cold days of winter there's nothing better than making your own bread. Whether you're whipping up a batch of rolls, hot cross buns, no-knead bread, hamburger buns or an Artisan loaf, baking with yeast can be very therapeutic.
This fun baking project yields two incredibly soft and flavorful loaves of buttery, sweet bread filled with ample amounts of cinnamon and raisins.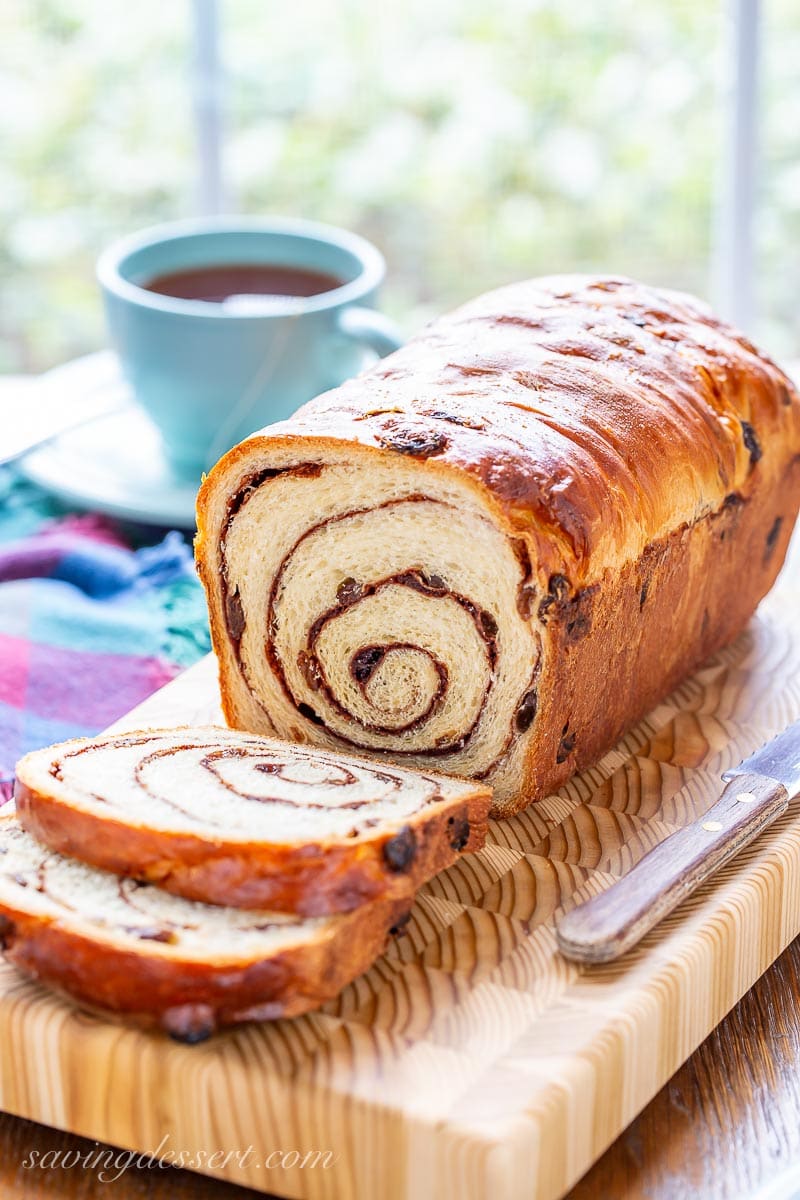 Is cinnamon swirl bread with raisins hard to make?
I don't feel like this cinnamon raisin bread is hard to make, but it does require many simple steps to achieve a properly risen loaf. Each step is well detailed on the printable recipe card making it appear more difficult than it is.
Let's break it down:
First mix the flour, milk powder, sugar and yeast in the bowl of a stand mixer;
Add water and egg and mix until combined;
Cover the bowl and set aside for 20 minutes;
Add salt and mix for 15 minutes;
Knead the butter into the dough;
Blend in raisins;
Fold the dough to create airy pockets;
Cover and let rise for 45 minutes;
Deflate the dough and repeat the folding steps;
Cover and let rise another 45 minutes.
Prepare the filling;
Cut the dough in half and roll out one piece at a time;
Top with half the filling and roll up into a cylinder;
Repeat with remaining dough.
Allow the loaves to rise for 90 minutes.
Finally, brush the loaves with an egg wash and bake!
As you can see, there are many uncomplicated steps happening at various intervals. All together it takes about 5 hours to complete this project which includes 3 hours of rise time and 45 minutes in the oven. This project is best done when you're going to be home all day. Is it worth it? Oh yes indeed! This is one delicious loaf of cinnamon bread!
I often bake these kinds of breads on laundry days, or when I'm going to be at my desk for many hours. When the timer goes off, I head into the kitchen for the next step. Easy peasy.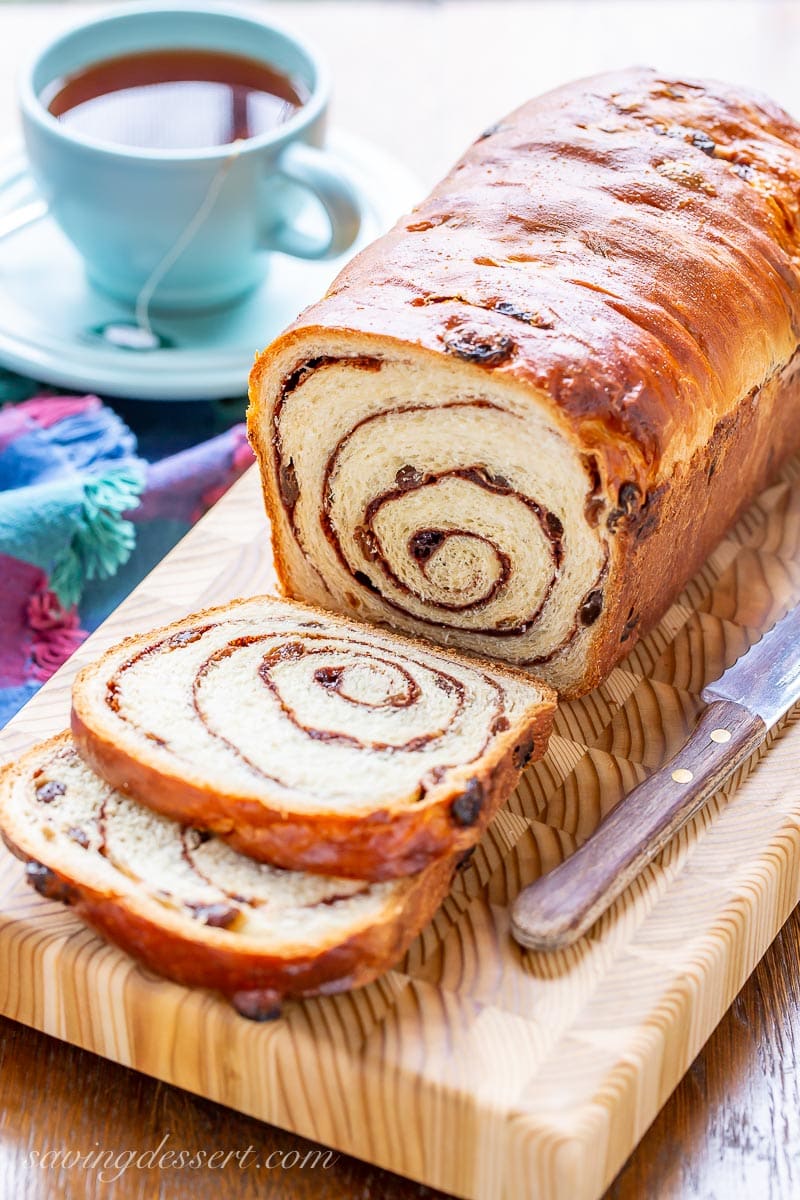 What kind of special equipment do you need to make homemade cinnamon swirl bread?
To make this bread I recommend having the following tools on hand: a stand mixer with a dough hook, two 8.5 x 4.5-inch loaf pans, a rolling pin, a clean spray bottle for water and an instant-read thermometer. Another optional tool is a bowl scraper or large stiff rubber spatula to help fold the dough.
If you don't have a spray bottle, don't worry, just lightly sprinkle water over the filling with your fingers.
An instant-read thermometer is a great tool to use when baking bread. I reply on it to double check the interior temperature of the bread to ensure it's baked through.
I also use the instant-read thermometer to check the water temperature before adding to the yeast. If the water is too cold, the yeast won't work in the time indicated. If the water is too hot, it can kill the yeast and the bread won't rise.
The dough scraper is optional as you can fold the dough with your hands if you prefer.
What are the best kind of raisins to use in this recipe?
Golden raisins are probably the best as they're a little softer, but dark raisins work well too. My husband made one of those giant bulk raisin purchases from Costco so we're swimming in dark raisins. I'm putting them in everything. You can also leave out the raisins if you're not a fan. It's all good!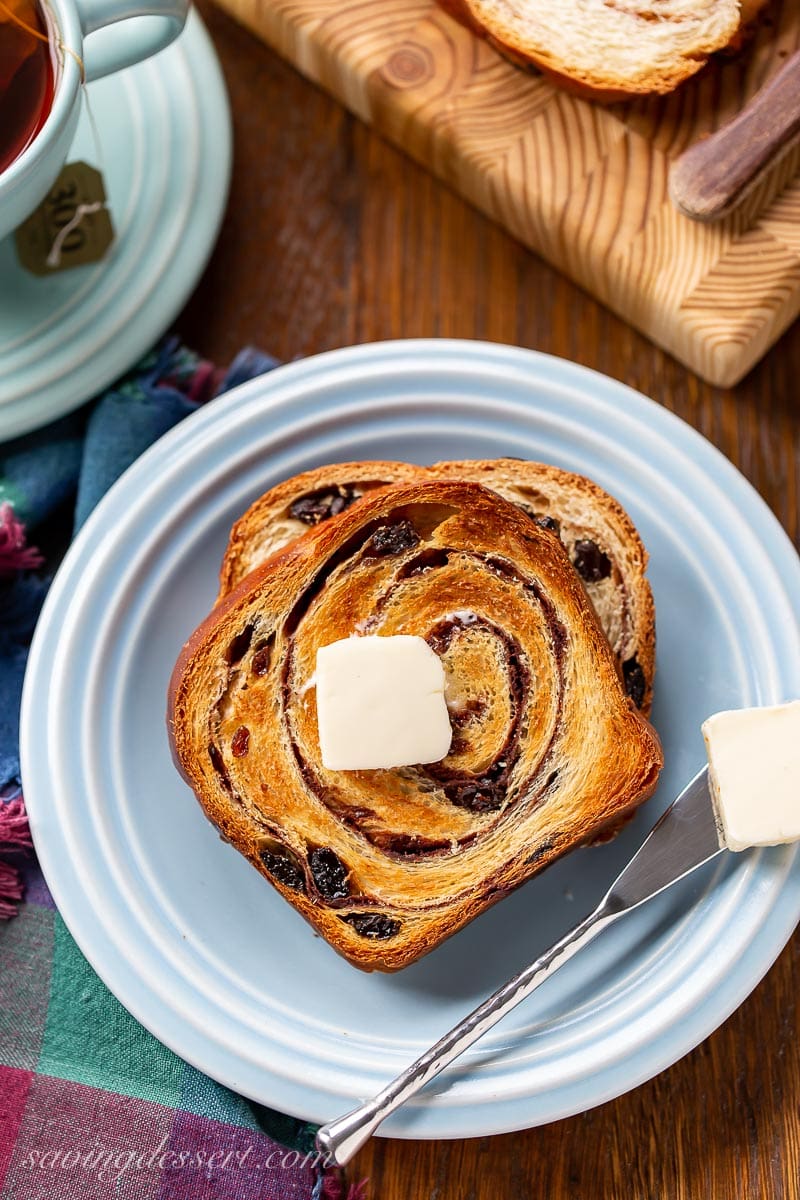 Can you put this cinnamon swirl bread in the toaster?
The first time I made this bread I was a little wary of putting it in the toaster because I was afraid the filling would leak out and burn. However, my fearless husband was the first to toast a slice with great success. The filling is made with powdered sugar instead of granulated which doesn't melt the same and does a fantastic job of staying put, where it belongs.
You can also toast the bread in the oven under the broiler, if desired. This cinnamon swirl bread browns beautifully when toasted, and is out of this world delicious smeared with a little sweet butter.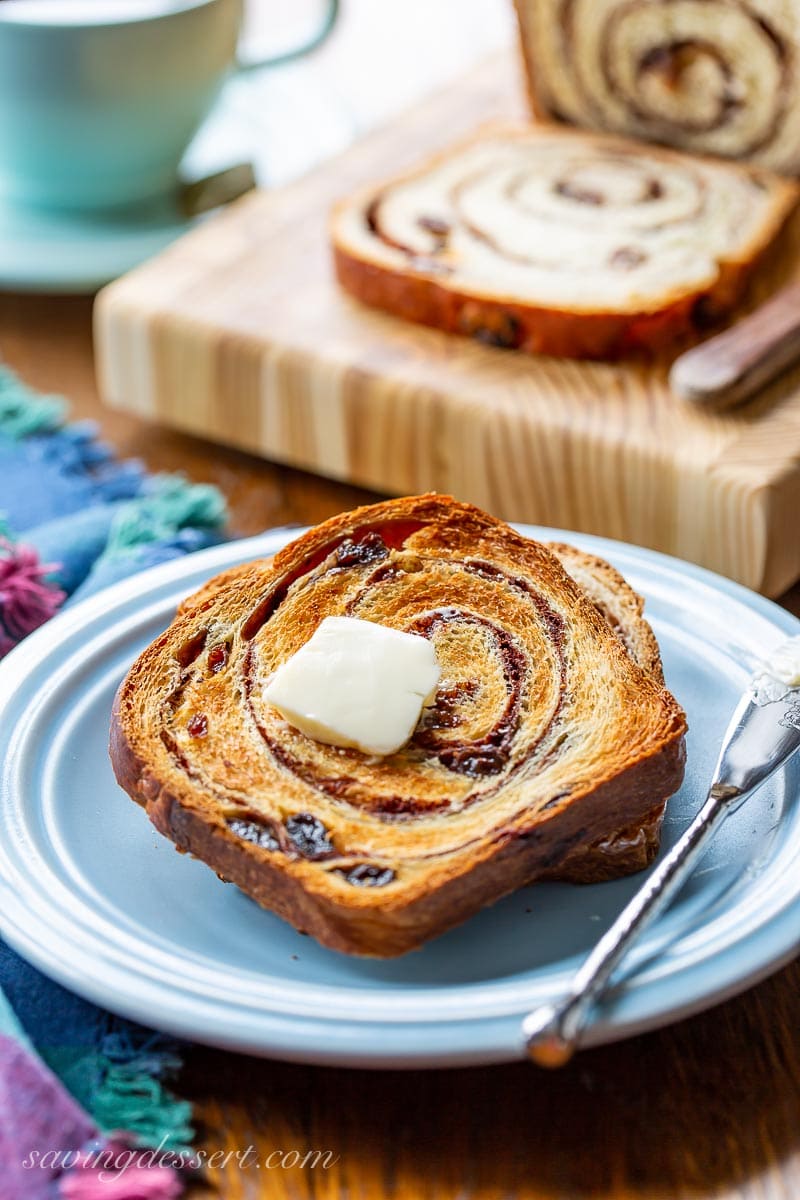 Can you make this cinnamon swirl bread ahead? Is it freezer-friendly?
Cinnamon Swirl Bread can be made up to two days in advance. Cover the bread in several layers of plastic wrap and leave at room temperature until needed.
This bread also freezes well. Wrap the bread tightly in plastic wrap, then add a layer of aluminum foil, or place in a large zipper bag. The bread keeps well for up to one month in the freezer.
Thanks for PINNING!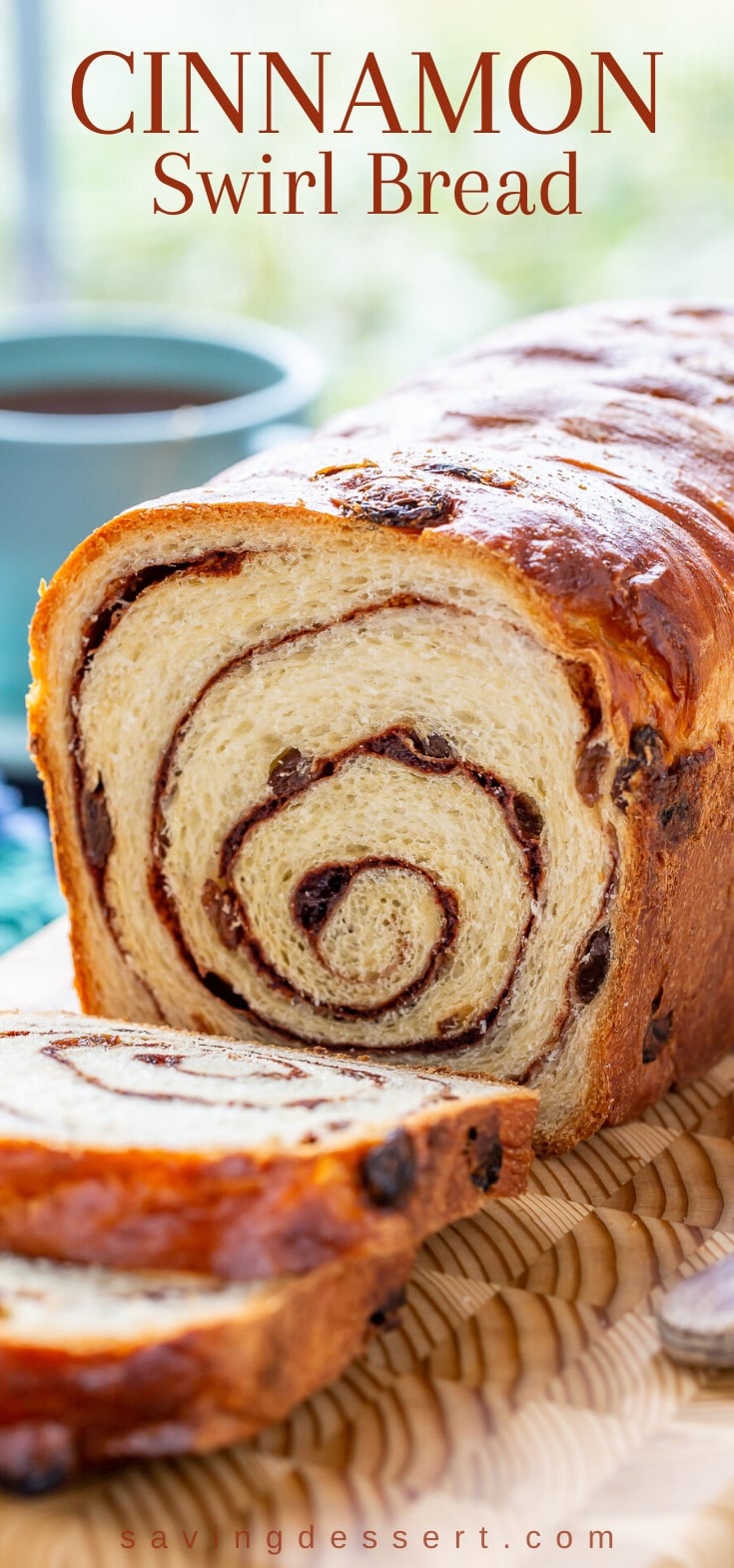 Let's be baking friends! When you try our recipe please feel free to leave a comment on this post. I'm sure your experience and insights will help all our readers, and it helps me too. Also, if you're on Pinterest feel free to leave a comment and photo there if you have one! If you share on INSTAGRAM tag @savingroomfordessert so we can stop by and give your post some love. FOLLOW Saving Room for Dessert on FACEBOOK| INSTAGRAM| PINTEREST | TWITTER  and subscribe to our YOUTUBE channel for all the latest recipes, videos and updates. Thank you!!!
PRINT THE RECIPE!
Cinnamon Swirl Bread
Prep Time:
1

hour
15

minutes
Course:
Bread, Breakfast or Brunch
A light and airy loaf, with plenty of cinnamon and raisins.
Ingredients
For the dough:
8

tablespoons

unsalted butter

(4oz or 113g)

4

cups

bread flour,

plus 1 tablespoon (18¾ oz or 530g)

¾

cup

nonfat dry milk powder

(85g or 3oz)

⅓

cup

granulated sugar

(2¾ oz or 78g)

1

tablespoon

instant or rapid-rise yeast

1½

cups

warm water

(105° to 110°F) (12oz or 360g)

1

large egg,

lighten beaten

1½

teaspoons

salt

1½

cups

raisins

(7½ oz or 200g)
For the filling:
1½

cups

powdered sugar

(6oz or 150g)

⅓

cup

ground cinnamon

(40g)

1½

teaspoons

vanilla extract

1

teaspoon

salt
for topping:
1

large egg,

lightly beaten with a pinch of salt
Instructions
Tools you will need:
A stand mixer, two 8.5x4.5 loaf pans, a rolling pin, a spray bottle for clean water and an instant read thermometer. Optional: a bowl scraper or rubber spatula for folding the dough
To prepare the dough:
Cut the butter into 32 pieces and toss in a bowl with 1 tablespoon flour. Set aside.

In the bowl of a stand mixer combine 4 cups of flour, milk powder, sugar and yeast. Whisk until combined. Fit the mixer with the dough hook. Set the speed on medium-low and add the water and the egg. Continue to mix until a cohesive mass forms, about 2 minutes. Scrape down the sides of the bowl if needed. Cover the mixing bowl with plastic wrap and set aside in a warm location for 20 minutes. After 20 minutes the mixture should be a little bubbly and puffy.

Remove the plastic wrap from the mixer bowl and add the salt. Mix on medium low until the dough is smooth and elastic and just about clears the sides of the bowl; about 15 minutes. If needed at the end, add 1 or 2 tablespoons of flour and continue mixing until the dough ball clings to the hook and clear the sides of the mixing bowl. A little sticky dough in the bottom of the bowl is okay.

With the mixer running, add the butter, a few pieces at a time. Continue to knead until the butter is fully incorporated and the dough is smooth and elastic and clears the sides of the bowl, 3 to 5 minutes more. Add the raisins and mix until incorporated.

Transfer the dough to a large greased bowl. Using your hands, a bowl scraper or rubber spatula, fold the dough over itself by gently lifting the dough from underneath and folding the edge of dough toward the middle. Turn the bowl a quarter turn and fold again. Turn the bowl another quarter turn, and fold 6 more times for a total of 8 folds.

Cover tightly with plastic wrap and transfer to the middle rack of the oven. Place a loaf pan on the bottom of your oven. Pour 3 cups of boiling water into the loaf pan and quickly close the oven door. Allow the dough to rise for 45 minutes - no peaking!

Remove the bowl from the oven and gently press down on the center of the dough to deflate. Repeat the folding steps (for a total of 8 folds). Recover the bowl with plastic wrap and return the dough to the oven until doubled in size, about 45 minutes.
To prepare the filling:
Whisk the filling ingredients together and set aside.
To form the bread:
Grease two 8½ x 4½- inch loaf pans. Set aside.

Transfer the dough to a lightly floured work surface and divide into two equal pieces. Working with 1 piece at a time, pat the dough into a rough 6 by 11-inch rectangle. With the short side facing you, fold long sides in like a business letter to form a 3 by 11-inch rectangle. Roll the dough away from you into a ball.

Dust the ball with flour and flatten with a rolling pin into a 7 by 22-inch rectangle with even thickness. Using a clean spray bottle filled with water, spray the dough lightly. Sprinkle half the filling mixture evenly over the dough leaving a ¼-inch border on the sides and a ¾ inch border at both ends. Spray the filling lightly with water. (Filling should be speckled with water covering the entire surface.)

With the short side facing you, roll the dough away from you into a firm cylinder. While rolling the dough, gently tighten and tug the roll towards yourself before rolling another another few inches. Repeat. Turn the loaf seam side up and pinch the seams closed. Pinch the ends closed.

Turn the loaf seam side down and gently place in the prepared loaf pan. Do not squish or press the dough into the pan.

Repeat with the remaining dough and filling. Cover the loaves loosely with plastic wrap and return them to the oven. Allow the loaves to rise for 45 minutes.

Remove the loaves and water pan from the oven. Preheat oven to 350°F. Allow the loaves to rise in a warm location until almost double in size, about 45 minutes longer. The tops of the loaves should rise about 1-inch over the rim of the pan.
To bake the bread:
Brush the loaves with the egg mixture. Bake until the crust is well browned, about 25 minutes. Reduce the oven temperature to 325°F, tent the bread with aluminum foil and continue baking until the internal temperature registers 200°F, 15 to 25 minutes longer.

Transfer the pans to a wire rack and cool for 5 minutes. Remove the loaves from the pans and return to the rack. Cool to room temperature before slicing, about 2 hours.
To make ahead:
Baked and cooled loaves can be wrapped in a double layer of plastic wrap and stored at room temperature for up to 2 days. Wrap in additional plastic and foil and freeze for up to 1 month.

Bread toasts very well, in the oven or toaster
Recipe Notes
Recipe adapted from Cook's Illustrated Bread Book
Nutrition information is calculated using an ingredient database and should be considered an estimate. When multiple ingredient alternatives are given, the first listed is calculated for nutrition. Garnishes and optional ingredients are not included.
Nutrition
Calories:
2454
kcal
|
Carbohydrates:
448
g
|
Protein:
58
g
|
Fat:
55
g
|
Saturated Fat:
31
g
|
Polyunsaturated Fat:
5
g
|
Monounsaturated Fat:
14
g
|
Trans Fat:
2
g
|
Cholesterol:
294
mg
|
Sodium:
3284
mg
|
Potassium:
2279
mg
|
Fiber:
35
g
|
Sugar:
148
g
|
Vitamin A:
2804
IU
|
Vitamin C:
11
mg
|
Calcium:
1114
mg
|
Iron:
9
mg
Our favorite bread cookbook:
If you're interested in learning more about the science of  yeast breads, or in making your own bakery-quality breads at home, I highly recommend this cookbook. Bread Illustrated: A Step-By-Step Guide to Achieving Bakery-Quality Results At Home. We adapted our Cinnamon Swirl Bread recipe from this cookbook. 
Saving Room for Dessert is a participant in the Amazon Services LLC Associates Program ~ I earn a small commission, at no additional cost to you, which I use to pay for web hosting and services for this blog.
Here are a few more swirly bread recipes you might enjoy: