This post may contain affiliate links. Please read my disclosure policy.
The Dublin Coddle – an easy Irish classic!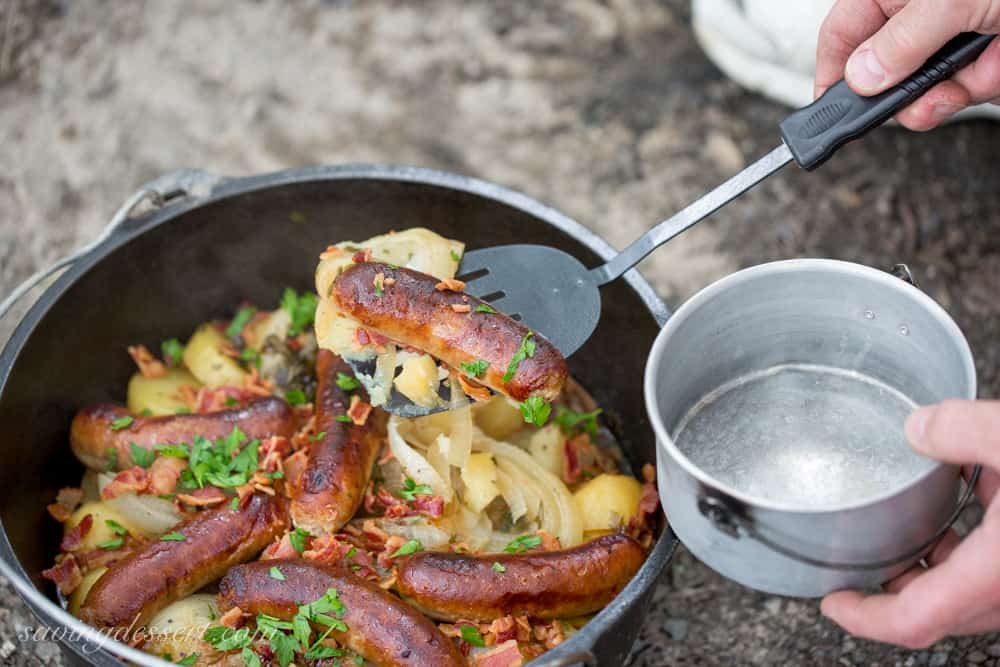 Amazing Irish comfort food!
The Dublin Coddle is easy to make with potatoes, onions, rashers (bacon) and bangers (sausages) with a little chicken broth and beer thrown in. It can be made over a campfire or in your oven at home.
Last weekend we went camping in Shenandoah National Park with our two dogs and a cooler full of wonderful ingredients. We love cooking outdoors on an open fire and especially love our Lodge Camp Dutch Oven  for stews, soups and casseroles like this Dublin Coddle.
To be an authentic Irish Coddle, everything is boiled together instead of layered and the sausages are not browned. This is my adaptation since we were camping and wanted to adapt the old-style recipe for the Camp Dutch Oven.
Since we live in the United States and authentic bangers are hard to find except around St. Patrick's Day, I often use bratwurst sausages which are also made of pork and slightly larger than traditional bangers.
Our Camp Dutch Oven is a 12-inch, 6 quart cast iron pot specially made for cooking over coals.
As you can see in the photo above, my favorite sous-chef assisted with the food prep. He peeled the potatoes and I fried the bacon and sausages. What a team!
You can also make this Dublin Coddle casserole in the oven at home, using the same recipe.
Layer the potatoes in the bottom of your Dutch Oven or casserole dish. Season well with pepper and sprinkle half the cooked and crumbled bacon on top.
Cook the onions in the skillet used to fry the bacon in about 3 tablespoons of drippings. Once the onions are softened, add the broth and vinegar and carefully pour over the potatoes. Add some fresh chopped parsley and the lightly browned bangers.
We use charcoal to create an outdoor oven.
Pre-heat 25-30 charcoals in a hot fire. You'll need red hot charcoals to place under the pot and some on the top to create an oven effect.
There is a science to how many hot coals you should use to create an outdoor oven.
For a 12-inch dutch oven, you should double that number to 24 and divide by three. Place one-third of the 24 coals on the bottom (8) in a checkerboard pattern and place the remaining (16) coals on top.
You'll need to replenish the coals during the the next couple of hours of cooking so be sure to have more coals ready.
When cooking outdoors, this is not one of those start it and leave it kind of dishes. A Dutch Oven should be monitored and the pot rotated every 15-20 minutes to even out any hot spots. Turn the pot clockwise a quarter turn and then turn the lid a quarter turn in the opposite direction. Isn't that brilliant?!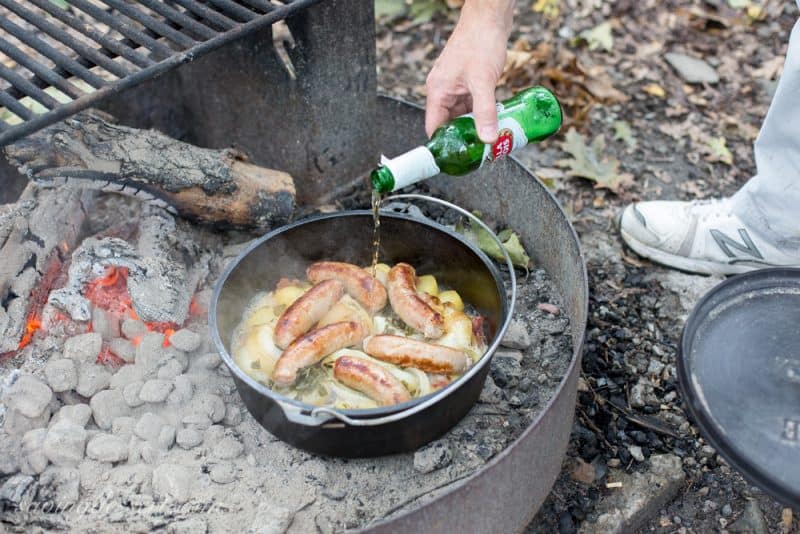 Since Dublin Coddle is a casserole, not a soup, you will need to watch the broth to make sure the pot does not boil dry.
After about an hour over the coals, add a cup or more of your favorite beer (Guinness is a popular choice for this dish.) Put the lid back on the dutch oven with a fresh layer of coals on the top and bottom.
Next you will need to finish the bottle of beer if you didn't put it all in the pot. You can also share with your sous-chef if desired.
If you run out and buy a dutch oven for your next outdoor adventure, be sure to get the handy dandy lid lifter too!
Once all the potatoes are tender, the Dublin Coddle is ready to serve.
Add any remaining chopped bacon to the pot and a fresh garnish of parsley. Serve immediately with a cold beer.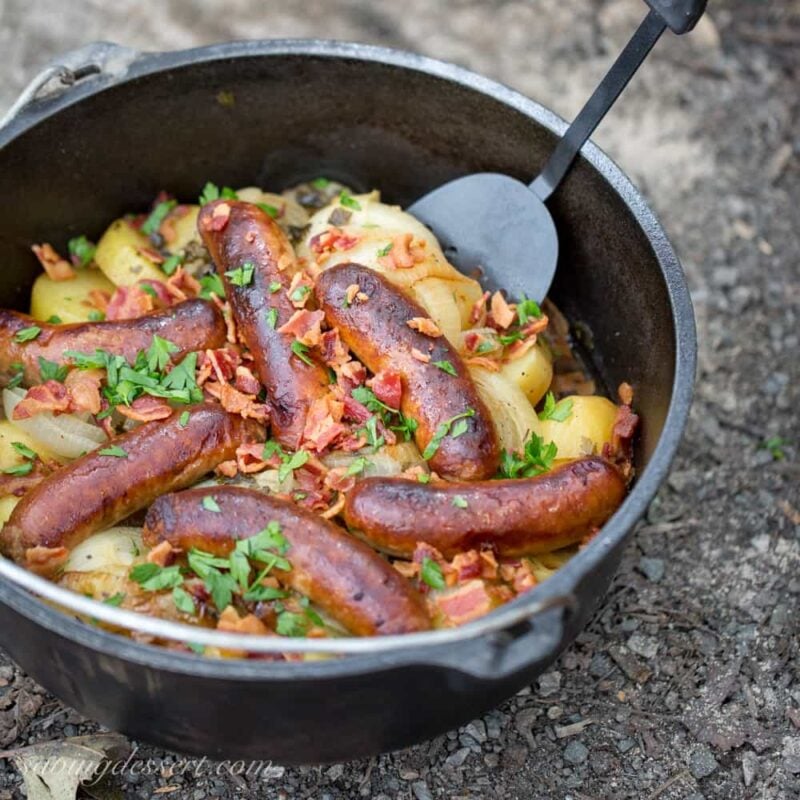 Serve this hardy dish with some crusty bread to soak up the broth.
This recipe makes enough to serve four to six people, or only two with enough leftover for several more meals!
It's a shame we don't eat sausage and bacon very often anymore. With a weekend of hiking and walking, we felt a little splurge was okay.
Baking Dublin Coddle may not be the most authentic cooking method, but it is our favorite.
My husband and I both love this dish. I prefer this cooking method over boiling the bacon and sausage which is a popular way to cook a coddle.
By browning and cooking the bacon and sausage before adding to the pot, we're able to remove most of the rendered fat. In some small way this is a little bit healthier and the sausages look more appealing than if they're boiled. No offense meant to the authentic Irish way to make this dish!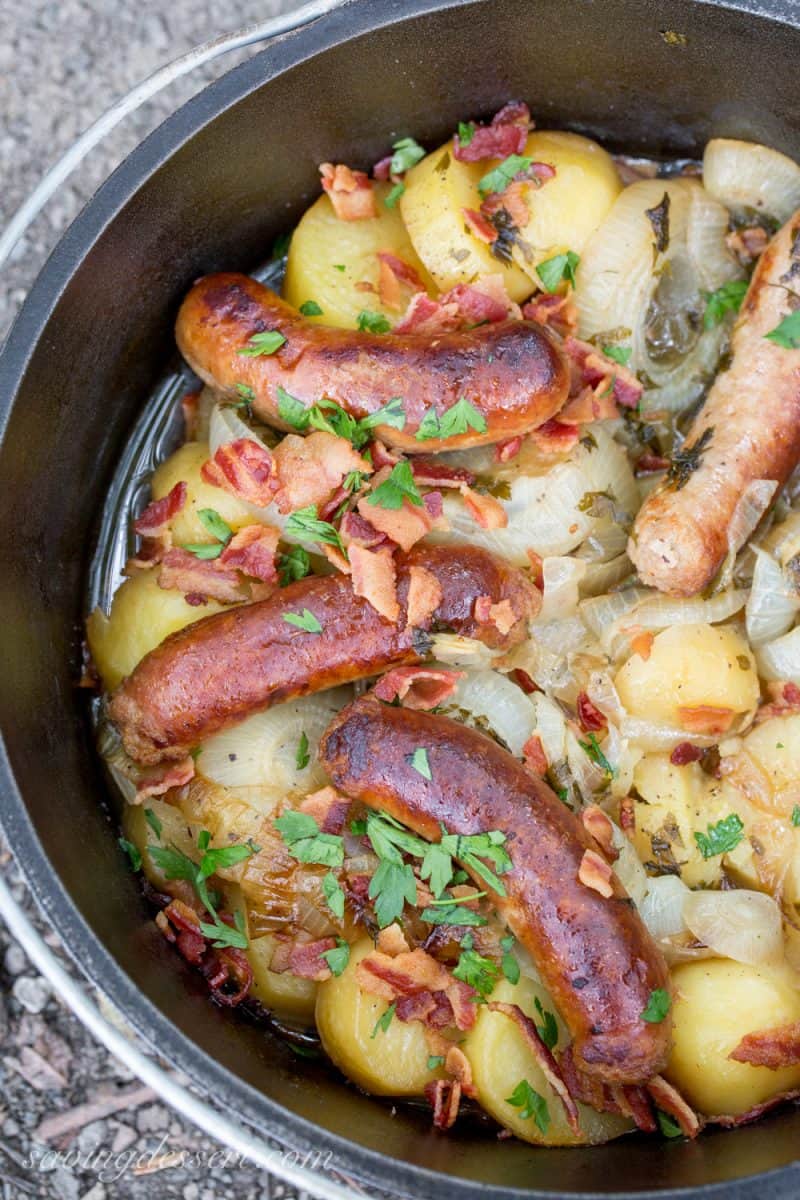 The Dublin Coddle is an exceptional treat
Who doesn't love tender potatoes, sweet onions and perfectly cooked "bangers?" For another delicious and easy meal, try our Bangers and Mash with Onion Gravy. It's pure comfort food with loads of flavor.
What fun is a camping trip without roasted marshmallows?
And finally for dessert, my wonderful sous-chef husband once again proved that he is the master of the roasted marshmallow!
Thanks for PINNING!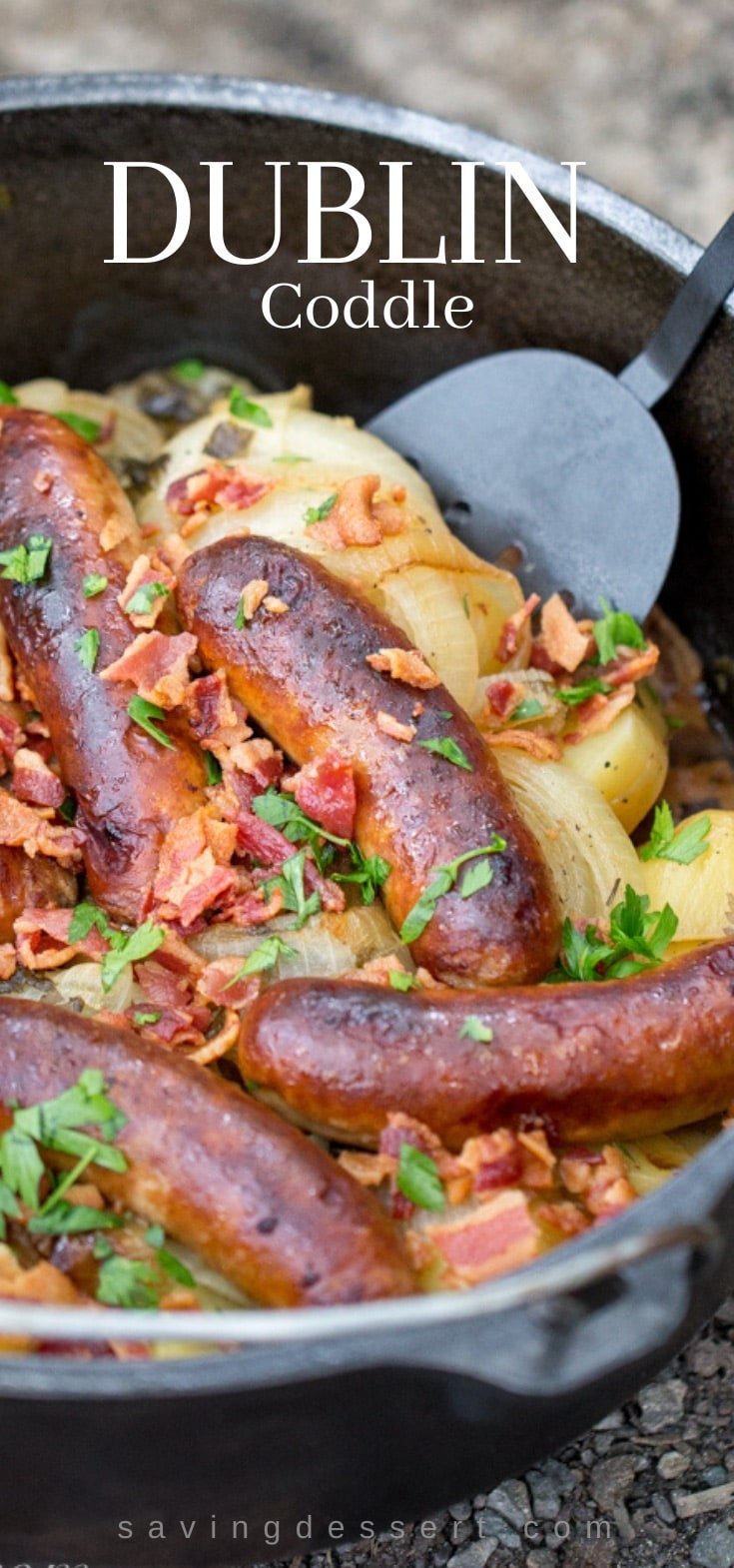 Let's be cooking friends! If you make our recipe please feel free to leave a comment on this post. I'm sure your experience and insights will help all our readers, and it helps me too. Also, if you're on Pinterest feel free to leave a comment and photo there if you have one!
If you share on INSTAGRAM tag @savingroomfordessert so we can stop by and give your post some love. FOLLOW Saving Room for Dessert on FACEBOOK| INSTAGRAM| PINTEREST | TWITTER  and subscribe to our YOUTUBE channel for all the latest recipes, videos and updates.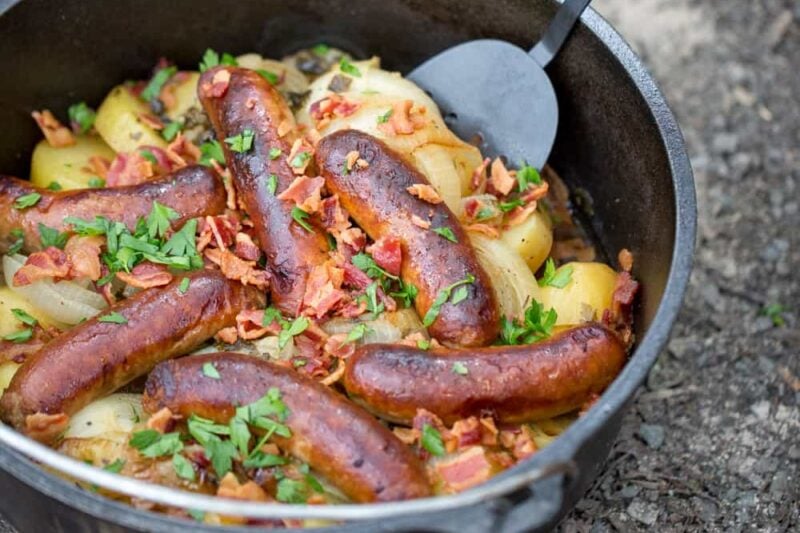 A traditional Irish casserole with potatoes, sausage and bacon slow cooked to perfection!
Ingredients
2 ½

pounds

Yukon Gold potatoes

peeled and sliced 1/2" thick

Fresh ground black pepper

12

ounces

thick-cut bacon

(see notes)

6

bratwurst sausages

or bangers if you can find them

2

large white onions

peeled and sliced into ½" rings

14

ounce

can chicken broth

(low-sodium preferred)

2

tablespoons

apple cider vinegar

1

cup

beer

(plus more if needed)

¼

cup

minced fresh parsley°

divided
Instructions
Prepare 25-30 coals for the campfire.

Lightly oil a 12-inch Camp Dutch Oven and the inside of the lid.

Layer the sliced potatoes in a shingle pattern on the bottom of the Dutch Oven. Sprinkle the potatoes with about 2 teaspoons fresh ground pepper.

Cook the bacon in a skillet until crisp. Drain on a paper towel lined plate and set aside. Lightly brown the sausages in the bacon fat but do not fully cook. Set aside.

Remove all but about 3 tablespoons of the bacon fat and discard. Add the sliced onions to the hot skillet and cook covered for 5-7 minutes stirring once or twice. Remove the lid and add the chicken broth, vinegar and season with black pepper. Bring the onions and broth to a boil. Remove from the heat and carefully pour the onions and broth over the potatoes in the dutch oven.

Top the onions and potatoes with half the crumbled bacon and half the chopped parsley. Place the browned sausages on top and cover with the lid.

Place the Dutch Oven over 8 hot coals spread out in a checkerboard pattern. Place 16 hot coals on the lid.

Cook the coddle for about an hour, turning the pot ¼ turn clockwise, and the lid ¼ turn in the opposite direction every 15-20 minutes to prevent hot spots. Check the casserole to make sure it does not dry out and burn. After an hour add 1 cup or more of your favorite beer to the pot. Continue cooking until the sausages are fully cooked and golden brown - about 45-60 minutes. Continue turning the pot and lid as described above and add new hot coals as needed. You may need to sweep the ashes off the top of the dutch oven before adding new coals.

Take care when removing the lid to avoid getting ashes in the food. Garnish with the remaining parsley and bacon.

Serve and enjoy with a loaf of crusty bread to soak up the broth.
Recipe Notes
Be sure to check the finished dish before adding salt. I use nitrate-free applewood smoked bacon which is a little less salty overall.
Salt-free or low-salt chicken broth is also a good choice if you can find it.
To cook the Coddle in the oven, lightly grease a Dutch oven or covered casserole dish. Preheat oven to 325F and bake covered for 90 minutes removing the lid for the last 45 minutes or so.
A 12-inch Camp Dutch Oven holds 6 quarts
Here are a few more of our favorite camping recipes you might like: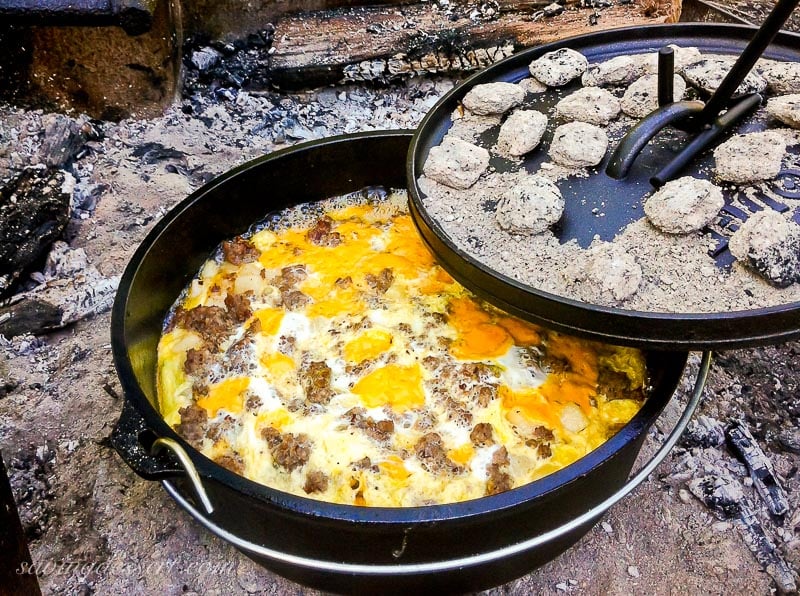 Camping Essentials – the Camp Dutch Oven

The original Lodge Camp Dutch Oven does it all — and it's been everywhere. A flanged lid holds hot coals and flips over for griddling, while the legs keep the oven at an ideal distance from hot coals. Includes Camp Dutch Oven Cooking 101 cookbook. 
PRE-SEASONED COOKWARE. A good seasoning makes all the difference. Lodge provides pre-seasoned cookware with no synthetic chemicals; just soy based vegetable oil. The more you use your iron, the better the seasoning becomes.

MADE IN THE USA. Lodge has been making cast iron cookware in South Pittsburg, Tennessee (pop. 3,300) since 1896. With over 120 years of experience, their cast iron is known for its high quality design, lifetime durability, and cooking versatility.

CAMP COOKING 101. Lodge knows that cooking is about more than just the food; it's about the memories. Whether you're roasting a chicken in the oven, or cooking chili over the campfire, Lodge has you covered with the included Camp Dutch Oven Cooking 101 cookbook.
Saving Room for Dessert is a participant in the Amazon Services LLC Associates Program ~ I earn a small commission, at no additional cost to you, which I use to pay for web hosting and services for this blog.