This post may contain affiliate links. Please read my disclosure policy.
Easy, smoky and flavorful Brunswick Stew
Hearty Brunswick Stew with a tangy tomato base and loads of vegetables.
As with many famously terrific heirloom recipes there are a million variations and opinions as to what makes it great. Brunswick Stew is one of those recipes that can be made a hundred different ways and still be delicious.
In the old days you might find possum or other small game animals included in the ingredients, but not in my house!
More often than not Brunswick Stew is found only on BBQ restaurant menus and is considered only a southern dish. This is a shame because this stew is even better made at home!
Restaurants often make their stew using leftover smoked meats, BBQ sauce and assorted vegetables. However with this recipe in hand there's no reason you can't make Brunswick Stew that's just as good or better than restaurant quality!
Ingredients for easy Brunswick Stew
For the best results start with real wood smoked meats like chicken, pulled pork, beef brisket or smoked sausage.
Chances are you already have a favorite BBQ joint in your neighborhood that sells real wood smoked meats. And I bet they'll be happy to sell you a pound or two of your favorites to use in our stew.
If you smoke your own pork at home, even better! Next time you fire up the smoker, make extra pork and / or chicken and freeze it to use later in this stew.
If these options don't work for you, use store-bought rotisserie chicken, ground pork and ground beef, grilled smoked sausages or a pound of leftover slow-cooker pulled pork. You won't get that authentic smoky flavor, but the stew is still very tasty.
Other ingredients for our Brunswick Stew recipe:
Vegetable oil: for sautéing vegetables.
BBQ sauce: you'll need an entire bottle of store-bought BBQ sauce or a batch of homemade for this stew recipe. We recommend using a sweet, thick sauce for best results. When shopping for bottled BBQ sauce, we prefer one made without high-fructose corn syrup.
Aromatics: large sweet onions, garlic, cayenne pepper and crushed red pepper flakes (optional).
Low sodium chicken broth: store-bought or homemade.
Seasonings: Worcestershire sauce, yellow mustard, salt, black pepper and plenty of cider vinegar.
Vegetables: small waxy diced potatoes, canned diced tomatoes, canned cream-style corn, frozen sweet corn, okra and baby lima or butter beans.
How to make Brunswick Stew:
The first few steps of this recipe are the most important for building great flavor.
Sauté the onions, garlic and red pepper flakes in a soup pot or a large Dutch Oven (8-quart).
Add the BBQ sauce and 1/2 cup chicken broth to the onion mixture.
Cook, stirring frequently until the sauce thickens, reduces, darkens in color and starts to stick to the bottom of the pot. The sauce should be almost as thick as tomato paste. This process can take 15 to 20 minutes.
Pour in all remaining chicken broth, potatoes, Worcestershire, mustard, salt and pepper. Bring to a boil, cover and simmer until the potatoes are almost tender.
Increase the heat and stir in all remaining ingredients. Cover and simmer until the vegetables are tender and the stew is heated through.
PRO Tips:
We've made this stew with beef broth too, but prefer chicken broth. If you want a thinner, soupier stew, add 1 cup or more of chicken broth or water.
Our recipe calls for 1/3 cup of cider vinegar. Feel free to start with 1/4 cup if you're using barbecue sauce that has big vinegar flavor.
For the BEST flavor use sweet BBQ sauce combined with plenty of vinegar. You can add a little brown sugar to balance the sweet and sour flavors if your sauce is more smoky or vinegar based.
Check the seasonings before serving. Add more salt, pepper, vinegar, BBQ sauce and / or hot sauce as needed.
Serve this delicious stew with a nice green salad and a slab of cornbread for a complete meal!
Can you freeze Brunswick Stew?
Brunswick stew freezes very well, especially if under-cooked just a little.
To make ahead follow the directions through Step No. 3. Remove from the heat and add all remaining ingredients. Cool and store in airtight containers in the refrigerator.
When ready, cook in a large covered pot over medium heat until the vegetables are tender and the stew is hot.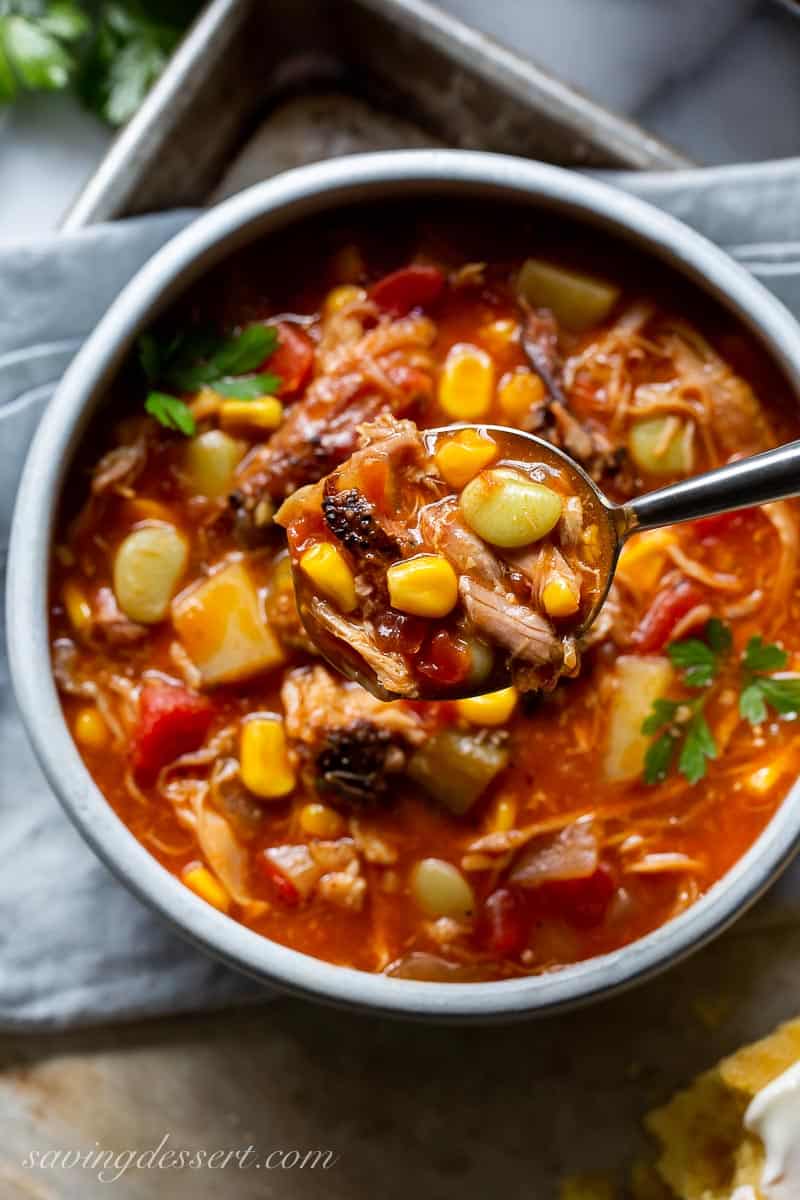 Hearty Brunswick Stew has become a bit of a catch-all southern stew recipe.
To be truly authentic, we would have to cook with squirrel or rabbit depending of course if I was in Brunswick County, Virginia or Brunswick, Georgia.
Since we currently live in Virginia, we'll assume the original pot of Brunswick stew was made around 1828 by a camp chef working for a Virginia legislator on a hunting expedition.
That legend gives this stew some serious southern charm and deliciously deep roots.
However, no matter where you're from, Brunswick stew will still be a tomato based stew containing lima beans, okra, corn and other vegetables, plus various types of smoked meats.

Sorry, no rabbit in our pot of stew today. I typically use smoked chicken and pork and am always thrilled with this thick, smokey, hearty, scrumptious stew.
The only thing that makes it better is a wedge of warm buttermilk cornbread to sop up all the broth!
Brunswick Stew is a great for camping.
We often make this stew while camping in the Shenandoah Mountains. Since we usually have the entire day to relax, I start the recipe just after lunch and let it slow cook in our cast iron 8-quart camping Lodge Dutch Oven.
Occasionally we place a few hot charcoals under the Dutch oven and then a few on top to keep the heat at a constant temperature. Other than that, we're free to enjoy a hearty and delicious bowl of stew in just a few hours.
Thanks for PINNING!
Brunswick Stew
Total Time:
2

hours
30

minutes
A delicious tomato based stew made with smoked meats, vegetables, sweet BBQ sauce and vinegar.
Ingredients
1

tablespoon

vegetable oil

2

large onions chopped

2

cloves

garlic minced

or 1 teaspoon garlic powder

¼

teaspoon

crushed red pepper flakes

(optional)

2 ½

cups

sweet BBQ sauce

(about one 19 ounce bottle)

4

cups

chicken broth,

low sodium, divided

5

medium waxy potatoes,

peeled and diced

3

(14.5 ounce cans) diced tomatoes

(low sodium) do not drain

1

tablespoon

Worcestershire Sauce

1

tablespoon

yellow mustard

1

teaspoon

salt

1

teaspoon

fresh ground black pepper

1

pound

shredded smoked chicken

1

pound

smoked shredded pulled pork

⅓

cup

cider vinegar,

more or less to taste

14

ounces

canned cream-style corn

12

ounces

fresh or frozen sweet corn

12

ounces

fresh or frozen okra

(not breaded)

9

ounces

fresh or frozen baby lima beans
Instructions
Heat the vegetable oil in a large (8-quart) soup pot over medium heat. Add the onions and sauté until tender, about 5 minutes. Add the garlic and red pepper flakes and sauté until fragrant, about 1 minute.

Add all the BBQ sauce and ½ cup chicken broth. (If your BBQ sauce is thin, skip adding broth at this time). Cook, stirring frequently, until the sauce thickens, reduces, darkens, and a fond forms on the bottom of the pot. The sauce should be about as thick as tomato paste. This will take 15 to 20 minutes.

Add all remaining chicken broth. Scrape the bottom of the pot to release any browned bits. Add the potatoes, tomatoes, Worcestershire, mustard, salt and pepper. Bring to a boil over medium-high heat. Reduce the heat to low, cover and simmer, stirring occasionally until the potatoes are just tender, about 15 minutes.

Increase the heat to medium and stir in all remaining ingredients: chicken, pork, vinegar, cream-style corn, frozen corn, okra and lima beans. Cover and simmer for 30 minutes, stirring occasionally, or until the vegetables are tender and the stew is heated through. (Add up to 1 cup of water or additional broth if desired)

Check seasonings and add additional vinegar (1 to 2 tablespoons) salt and pepper. Serve with hot sauce and cornbread if desired.
Recipe Notes
If using garlic powder there's no need to sauté first. Just add to the pot with the other ingredients.
Substitute fire-roasted canned diced tomatoes if desired.
Use your favorite bottled BBQ sauce or homemade.
If not using sweet BBQ sauce add 2 or 3 tablespoons brown sugar with the potatoes.
Purchase smoked meats from your favorite local BBQ restaurant. Pulled pork, beef brisket, smoked chicken and sausage are all terrific in this stew.
Add a splash of cider vinegar to individual bowls of stew for those that love the extra tangy-sweet flavor.
Pass extra BBQ sauce or hot sauce when serving if desired.
Let us know if you use squirrel or rabbit!
Nutrition information is calculated using an ingredient database and should be considered an estimate. When multiple ingredient alternatives are given, the first listed is calculated for nutrition. Garnishes and optional ingredients are not included.
Nutrition
Calories:
259
kcal
|
Carbohydrates:
43
g
|
Protein:
13
g
|
Fat:
5
g
|
Saturated Fat:
2
g
|
Polyunsaturated Fat:
1
g
|
Monounsaturated Fat:
1
g
|
Cholesterol:
27
mg
|
Sodium:
824
mg
|
Potassium:
685
mg
|
Fiber:
4
g
|
Sugar:
19
g
|
Vitamin A:
367
IU
|
Vitamin C:
23
mg
|
Calcium:
77
mg
|
Iron:
2
mg
Originally published September 2012, updated September 2021
Here's a few more recipes you might also enjoy:
We can't wait to hear how this delicious Brunswick Stew came out for you!