This post may contain affiliate links. Please read my disclosure policy.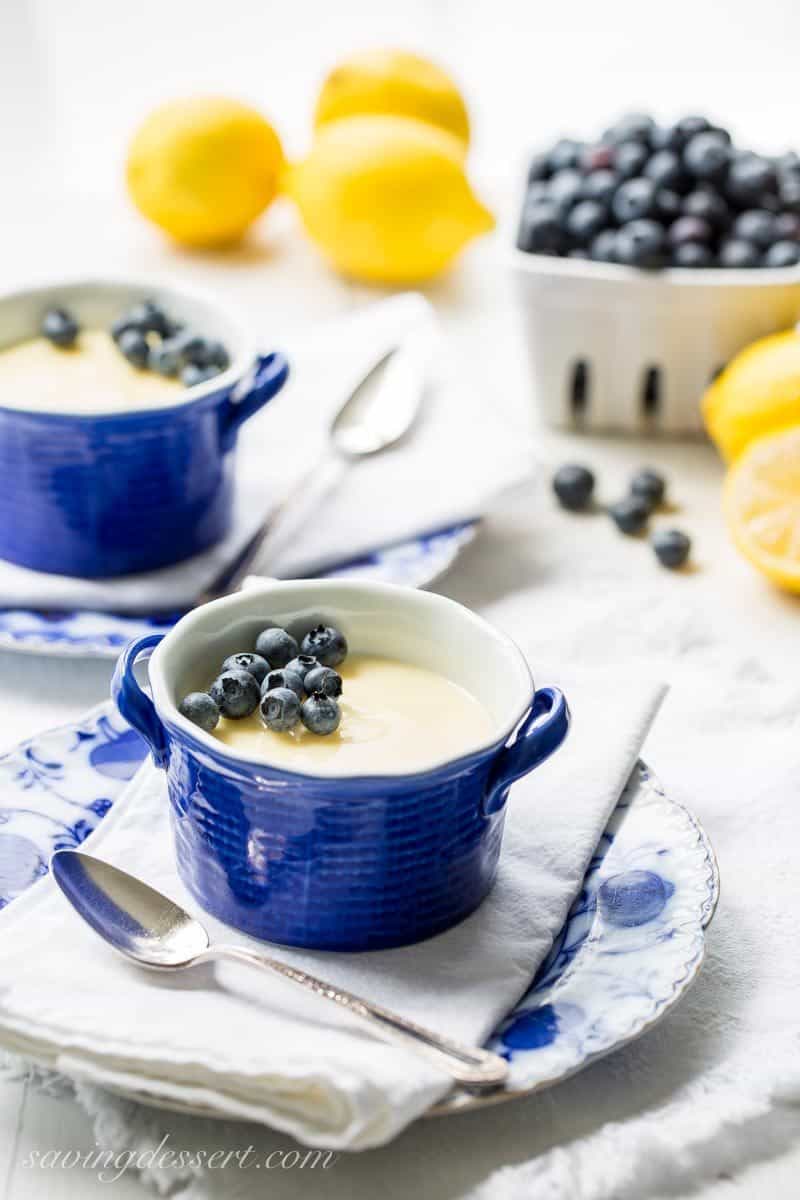 Lemon Posset – a cross between a lush pudding and a silky lemon curd. This amazing English specialty is made with just three simple ingredients.
Happy Labor Day friends!  I hope you're enjoying a wonderful day off, celebrating the last few days of summer with family and friends.  We're traveling in Australia so no holiday for my husband because he's working!  Me? Oh no … I'm on vacation – haha – but here I am with another delicious, must try recipe for you!
Make ahead lemon desserts are perfect all year long, but especially when you need something special.
I've read about possets over the years but never really tried one, until now.  I was fascinated with this recipe posted in the March & April 2016 edition of Cook's Illustrated Magazine.  Three things really stuck with me about this recipe.  First, it's made with only three ingredients. Second, it's made without thickeners like cornstarch and egg yolks.  And finally, I'm fascinated with their foolproof technique for measuring a reduced sauce, or in this recipe – a posset, by using a ruler.
This posset achieves a perfect texture by being reduced to exactly two cups.  Nobody wants to stop and pour the posset into a measuring cup halfway through cooking.  Sounds messy right?  You're going to love this … pour exactly two cups of water into the saucepan you plan to use for the posset.  Take a ruler, wooden skewer or chopstick and put it in the water.  Mark the level of the water on the ruler.  While cooking the posset, place the ruler down into the pudding and when it reduces to your mark, it's done!  Isn't that perfect?  Love that kitchen tip!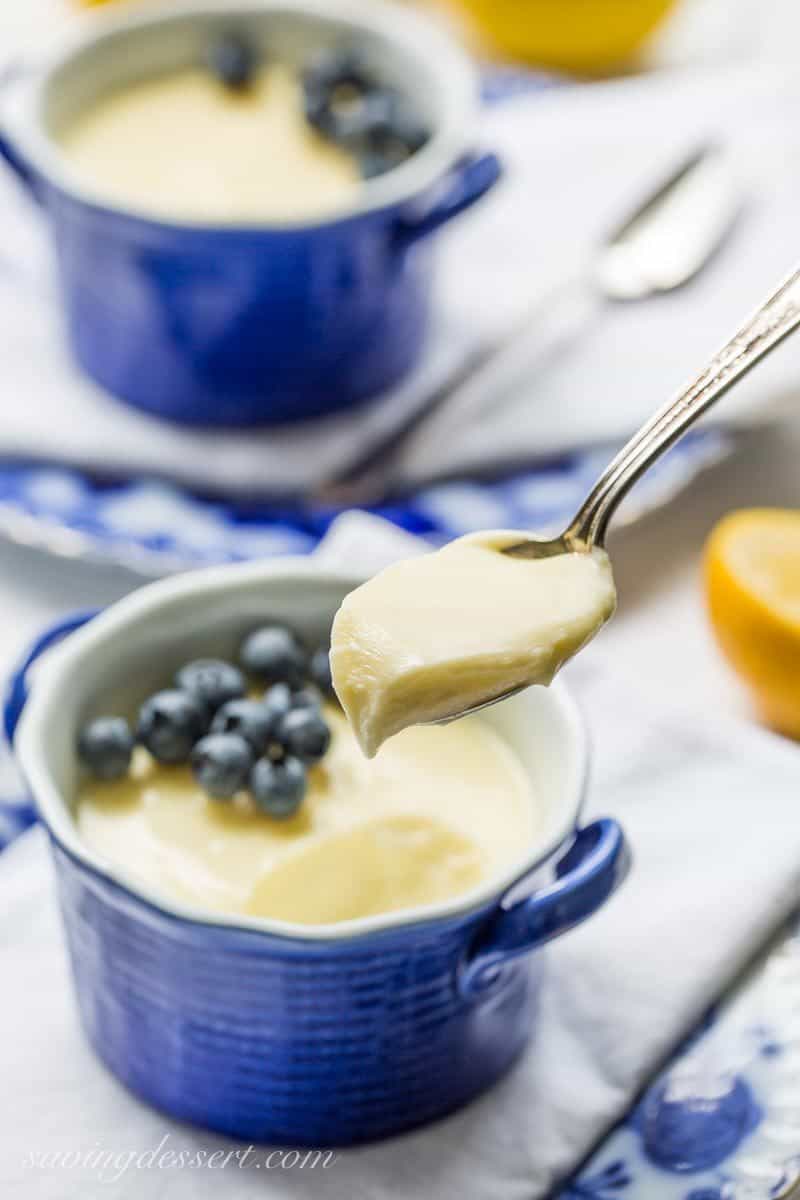 Since this recipe only makes two cups, don't be tempted to serve it to two or three people.
It's enough for six 1/3 cup servings, or four 1/2 cup servings. This Lemon Posset is silky and rich, sweet and super lemony. It's best served with fresh fruit to balance out the sweetness and add a zing of flavor. Blueberries or raspberries pair very well with the lemon.
Can you make Lemon Posset ahead?
Make this recipe for Lemon Posset up to two days in advance and refrigerate until needed. That makes this recipe perfect for dinner parties and events!  Serve in stemware, cups, ramekins, tiny bowls or parfait glasses for a beautiful presentation.
Thanks for PINNING!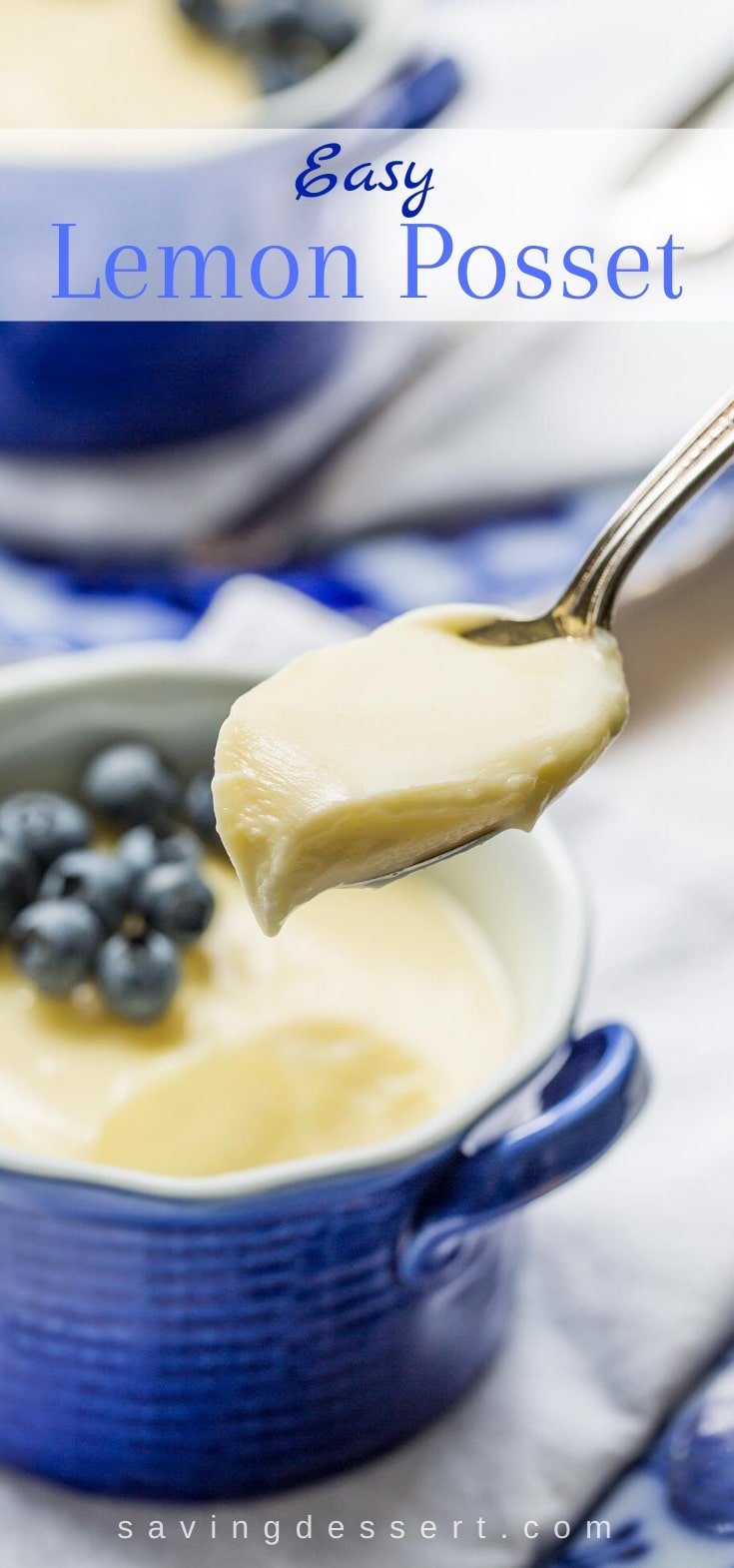 Let's be baking friends! When you try our recipe please feel free to leave a comment on this post. I'm sure your experience and insights will help all our readers, and it helps me too. Also, if you're on Pinterest feel free to leave a comment and photo there if you have one! If you share on INSTAGRAM tag @savingroomfordessert so we can stop by and give your post some love. FOLLOW Saving Room for Dessert on FACEBOOK| INSTAGRAM| PINTEREST | TWITTER  and subscribe to our YOUTUBE channel for all the latest recipes, videos and updates. Thank you!!!
PRINT THE RECIPE!
A rich and simple lemon dessert that's a cross between pudding and curd. Pucker up delicious and super easy to make with only 3 basic ingredients.
Ingredients
2

cups

heavy cream

⅔

cup

granulated sugar

zest of 1 lemon

6

tablespoons

lemon juice (2 or 3 lemons depending on size and juiciness)

Blueberries to serve
Instructions
In a medium (deep) saucepan, combine the cream, sugar and lemon zest. Bring to a boil over medium heat and cook, stirring frequently, to dissolve the sugar. Don't walk away from the mixture as it can easily boil over. If it gets close to the top, remove the pan briefly from the heat to slow the boil.

Cook until the mixture reduces to exactly two cups. (SEE NOTE) Remove from the heat and add the lemon juice. Set the saucepan aside to cool until a skin forms on top, about 20 minutes. Strain the posset through a fine mesh strainer into a bowl. Discard the lemon zest.

Divide the mixture between 6 individual bowls or serving glasses. Refrigerate, uncovered, until set, about 3 hours. Once fully chilled, cover with plastic wrap and refrigerate for up to 2 days.

To serve, unwrap and allow the dessert to rest at room temperature for 10 minutes before serving. Garnish with fruit blueberries or raspberries and serve.
Recipe Notes
TIP to use a ruler when reducing a sauce.  Measure two cups of water and put it in the saucepan you plan to use to cook the posset.  Put a ruler, skewer or chopstick into the water in the saucepan and mark the level on the ruler.  The posset will need to reduce to that line.
Recipe adapted from Cook's Illustrated, March & April 2016 Magazine
 Favorite kitchen tools used when making this posset:  Click on the photos for more information or to purchase from Amazon.
The small print: If you decide to purchase something at Amazon after following my affiliate link, I receive a small commission, at no additional cost to you, which I use to pay for web hosting and services for this blog.
We love lemon here at SRFD, and if you do too, you'll want to check out our Pink Lemonade, and this super easy Lemon Poppy Seed Bread recipe.  Lemon Crumble Breakfast Cake is one of our most popular recipes ever and our Tangy Lemon Bars are fantastic.  And finally, don't miss our super easy Homemade Lemon Curd!
Here are a few more lemon recipes from some of our favorite bloggers!
Thanks so much for stopping by!
Tricia
SaveSaveSaveSaveSaveSaveSaveSaveSaveSaveSaveSave
SaveSave
SaveSave
SaveSave
SaveSave
SaveSave
SaveSave