This post may contain affiliate links. Please read my disclosure policy.
Easy and flavorful homemade Chicken Broth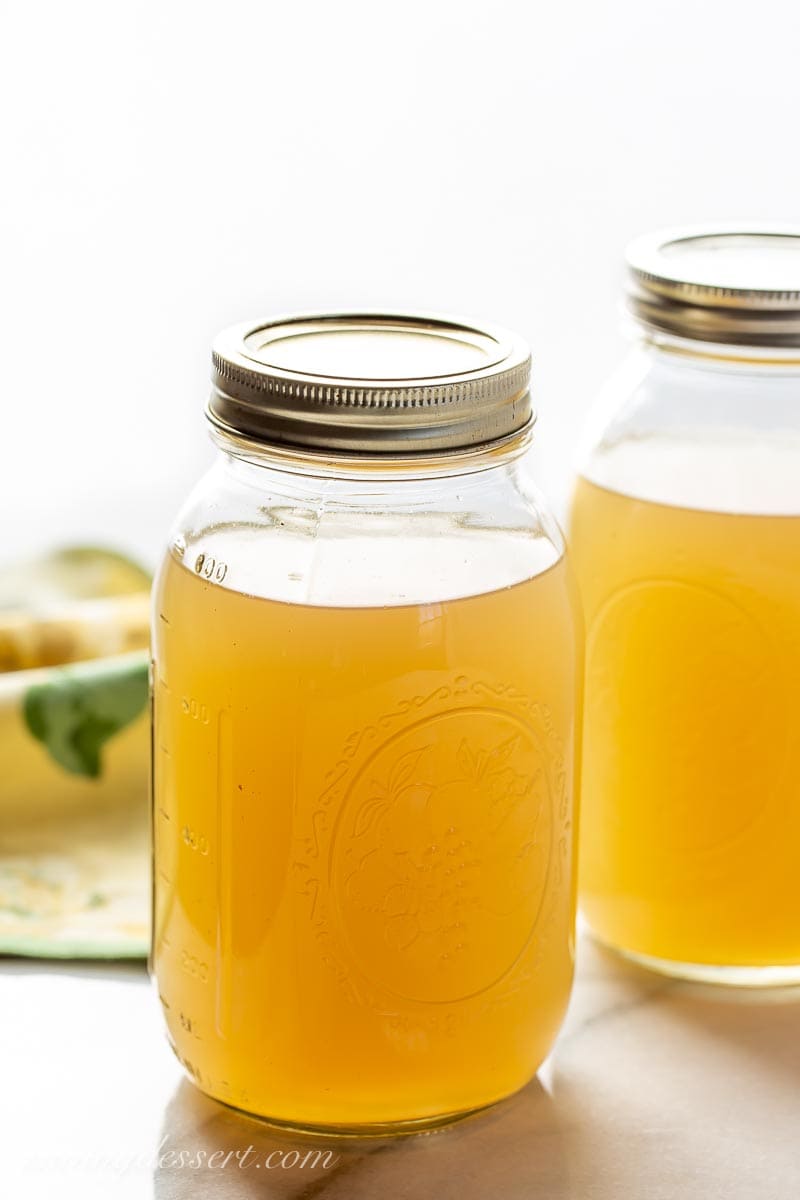 An all-purpose, no-salt added healthy Chicken Broth recipe that's full-bodied and easy to make.
I know, it's easy to open a box or can of  broth and move on with your recipe. However, it's also much easier than you might think to make your own homemade chicken broth to have on hand when needed.
Why make homemade broth?
Whenever I make a soup or casserole that calls for both cooked chicken and broth, this is where I start. If I need shredded, sliced or diced cooked chicken anyway, this is a win-win solution. That's not to say I don't pick up a rotisserie chicken and a box of broth from time to time. Short-cuts are a busy home-cook's best friend.
However, when I have the time this is the perfect small, easy project to help me get ready for the week ahead.
Another reason I prefer to make my own broth is to control the sodium in my diet. Salt and I don't get along very well so having a salt-free broth one hand or in the freezer is a big deal for me.
And finally, homemade tastes amazing! It's richer and more full-bodied and is easily infused with your favorite herbs.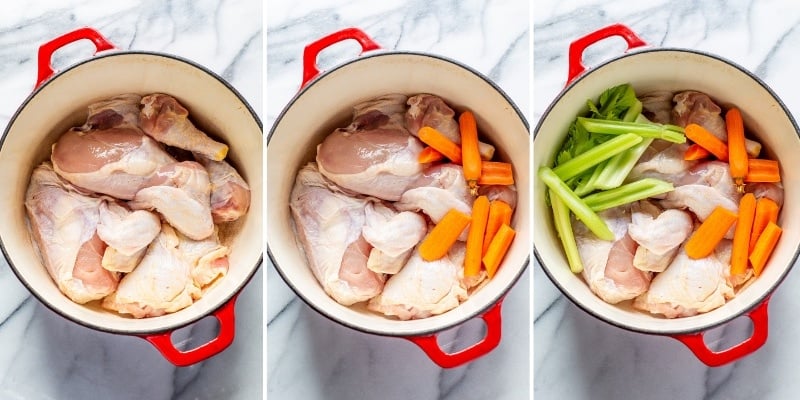 Ingredients for making homemade Chicken Broth:
Chicken Pieces:
This ingredient is pretty wide open. As long as it's bone-in, skin-on chicken pieces, you're good to go.
Typically I use a whole chicken already cut up. Check your local grocery store for this option or ask the butcher. This package usually includes two each breasts, thighs, wings and legs. Once cooked you'll have a good variety of light and dark meat to use in recipes.
An inexpensive package of chicken backs and wings is also a good choice for making broth, especially if you don't need the cooked chicken for a recipe.
Vegetables:
This ingredient is purely optional. You can make broth with just chicken and water, if desired. However, we love the full-bodied flavor that comes from adding vegetables. For this recipe we use carrots, celery and an onion.
However, adding vegetables when cooking will boost the flavor of the broth and add a few more healthy vitamins. If you plan to drink the broth plain as an afternoon pick-me-up or light appetizer course, add vegetables when cooking!
Herbs and aromatics:
For our recipe we've added bay leaves, a few sprigs of thyme and whole black peppercorns. Feel free to experiment with your favorites like garlic and rosemary, too.
How to make homemade Chicken Broth
1. Place the chicken pieces in a large soup pot or Dutch oven.
2. Add the vegetables, if using. Fill the pot with enough cold water to cover the chicken and vegetables by a few inches. Toss in the herbs and seasoning.
3. Bring the broth to a boil over medium-high heat. Skim any foamy scum off the surface, then cover and reduce the heat to a simmer. Cook, stirring occasionally, until the chicken is falling off the bone, about 2 hours.
4. Remove and discard the vegetables and herbs. Place the chicken on a plate; cool. Discard the skin and bones, or save to make chicken stock. Store the shredded chicken for use in other recipes.
5. Pour the broth through a fine mesh strainer. Discard the solids. Cool completely and store the broth in the refrigerator or freeze for later use.
Refrigerate to remove the fat
Any chicken fat remaining in the broth will rise to the top and is easily removed with a spoon. If you want to use the broth immediately before refrigerating, allow it to rest at room temperature for about 5 minutes. Skim the fat off the top and proceed with your recipe.
PRO TIP: We all know that fat means flavor. A ribeye steak has more flavor than a sirloin, because it's marbled with tons of fat. The chicken fat skimmed from this finished broth can be used in place of butter or oil to sauté vegetables in recipes.
Using chicken fat to sauté vegetables will add more flavor to soups, Chicken and Dumplings, and a hearty Chicken Pot Pie. It's also perfect used on the sauté setting in an Instant Pot for recipes like this Cheesy Chicken and Pasta.
How to store Chicken Broth:
If you're going to use your broth in the near future, store in jars or any airtight container and refrigerate until needed.
You can also freeze the broth in any freezer safe container or zipper bag. I like to measure out one or two cups of broth and place in small freezer-safe bags. Each bag is labeled with the amount of broth stored inside the container. Lay the bags flat in your freezer until frozen.
If stored in small bags, place several bags together in one larger zipper bag. To thaw, place the frozen broth in the refrigerator overnight.
Finally, chicken broth can be frozen in a plastic ice cube tray measured into smaller amounts, like 1/4 cup or a few tablespoons. Once frozen, pop them out of the ice cube tray and store in a freezer bag.
Chicken stock vs broth
Stock is typically made with the chicken carcass, or the bones and skin. Vegetables and herbs can be added to the pot as well as a splash of vinegar. The vinegar helps draw out the gelatin in the bones, making for a richer stock. You can use white wine, apple cider, or distilled vinegar. A little acid goes a long way.
Broth is made with the chicken meat, bones and skin of the chicken. Both are healthy and good-for-you alternatives to salty, canned broths.
Here are a few of our favorite recipes made even better with homemade broth:
Thanks for PINNING!
Let's be cooking friends! If you make our recipe please feel free to leave a comment on this post. I'm sure your experience and insights will help all our readers, and it helps me too. If you're on Pinterest feel free to leave a comment and photo there if you have one!
If you share on INSTAGRAM tag @savingroomfordessert so we can stop by and give your post some love. FOLLOW Saving Room for Dessert on FACEBOOK| INSTAGRAM| PINTEREST | TWITTER  and subscribe to our YOUTUBE channel for all the latest recipes, videos and updates.
Chicken Broth Recipe
Total Time:
2

hours
15

minutes
Course:
Main Course, Soup
An all-purpose, no-salt chicken broth recipe that's full-bodied and easy to make.
Ingredients
1

whole chicken,

cut up

3

carrots,

cut into large pieces

3

ribs celery,

cut into large pieces

1

large onion,

quartered

2

bay leaves

2

sprigs of fresh thyme

1

tablespoon

whole peppercorns

14 - 16

cups

water,

or enough to cover
Instructions
Place the chicken pieces in a large Dutch oven or soup pot. Add the carrots, celery, onion, bay leaves, thyme and peppercorns. Add enough water to cover all vegetables and chicken by a few inches.

Cook over medium-high heat until it comes to a boil. Skim off any foamy scum from the surface. Reduce the heat, cover and simmer, stirring occasionally, until the chicken is falling-off-the-bone tender, about 2 to 3 hours depending on the size of the chicken pieces.

Remove from the heat. Using a slotted spoon remove and discard the vegetables. Remove the chicken pieces to a plate or baking sheet to cool.

Pour the remaining broth through a fine mesh strainer set over a large storage container(s) or pot. Discard the herbs and peppercorns. OPTIONAL: If desired, strain the broth a second time using a coffee filter set inside the strainer to remove any sediment.

Debone the chicken. Discard the bones and skin or save to make chicken stock. Store the de-boned chicken for use in other recipes.
Recipe Notes
Substitute any combination of bone-in, skin-on chicken pieces as desired.
Chicken backs and wings are a good choice for making chicken broth if not planning to use the meat in a casserole, stew or soup.
Depending on the intended use for the chicken broth, you can omit adding any or all of the ingredients, other than the chicken pieces and water.
As written, this flavorful broth is perfect for soups and casseroles, or as a low-calorie drink.
Add salt, if desired
Nutrition information is calculated using an ingredient database and should be considered an estimate. When multiple ingredient alternatives are given, the first listed is calculated for nutrition. Garnishes and optional ingredients are not included.
Nutrition
Calories:
149
kcal
|
Carbohydrates:
3
g
|
Protein:
12
g
|
Fat:
10
g
|
Saturated Fat:
3
g
|
Polyunsaturated Fat:
2
g
|
Monounsaturated Fat:
4
g
|
Trans Fat:
1
g
|
Cholesterol:
48
mg
|
Sodium:
86
mg
|
Potassium:
197
mg
|
Fiber:
1
g
|
Sugar:
1
g
|
Vitamin A:
2655
IU
|
Vitamin C:
3
mg
|
Calcium:
37
mg
|
Iron:
1
mg
Saving Room for Dessert is a participant in the Amazon Services LLC Associates Program. As an Amazon Associate we earn a small commission from qualifying purchases, at no additional cost to you.