This post may contain affiliate links. Please read my disclosure policy.
Easy Blueberry Cobbler with a buttermilk biscuit topping.
Blueberry Cobbler is an easy dessert the whole family will love!
Fruit centric desserts like this Blueberry Cobbler are some of our favorite summer treats. Quick and easy to make, and out of this world delicious, cobblers are the perfect way to showcase summer fruit fruits and berries. Who can resist a warm and intense blueberry sauce with lightly sweet biscuits floating on top?
And, as you may know, blueberries are little powerhouses loaded with health benefits. They're great brain food, are good for your skin and loaded with antioxidants. Maybe we should all eat more blueberries!
Ingredients needed to make Blueberry Cobbler:
Cobblers are typically made in two parts: the sweet fruit mixture and a drop biscuit topping.
For the blueberry mixture you'll need:
granulated sugar
cornstarch – for thickening the blueberry sauce
boiling water
fresh or frozen blueberries – you'll need about 6 cups
zest and juice of 1 lemon
unsalted butter
For the drop biscuit topping you'll need:
all-purpose flour
granulated sugar
baking powder
baking soda
salt
unsalted butter
buttermilk – we have used low-fat and full-fat buttermilk for this recipe. Both work well.
coarse sugar for topping the biscuits before baking
How to make Blueberry Cobbler:
1. To prepare the blueberry mixture:
First, combine granulated sugar, cornstarch and boiling water together in a saucepan. Bring the mixture to a boil and cook until thickened, about 1 minute. Add the blueberries and stir gently to combine. Once warmed through, remove from the heat and add the lemon juice and zest.
Pour the blueberry mixture into the prepared pan and set aside.
2. To prepare the biscuit topping:
Next, combine the dry ingredients in a large bowl. In another small bowl, whisk together the buttermilk and melted butter. Add the buttermilk mixture to the dry ingredients and fold together to combine.
Scoop mounds of the biscuit dough over the blueberries. Top with coarse sugar and bake!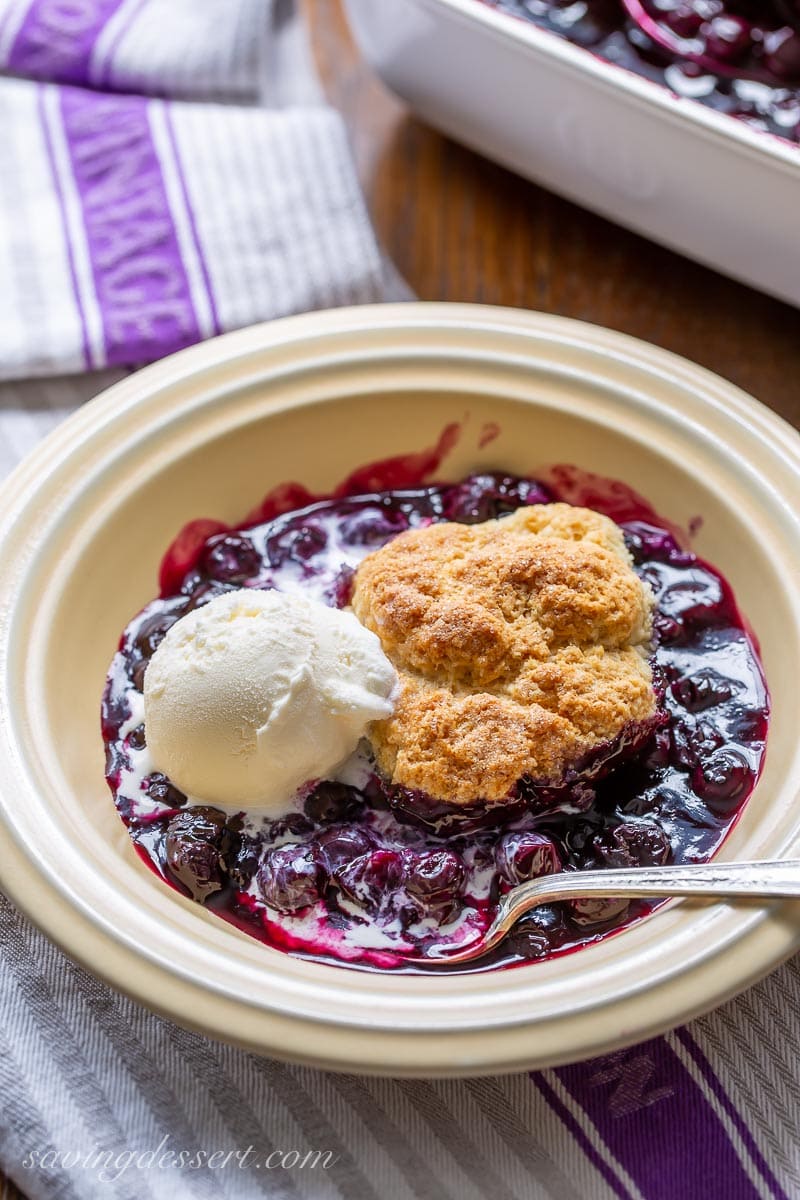 Can Blueberry Cobbler be made ahead?
While Blueberry Cobbler is best served warm topped with vanilla ice cream, it's also terrific served at room temperature. You can make Blueberry Cobbler several hours in advance and serve when needed.
Cobbler will stay warm for at least an hour, or more, depending on the temperature in your home.
To prep ahead make the blueberry mixture and pour into the prepared pan. Refrigerate until needed. Remove the blueberry mixture from the refrigerator at least 30 minutes ahead of baking to bring to room temperature.
For the biscuit topping you can combine all the dry ingredients together and have it ready to go. Then, all you'd need to do is add the buttermilk and melted butter and mix to combine.
Can you rewarm Blueberry Cobbler?
Individual bowls of Blueberry Cobbler can be rewarmed gently in the microwave on medium power. The crispy top on the biscuits may soften, but it still tastes delicious!
Can you use frozen blueberries for this cobbler?
Absolutely! And, you don't even need to thaw the blueberries first. Add the frozen berries to the saucepan with the cornstarch mixture and warm as directed. If you feel the blueberries need to be thickened a little more, make a quick slurry out of 1/2 tablespoon cornstarch mixed with 1 tablespoon cold water. Add to the saucepan and cook until warmed through.
Will the filling thicken a little?
As the blueberry filling cools, the sauce will get thicker. The cobbler in these photos was warm so the juices are juicier! If you prefer a thicker fruit mixture, add a little more cornstarch as mentioned above.
How long will Blueberry Cobbler keep?
Leftover cobbler will keep well for about 4 days if covered and refrigerated. The sauce will thicken when cold, so rewarming gently in the microwave before serving is recommended.
Can you make this cobbler with other fruits and berries?
We have several similar cobbler recipes for you to try. All have been tested and perfected and we think you're going to love them all!
Black Raspberry Cobbler is a real summer treat! If you've never used black raspberries in a dessert, I highly recommend giving them a try. Black raspberries are not easy to find in stores, but check with a local farm that has pick-your-own berries.
Old Fashioned Peach Cobbler is a must make every summer! When fresh peaches hit the market, peach cobbler is what I dream about.
Easy Plum Cobbler is one of the best stone fruit desserts you can make! Fresh juicy plums are so sweet and melt into puddles of delicious juice. So good!
Strawberry Cobbler is another must make with fresh, juicy spring fruits. This cobbler is easy to make and memorable!
Old Fashioned Blackberry Cobbler with a pastry crust in place of the drop biscuit topping. This is one of our most popular summer recipes. Just like mom used to make 🙂
Peaches and blueberries would make a nice combination for this cobbler. And apple cobbler with plenty of cinnamon and a few raisins is pretty spectacular, too. There are so many ways to enjoy sweet and savory cobblers.
Savory cobblers are pretty terrific too!
If you've never tried one, I highly recommend one soon. Savory cobblers are filling, comforting and a complete meal all in one pan. Here are a few of our favorites:
Savory Winter Vegetable Cobbler – with Cheesy Herbed Biscuits ~ a delicious and hearty vegetable dish loaded with mushrooms, cauliflower, butternut squash, onions, carrots and celery. Topped with a soft cheesy biscuit to soak up all the juice!
Tomato Cobbler – one of my all-time favorite cobblers. It is truly amazing.
Chicken Pot Pie with herb biscuits on top. You won't believe how perfect chicken pot pie is in cobbler form. This  is the best pot pie I've ever had. So simple and so delicious, and I don't even miss the pie crust.   The thyme and black pepper infused tender biscuits make this perfect!
Thanks for PINNING!
Let's be baking friends! If you make our recipe please feel free to leave a comment on this post. I'm sure your experience and insights will help all our readers, and it helps me too. If you're on Pinterest feel free to leave a comment and photo there if you have one!
If you share on INSTAGRAM tag @savingroomfordessert so we can stop by and give your post some love. FOLLOW Saving Room for Dessert on FACEBOOK| INSTAGRAM| PINTEREST | TWITTER  and subscribe to our YOUTUBE channel for all the latest recipes, videos and updates.
PRINT THE RECIPE!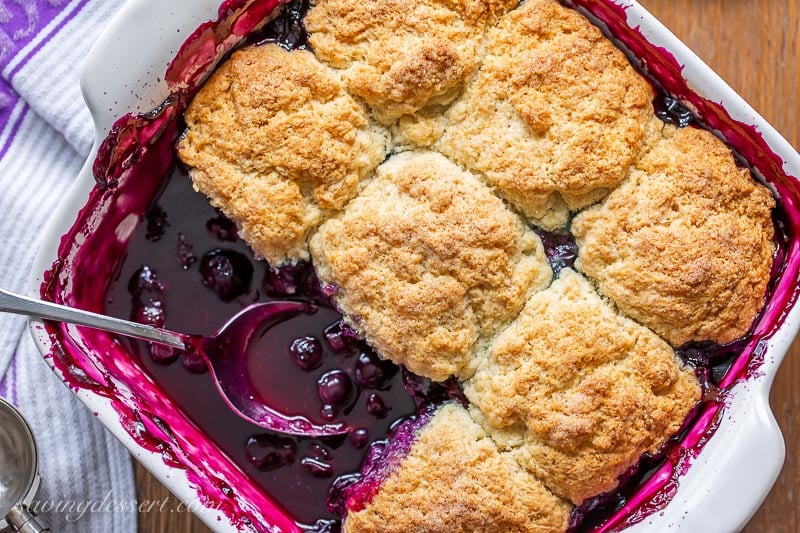 Blueberry Cobbler
Total Time:
1

hour
10

minutes
A simple and delicious summer treat with intense blueberry flavor. Serve warm with a scoop of ice cream or sweetened whipped cream.
Ingredients
For the blueberry mixture:
¾

cup

granulated sugar

(170g)

2

tablespoons

cornstarch

(plus 1/2 tablespoon more for a thicker cobbler)

½

cup

boiling water

(4oz)

6

cups

fresh or frozen blueberries

(20oz)

zest and juice of 1 lemon

1

tablespoon

unsalted butter
For the biscuit topping:
2

cups

all-purpose flour

(252g)

2

tablespoons

granulated sugar

2

teaspoons

baking powder

½

teaspoon

baking soda

½

teaspoon

salt

6

tablespoons

unsalted butter,

melted and cooled (3oz)

¾

cup

buttermilk,

well shaken (6oz)

coarse sugar for topping biscuits
Instructions
Line a rimmed baking sheet with foil or parchment paper. Lightly grease an 8 or 9-inch baking pan, or oven-proof deep skillet and place on the prepared baking sheet. Set aside. Preheat oven to 375°F.
To prepare the blueberry mixture:
In a large saucepan combine ¾ cup sugar, cornstarch and boiling water. Warm over medium heat until the mixture boils. Cook for 1 minute or until thickened. Add the blueberries and stir to combine. Gently cook the blueberry mixture for 1 minute then remove from the heat. Add the lemon zest and lemon juice.

Pour the blueberries into the prepared pan. Cut the butter into small pieces and scatter on top of the blueberries. Set aside.
To prepare the biscuits:
In a medium mixing bowl combine the flour, sugar, baking powder, baking soda and salt. In a small bowl whisk together the melted butter and buttermilk. Add the buttermilk mixture to the flour and sugar. Using a rubber spatula, stir until combined.

Lightly coat a ¼ cup dry measuring cup with vegetable cooking spray. Scoop the biscuit dough into the cup (heaping) and dollop on top of the blueberries. You should have 9-biscuits spaced equally over the blueberries.

Sprinkle coarse sugar over the biscuits. Bake for 30 to 40 minutes or until the biscuits are lightly browned and the berries are bubbling. Cool slightly before serving.
Recipe Notes
The juices will thicken as the cobbler cools.

If using frozen blueberries do not thaw first. 

Top with vanilla ice cream or sweetened whipped cream, if desired.
Nutrition information is calculated using an ingredient database and should be considered an estimate. When multiple ingredient alternatives are given, the first listed is calculated for nutrition. Garnishes and optional ingredients are not included.
Nutrition
Calories:
330
kcal
|
Carbohydrates:
58
g
|
Protein:
4
g
|
Fat:
10
g
|
Saturated Fat:
6
g
|
Polyunsaturated Fat:
1
g
|
Monounsaturated Fat:
3
g
|
Trans Fat:
1
g
|
Cholesterol:
26
mg
|
Sodium:
309
mg
|
Potassium:
136
mg
|
Fiber:
3
g
|
Sugar:
30
g
|
Vitamin A:
358
IU
|
Vitamin C:
10
mg
|
Calcium:
89
mg
|
Iron:
2
mg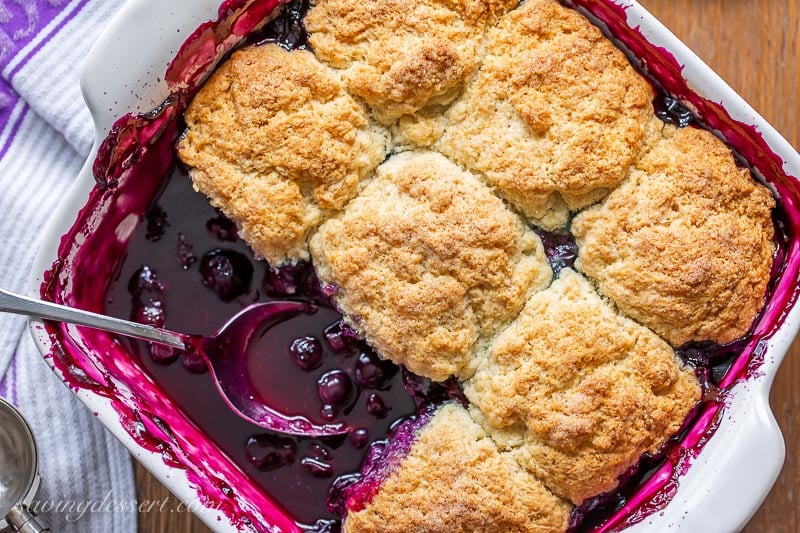 Saving Room for Dessert is a participant in the Amazon Services LLC Associates Program ~ I earn a small commission, at no additional cost to you, which I use to pay for web hosting and services for this blog.