This post may contain affiliate links. Please read my disclosure policy.
Lemon Blueberry Sweet Rolls with a simple Lemon Glaze
Soft, yeasty sweet rolls stuffed with blueberries and jam, and drizzled with a sweet lemon glaze!
In case you were wondering, this is where my diet goes to die. I can't resist stuffing my face with these big, fat, soft Lemon Blueberry Sweet Rolls loaded with tons of blueberry flavor. The icing on the cake is the sweet-tart lemon glaze. It adds just the right punch of brightness and zing!
How to make Lemon Blueberry Sweet Rolls
These Blueberry Sweet Rolls are fairly easy to make, but have two long rise times.
Hands-on time for these rolls is minimal. The dough comes together in about 15 minutes in a stand mixer fitted with a dough hook. Once the dough is smooth and elastic, it's left to rise in a warm location for 1 1/2 to 2 hours. The dough is supposed to be sticky so don't be tempted to add more flour!
After the first rise, roll out the dough to an 18 by 12-inch rectangle. Spread the jam over the dough, then top with fresh blueberries. Roll into a cylinder and cut into nine 2-inch thick slices.
These are not skinny minis rolls! They're tall, fat, flaky and loaded with filling.
Place the rolls in the prepared baking pan and set aside for the second rise, about 1.5 hours.
I put the unbaked rolls in my microwave to proof. If you leave the task light on underneath the microwave, it helps warm the inside and turns it into a proofing oven. That warmth provides the perfect environment for our yeasted breads to rise, free from drafts.
Bake until puffed and golden brown, about 45 minutes.
Finally, drizzle with a simple lemon glaze made with powdered sugar and lemon juice. The rolls can be served warm or at room temperature.
Ingredients needed to make Lemon Blueberry Sweet Rolls:
For the yeast rolls you'll need:
all-purpose flour
granulated sugar
instant or rapid-rise yeast
salt
whole milk
unsalted butter
1 large egg, plus 1 egg yolk
Blueberry filling:
cornstarch
blueberry jam
lemon juice and lemon zest
fresh blueberries
Lemon glaze:
powdered sugar
fresh lemon juice
These rolls have not been tested with active-dry yeast. If active-dry yeast is all you have on hand, be sure to bloom the yeast first. Sprinkle the yeast over the warm milk, mixed with a little bit of the sugar. Allow 10 to 15 minutes for the yeast to activate then proceed with the directions as written.
As this dough is enriched with butter and eggs, it takes longer to rise. But, it's worth every minute you have to wait!
Can these rolls be made ahead?
Yes, you can! First make the dough, complete the first rise, then assemble the rolls. Once assembled in the baking pan, refrigerate the unbaked rolls overnight covered with plastic wrap. Remove from the refrigerator in the morning and place in a warm location.
They'll need about 2 hours for the final rise along with 45 minutes baking time. Perfect timing for an early brunch!
Can you freeze Lemon Blueberry Sweet Rolls?
If you're planning to freeze leftover sweet rolls, skip the glaze. Only glaze those you plan to eat immediately. To freeze, wrap the baked and cooled sweet rolls in an airtight container. Thaw in the refrigerator overnight before serving.
Can you substitute other berries, fruits and jam in these rolls?
We've made a similar Strawberry Sweet Rolls with great success. I believe raspberry, blackberry and even peach would all be great. Peach and blueberry together might also be nice. Be sure to dice the peaches small, and use smaller blackberries for these sweet rolls.
For a more traditional sweet roll, feel free to try this cinnamon sugar filling.
We also love these simple Lemon Sweet Rolls and don't miss this family favorite – Apple Cinnamon Sweet Rolls. As you can tell, we love our sweet rolls here at SRFD!
How long do Lemon Blueberry Sweet Rolls keep?
These sweet rolls are best served the day they're made. However, the rolls will keep at room temperature for two days when sealed in an airtight container. For longer storage refrigerate leftovers in an airtight container.
Once chilled, the rolls are not as soft but can be rewarmed gently in the microwave on medium power.
Can you use frozen blueberries?
If using frozen blueberries, do not thaw first. For best results, I recommend using Dole Frozen Wild Blueberries. These tiny wild blueberries pack a big punch of flavor and the small size is perfect for layering in these sweet rolls.
Can you make these sweet rolls without adding fresh or frozen blueberries?
If you prefer a tighter spiral swirl on your rolls, omit the fresh or frozen blueberries. The jam filling will still be delicious as is.
Also, another option is to make smaller rolls and bake in two pans. To make two pans of sweet rolls, omit the blueberries and slice the cylinder into (18) 1-inch thick rolls. Be sure to reduce the baking time in half, too.
Can you use jelly instead of jam in these sweet rolls?
We prefer jam instead of jelly in this filling recipe. Jelly is much sweeter and when heated, it melts, or liquifies, more than jam. Our favorite store-bought jam is Stonewall Kitchen's Wild Maine Blueberry. Check for this product at your local grocery store or order directly from Stonewall Kitchen or Amazon.
Without a doubt, we are absolutely smitten with this wild blueberry jam! So much so, it's been featured in several of our favorite dessert recipes over the years.
We've included wild blueberry jam in our Almond Tea Cakes, Oatmeal Jammys, and a show-stopping Lemon-Blueberry Cake.
Thanks for PINNING!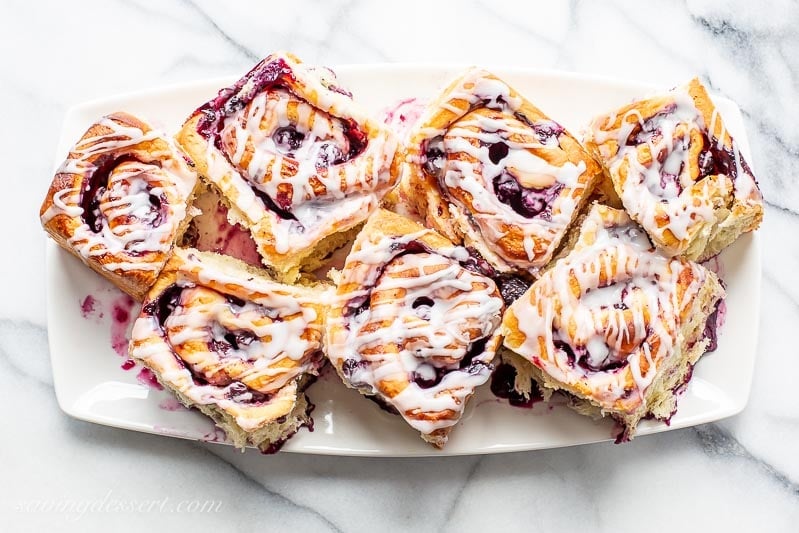 Lemon Blueberry Sweet Rolls with a Lemon Glaze
Total Time:
4

hours
45

minutes
Course:
Breakfast or Brunch
Soft, yeasty sweet rolls stuffed with blueberries, jam and just a bite of lemon!
Ingredients
For the rolls:
3

cups

all-purpose flour

(378g)

¼

cup

granulated sugar

(55g)

2 ¼

teaspoons

instant or rapid-rise yeast

(1 packet - 0.25 oz)

1

teaspoon

salt

¾

cup

warm whole milk,

105°F to 110°F (6oz)

6

tablespoons

unsalted butter,

cut into pieces and softened (3oz)

1

large egg,

plus 1 egg yolk
For the filling:
1

tablespoon

cornstarch

¾

cup

wild blueberry jam,

room temperature (9oz)

zest and juice of ½ lemon

1 ½

cups

fresh blueberries,

washed and dried (10oz or 1 pint)
For the glaze:
½

cup

powdered sugar

(57g)

1 ½

teaspoons

fresh lemon juice,

more or less as needed for desired consistency
Instructions
To prepare the rolls:
In the bowl of a stand mixer whisk together the flour, sugar, yeast and salt. Add the warm milk, butter, egg and egg yolk. Fit the mixer with the dough hook and knead on medium speed until the dough comes together.

Increase the speed to medium-high and continue kneading until the dough is smooth and elastic, about 6 to 8 minutes more. Don't add any extra flour! The dough should be a little sticky.

Transfer the dough to a lightly floured clean work surface. The dough will be soft. Knead the dough until a smooth ball forms. Place the dough ball in a large, lightly greased bowl. Cover tightly with plastic wrap and let rise in a warm location until double in size, about 1 ½ to 2 hours.
To prepare the filling:
Combine the cornstarch, jam, lemon juice and zest in a small bowl. Set aside.
To assemble the sweet rolls:
Grease a 9 by 9-inch square baking pan. Line the pan with parchment paper creating a sling. Lightly grease the parchment.

Turn the dough out onto a lightly floured work surface. Roll the dough into an 18 by 12-inch rectangle with the long side parallel to the countertop edge.

Spread the blueberry jam mixture over the dough leaving a 1-inch border on the 18-inch side farthest away from you. Using your finger, lightly dampen the ½-inch border with water. Sprinkle the blueberries over the jam.

Roll the dough up beginning on the 18-inch side with filling, taking care to ensure the roll is in a tight, even log. Try to lift and roll so you're not pushing out all the blueberries. Using two hands, raise a portion of the roll slightly, pull back towards yourself and gently roll over. Repeat until you create a tight cylinder. Pinch the seams to seal.

Position the log with the seam side down. Cut into nine 2-inch thick slices. Place the rolls in the prepared pan with the cut side up and the ends of the seams facing the center of the pan. Cover with plastic wrap and let the rolls rise in a warm location until double in size, 1 to 1 ½ hours.
To bake the sweet rolls:
Preheat oven to 325°F. Remove the plastic wrap and bake the rolls until golden brown, about 40 to 50 minutes. Cool the rolls in the pan for 30 minutes.

Use the parchment sling to remove the rolls from the pan. Slide the rolls onto a platter and discard the parchment paper. Mix the glaze ingredients together and drizzle over the warm sweet rolls.
Recipe Notes
Nutrition information is calculated using an ingredient database and should be considered an estimate. When multiple ingredient alternatives are given, the first listed is calculated for nutrition. Garnishes and optional ingredients are not included.
Nutrition
Calories:
392
kcal
|
Carbohydrates:
70
g
|
Protein:
7
g
|
Fat:
9
g
|
Saturated Fat:
5
g
|
Polyunsaturated Fat:
1
g
|
Monounsaturated Fat:
2
g
|
Trans Fat:
1
g
|
Cholesterol:
40
mg
|
Sodium:
287
mg
|
Potassium:
151
mg
|
Fiber:
3
g
|
Sugar:
29
g
|
Vitamin A:
306
IU
|
Vitamin C:
5
mg
|
Calcium:
43
mg
|
Iron:
2
mg