This post may contain affiliate links. Please read my disclosure policy.
Buttery caramel Pear Tarte Tatin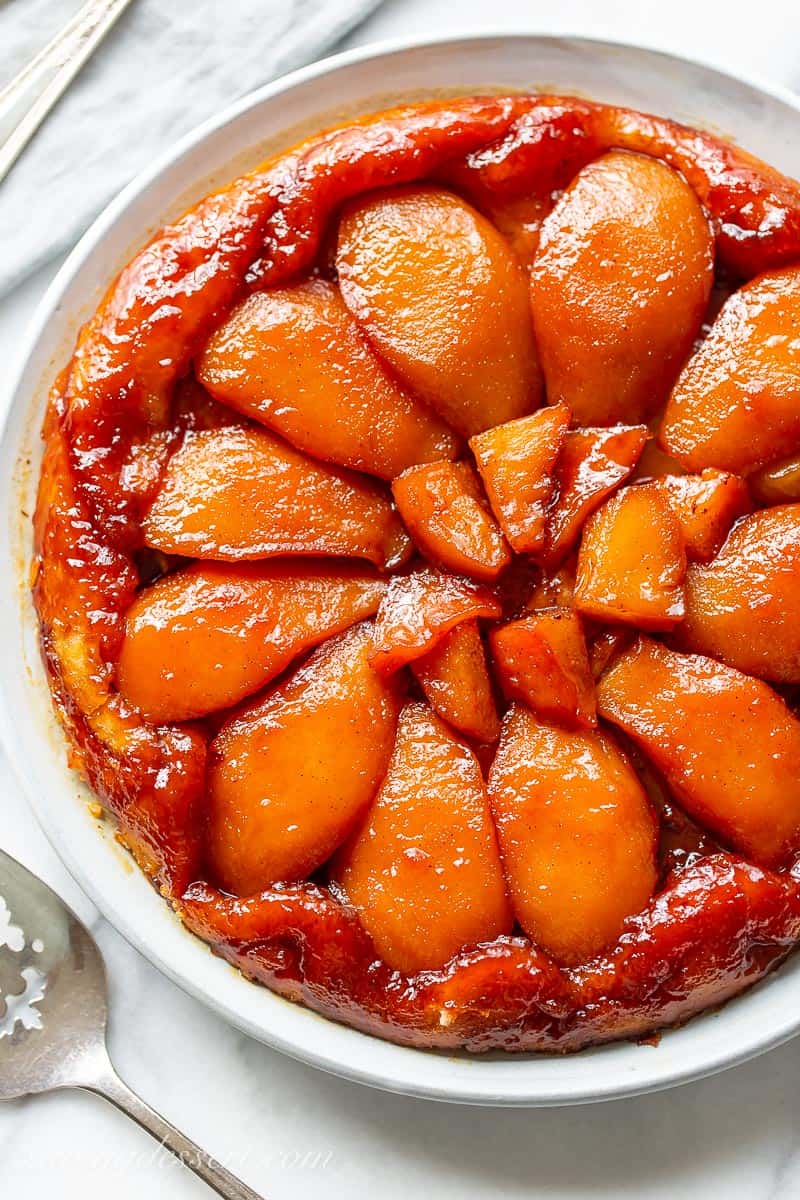 A fancy French name for an amazingly simple pear tart!
Pear Tarte Tatin sounds like an ultra-sophisticated dessert but it's actually very simple to make. First, fresh pears simmered in a simple caramel sauce then covered with flaky, buttery pie crust pastry.
The skillet layered tart is baked to golden perfection and then cooled slightly. Once set, the tart is inverted onto a rimmed serving platter revealing tender pears bathed in a dark amber colored caramel.
We add a pinch of cinnamon to the caramel sauce and sometimes cardamom and ginger too for amazing layers of flavor.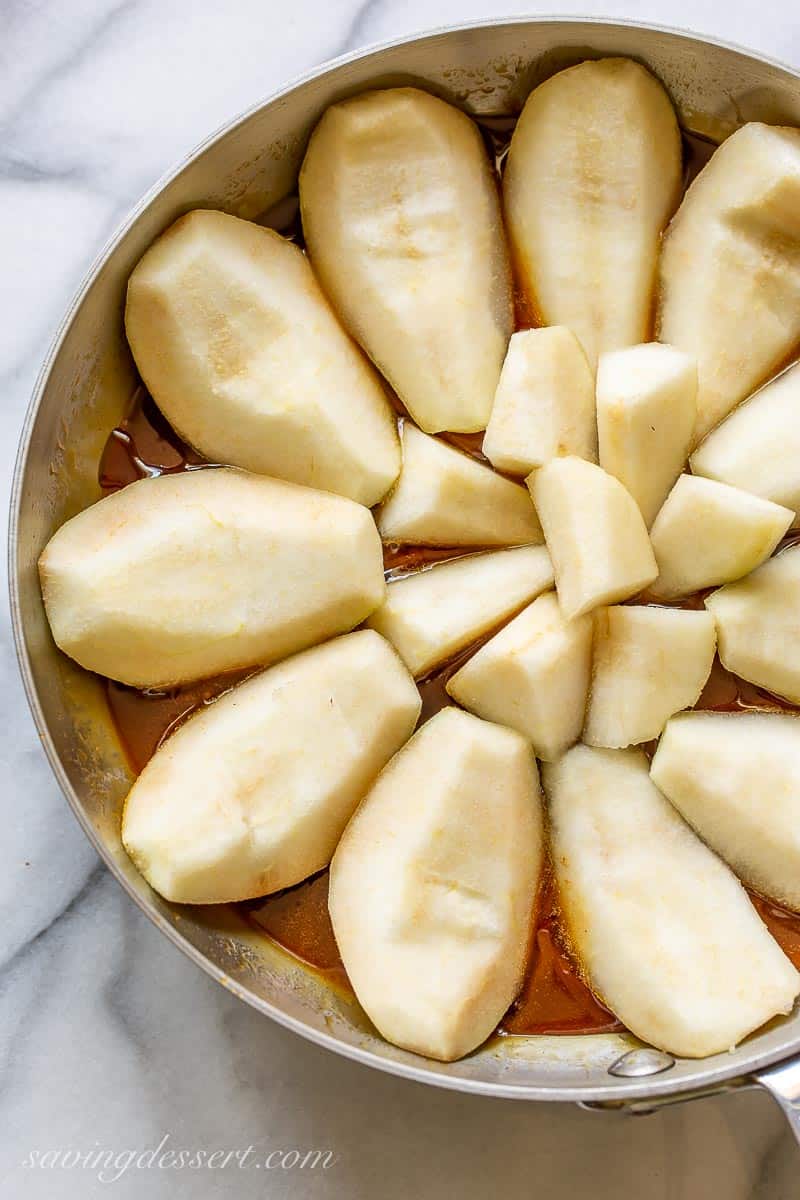 Ingredients needed to make Pear Tarte Tatin:
granulated sugar
water
unsalted butter
ground cinnamon
peel, quarter and core ripe, firm fresh pears
one unbaked single pie crust pastry. You can use homemade or refrigerated store-bought pastry.
Five ingredients are all you need to make this amazing Tarte Tatin!
How to make Pear Tarte Tatin:
First prepare the caramel:
Pour the sugar and water into a light-colored skillet. Bring to a boil and cook until medium-dark amber in color.
Remove from the heat and add the butter and cinnamon. Set aside.
For the pears:
Next, peel, quarter and core the pears. Place them in the caramel, cut side up. Return to the heat and simmer until the pears release their liquid, when then evaporates and reduces.
For the pastry:
Finally, roll the pastry out onto a lightly floured work surface into a 10-inch circle. Place the pastry disk over the pears and tuck the edges down into the skillet.
Bake on a foil lined rimmed baking sheet until golden brown.
To serve:
Allow the tart to cool for 20 minutes so the caramel sets. Place a rimmed serving platter over the tart then carefully and quickly invert the skillet.
Slice into wedges and serve.
IMPORTANT TIPS:
For the caramel you'll need a 9-inch stainless steel skillet or stainless saucepan. Using a light colored pan makes it much easier to monitor the color as you cook the caramel.
If you use a dark pan (like cast iron), it's hard to tell if the caramel is ready and much more likely to over-cook or burn.
Most importantly, if you burn the caramel or it doesn't thicken once the butter is added, throw it out and start over. Burnt caramel will ruin the flavor and if not already thick, it won't get any better.
Finally, if you allow the tarte to cool long enough, most of the caramel will soak into the crust. If you're in a hurry, there may be a little more liquid caramel left in the pan.
Therefore, take care when inverting the dish so the caramel doesn't splash out all over your kitchen.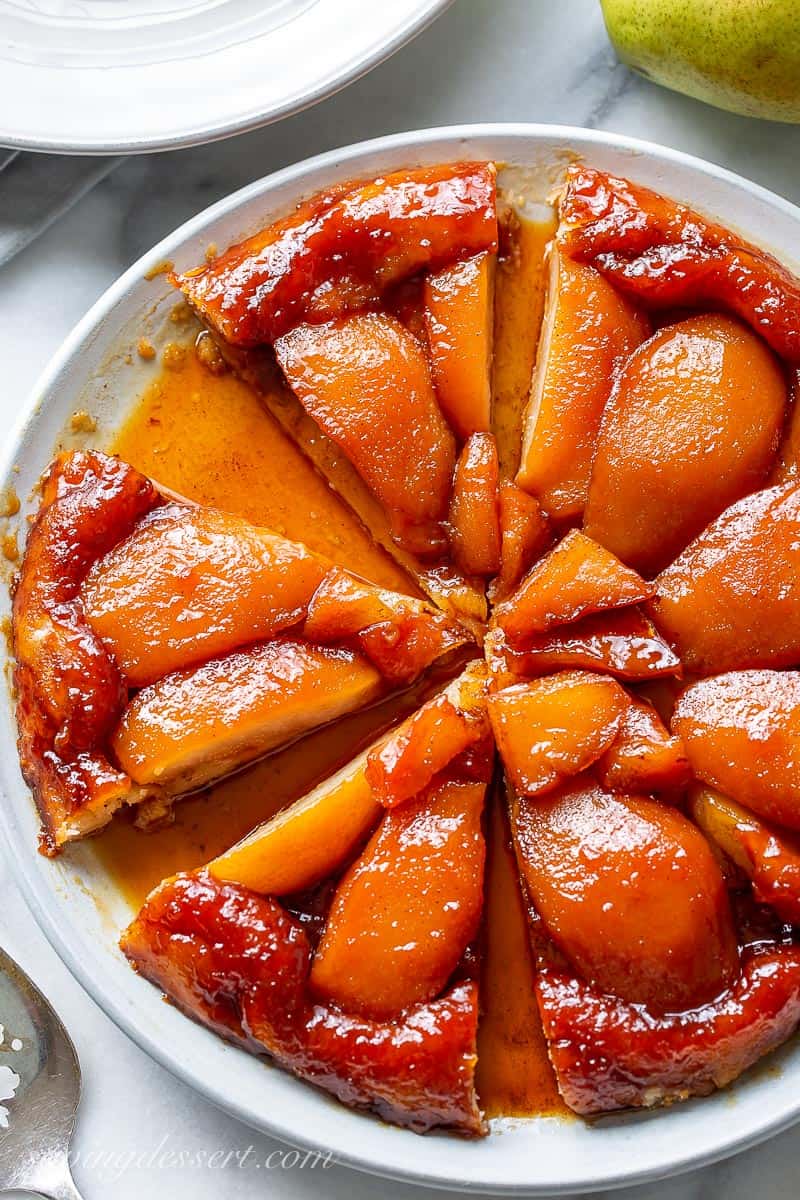 Can you make this dessert with other fruits?
Tarte Tatin can be made with apples, apricots, peaches or plums. Take care not to overcook the softer fruits as they may turn a bit mushy.
Apples are probably the most popular fruit used in a traditional tarte tatin. I prefer Granny Smith apples for baking. Their tart flavor is perfect in a sweetened dessert.
You can also use Golden Delicious Apples with great results.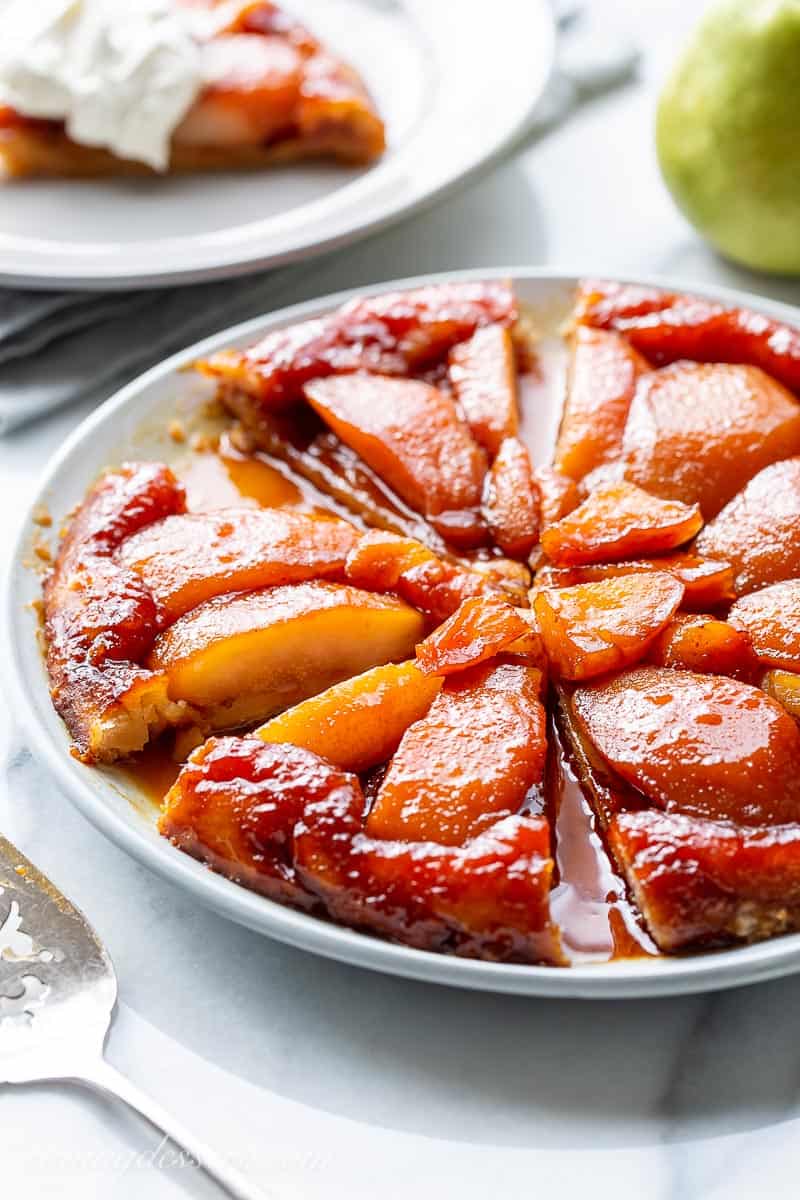 What is a tarte tatin?
Tarte Tatin is named after the Tatin sisters who invented it in the 1880's. Upside down tarts were not a completely new invention, however.
The original recipe was created almost by accident at the Paris Tatin Hotel restaurant. To salvage overcooked apples in sugar meant for a pie, Stephanie Tatin covered the fruit in pastry and threw it in the oven.
The baked tart was inverted onto a platter and this happy accident was served to the guests. As they say, the rest is history.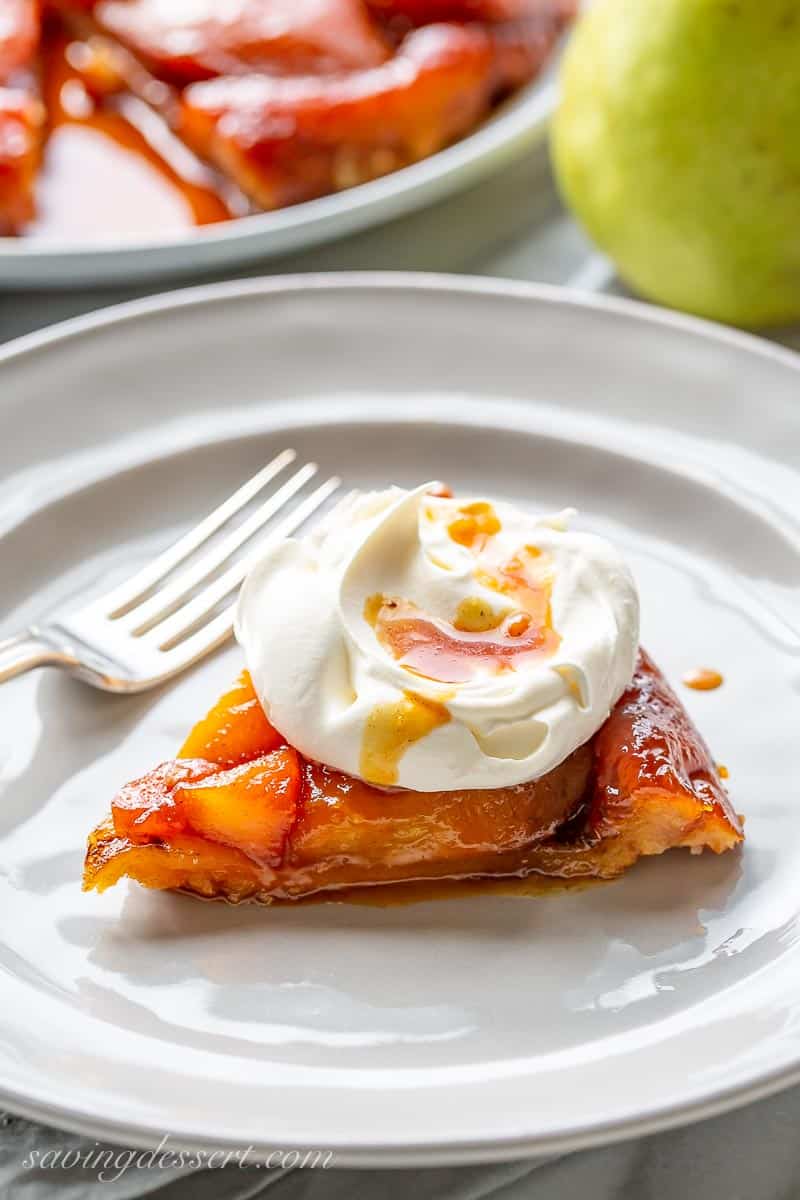 What are the best kind of pears to use in this tarte tatin?
You can use any kind of pear you have on hand, but Bosc or Anjou would be my first choice.
Bartlett pears will also work but tend to get soft quickly. If using Bartlett pears be sure they're firm and ripe, but not soft.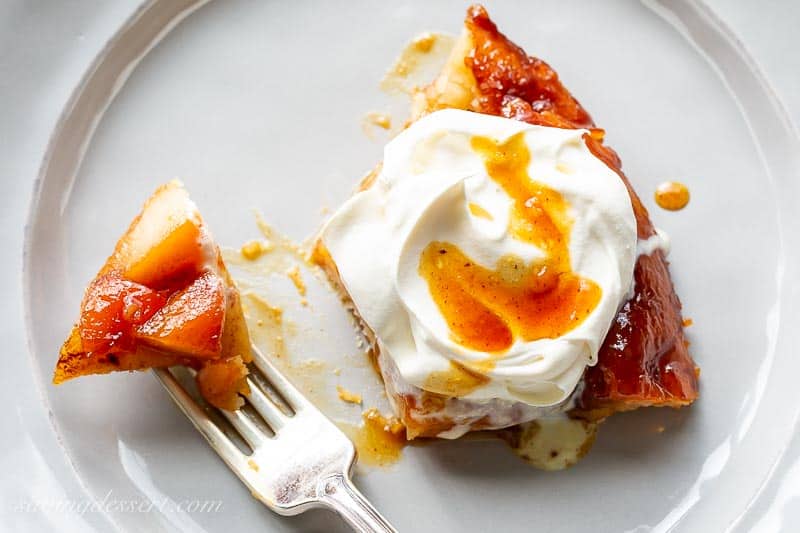 How to serve Pear Tarte Tatin:
I love a little dollop of lightly sweetened whipped cream on this pear dessert. You can also add a scoop of vanilla ice cream if desired.
Serve Pear Tarte Tatin slightly warm or at room temperature. For longer storage, refrigerate leftovers in an airtight container.
Thanks for PINNING!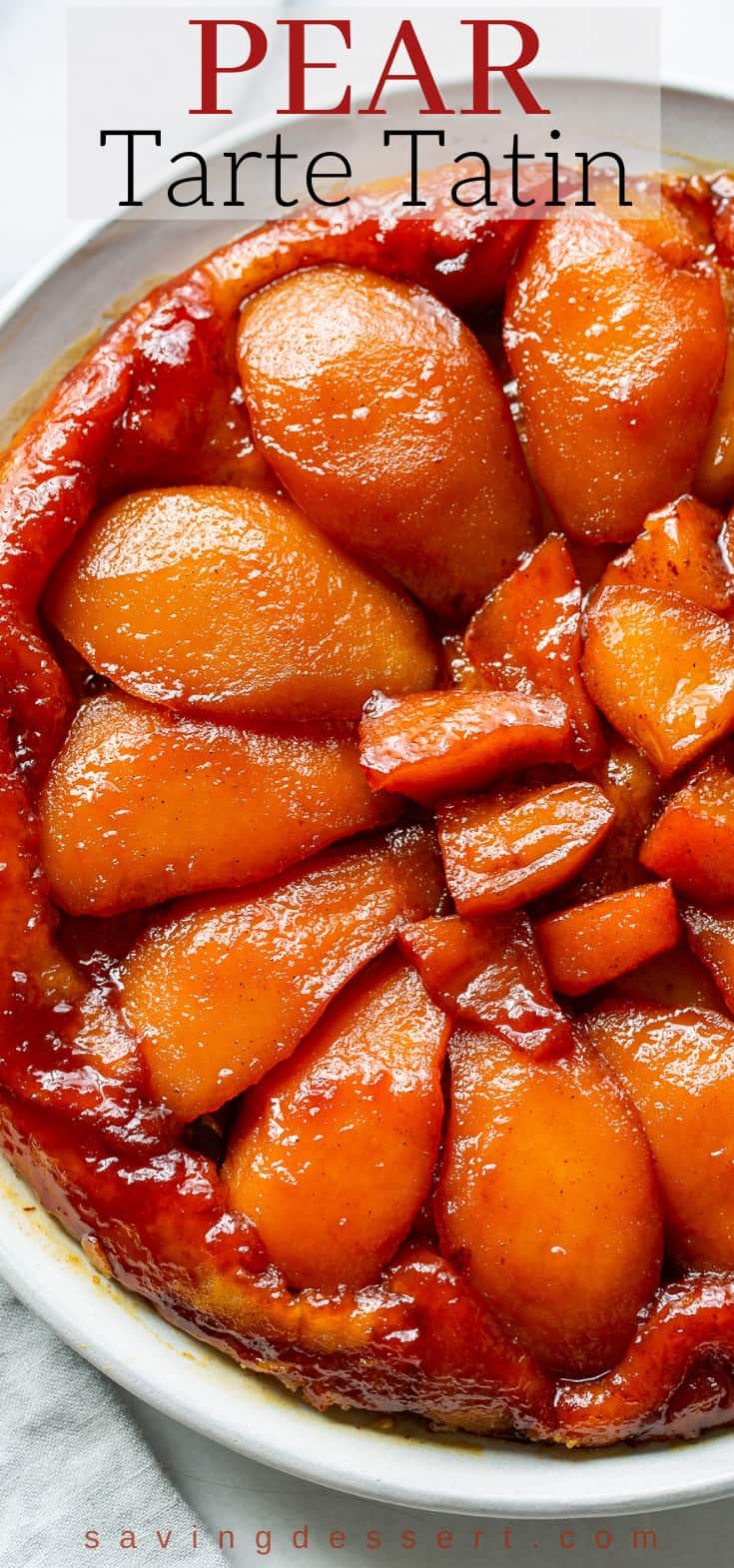 Let's be baking friends! When you try our recipe please leave a comment on this post. If you loved this recipe we'd appreciate a 5-star rating! Sharing your experience, variations and insights will help all our readers, and it helps me too.
If you're on Pinterest feel free to leave a comment and photo there if you have one. If you share on INSTAGRAM tag @savingroomfordessert so we can stop by and give your post some love.
FOLLOW Saving Room for Dessert on FACEBOOK | INSTAGRAM | PINTEREST | TWITTER and subscribe to our YOUTUBE channel for all the latest recipes, videos and updates.
Pear Tarte Tatin
Total Time:
1

hour
20

minutes
Buttery caramel soaked fresh pears topped with a flaky crust baked until golden brown.
Ingredients
¾

cup

granulated sugar

(160g)

3

tablespoons

water

4

tablespoons

unsalted butter cut into pieces

(2oz)

¼

teaspoon

ground cinnamon

2 ½

pounds

firm ripe pears

(about 5)

unbaked single pie crust pastry homemade or store-bought
Instructions
IMPORTANT TIP: For best results make the caramel in a stainless steel skillet or saucepan. You should be able to see how dark the caramel is before removing from the heat. If using a saucepan, transfer the finished caramel to a 9-inch ovenproof pan or skillet before adding the pears and pastry. Baking in a cast iron skillet works well, as long as you make the caramel in a light-colored saucepan first.

Pour the sugar and water into a 9-inch stainless steel ovenproof skillet. Stir to combine. Bring to a boil over medium-high heat. Once the mixture comes to a boil, reduce the heat to medium and carefully swirl the pan occasionally until the it is medium-dark amber-brown in color, but not too dark! This happens quickly so don't walk away.

Remove from the heat then quickly and carefully add the butter and cinnamon. Stir until blended. Set aside. The caramel should be thick at this point.

Peel, quarter and core the pears. Arrange the pear slices in concentric circles, cut sides up, over the caramel until the skillet is full.

Return the skillet to the stovetop over medium-low heat and cook for about 20 to 30 minutes. The pears will release their juice and thin the caramel. Continue cooking until most of the extra liquid evaporates. Watch carefully and reduce the heat to low if needed to prevent the caramel from burning.

While the pears are cooking preheat the oven to 375°F. Line a rimmed baking sheet with foil and set aside.

Roll out the pastry to a 10-inch circle on a lightly floured, clean work surface.

Remove the pears from the heat and carefully place the pastry over the skillet. Using a large spoon or spatula tuck the edges of the pastry down into the skillet around the pears. Place the skillet on the prepared baking sheet and bake until the crust is golden brown, about 25 to 30 minutes.

Cool the tart on a rack for 20 minutes. Loosen the pastry from the sides of the pan using a wooden spoon or spatula. Place a rimmed serving platter over the tart and carefully and quickly invert the skillet. Slice into wedges and serve.
Recipe Notes
This pear tarte tatin can be served warm or room temperature with whipped cream or a scoop of ice cream.

Store leftovers in an airtight container in the refrigerator.
See post for tips about the best pears for baking.
Nutrition information is calculated using an ingredient database and should be considered an estimate. When multiple ingredient alternatives are given, the first listed is calculated for nutrition. Garnishes and optional ingredients are not included.
Nutrition
Calories:
204
kcal
|
Carbohydrates:
40
g
|
Protein:
1
g
|
Fat:
6
g
|
Saturated Fat:
4
g
|
Polyunsaturated Fat:
1
g
|
Monounsaturated Fat:
2
g
|
Trans Fat:
1
g
|
Cholesterol:
15
mg
|
Sodium:
3
mg
|
Potassium:
167
mg
|
Fiber:
4
g
|
Sugar:
33
g
|
Vitamin A:
211
IU
|
Vitamin C:
6
mg
|
Calcium:
15
mg
|
Iron:
1
mg
Pears are one of my favorite fruits to eat out of hand and to bake.
Try a few new recipes this season with your ripe pears! You'll love this Fresh Pear Cake, a simple Pear Crisp, this easy and delicious Maple Pear Apple Butter and these wonderful Walnut Pear Muffins with cardamom.
Let us know when you think of this recipe for Pear Tarte Tatin in the comments!