This post may contain affiliate links. Please read my disclosure policy.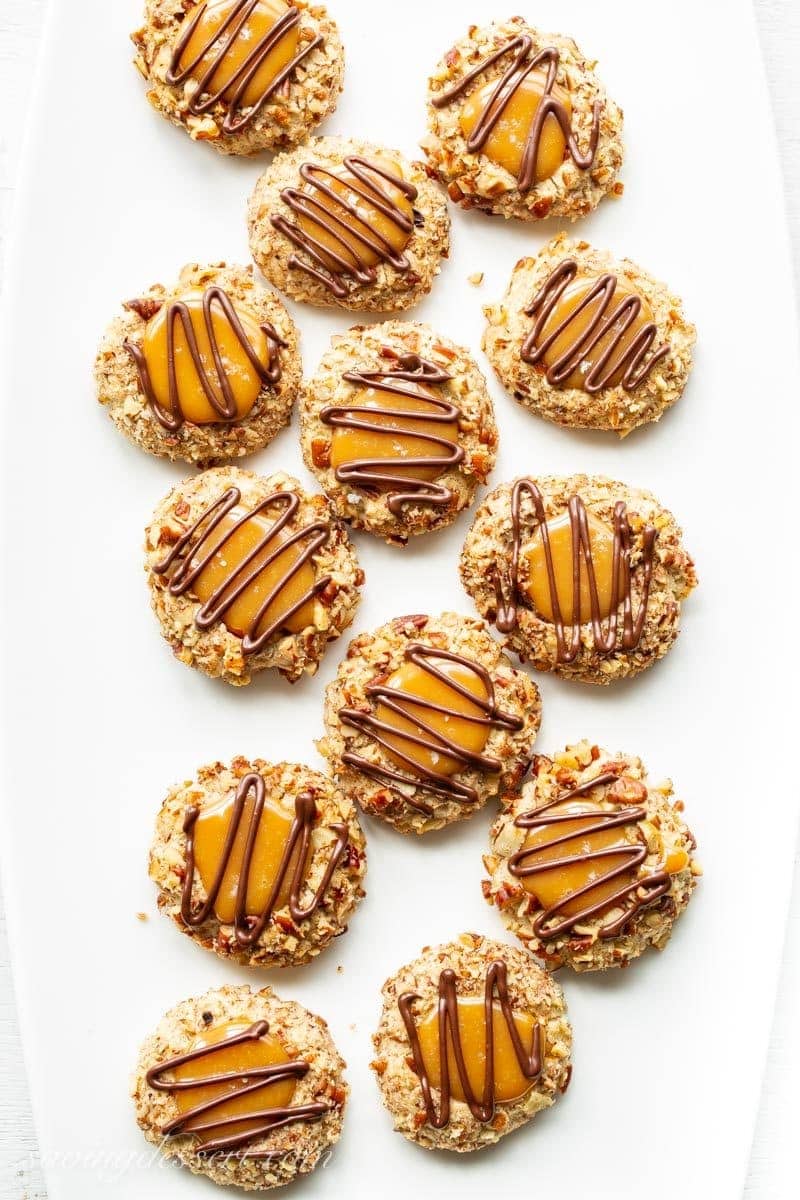 Turtle Thumbprint Cookies – deliciously nutty cookies with a smooth, creamy dollop of sweet caramel, and a drizzle of yummy chocolate – cookie heaven!
Thumbprint cookies are always a favorite here at SRFD and we can't get enough of these delicious little bites. For these Turtle Thumbprint Cookies I started with my mom's old thumbprint cookie recipe that's not very sweet and loaded with finely ground pecans mixed right in the dough. Next I rolled the dough balls in chopped pecans and then baked to a lovely golden brown. The pecans get all toasty in the oven creating a wonderful layer of nutty flavor. To finish we added a hefty dollop of milky, silky caramel, a little sprinkle of sea salt (optional) and a fun drizzle of semi-sweet chocolate.
While there are a few steps to make these Turtle Thumbprint Cookies, each one is simple and easy and absolutely worth the effort!
After the caramel and chocolate sets you can store in an airtight container at room temperature or refrigerate for longer storage. My husband loves them refrigerated but I like them either way. The caramel doesn't get too hard in the fridge, so it's all good!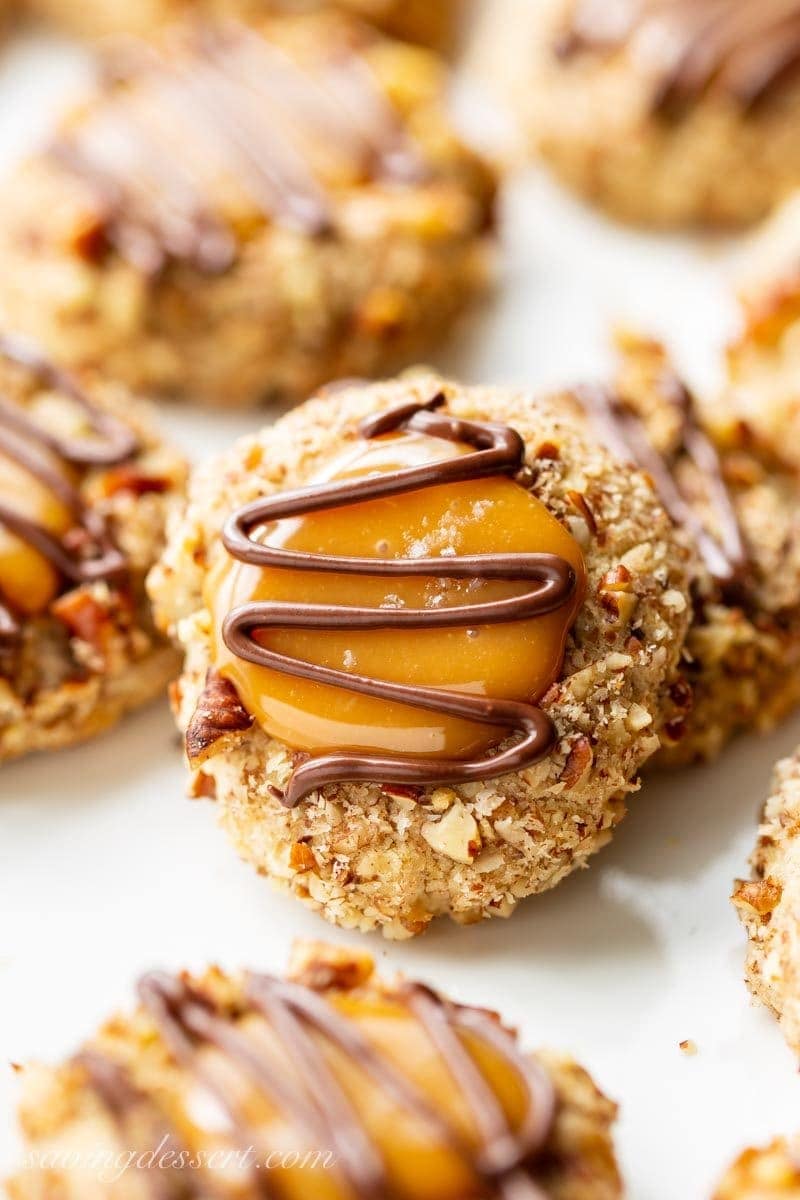 Our Turtle Thumbprint Cookies are ultra nutty and so delicious and I bet you can't eat just one! Turtle power!
Thanks for PINNING!
Let's be baking friends! When you try our recipe please leave a comment on this post. If you loved this recipe we'd appreciate a 5-star rating! Sharing your experience, variations and insights will help all our readers, and it helps me too. If you're on Pinterest feel free to leave a comment and photo there if you have one. If you share on INSTAGRAM tag @savingroomfordessert so we can stop by and give your post some love. And we'd be very happy if you'd FOLLOW Saving Room for Dessert on FACEBOOK| INSTAGRAM| PINTEREST | TWITTER  and subscribe to our YOUTUBE channel for all the latest recipes, videos and updates. Thank you!!!
PRINT THE RECIPE!
Deliciously nutty cookies with a smooth, creamy dollop of sweet caramel on top, and a drizzle of yummy chocolate
Ingredients
For the cookie dough:
1/2

cup

unsalted butter,

softened

1/4

cup

light brown sugar,

packed

1

large egg

1

teaspoon

vanilla extract

1/4

teaspoon

salt

1

cup

all-purpose flour

1

cup

finely grated pecans

(see note)

1

large egg white,

lightly beaten

1 1/2

cups

finely chopped pecans

for rolling
For the filling:
20

soft milk caramels

2

tablespoons

milk

or cream

pinch

of sea salt

(optional) for sprinkling

2

ounces

semi-sweet chocolate chips

1/2

teaspoon

solid shortening
Instructions
To prepare the cookies:
Preheat oven to 375F. Line two baking sheets with parchment paper and set aside.

In a large mixing bowl, blend the butter and brown sugar together until creamy.  Add the vanilla and egg and beat on low until smooth.  Scrape the sides and bottom of the bowl with a spatula and blend another 30 seconds. Sift the flour and salt into the cream mixture.  Blend until all flour is incorporated.  Stir in the grated nuts.  Refrigerate the cookie dough for 30 minutes.

Place the beaten egg white in a small bowl and about 1/2 of the chopped pecans in another and set the bowls side by side.

Roll the cookie dough into 1-inch balls. Dip each cookie dough ball into the beaten egg white, then roll in the pecans to cover. Place cookies at least 1-inch apart on a parchment lined baking sheets.

Press down the center of each cookie with a small finger or the back of a rounded 1/2 teaspoon to create a well.  Bake at 375F for 12-15 minutes or until lightly browned.  Cool completely on a wire rack before filling.
To prepare the filling:
Combine the unwrapped caramels and the milk in a small microwave safe bowl. Microwave the candy on medium power for 30 seconds. Remove and stir then repeat for 15 second intervals until all caramels are melted and the mixture is smooth. Fill each thumbprint with caramel. Immediately sprinkle a pinch sea salt over the caramel, if using. Allow the filling to cool before topping with the chocolate.

Combine the chocolate chips and shortening in a small microwave safe bowl. Microwave the chocolate on medium power for 30 seconds. Stir the mixture then repeat with 15 second intervals until the chocolate is smooth and melted. Scoop the chocolate into a small baggie, snip off a small piece of one corner of the bag. Drizzle the chocolate over each cookie as desired.

Allow to cool completely before storing in an airtight container. These cookies will keep for a few days at room temperature or a bit longer when refrigerated. The caramel doesn't harden too much when refrigerated.
Recipe Notes
When measuring the grated pecans, gently tap the measuring cup on the counter top a few times to lightly pack the nuts. Keep filling and tapping until you have one heaping cup.
Roll all the cookie dough balls first. Then using one clean hand, dip the balls in the egg white one at a time, then move it to the chopped pecans. Use the other hand to roll it in the pecans and move it to the baking sheet.
Start by adding only about half of the chopped pecans to the bowl used for rolling. Add more if needed but this way you won't ruin any leftover pecans if you don't use them all. If you have any leftover chopped pecans refrigerate for another use.
Here are a few more cookie recipes you might enjoy:
Ginger Molasses Thumbprint Cookies with Caramel ~ a terrific little molasses cookie with a crisp exterior, plenty of bite from the ginger, and a smooth, gooey milky caramel center. Click HERE to get the Ginger Molasses Thumbprint Cookie recipe.
Try our unique and delicious Oatmeal Jammys! These terrific little tart-like cookies are true gems. They're crispy, tender, buttery shortbread oatmeal cookies filled with jam and a sprinkle of streusel around the edges and I can't wait for you to try them! Click HERE to get the recipe.
Lemon-Lime Shortbread Thumbprint Cookies – a Lime infused Shortbread Cookie filled with homemade Lemon Curd and topped with a simple Lime Icing – a bright summer treat! Click HERE to get the Lemon-Lime Shortbread Thumbprint Cookie recipe.
Thanks so much for stopping by!  Tricia