This post may contain affiliate links. Please read my disclosure policy.
Avgolemono Soup is a Greek chicken and rice soup flavored with fresh lemon juice and thickened with eggs.
Our recipe for this famously wonderful soup produces a velvety broth with a bright lemon flavor. With tender chunks of chicken breast and plenty of rice to fill you up, this healing bowl of deliciousness is the perfect spring soup.
Avgolemono is a Greek term that means lemon-egg sauce. When used as a sauce, avgolemono is typically served over fish or chicken. When made into a soup, chicken is often added along with rice or orzo pasta. Feel free to substitute orzo for the rice in this recipe, if desired.
How do you temper eggs to thicken avgolemono soup?
Whole eggs, egg yolks and lemon juice are whisked together in a medium bowl. Once the soup is cooked, a few ladles of hot broth are slowly drizzled into the egg and lemon mixture while whisking vigorously, tempering the eggs. Tempering eggs simply means you are slowly warming the eggs so they'll be cooked, but not scrambled. You're trying to avoid stands of cooked egg, like you'll see in egg drop soup. Once the eggs are tempered, the mixture is added back into the soup pot, off heat. At this point you don't want to cook the soup any further. If cooked, or boiled, the eggs may clump up, or create strands. The soup will still be good to eat, just not as silky smooth.
If you're new to tempering eggs, please don't be nervous about trying this cooking method. Tempering eggs is easy to do and produces the silky consistency you'll find in puddings, creamy pies and many homemade ice cream recipes.
To make avgolemono soup we start with a bundle of flavor enhancers.
Using a vegetable peeler, remove large strips of zest from a fresh lemon. If you have cheesecloth on hand, bundle the lemon zest together with fresh thyme sprigs, a bay leaf, and a few peppercorns. This bundle will be added with the chicken broth while cooking rice to infuse plenty of flavor into the base of the soup.
If you don't have cheesecloth, no worries. Just add the lemon zest, thyme and bay leaf to the pot. I would leave out the peppercorns as they would be hard to find and remove later. You can always add more fresh ground pepper to the finished soup, to taste.
There are many options for adding chicken to this soup.
If you have rotisserie chicken available, just stir it in at the end as noted in the recipe. The chicken should be warm, or at least not cold, when added to the pot.
Poaching chicken is one of our favorite ways to prepare the chicken breasts for this soup. We love having this tender cooked chicken on hand to use in salads and sandwiches throughout the week.
To poach chicken breasts, pour a few cups of chicken broth into a large skillet with a tight fitting lid. You only need enough broth to poach the chicken, not cover it. Bring the broth to a boil and season with peppercorns, fresh thyme sprigs and a splash of white wine, if you have it on hand. Once boiling, add the chicken breasts making sure they have plenty of room to cook. Reduce the heat to low, cover the pan and slowly poach the chicken for 15 minutes. Turn the breasts in the pan, cover and continue cooking gently until fork tender, about another 10 to 15 minutes. The broth should not boil so keep the heat on low.
You can also start making this soup with uncooked, bone-in, skin-on chicken breasts. Place the chicken pieces in a pot and cover with water. Season with herbs, salt and pepper. Gently boil the chicken creating your own homemade chicken broth. Carefully remove the chicken from the broth and cool. Shred the chicken into bite sized pieces, discarding the skin and bones. Refrigerate until needed for the soup. Strain the broth and refrigerate until needed. This can be done several days in advance.
Our recipe calls for the rice to be cooked in chicken broth.
Cooking the rice in chicken broth infuses it with flavor, which adds a nice depth to the base of our soup. However, the rice may absorb more broth over time making it a little softer than it was when first cooked.  If you prefer a little more texture to your rice, pre-cook the rice and add to each bowl of soup, individually, when served.
If you use pre-cooked rice, you can add more rice than called for in the recipe. The liquid will not be absorbed during cooking as it does when you cook the rice in broth.
Softer rice doesn't bother me. It actually adds texture to this soup making it a little thicker.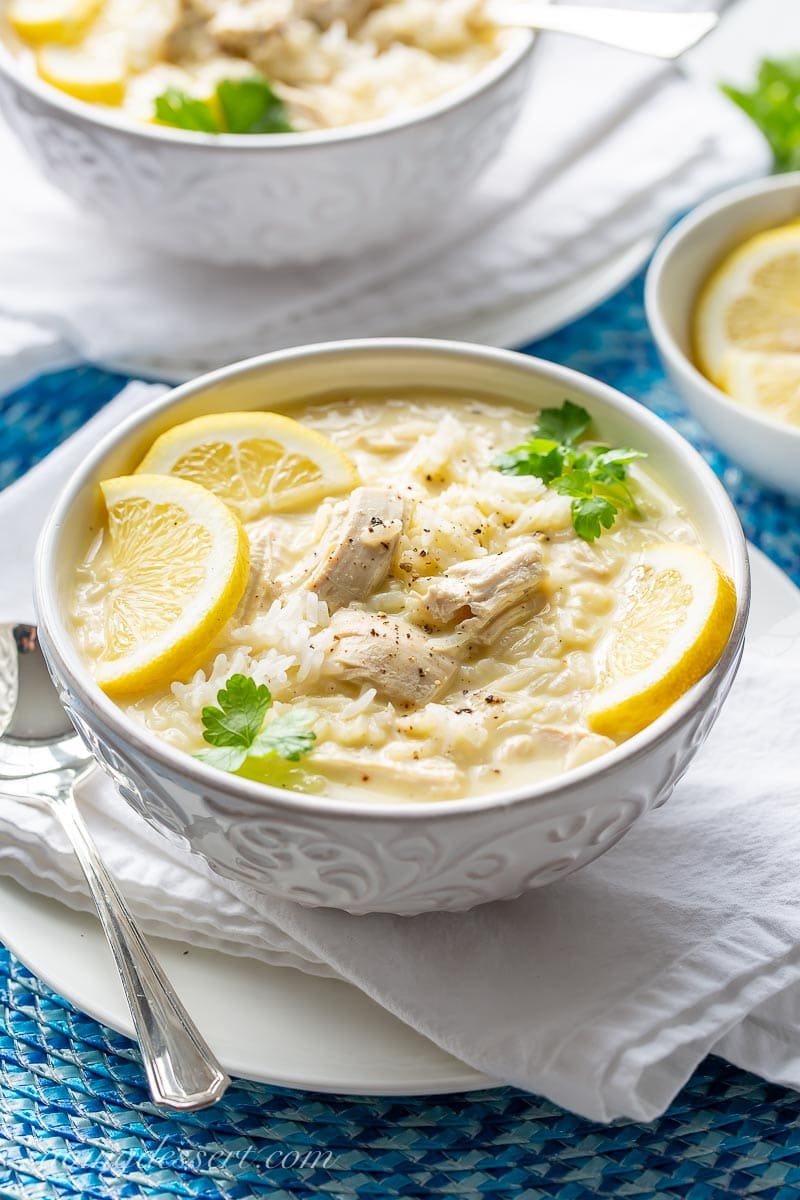 Can you freeze avgolemono soup?
Yes you can! I recommend freezing in individual servings. Thaw the soup overnight in the refrigerator and reheat gently on 50% power in the microwave. You don't want to boil this soup once the eggs have been added.
The rice will most likely absorb some of the broth after it sits over time. Add an extra splash of chicken broth if needed to thin the soup.
For the best flavor and consistency, enjoy this soup the day it's made. Check the seasonings and add more lemon juice, salt and pepper as needed before serving.
Thanks for PINNING!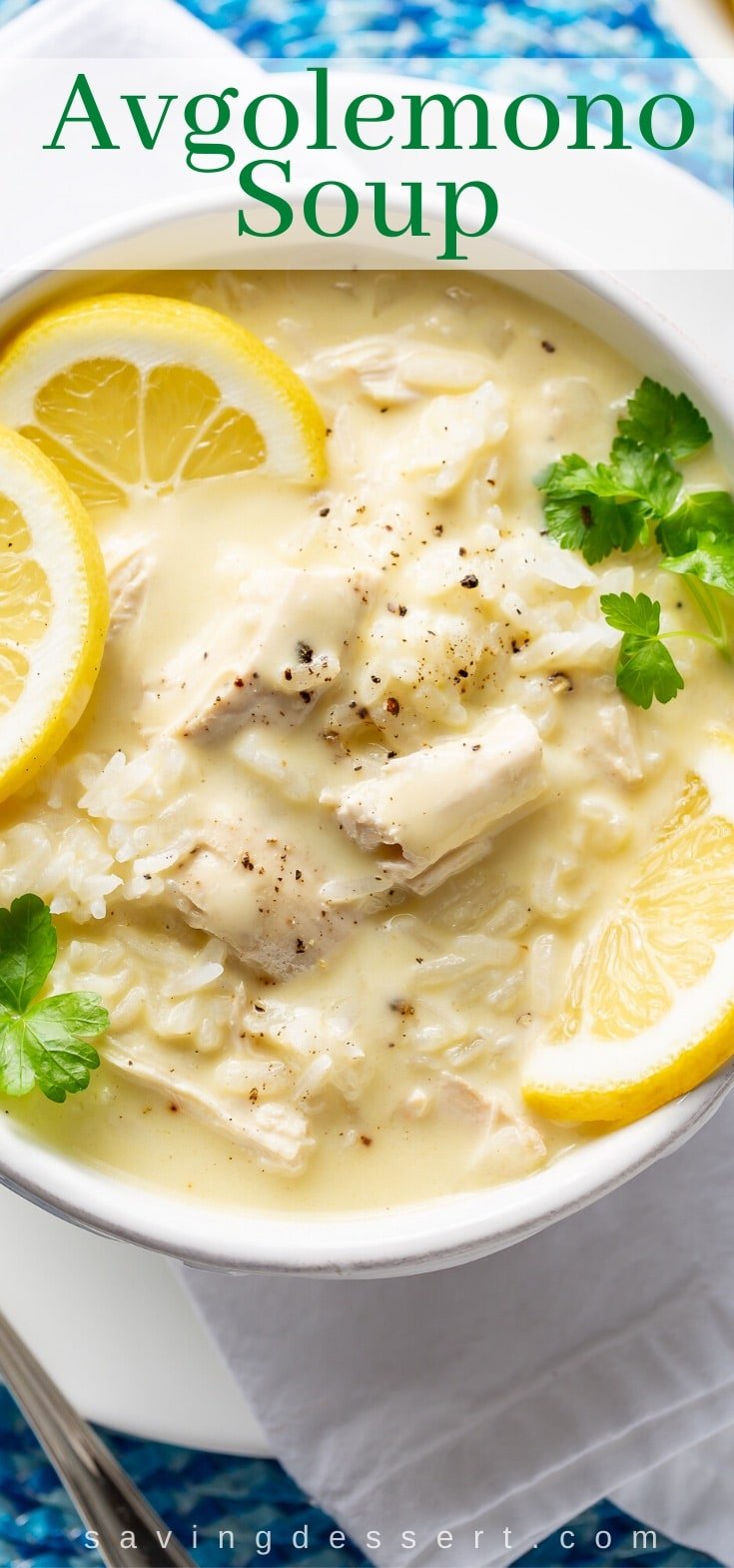 Let's be cooking friends! If you make our recipe please feel free to leave a comment on this post. I'm sure your experience and insights will help all our readers, and it helps me too. Also, if you're on Pinterest feel free to leave a comment and photo there if you have one! If you share on INSTAGRAM tag @savingroomfordessert so we can stop by and give your post some love. And we'd be very happy if you'd FOLLOW Saving Room for Dessert on FACEBOOK| INSTAGRAM| PINTEREST | TWITTER  and subscribe to our YOUTUBE channel for all the latest recipes, videos and updates. Thank you!!!
PRINT THE RECIPE!
Greek Chicken and Rice Soup with Egg and Lemon.
Ingredients
zest from 1 lemon

4

or 5 sprigs of fresh thyme

1

bay leaf

1

teaspoon

whole peppercorns

⅓

cup

lemon juice

(1 oz or 30g) about 2 juicy lemons

1

tablespoon

olive oil

½

large sweet onion,

diced

½

teaspoon

salt

½

teaspoon

fresh ground black pepper

2

garlic cloves,

minced

8

cups

low-sodium chicken broth,

or stock (64 ounces)

1

cup

uncooked long-grain rice

(210g)

2

large eggs,

plus 2 egg yolks

3

cups

shredded, cooked chicken breast

(about 1 pound cooked or 3 breasts)

2

tablespoons

fresh chopped parsley leaves

lemon slices for garnish
Instructions
Using a vegetable peeler, remove strips of zest from 1 lemon. If you have cheesecloth on hand, bundle the lemon zest strips, thyme springs, bay leaf and peppercorns together and secure with kitchen twine or tie in a knot. If you don't have cheesecloth, skip adding the peppercorns as they will be hard to remove. Set aside.

Juice the lemons, removing seeds and pulp before measuring.

Pour olive oil into a soup pot or Dutch oven. Heat on medium until the oil is shimmering. Add the onion, salt and pepper and sauté until the onion softens, about 5 minutes. Add the garlic and sauté until fragrant, about 1 minute.

Add the chicken broth to the onion and garlic mixture. Increase heat to medium-high and bring to a boil. Add the rice, lemon zest, thyme and bay leaf. Reduce the heat and simmer for 10 to 15 minutes, stirring occasionally, until the rice is tender.

Remove the spice bundle or the lemon strips, thyme and bay leaf from the pot; discard.

In a medium mixing bowl, whisk together the lemon juice, eggs and egg yolks. Using a ladle, slowly drizzle some of the hot chicken broth into the egg and lemon mixture, whisking constantly. Repeat a few more times with more hot broth tempering the eggs while whisking and drizzling.

Remove the pot from the heat. Off-heat, whisk the tempered egg mixture into the soup pot. Add the cooked chicken and stir to combine.

Check the seasoning and add salt and pepper to taste. Add additional lemon juice if needed.

Serve immediately garnished with fresh chopped parsley and coarsely ground black pepper.
Recipe Notes
PRO TIP: Do not cook the soup after the eggs are added, as it may break and look more like egg drop soup. It will still be good to eat but not silky smooth.
OPTIONS:
Use uncooked bone-in, skin-on chicken breasts and make your own broth.
If you want to use pre-cooked rice, add to the pot after the eggs are tempered. You may need a little more rice as the liquid won't be absorbed during cooking.
Substitute orzo in place of the rice, if desired
Use 3/4 cup of uncooked rice if you prefer a brothier soup
Nutrition information is calculated using an ingredient database and should be considered an estimate. When multiple ingredient alternatives are given, the first listed is calculated for nutrition. Garnishes and optional ingredients are not included.
Nutrition
Calories:
435
kcal
|
Carbohydrates:
53
g
|
Protein:
26
g
|
Fat:
15
g
|
Saturated Fat:
4
g
|
Polyunsaturated Fat:
1
g
|
Monounsaturated Fat:
3
g
|
Trans Fat:
1
g
|
Cholesterol:
105
mg
|
Sodium:
1017
mg
|
Potassium:
381
mg
|
Fiber:
1
g
|
Sugar:
18
g
|
Vitamin A:
408
IU
|
Vitamin C:
11
mg
|
Calcium:
102
mg
|
Iron:
3
mg
Here are a few more recipes you might enjoy: