This post may contain affiliate links. Please read my disclosure policy.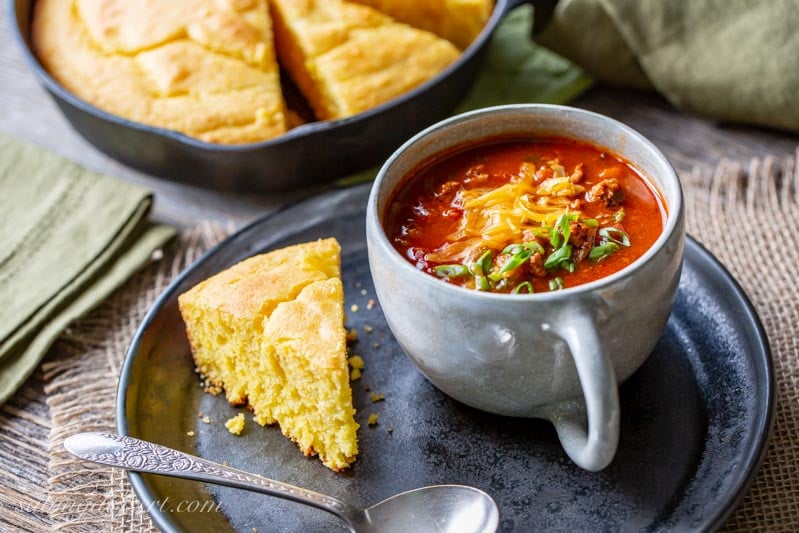 Chasen's Chili – adapted from the famous Chasen's Hollywood restaurant recipe which was a favorite with actors including Elizabeth Taylor and Richard Burton
Recently I was digging through my old files of hand written and photocopied recipes and came across one for the famous Chasen's Chili.  You may not know this, but "back in the day" we didn't have the internet and had to keep actual paper copies of recipes and photos – haha.  I still have recipes and cookbooks collected more than 30 years ago and every now and then, I do a little digging.  It's always interesting to peruse the archives, and this time a recipe for Chasen's Chili caught my eye.  I don't remember where I got it but it looks like a note on the front is in my mother's handwriting. Anyway, my curiosity was peaked so I jumped on the 'world wide web' to investigate this legendary recipe.
My copy of the Chasen's Chili recipe claims to be from a famous Hollywood restaurant named Chasen's.
Back in the days of glamour, glitz and the 'Rat Pack' many of the rich and famous were regular patrons of the restaurant.  My search found this to be true with photos and articles to support this claim, and similar recipes to the one included below.
Of course I had to make the chili, especially if it's so good that Elizabeth Taylor and Richard Burton had "gallons dispatched to Rome when they were over there making CLEOPATRA."
Also, I didn't follow the recipe exactly but adapted it to an easier method, with a little less fat and added a bit more heat. I've included a scanned copy of the original recipe below if you want to make it like they did in the old days.
So … are you wondering if we loved it?
Absolutely!  We're big fans of chili anyway but found this to be a little different … in a good way.  I love that it's packed with meat and made with dried pinto beans instead of canned.  The sauce is not as tomatoey as some you may find today, but that's not a bad thing either.
I've never been to Hollywood but understand the restaurant stayed open until the mid 1990's.  I bet some of my LA friends will remember the restaurant or maybe heard stories about famous actors driving around back to pick up Chasen's Famous Chili to go.  Whether or not you love Hollywood, or even a good recipe story, if you love chili I think you will love this recipe as much as we do! It freezes beautifully and even tastes better the next day.  It's great for football parties, tailgating extravaganzas or camping in the mountains which is where I will be enjoying it next!
Thanks for PINNING!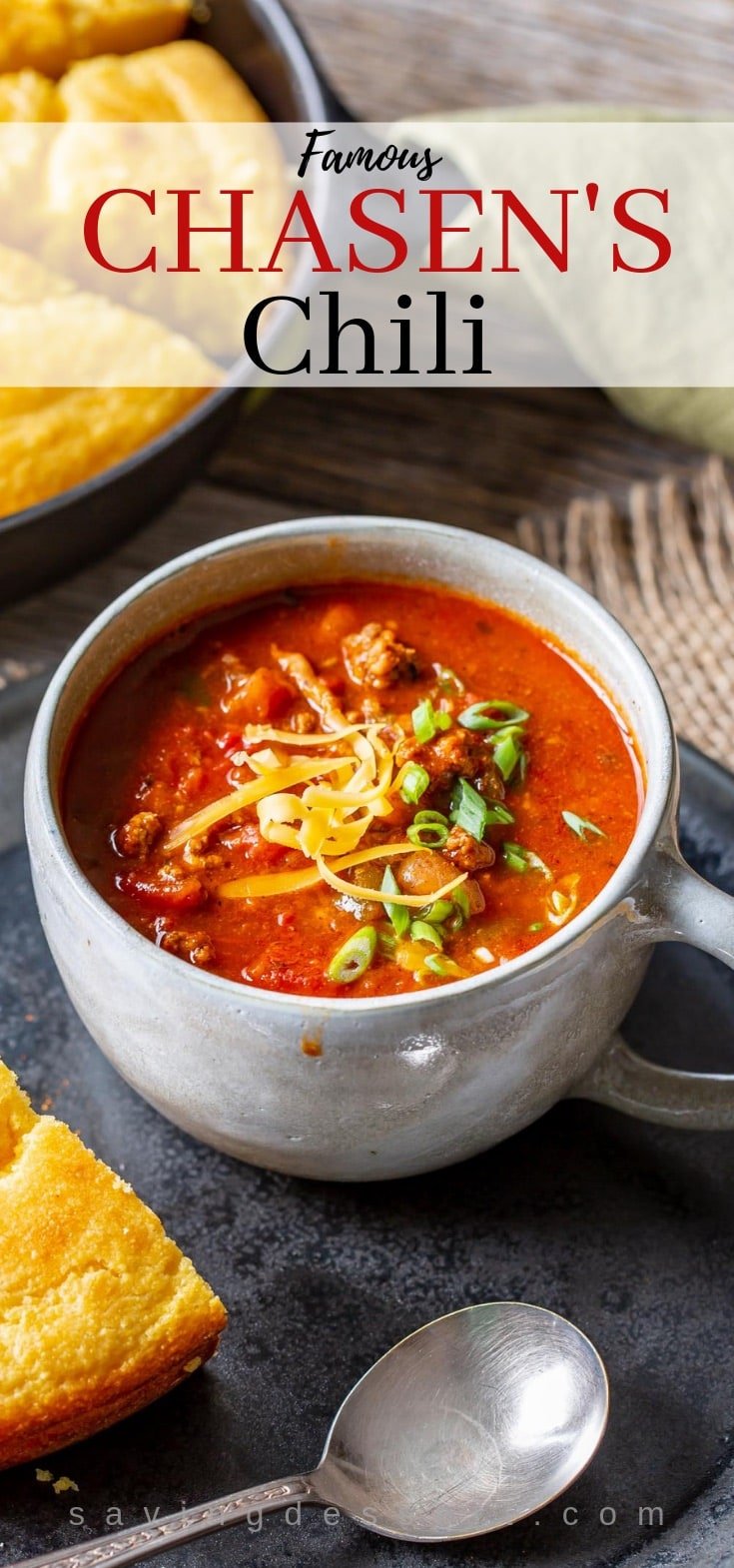 Let's be cooking friends! When you try our recipe please feel free to leave a comment on this post. I'm sure your experience and insights will help all our readers, and me too. Also, if you're on Pinterest feel free to leave a comment and photo there if you have one! If you share on INSTAGRAM tag @savingroomfordessert so we can stop by and give your post some love. And we'd be very happy if you'd FOLLOW Saving Room for Dessert on FACEBOOK| INSTAGRAM| PINTEREST | TWITTER  and subscribe to our YOUTUBE channel for all the latest recipes, videos and updates. Thank you!!!
PRINT THE RECIPE!
Adapted from the famous Chasen's Hollywood restaurant recipe which was a favorite with actors including Elizabeth Taylor and Richard Burton
Ingredients
½

pound

pinto beans

4

14.5 ounce cans fire roasted diced tomatoes

(NOT drained)

2

large green bell peppers,

ribs and seeds removed, chopped

2

large Hatch Chili peppers,

ribs and seeds removed, chopped (substitute jalapeños if desired)

2

tablespoons

vegetable oil

2

large white onions,

chopped

2

large cloves garlic,

minced

½

cup

chopped fresh parsley

½

cup

unsalted butter

2 ½

pounds

ground beef,

80-85% lean

1

pound

ground pork

⅓

cup

chili powder

2

teaspoons

salt

1 - 2

teaspoons

ground black pepper

1 ½

teaspoons

ground cumin

1 ½

teaspoons

seasoned salt,

such as Adobe, Accent or Lowry's

1

teaspoon

ground cayenne pepper

2

tablespoons

tomato paste
Instructions
Rinse and sort dried pinto beans removing any debris. Place the beans in a 7-8 quart soup pot and cover with cold water by at least one inch. Cover with a lid and soak overnight.

When ready to cook, drain and lightly rinse the beans and place back in the pan. Cover with fresh water by at least two inches. Heat on medium and bring to a boil. Lower heat to maintain a simmer and cook until the beans are tender, but not soft; about 45 minutes. Add water if needed during cooking to keep most beans covered.

Add the canned diced tomatoes and cover the pot with a tight fitting lid, and reduce the heat to low.

In a large skillet, warm the vegetable oil over medium heat. Once shimmering, add the green peppers and sauté for five minutes. Add the onion and cook until tender, stirring often. Push the peppers and onions aside making a hole in the center of the pan. Add the minced garlic and sauté for 30 seconds. Pour the pepper mixture into the beans and add the parsley.

Return the skillet to the heat and add the butter. Once melted add the ground beef and pork and cook, breaking the meat into large chunks until cooked through.

Quickly drain the meat in a colander (don't leave it to dry out) and return it to the skillet. Add the chili powder and sauté for about five minutes or until all the meat is coated in the spice.

Add the cooked meat to the pot with the beans along with the salt, pepper, cumin, seasoned salt, cayenne and tomato paste. At this point you can add a little water if you think it needs it to ensure all ingredients are wet.

Cover and simmer (do not boil) chili for 1 hour, stir occasionally taking care not to smash the beans.

Remove the lid and simmer for 30 minutes.

Serve garnished with sliced green onions and shredded cheese if desired.
Recipe Notes
Chili freezes beautifully and is wonderful the next day
Nutrition information is calculated using an ingredient database and should be considered an estimate. When multiple ingredient alternatives are given, the first listed is calculated for nutrition. Garnishes and optional ingredients are not included.
Nutrition
Calories:
846
kcal
|
Carbohydrates:
22
g
|
Protein:
45
g
|
Fat:
65
g
|
Saturated Fat:
27
g
|
Polyunsaturated Fat:
6
g
|
Monounsaturated Fat:
25
g
|
Trans Fat:
3
g
|
Cholesterol:
197
mg
|
Sodium:
1538
mg
|
Potassium:
1234
mg
|
Fiber:
9
g
|
Sugar:
4
g
|
Vitamin A:
4561
IU
|
Vitamin C:
56
mg
|
Calcium:
125
mg
|
Iron:
7
mg
Here are a few more chili and soup recipes you might enjoy!
Kitchen Essentials Spotlight: STOCKPOT

Everybody needs a good stockpot for soups, chili and shrimp boils too. This Cuisinart Chef's Classic 9-quart Stockpot with lid is very affordable and does a great job with heat distribution. Click on the photo for more information.
*Saving Room for Dessert is a participant in the Amazon Services LLC Associates Program ~ I earn a small commission, at no additional cost to you, which I use to pay for web hosting and services for this blog. Thanks for supporting SRFD!
Oh how we love cornbread!  I whipped up a batch to go with our chili and was so happy with it, I posted it! Click HERE for the recipe for SKILLET BUTTERMILK CORNBREAD!  I hope you had a nice weekend with wonderful weather.  The weather in Virginia is so beautiful this time of year.  The sky is deep blue, with light breezes and cool nights.  Perfect weather to get outdoors and take a hike, go camping or enjoy a football game.
Thanks so much for stopping by!  Tricia
SaveSave
SaveSave
SaveSave