This post may contain affiliate links. Please read my disclosure policy.
17 of our favorite recipes from 2017 ~ from soups and stews, to casseroles, pies and cakes, 2017 was a great year here at Saving Room for Dessert!
Sometimes it's fun to look back and see what inspired us most during the year. I'm a seasonal food lover for sure and shared plenty of recipes featuring ripe fruits and vegetables throughout the year. Sometimes the best recipes are not always the most popular, so to make sure you get another look, I'm posting some of our favorites here today. It's really hard to pick 'favorites' because only the best recipes make it to a blog post anyway. Several of these recipes made your TOP 10 list too, so we're on the same page!  I hope you'll try a few and let us know how it goes. We want you to make our recipes with confidence knowing they've been tested and tasted and are ready to be shared.
Thanks again for following along as we bake and cook and hopefully inspire you to get in the kitchen too! Hoping you have a wonderful, healthy and prosperous 2018!
Savory Winter Vegetable Cobbler with Cheesy Herbed Biscuits ~ a delicious and hardy vegetable dish loaded with mushrooms, cauliflower, butternut squash, onions, carrots and celery. Topped with a soft cheesy biscuit to soak up all the juice! Absolutely hands down one of our favorite dishes from 2017.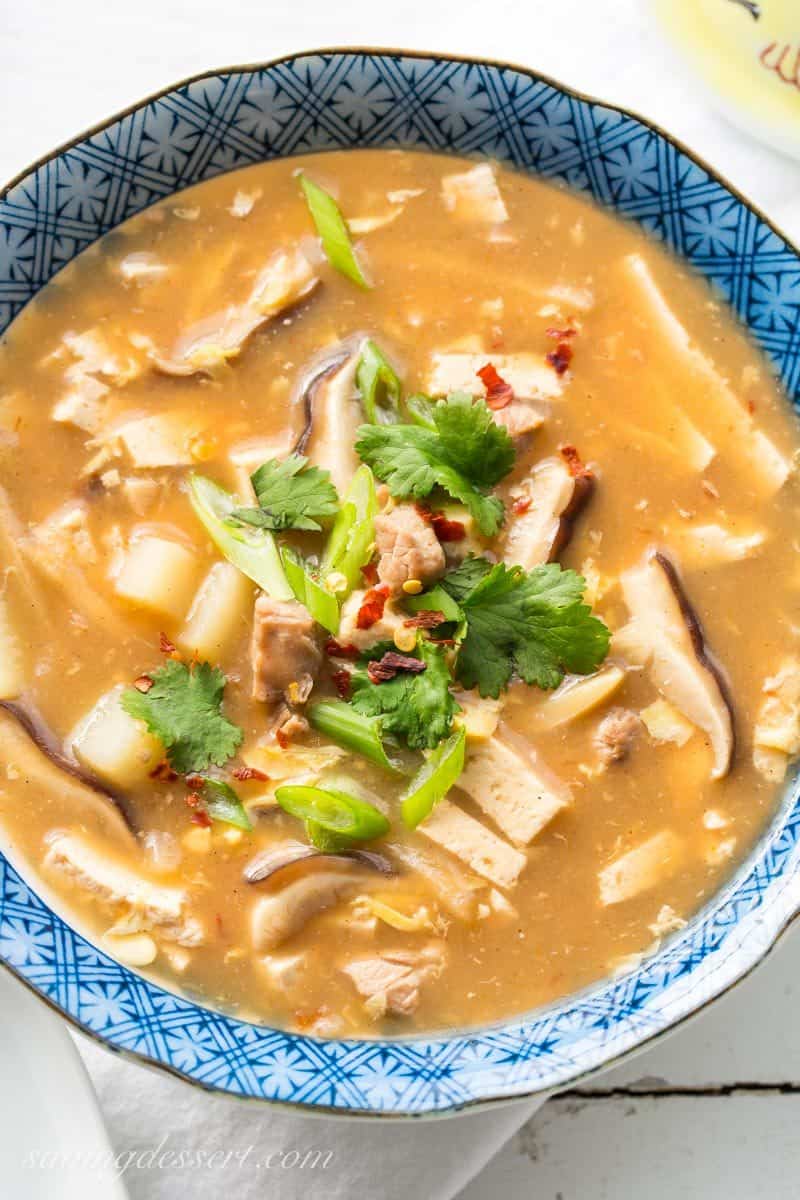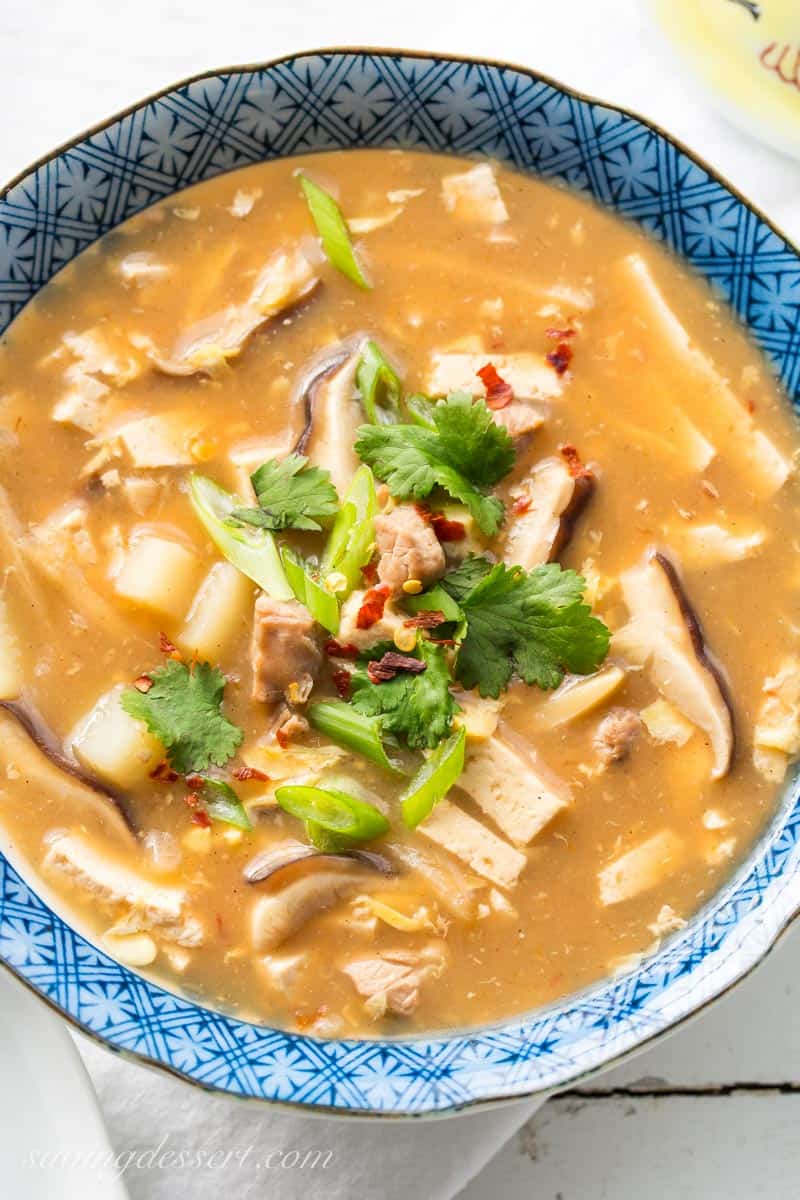 Easy Hot & Sour Soup Recipe ~ Fresh and delicious, and loaded with tofu, mushrooms and bites of pork tenderloin simmered in a rich, full flavored broth. Homemade Hot & Sour Soup is so much better than take-out and easy too!
Lemon Crumble Breakfast Cake ~ from the first bite to the last, this cake is loaded with bright lemon flavor.  This moist, tender cake is easy to make and topped with a sweet crumble topping then dusted with powdered sugar.  Whether you serve it for breakfast, brunch, afternoon tea or dessert, you'll be basking in enthusiastic, sunny compliments! This recipe was No. 1 in popularity from our readers!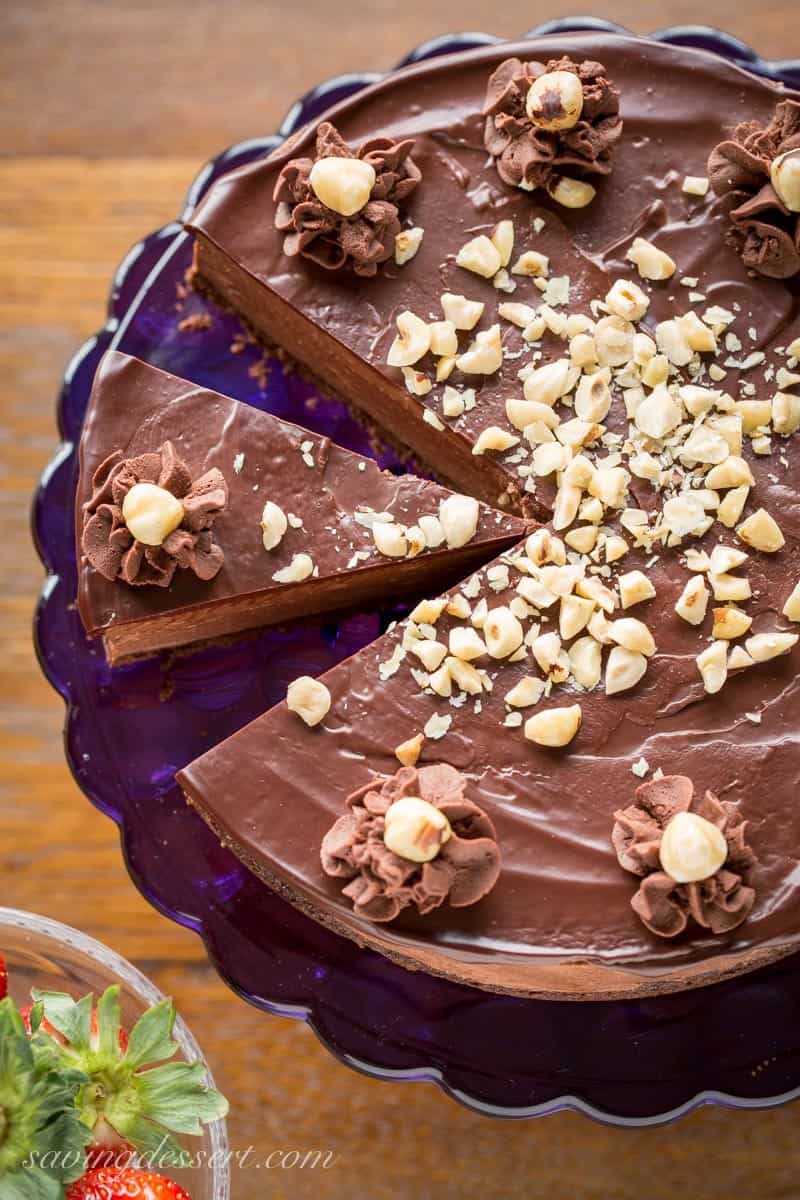 Chocolate Hazelnut Mousse Cake ~ a light, fluffy chocolate mousse spread over a chocolate hazelnut shortbread crust.  The cake is topped with a simple bittersweet chocolate ganache and garnished with chopped toasted hazelnuts just before serving. A must make for the chocolate lover in your house!
Classic Whoopie Pies ~ Chocolate cake-like batter is baked into large, soft hamburger-sized, bun shaped cookies then filled with a fluffy, sweet marshmallow frosting. If you love an authentic Whoopie Pie, this is a must try recipe!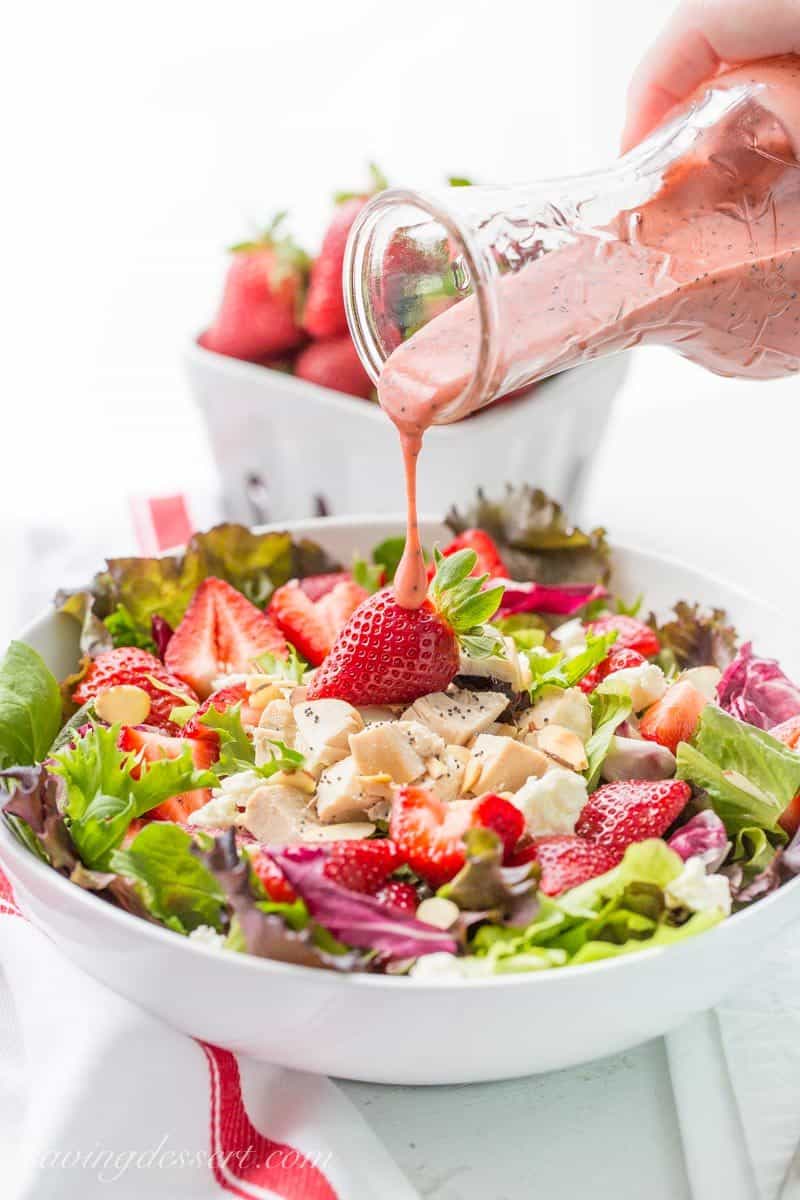 Strawberry Salad with Chicken and Poppy Seed Dressing ~ Simple and light, and deliciously refreshing, this is a great main course salad with an amazing combination of flavors.  From the tender chunks of chicken and the creamy bite of feta cheese, to the toasted sliced almonds and poppy seeds, every bite will delight your senses! A must make when strawberries are in season.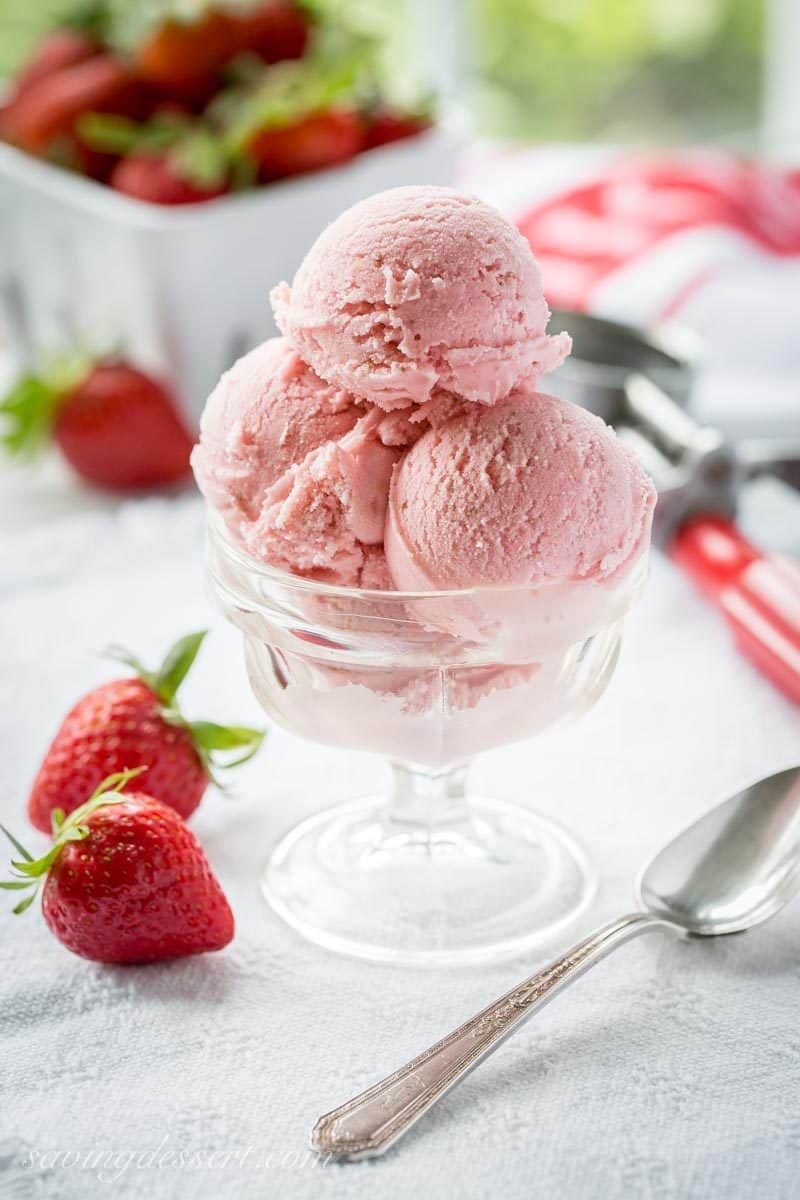 Fresh Strawberry Ice Cream ~creamy and smooth, with tart (not sour) undertones that you'd expect from a good ripe strawberry.  With a touch of Grand Marnier, buttermilk and mascarpone cheese, the richness shines through in this eggless, dreamy, frozen treat!
Blackberry Tarts ~ juicy, ripe blackberries nestled in a buttery, flaky crust for an iconic, all American summer dessert. Made with fresh from our garden blackberries these tarts are delicious!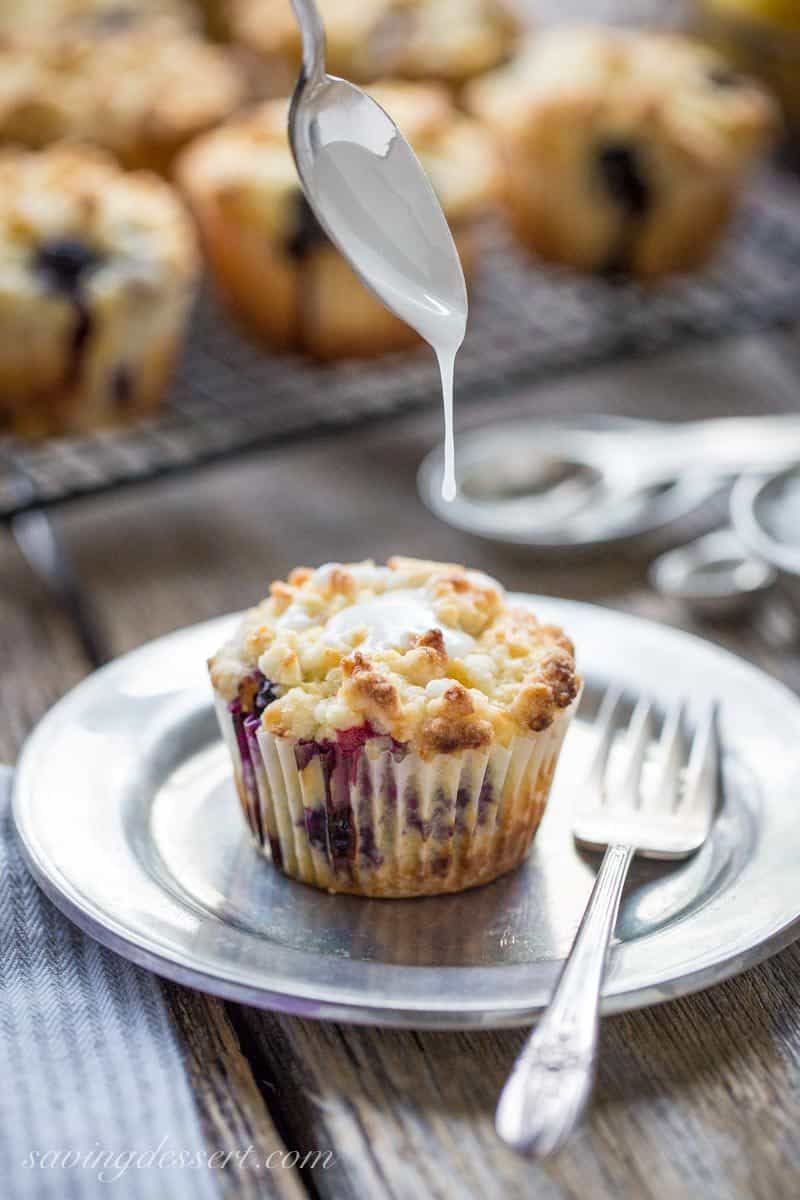 Lemon Blueberry Muffins with a Crumble Topping ~ plump, ripe blueberries and tart, fresh lemon juice are the stars in these wonderfully moist, sour cream muffins. Not overly sweet, these muffins are terrific with, or without, the bright lemon glaze. We love the classic combination of blueberry and lemons and you will too!
Classic Chicken Marsala ~ tender chicken breasts are seasoned and sautéed, then simmered in a Marsala wine sauce with shallots, prosciutto, and plenty of earthy mushrooms. Don't wait to have company to give this a try – it's a lovely dish and easy to make too. Tons of flavor and the chicken is so tender – a must try recipe!
'
Oatmeal Cream Pies – soft and chewy oatmeal cookies with hints of cinnamon, molasses and coconut, with a sweet marshmallow cream filling. A blast from the past and childhood favorite of many, these easy and delicious Oatmeal Cream Pie cookies will be an instant hit!
Hearty Chicken Pot Pie Soup ~ a creamy chicken soup with potatoes, peas, onion, celery and carrots.  All the flavors of a homey chicken pot pie without the crust!
Homemade Chicken and Dumplings ~ a deliciously rich homemade chicken stock is the base of this warming, healing pot of pure southern comfort food. Perfect for these cold winter days.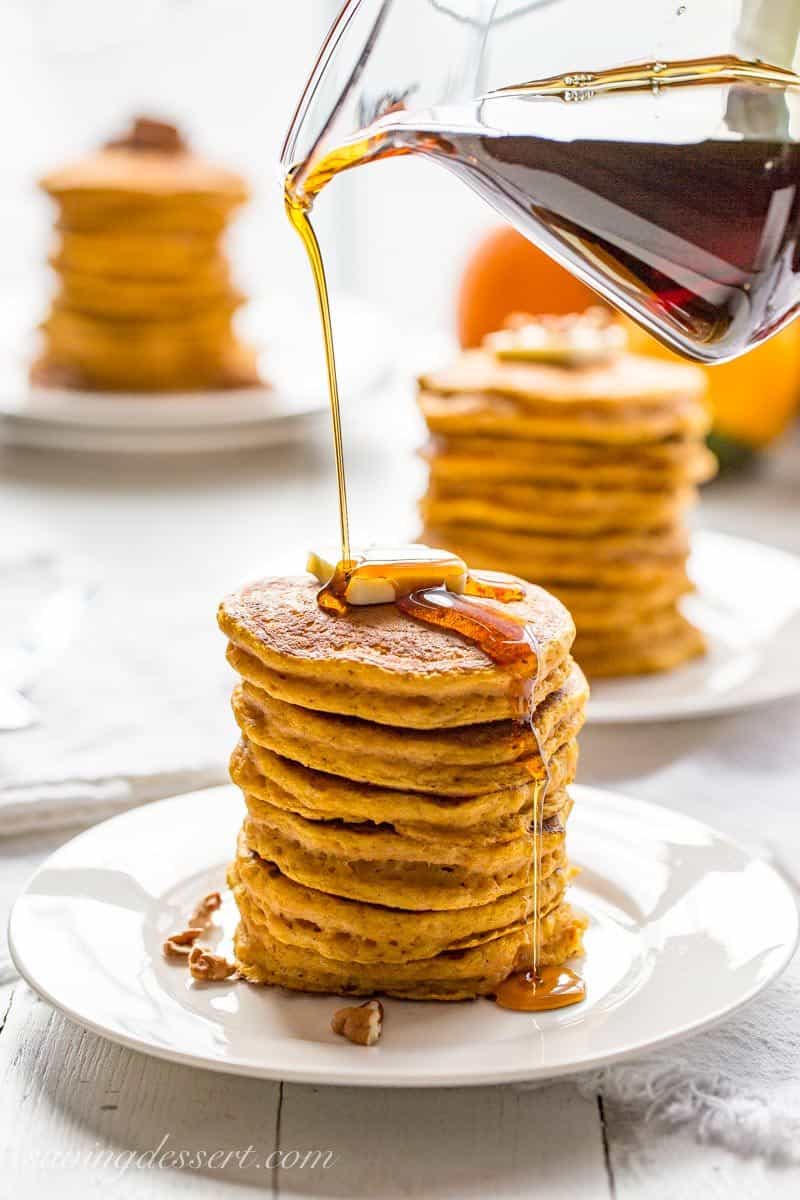 The BEST Pumpkin Pancakes ~ thick, light and super fluffy, our Pumpkin Pancakes are well spiced, lightly sweet and easy to make too. Check your pantry and see if you have one more can of pumpkin hiding in the back because you need to try these delicious pancakes asap!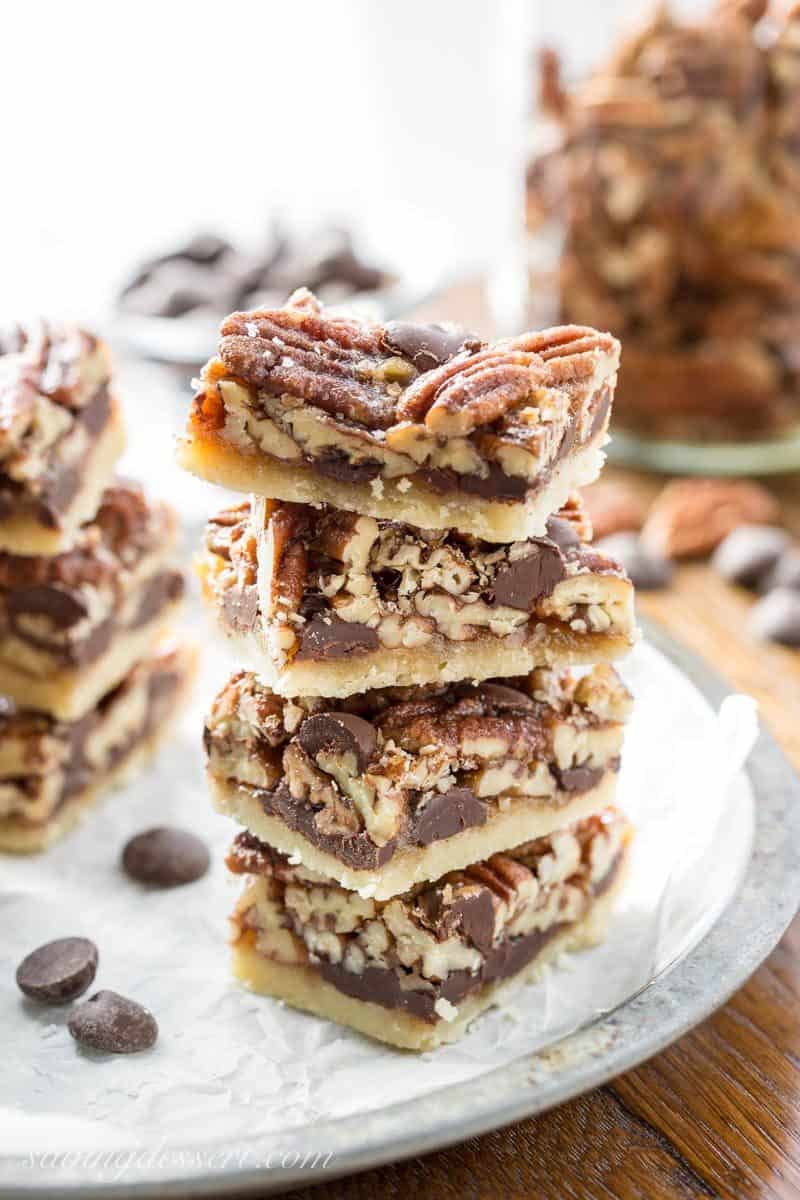 Chocolate Pecan Pie Bars with Bourbon & Sea Salt ~ a delicious and super nutty take on one of our favorite holiday pies! More toasty nuts and less filling than the pecan pies we all love, these bars are much easier to make too. Great for family get-togethers, office luncheons and for gifting!
Buckeye Candy ~ creamy, sweet peanut butter dough balls are partially dipped in chocolate to mimic the fruit of the Ohio Buckeye tree. It's believed the tree nuts were named buckeyes because they resemble the shape and color of a deer's eye. Whatever the reason, all I can say is these have been a personal favorite since I was a young buckeye! (Since I was born in Ohio.) Try our delicious recipe with a secret ingredient that makes all the difference in the texture and flavor. Delicious and addictive 🙂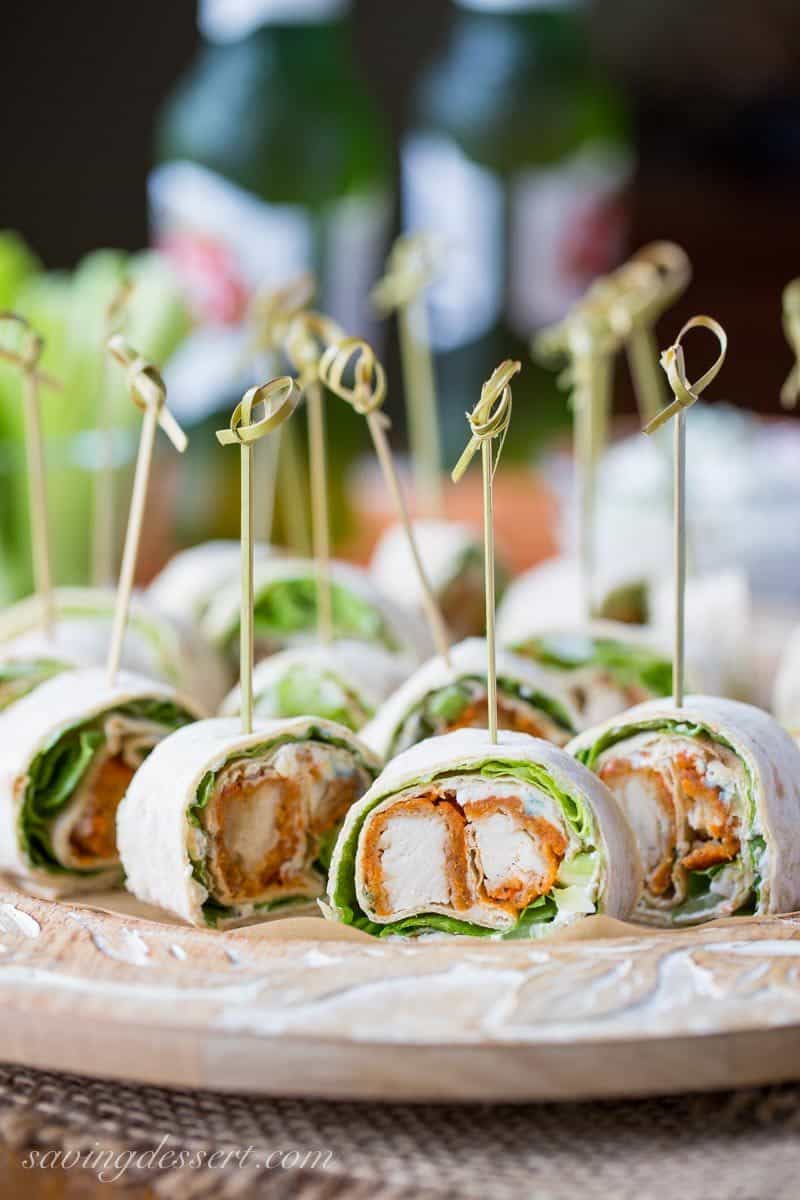 Buffalo Chicken Roll Ups Appetizers ~ made with all-natural frozen breaded chicken tenders tossed in hot sauce, then rolled up with a homemade blue cheese dip, diced celery, and crisp lettuce.  Not a big fan of blue cheese?  No worries – they're great with ranch dressing and shredded cheddar too! Perfect for your upcoming footballs parties 🙂
Thanks for PINNING!
We'd love to connect with you on social media. If you try our recipe, please use the hashtag #savingroomfordessert on INSTAGRAM so we can come give your post some love! And be sure to FOLLOW Saving Room for Dessert on FACEBOOK | INSTAGRAM| PINTEREST | TWITTER for all the latest recipes and updates.
Thanks so much for stopping by!
Tricia