This post may contain affiliate links. Please read my disclosure policy.
Fresh Blueberry Pie is one of life's simple pleasures!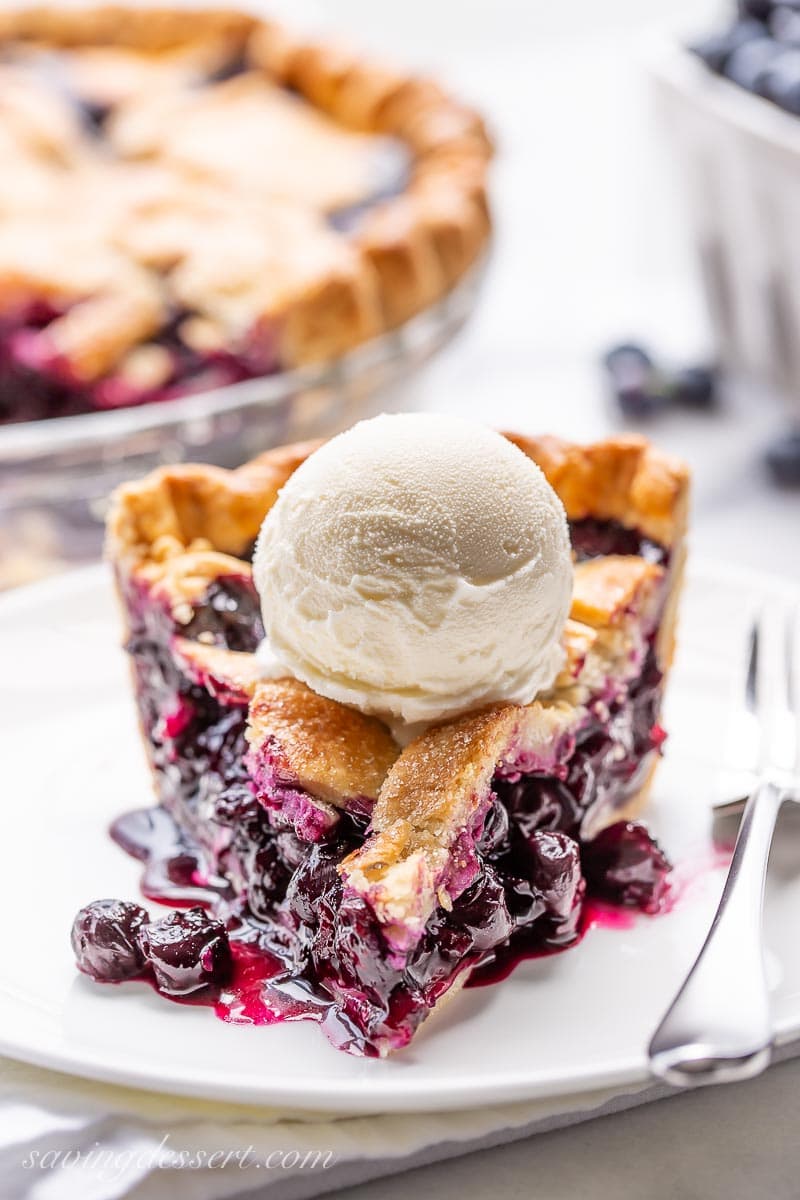 Blueberry pie is the ultimate blend of textures and flavors.
With a buttery, flaky crust and intense blueberry flavor, it's hard to find a more perfect and delicious combination than Blueberry Pie.
American and Canadian settlers are believed to be the first to use blueberries baked in pie. Native to North America, blueberries can now be found all over the world.
A classic American favorite and one of the easiest pies you'll ever make!
There's no pitting, chopping, peeling, slicing or precooking required when baking with blueberries. Rinse the blueberries, remove any small stems that remain, and discard the debris. Done!
How to make easy blueberry pie
First, prepare the pastry:
Start by making a double crust pastry or pick up a package of pre-made store-bought pie crust. Our homemade pie pastry is easy to make in a food processor or by hand with a pastry blender. It's best made ahead so it has time to chill and will keep in the refrigerator for up to three days. It's freezable too!
Next, prepare the filling:
Preheat the oven to 400 degrees F.
In a large bowl combine granulated sugar, cornstarch and cinnamon. Add a grated apple, lemon juice and zest. Toss in the blueberries and gently fold together until combined. Set this mixture aside while rolling out the pie crust.
Using a rolling pin roll out half the dough and place in a 9-inch pie dish or deep dish pie pan. Keep the remaining dough in the refrigerator until needed.
You may wonder why we add a grated apple to the blueberry pie filling. Apples are loaded with natural pectin, which helps to thicken fruit juices when baked. You can't taste apple in this blueberry pie, nor can you see it in the finished product. Grated apple magically disappears into the juices and thickens fruit pie fillings.
We've had great success with this little trick over the years and include grated apple in our Blueberry Crumble Pie, too.
Finally, assemble the pie:
Pour the blueberry pie filling into the pastry and dot with butter. Top with the remaining pie crust, brush with an egg wash and bake until golden brown!
Ingredients overview
You may already have almost everything you need to make this pie in your pantry and refrigerator. In addition to the basics, you'll also need 3 pints, or about 6 cups of blueberries for this pie.
To make a homemade pie crust you'll need:
all-purpose flour
salt
granulated sugar
solid vegetable shortening (like Crisco)
unsalted butter
ice water
For the blueberry pie filling you'll need:
granulated sugar
cornstarch
ground cinnamon
a small Granny Smith apple
zest and juice of 1 lemon
blueberries
unsalted butter
Topping the blueberry pie:
one whole egg
milk
coarse sugar
Can you make Blueberry Pie with frozen blueberries?
Yes you can! There's no need to thaw frozen blueberries before making this pie. Just toss the frozen blueberries with the sugar and lemon mixture. They'll thaw a bit while sitting at room temperature. However, you may need to add a few minutes to the baking time.
Watch for the filling to bubble up through the crust to ensure it's baked through. Tent the pie with foil to prevent over-browning, if needed.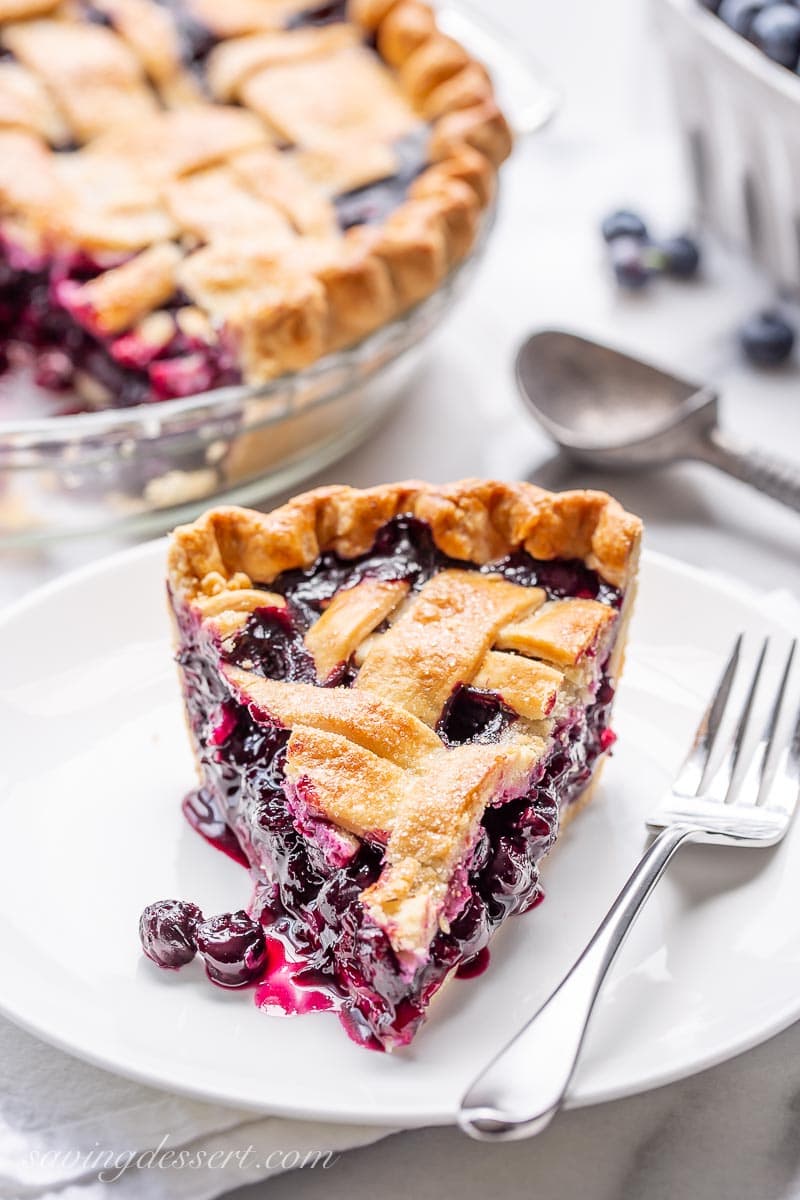 Can Blueberry Pie be served warm?
This Blueberry Pie can be served slightly warm, room temperature or cold. The pie pictured here was slightly warm to the touch on the bottom of the pie plate when cut. The filling holds together well, and is still very juicy, too. The best of both worlds!
If the pie is hot when sliced, the filling may spread more than desired.
Don't forget to add a scoop of vanilla ice cream or a dollop of lightly sweetened whipped cream.
Does Blueberry Pie need to be refrigerated?
Blueberry pie will keep well at room temperature for a day or two. For longer storage we recommend refrigerating the pie covered in plastic wrap or sealed in an airtight container. If refrigerated, blueberry pie will keep for 5 to 7 days.
How to make a pretty lattice crust
You don't have to use a lattice crust for this double crust pie. Personally I love the way they look, especially when the juices bubble up through the lattice. If you've never made a lattice style top crust, check out our how-to video for step by step directions. It's so much easier than you'd think!
Our homemade Pie Crust post includes a ton of great tips and information about making the perfect crust. We've also included a how-to video so be sure to check it out!
You can also use a solid top crust, like those found on our Cherry Pie and Apple Pie posts. Cut a few slits in the top crust to vent the steam, then brush with an egg wash before baking.
Pie Crust Tips for baking the perfect Blueberry Pie:
Once you fill the bottom crust with the berries, place the entire pie in the refrigerator to keep cold while rolling out the top dough.
If the butter is cold when you put the pie in the oven, the fat will melt creating steamy pockets, giving rise to flaky pie crust.
Line a rimmed baking sheet or pizza stone with foil and place it inside the oven while preheating. Set the cold pie directly on the hot pan and bake. This method helps the bottom crust start baking immediately which will help prevent a soggy bottom pie.
Don't stretch your pie dough when easing it into the pie plate. If the dough gets thin or ripped in spots, it may leak some of the juice.
Fold the edge of the bottom crust up and over the top crust. Building up a ledge, or dam made of crust helps hold all the filling in where it belongs.
Lightly wet your finger with ice water and smooth it on the pie crust in spots where the top and bottom will be bound together. This tiny bit of cold water helps the pieces stick together and bake as one.
Blueberry Pie is one of America's favorite pies!
My husband adores blueberry pie and said it's his number one favorite of all time. Back in 2010, when I first started blogging, I thought it'd be a good idea to challenge myself and make a pie each week, for an entire year.
We launched the 'year of the pie' in January 2011. This Blueberry Pie was the first of 52 pies I made that year. Now we're getting close to 100 different pie post and recipes for you to enjoy! I hope you'll give this time-tested and perfected Blueberry Pie a try!
If you're looking for more delicious ways to use blueberries in a dessert, you'll want to check out our Easy Blueberry Crumb Bars. These bars mimic blueberry pie and always disappear quickly from the dessert table.
Another popular recipe is this Blueberry Breakfast Cake. It's easy to make and so delicious. It may make you want to open a B&B just so you can serve it to your guests!
Finally, try our Blueberry Crisp recipe. It's one of the easiest blueberry desserts you'll ever make. Just like this pie, it has intense blueberry flavor and is utterly fantastic served warm with a scoop of vanilla ice cream.
Thanks for PINNING!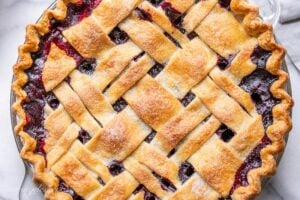 Blueberry Pie Recipe
Cook Time:
1

hour
5

minutes
Total Time:
1

hour
50

minutes
The ultimate blend of textures and flavor with a crispy, buttery pastry and intense blueberry flavor.
Ingredients
¾

cup

granulated sugar

170g

3

tablespoons

cornstarch

¼

teaspoon

ground cinnamon

1

small Granny Smith apple

peeled, cored and grated

zest of 1 lemon

juice of 1 lemon

5 ½ to 6

cups

fresh blueberries

3 pints or 1 ½ lbs

1

tablespoon

unsalted butter

cut into small pieces

1

egg beaten with 1 teaspoon milk

for brushing on crust

coarse sugar

for sprinkling on unbaked pie
Instructions
Preheat oven to 400°F. Line a heavy, rimmed baking sheet or pizza stone with foil and place in the oven to preheat.

In a large mixing bowl, whisk together the sugar, cornstarch and cinnamon. Add the grated apple, lemon juice and zest. Toss with a spatula to combine. Add the blueberries and gently toss in the sugar mixture until combined. Set aside until the blueberries start to release their juice, 20 to 30 minutes.

While the blueberries macerate, roll out half of the prepared pie dough. Roll the pastry into a circle large enough to fit in a deep dish pie plate with a 1-inch overhang. Gently ease the pastry into the pie plate taking care not to stretch the dough while pressing into the corners. Place the pie plate and pastry in the refrigerator to chill until ready to fill with blueberries.

Pour the blueberries and any juices into the prepared pie crust. Dot with small pieces of butter. Return the pie plate to the refrigerator to keep cool while rolling out the top crust.

Roll the top crust into a circle about 2-inches larger than the top of the pie plate. Cut into strips for a lattice crust design and create a weave over the fruit. Wet your finger with ice water and spread it on the crust pieces that are being folded together. Trim the excess dough and fold the over-hang up and over the lattice pieces. Pinch together to seal and crimp into a decorative edge, as desired.

Brush the pie crust lightly with 1 egg beaten with 1 teaspoon of milk. Sprinkle with coarse sugar and place on the foil baking sheet in the oven.

Bake at 400°F for 25 minutes. Reduce the temperature to 350°F and continue baking for an additional 40 to 45 minutes or until the crust is golden brown and the juices are bubbling.

Allow the pie to cool on a rack at room temperature. Serve slightly warm, room temperature or cold.
Recipe Notes
Serve topped with ice cream, if desired. Refrigerate leftovers for longer storage. Refrigerated pie will keep for 5 to 7 days.
Use frozen blueberries, if desired. No need to thaw first!
Read all our tips in this post for helpful information.
Nutrition information is calculated using an ingredient database and should be considered an estimate. When multiple ingredient alternatives are given, the first listed is calculated for nutrition. Garnishes and optional ingredients are not included.
Nutrition
Calories:
174
kcal
|
Carbohydrates:
39
g
|
Protein:
2
g
|
Fat:
2
g
|
Saturated Fat:
1
g
|
Polyunsaturated Fat:
1
g
|
Monounsaturated Fat:
1
g
|
Trans Fat:
1
g
|
Cholesterol:
24
mg
|
Sodium:
10
mg
|
Potassium:
111
mg
|
Fiber:
3
g
|
Sugar:
31
g
|
Vitamin A:
141
IU
|
Vitamin C:
11
mg
|
Calcium:
12
mg
|
Iron:
1
mg
Originally published January 2011 – updated July 2020
Saving Room for Dessert is a participant in the Amazon Services LLC Associates Program ~ I earn a small commission, at no additional cost to you, which I use to pay for web hosting and services for this blog.
SaveSave