This post may contain affiliate links. Please read my disclosure policy.
Do you panini? We didn't until recently. I got a great deal on a
Calphalon Contemporary Nonstick Panini Pan and Press
. With a Macy's coupon, a credit from an earlier promotion, and the sale price, I paid $13.90 for this pan originally listed for $99.00! We panini now! The first sandwich I made was from
Cookin' Canuck
. It's a ham, cheddar and hot pepper jelly panini. Oh. My. Gosh! That pepper jelly sent the sandwich above and beyond yum. I will make that one again. Even if you don't have a panini pan, be sure to try a toasted sandwich (made like grilled cheese) with ham, cheddar and jelly. Really, really good. I just love creative people. I would have never thought about jelly on a panini.
So with that success on the first panini, we were ready to do it again. Last September, I ended up with a huge amount of basil still growing in the garden. Before the weather turned too cold, I made several batches of pesto and froze it in plastic ice cube trays. Once they were frozen, I popped them into a Ziploc bag and keep them in the freezer ready to drop in a soup, spread on a sandwich or stir in hot pasta. I didn't add Parmesan cheese because it doesn't freeze as well so I just add it fresh at the end. Thus the inspiration for this sandwich.
Fresh Ciabatta bread (yeah), sliced chicken drizzled with basting oil (olive oil with garlic and basil), pesto, arugula, spinach, red onion and white cheddar cheese.
This large loaf makes 4 sandwiches.
Slice the Ciabatta and cut into serving size sandwiches. Spread with pesto.
Top with just a little onion (sliced thin) and the white cheddar cheese on both sides.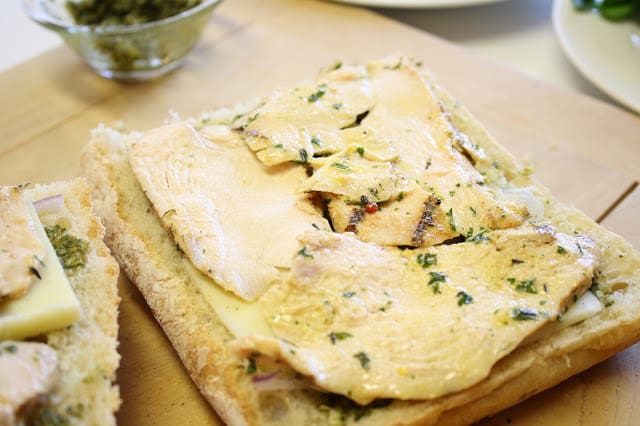 Add the sliced chicken.
Looking good!
And in the middle add fresh arugula and/or spinach.
Smash it together.
Heat your skillet, panini pan or electric panini press on medium to medium low heat. I like to cook it a little slower so the cheese will melt.
Press down to smash the sandwich.
Once cooked turn it over and press again.
Slice and serve warm.
What a great Friday night dinner if you want something warm, full of flavor and satisfying. Also easy to make and easy to clean up. After a long week at work, this is good. Pop in the DVD and call it a night!
I'm working on a chocolate (brownie / fudge) pie recipe for this weekend so please check back on Monday for Pie No. 13!
Thanks so much for stopping by!