This post may contain affiliate links. Please read my disclosure policy.
Whether or not you're a hardcore football fan, you have to admit Game Day Appetizers have tons of appeal.
Even if you only watch the Super Bowl to check out the much talked about commercials and halftime show, then you still need snacks! Don't find yourself fumbling the ball at the goal line! Thrill your favorite football fans on game day with plenty of delicious snacking options while cheering from the sidelines.
You'll need a few delicious first downs to get across the goal line and avoid those pesky penalties. There's no instant replay on the buffet table, so get the playbook out and rally your key players! As head coach you'll be in charge. Assign a team captain to help and make it a fun and delicious event by planning ahead and avoiding interceptions with every pass. Kick off time!
You'll want an instant replay on this Jalapeño Popper Dip with a twist! Easy, cheesy and delicious, this spicy dip will be your new favorite go-to recipe just in time for the big game!
Every party needs an easy and delicious cheese ball. There's nothing like the combination of mild, medium and sharp cheddar cheeses, all blended together with cream cheese and a few seasonings to please a hungry snacking crowd.
This easy make-ahead appetizer holds up wonderfully for hours and is perfect served with crackers, bread, fruit and nuts.
And, if you're lucky enough to have leftovers, just try it on a grilled cheese sandwich – oh my! Get the recipe for Mom's Party Cheeseball and take it all the way down to the goal line!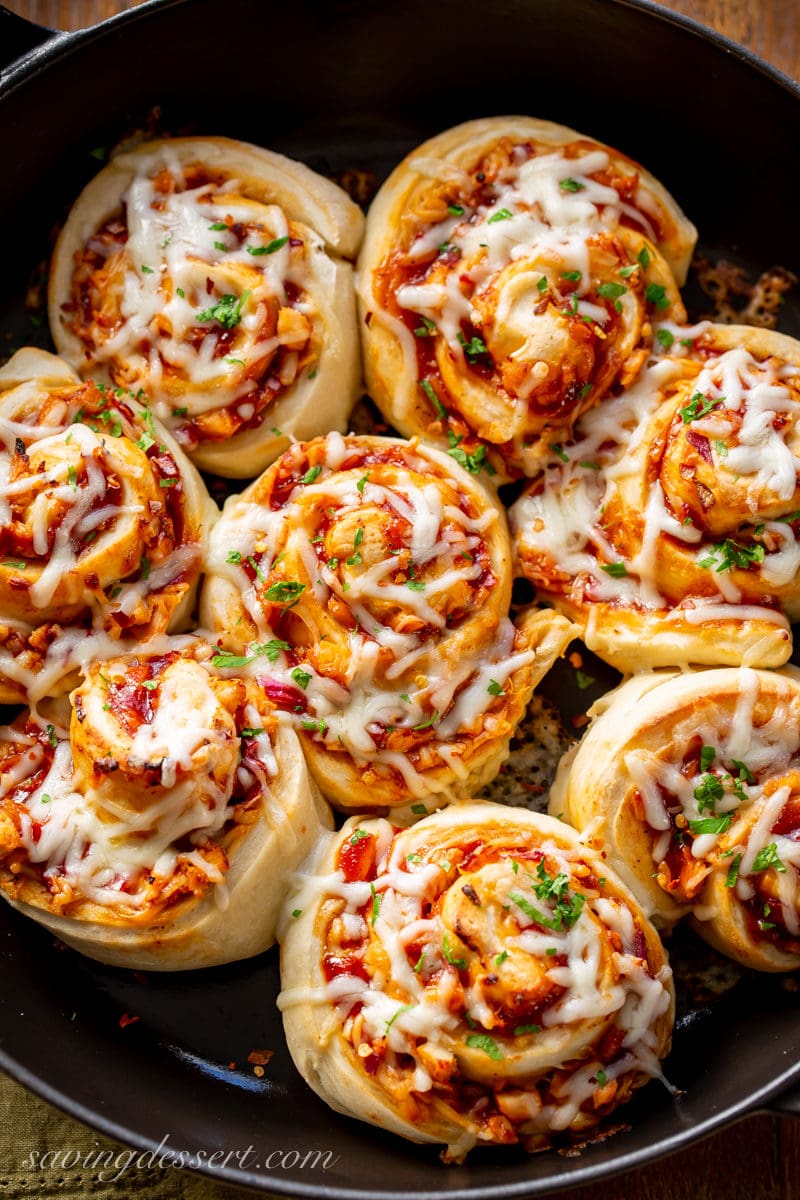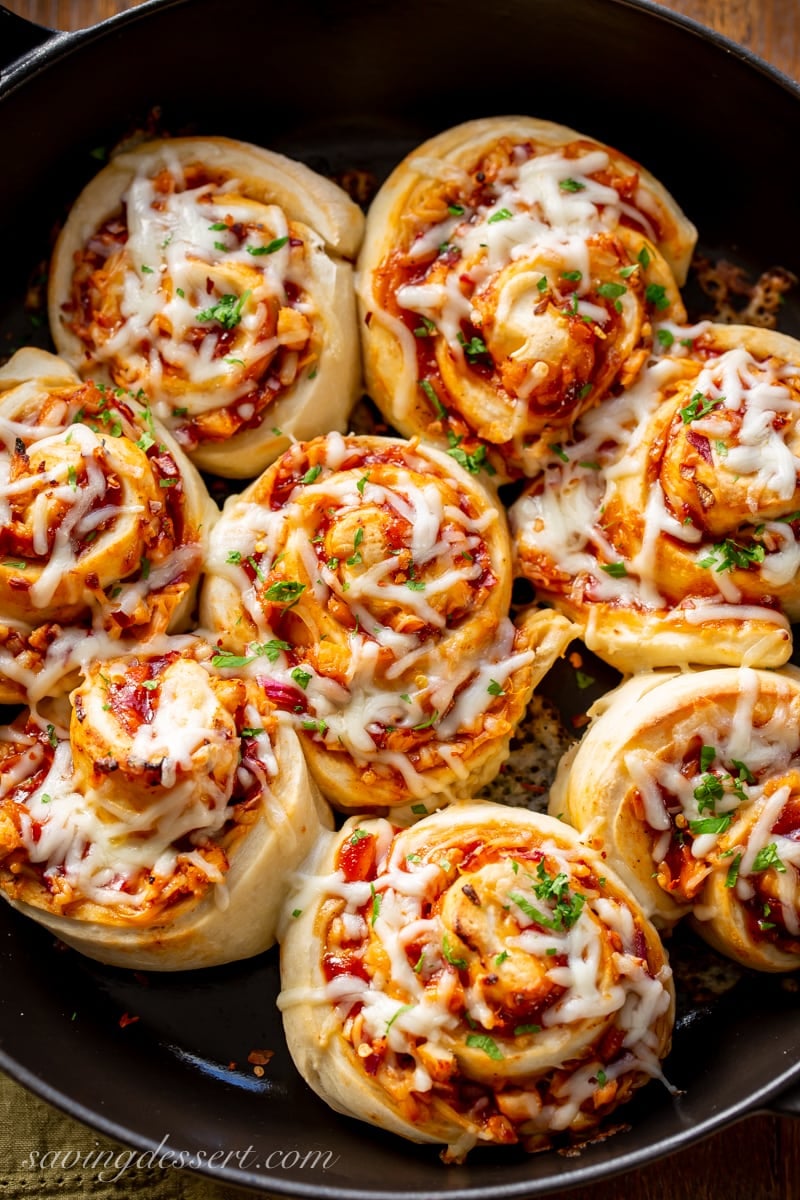 Everybody loves these soft rolls of pizza dough stuffed with tender chunks of chicken, sweet BBQ sauce, chopped red onion and salty bacon bits! Adapt with your favorite pizza toppings or make a variety to serve your hungry crowd.
Cheesy, creamy and loaded with chunks of artichoke hearts, earthy spinach, garlic and sweet onion. Serve with your favorite toasted baguette slices, crackers or chips for a memorable appetizer hearty enough to feed a hungry crowd on game day – with easy make ahead directions too!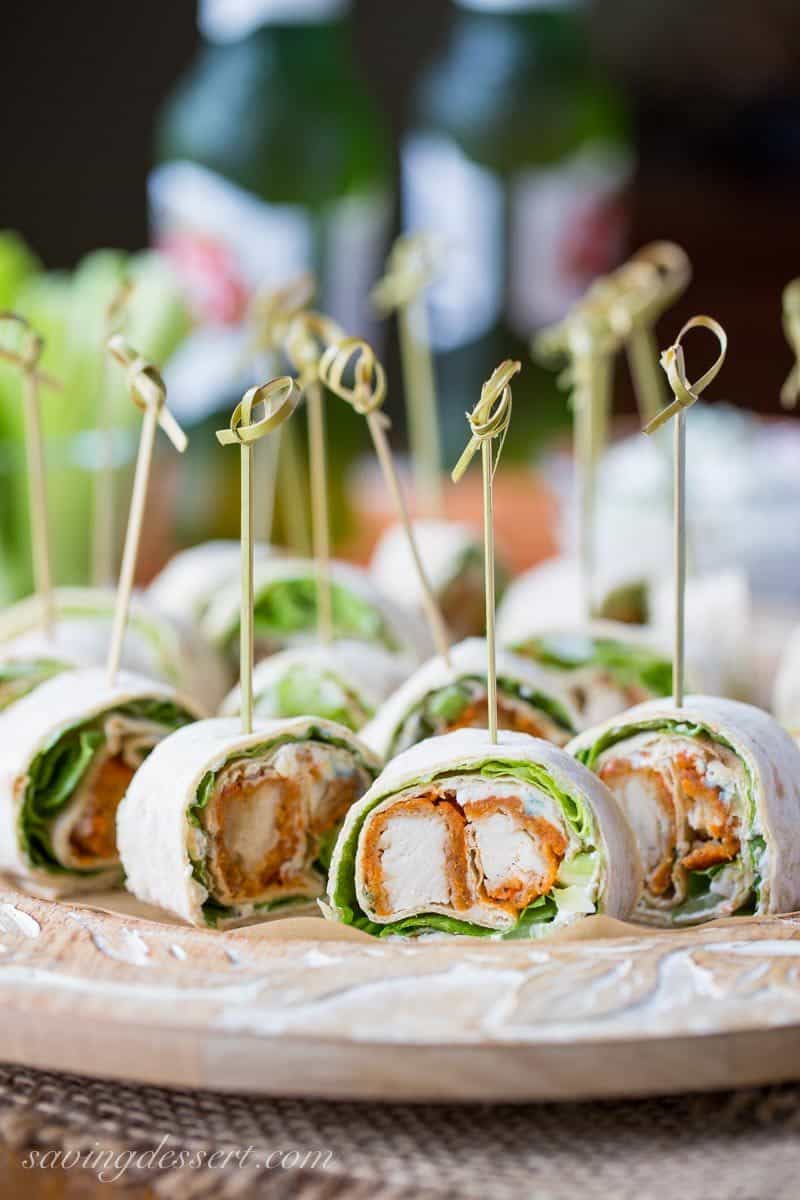 Made with all-natural frozen breaded chicken tenders tossed in hot sauce, then rolled up with a homemade blue cheese dip, diced celery, and crisp lettuce. Not a big fan of blue cheese?  No worries – they're great with ranch dressing and shredded cheddar too!
Ham and cheese sliders stuffed with chopped sweet ham, plenty of shredded Swiss, diced onions and poppy seeds. These easy make-ahead hearty sliders are just the thing for your football-frenzied hoopla!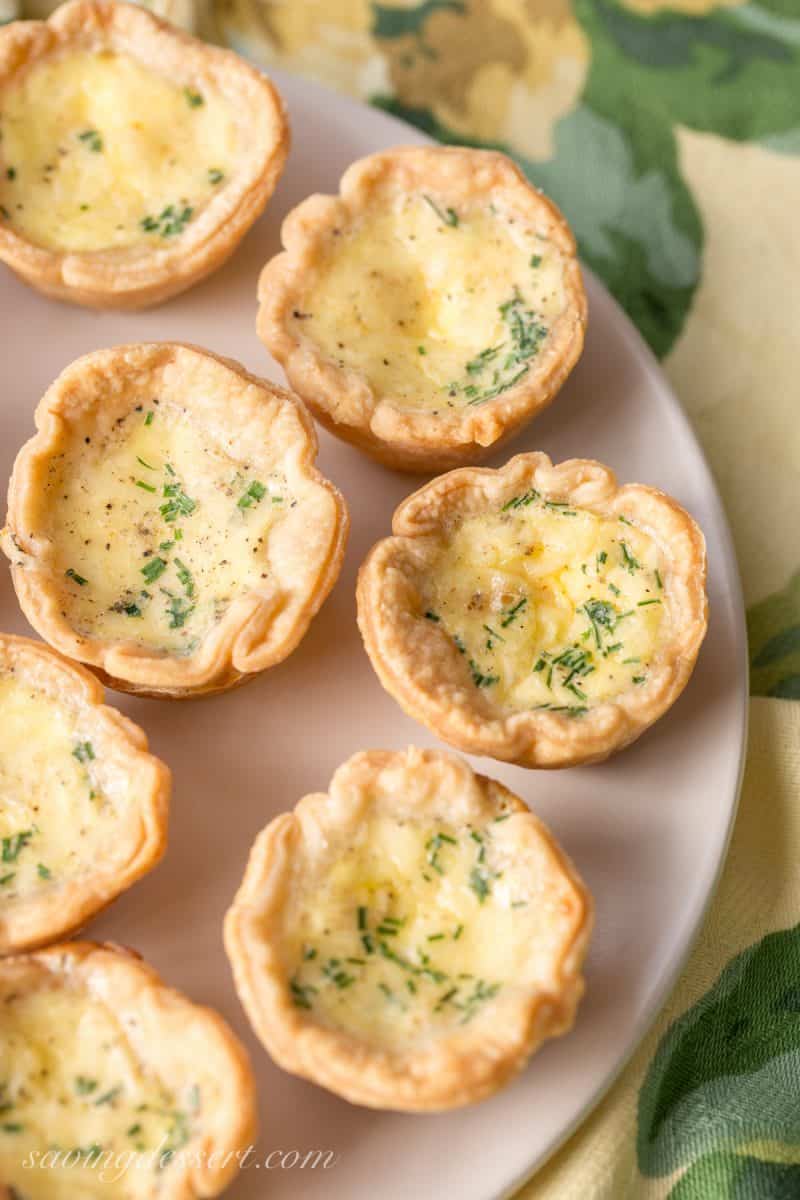 Mini Cheese Quiches are a finger friendly version of a full size classic quiche.
With a rich, velvety smooth filling and a flaky crust, that makes this a terrific, delicious appetizer with easy make-ahead directions! Just rewarm when ready to serve.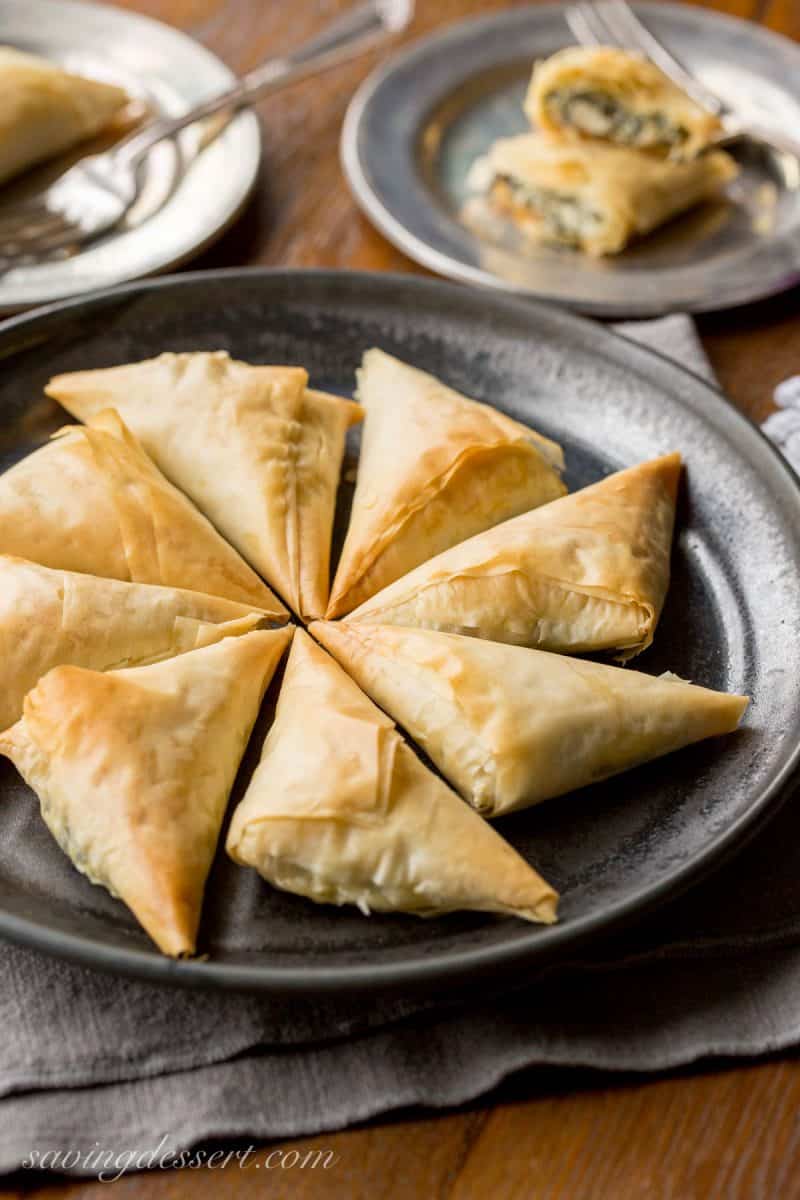 Spanakopita is a popular and delicious recipe also known as Greek spinach & feta pie.
In this finger-friendly version, we turn sheets of phyllo into delicious stuffed triangles that are easily made ahead and frozen, then baked when ready to serve.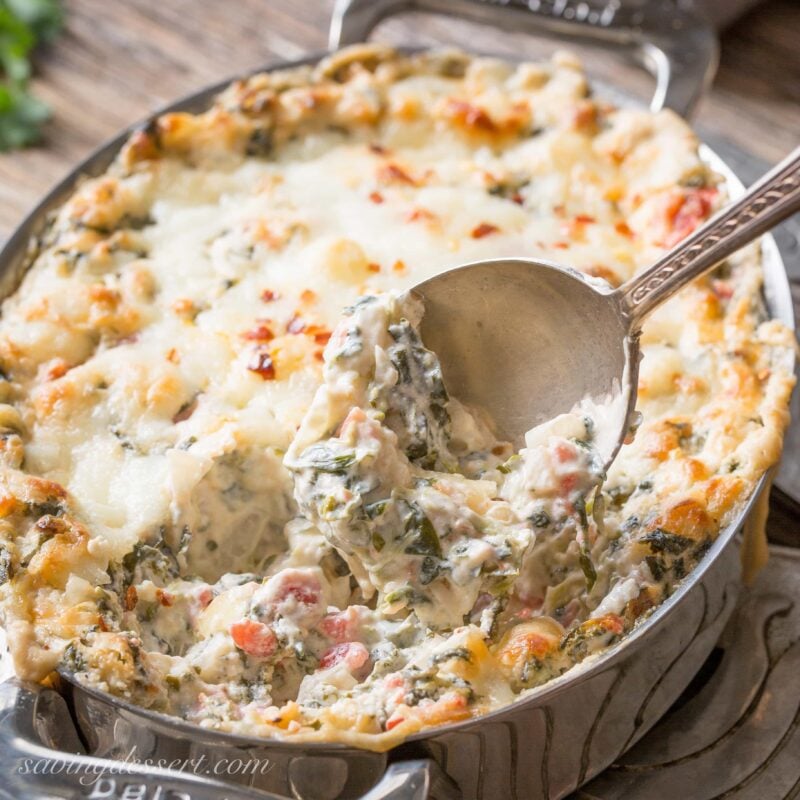 Serve with bread, chips or crackers. Easily mixed up ahead of time then baked when ready to serve. One of my all-time favorite dips.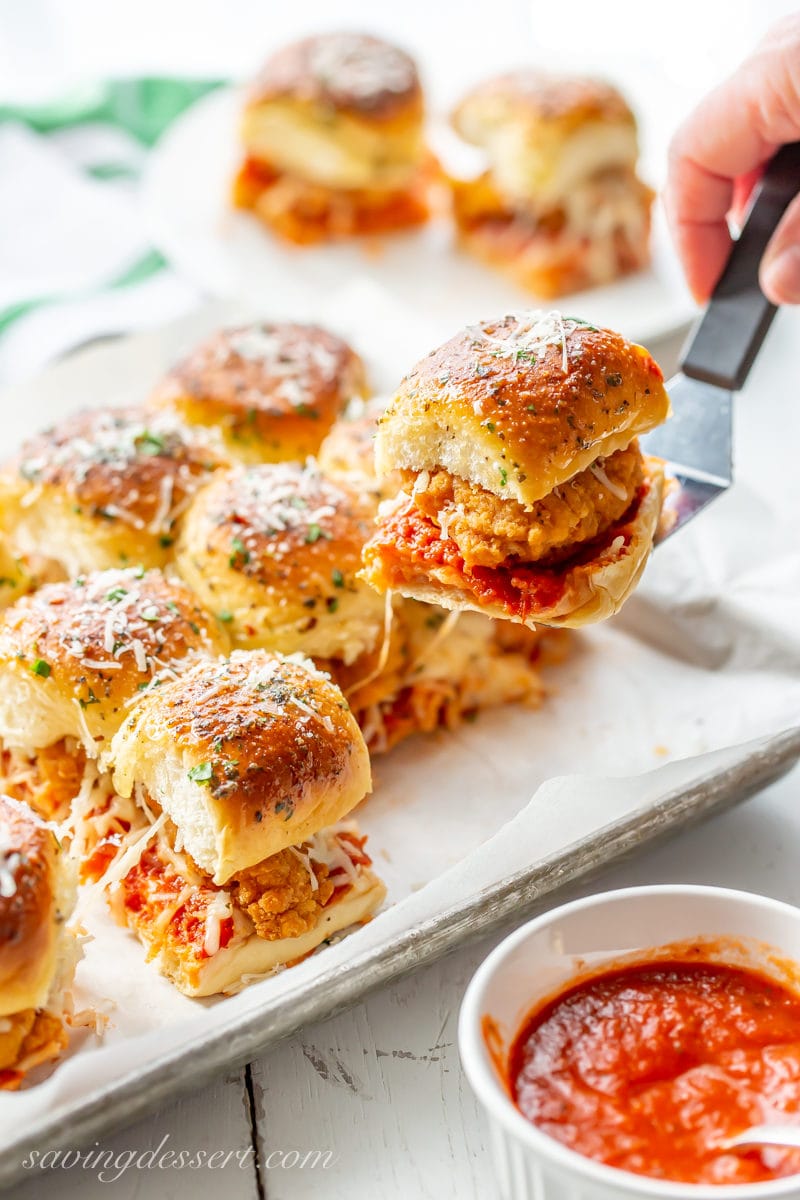 We've got the best saucy, crispy and deliciously cheesy, Easy Chicken Parmesan Sliders recipe!
These easy Chicken Parmesan Sliders are the drool-worthy party food that everyone will fight over. Make sure you get to the table quickly because these will disappear in a flash.
Our Chicken Parmesan Sliders are loaded with flavor and are so easy to make. Bet you'll be serving them again and again, and nobody will complain! I love a good kitchen shortcut and these sliders are all about convenience.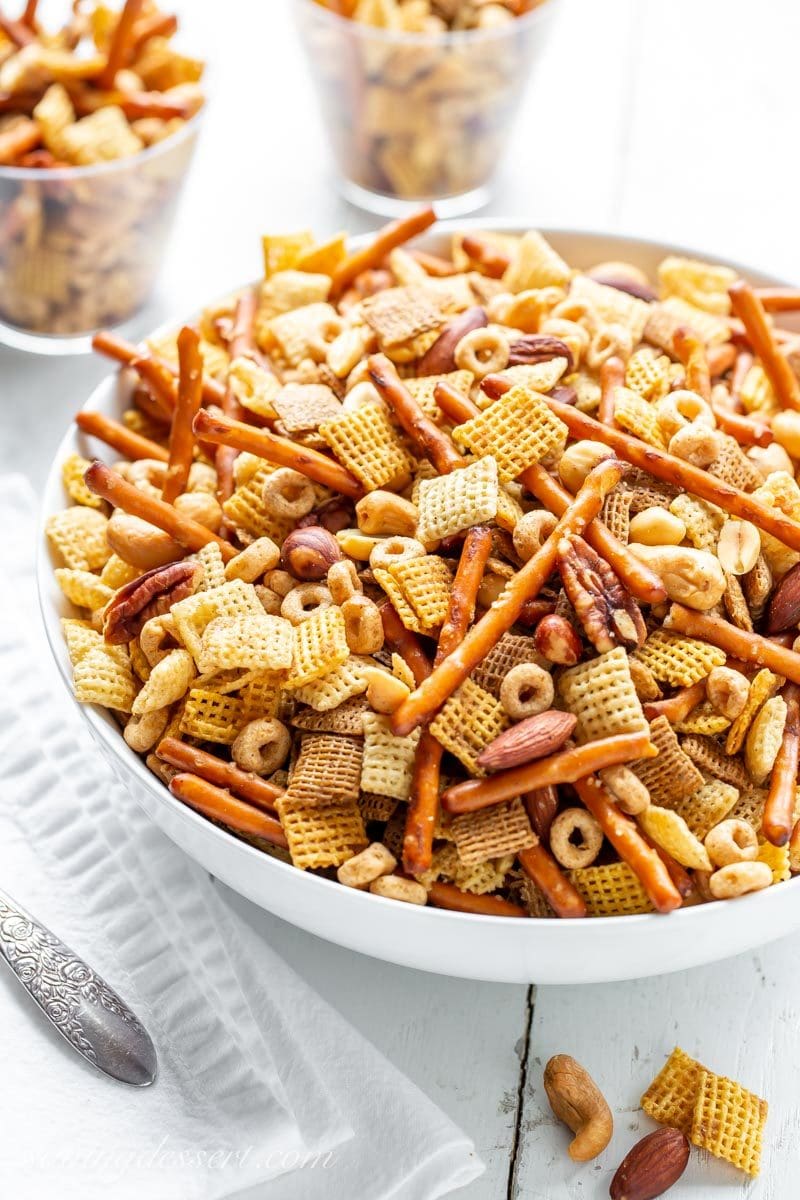 No flags on this play!
Nuts & Bolts, also known as Chex Party Mix, is one of the easiest, most beloved, delicious, quintessential football snacks ever invented!
This recipe goes a long way so if you're serving a crowd; it's a must make! I can't imagine watching the big game without a bowl of this delicious Chex Mix standing by.
Make a big pot of our Chasen's Chili for your happy hungry fame day football fans.
Warm this delicious chili on low in your slow cooker and let your guests help themselves to mugs of this flavorful, meaty chili. Serve with topping options like sour cream, sliced green onions, mini corn muffins, chips or Fritos and plenty of grated cheddar cheese!
This chili will take you all the way to the goal line and is easily made ahead then reheated.
What's a party without something sweet to finish out the 4th quarter!
Try our Mini Black Bottoms recipe for a deliciously moist and fudgy cake topped with cheesecake dough mixed with mini chocolate chips. They're very easy to make and super easy to eat!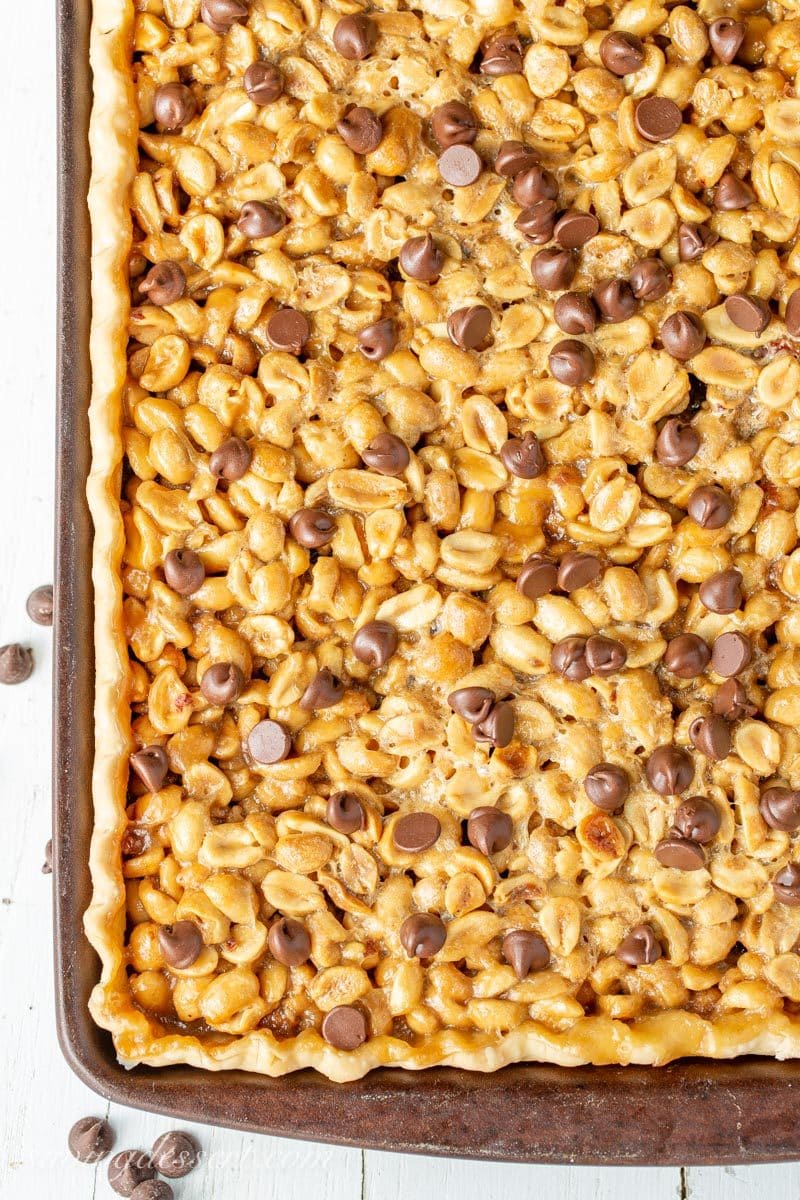 It's chewy, crunchy, sweet and chocked full of roasted peanuts. This ecipe makes enough to serve a hungry crowd and who doesn't love peanuts and chocolate? Slice into small bars for a finger friendly no forks needed sweet treat!
Thanks for PINNING!
Let's be cooking friends! When you try our recipe please feel free to leave a comment on this post. I'm sure your experience and insights will help all our readers, and it helps me too. Also, if you're on Pinterest feel free to leave a comment and photo there if you have one! If you share on INSTAGRAM tag @savingroomfordessert so we can stop by and give your post some love. And we'd be very happy if you'd FOLLOW Saving Room for Dessert on FACEBOOK| INSTAGRAM| PINTEREST | TWITTER  and subscribe to our YOUTUBE channel for all the latest recipes, videos and updates. Thank you!!!
Thanks so much for stopping by!  Tricia