This post may contain affiliate links. Please read my disclosure policy.
Try this easy homemade whole wheat pita recipe next time you crave tender, chewy pitas with a touch of honey for sweetness.
The first time I made a pita recipe, I learned a lot!  I found out that pitas are one of the easiest yeast breads you can make at home, and they taste tremendously better than store-bought. That first attempt at making a pita recipe didn't yield beautiful puffed up pockets, but they were incredibly flavorful flatbreads! Even if they're not perfect every time, you can still enjoy these toasty, soft, chewy wonders. So if you're a first time baker, or have been yeastaphobic your whole life, let's change that right now!
This pita recipe comes together in minutes right in your stand mixer. Once the dough forms a satiny, sticky ball, all that's left is to divide it into eight equal pieces and let them rise in the refrigerator overnight. The next day the dough balls are rolled into a circle and baked. Pretty easy right?
After years of baking and enjoying various pita recipes, I found the one single key to perfect puffiness.
There is one simple rule that must be followed when making a pita recipe. Once the dough has been formed into individual balls, you never, ever, ever want to fold, crease, flip or heavily manipulate the dough in any way. After the overnight rise, handle the dough ball with care. Press each dough ball with the heal of your hand to shape into a disk, then use a rolling pin to gently roll it out into a 7-inch round. When transferring the pita to the oven make sure the top is still the top. You can flip the pita over after the bottom side has baked and the pita puffed. Folding, creasing, smashing, cutting, reshaping and being heavy handed with the dough will impede pocket perfection. Again this is not the end of the world, you'll just have delicious flat breads to enjoy but with no pocket. There's always one or two that don't come out perfect. Don't worry about it!
We bake our pita recipe in a hot oven on a preheated stone.
If you don't have a baking stone, no worries, you can use a cast iron skillet or baking sheet. Whatever you use, make sure your oven and baking pan are fully pre-heated. In theory, these pitas also bake well on a hot cast iron skillet on the stove top. The skillet method is perfect for camping or whenever you don't have an oven handy. But, try baking them in the oven first. The pitas bake all the way around instead of just browning on the bottom.
What can you do with all these fresh, hot delicious pita breads?
Just about anything! One of our favorite ways to enjoy leftover pita bread is to make easy baked pita chips. Brushed with a mixture of olive oil and our favorite seasonings, the pita wedges are baked until golden brown and crisp. These are terrific for dips and we especially love them smeared with hummus. Try seasoning pita wedges with oregano, sea salt, fresh ground black pepper and granulated garlic for an easy, healthier chip alternative.
Pitas also make great sandwiches, pizzas and scoops for everything else on your plate.
Pitas are practically a freak of nature.  I love how these little pieces of dough puff up into hollow pockets ready to be stuffed, split, toasted, topped and dipped! The possibilities are endless.
Pita recipes
have been around for more than 4,000 years and are a staple in many Middle East and Mediterranean countries.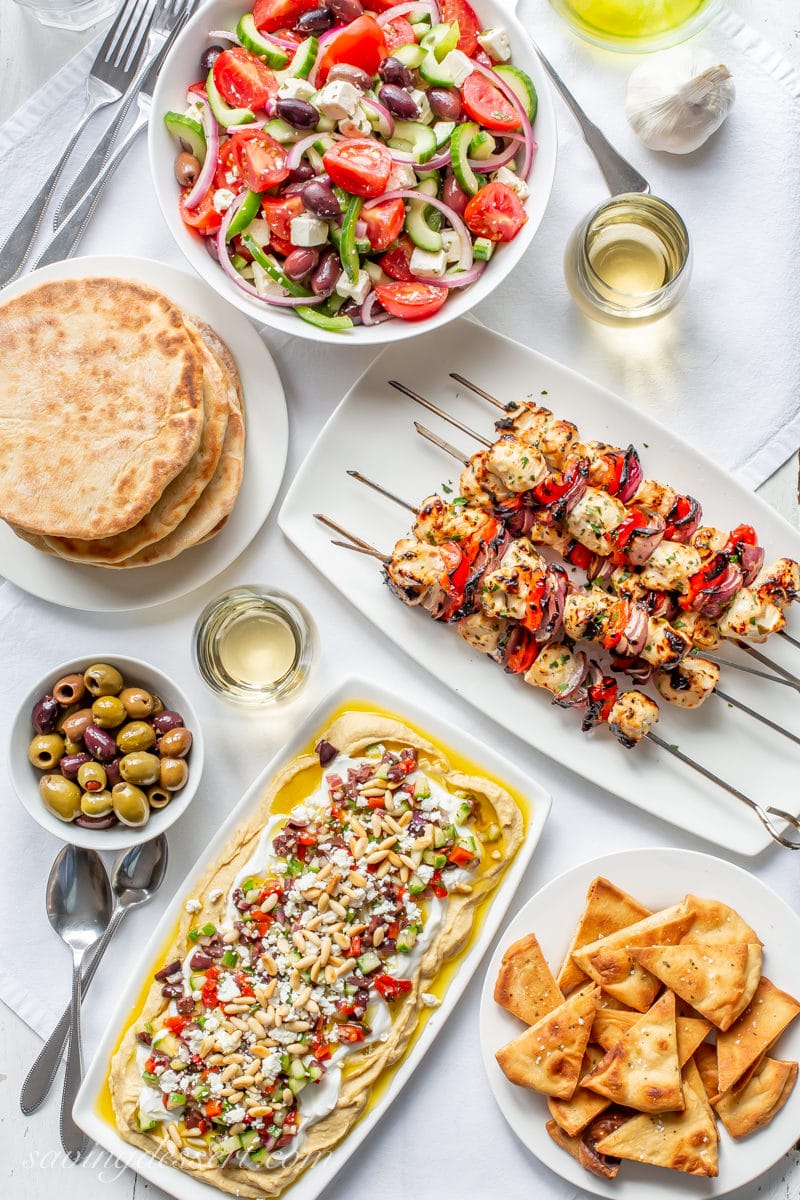 Make this pita recipe part of a fun Greek themed dinner party.
Thanks for PINNING!
Let's be baking friends! If you make our recipe please feel free to leave a comment on this post. I'm sure your experience and insights will help all our readers, and it helps me too. Also, if you're on Pinterest feel free to leave a comment and photo there if you have one! If you share on INSTAGRAM tag @savingroomfordessert so we can stop by and give your post some love. And we'd be very happy if you'd FOLLOW Saving Room for Dessert on FACEBOOK| INSTAGRAM| PINTEREST | TWITTER  and subscribe to our YOUTUBE channel for all the latest recipes, videos and updates. Thank you!!!
The Baking Stone

We have multiple stone pans in our kitchen with many purchased through Pampered Chef home parties. If you don't know a dealer, you can pick up a baking stone from any kitchen supply store, or, of course, Amazon. You'll find many uses for stone pans far beyond pizza and bread. This ultimate Pizza Stone is approved for the oven and grill. The 16″ round baking stone has exclusive ThermaShock Protection & Core Convection Technology for perfect crispy crusts on pizzas & bread. The no-spill stopper is a nice feature that prevents your pizza from sliding off while being removed from the oven. Click on the photo for more information.
*Saving Room for Dessert is a participant in the Amazon Services LLC Associates Program ~ I earn a small commission, at no additional cost to you, which I use to pay for web hosting and services for this blog. Thanks for supporting SRFD!
Enjoy these tender, chewy pitas with great flavor and a touch of sweetness from the honey. The dough must be made the day before baking, so plan ahead!
Ingredients
1

cup

white whole wheat flour

1 ⅔

cups

bread flour

2 ¼

teaspoons

instant or rapid-rise yeast

1 ¼

cups

cold water

¼

cup

extra-virgin olive oil

1

tablespoon

honey

1 ½

teaspoons

salt

Vegetable cooking spray
Instructions
In the bowl of a stand mixer whisk together the flours and yeast. Add the water, olive oil, and honey to the bowl. Fit the mixer with the dough hook and mix on low until all the flour is incorporated. Set aside for 10 minutes.

Sprinkle the salt across the dough and mix on medium speed until the dough forms a smooth, sticky ball that clears the sides of the bowl,. This should take about 8 to 10 minutes. If after 8 minutes the dough is still shaggy, add bread flour, one tablespoon at a time, using up to 2 tablespoons additional flour.

Lightly coat a rimmed baking sheet with vegetable cooking spray. Set aside.

Transfer the dough to a well floured clean countertop and knead for 1 to 2 minutes or until smooth. Divide the dough into 8 equal parts (you can weigh them if you have a digital scale.)

Working with one dough ball at a time, form each into a tight, smooth ball by bringing the edges of the dough together into the center and pinching the seams together to seal. Place the dough balls, seam side down on the prepared baking sheet about 2-inches apart. Repeat until all 8 dough balls are formed. Lightly spray the tops of each dough ball with vegetable spray, then cover tightly with plastic wrap. Refrigerate for at least 16 hours and up to 24 hours.

One hour before baking, adjust the oven rack to the lowest position and set the baking stone on the rack. Preheat oven to 425°F.

Remove the dough from the refrigerator. Place one dough ball on a heavily-floured counter, seam side down. Leave the remaining dough balls covered with plastic wrap. Lightly dust the top of the ball with flour then gently press the dough ball into a 5-inch circle using the heel of your hand. Using a rolling pin, gently roll the disk into a 7-inch circle taking care not to crease, fold or bend the dough. Repeat with a second dough ball. Carefully transfer the disks to a rimless baking sheet or peel, knocking off the excess flour. Make sure the side that was facing up when you began rolling, is still facing up.

Slide both the dough rounds onto the hot stone and bake until evenly inflated and lightly browned on the bottom, about 3 minutes. Using a large spatula, turn the pitas and continue cooking until puffed and lightly browned in the center of the second side, about 2-3 minutes. If the pitas do not puff up, turn and bake anyway to prevent burning. Transfer the pitas to a wire rack to cool. Cover lightly with a clean dish towel. Repeat with remaining dough balls.

Store leftover pitas at room temperature in an airtight container. To reheat, wrap the pitas in foil and heat in a 300°F oven for about 15 minutes. Pitas are best eaten the day they are made.
Recipe Notes
PRO TIP: Shaping the dough into smooth, taut balls and rolling the proofed balls into even disks are the keys to pitas that reliably puff in the oven.
To make pita chips: Preheat oven to 400F. Line a baking sheet with parchment paper. Cut the pita into 8-wedges. In a small bowl combine olive oil, dried oregano, fresh ground black pepper, and a pinch of granulated garlic. Brush the mixture on the tops and bottoms of the wedges and place on the prepared baking sheet. Sprinkle lightly with sea salt, if desired. Bake until lightly browned, turn and continue baking until both sides are browned.
Method adapted from Cook's Illustrated.
Nutrition information is calculated using an ingredient database and should be considered an estimate. When multiple ingredient alternatives are given, the first listed is calculated for nutrition. Garnishes and optional ingredients are not included.
Nutrition
Calories:
223
kcal
|
Carbohydrates:
33
g
|
Protein:
6
g
|
Fat:
8
g
|
Saturated Fat:
1
g
|
Polyunsaturated Fat:
1
g
|
Monounsaturated Fat:
5
g
|
Sodium:
440
mg
|
Potassium:
76
mg
|
Fiber:
3
g
|
Sugar:
2
g
|
Vitamin A:
1
IU
|
Vitamin C:
1
mg
|
Calcium:
17
mg
|
Iron:
1
mg
Check out some of our other favorite Greek-inspired recipes.
Try our Honey Baklava Recipe with layers and layers of flaky phyllo slathered with melted butter, honey and loads of nuts. This recipe is easily halved and can be made several days in advance.  Who can resist a slice of this delicious Honey Baklava?! Click HERE to get the recipe for Honey Baklava.
Here's another Greek favorite transformed into a finger-friendly appetizer: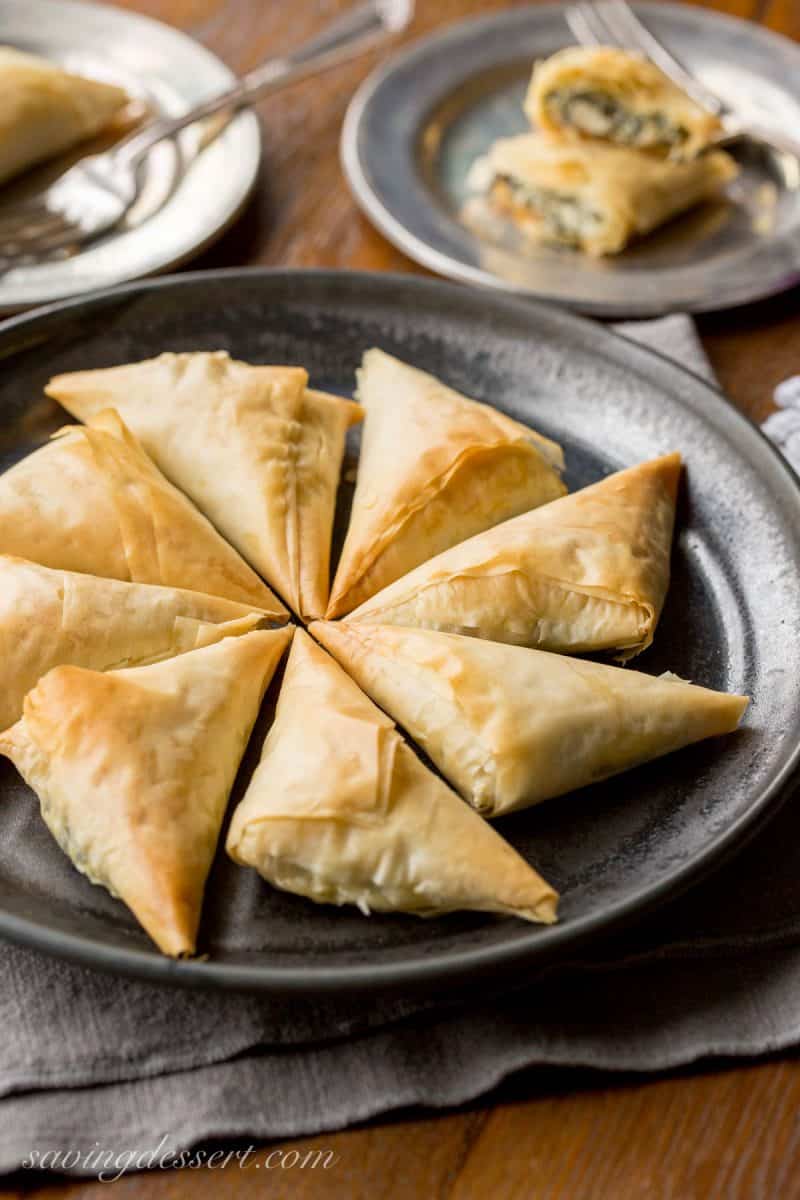 Spanakopita is a popular and delicious recipe also known as Greek spinach & feta pie. In this finger-friendly version, we turn sheets of phyllo into delicious stuffed triangles that are easily made ahead and frozen, then baked when ready to serve. Click HERE to get the recipe for Spanakopita.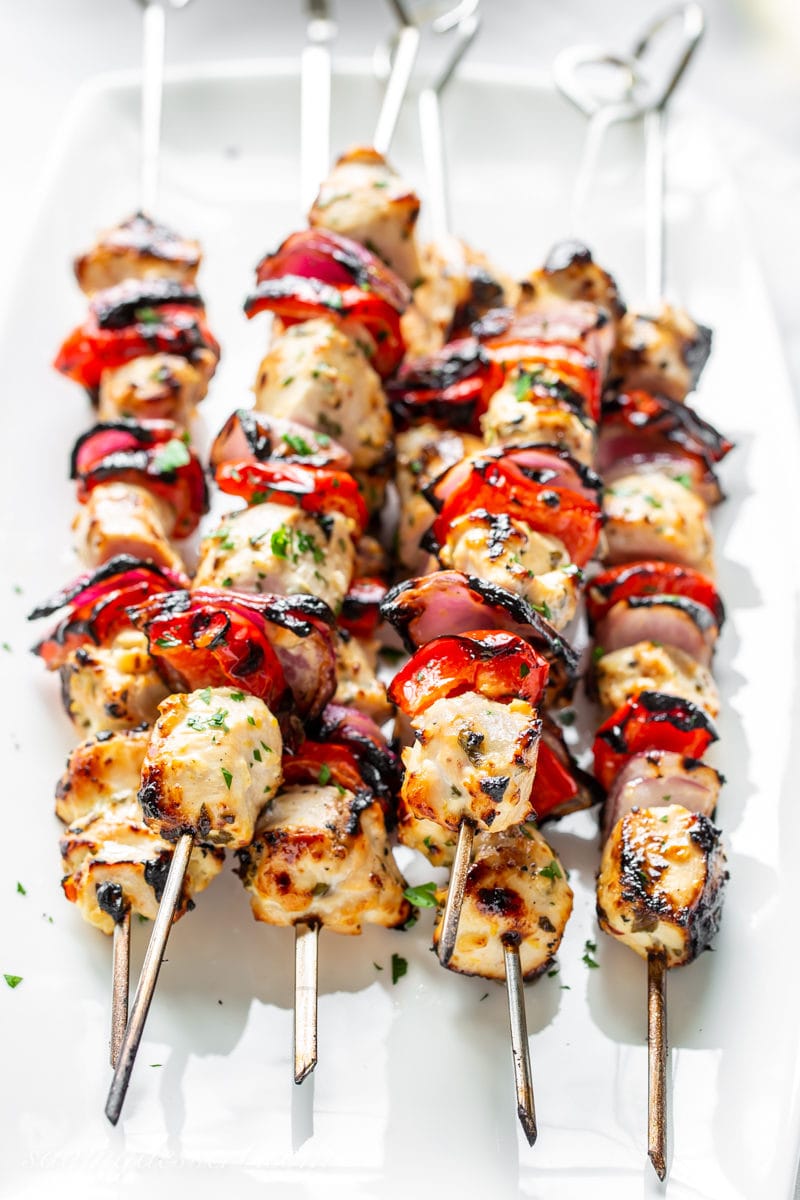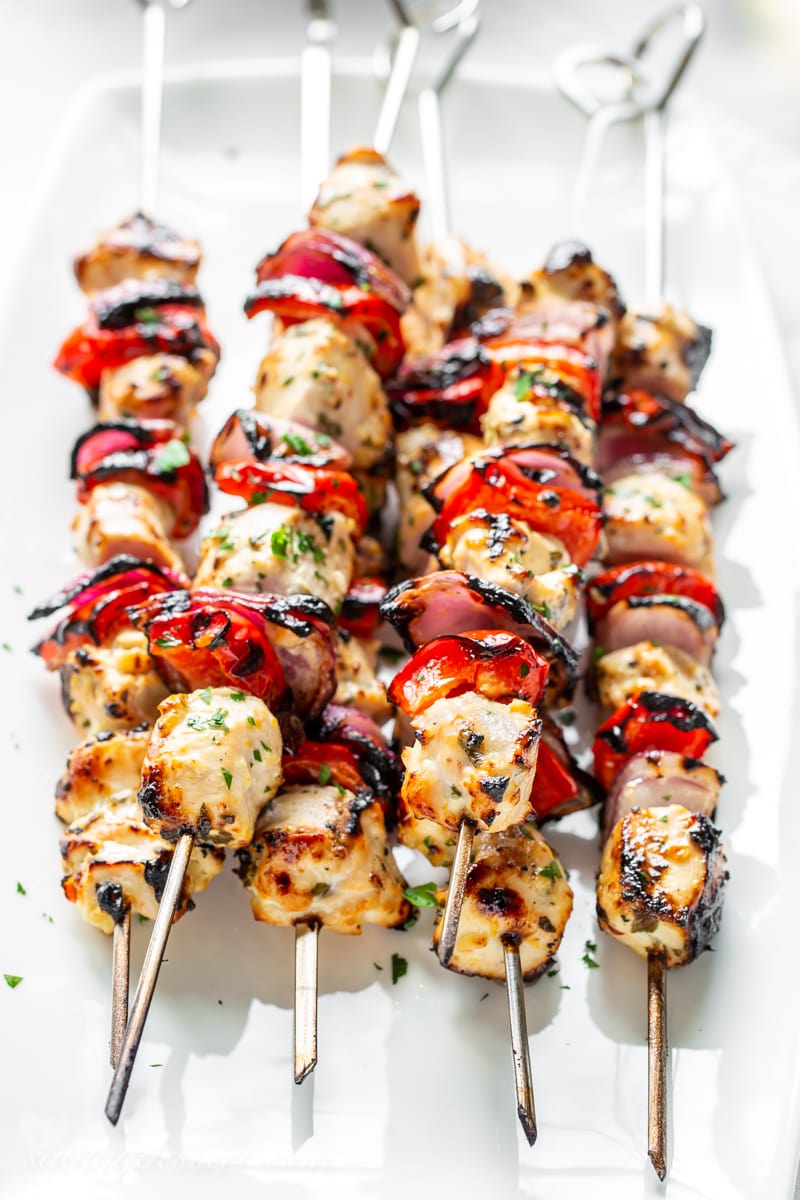 If you're looking for tender, juicy and flavorful all in one delicious bite, you'll LOVE this Grilled Greek Chicken Recipe! Click HERE to get the recipe for these easy Grilled Greek Chicken Kabobs.
This post was originally published August 2013, updated March 2019
Thanks so much for stopping by! Tricia