This post may contain affiliate links. Please read my disclosure policy.
We've rounded up some of our all-time favorite pork recipes in one tasty post!
Whether you're looking for recipes for soup, skillet dinners, chops, tenderloin or ground pork, we've got ya covered. These are well tested recipes that might help clean out your freezer while thrilling your family with some new tasty eats.
We have recipes perfect for the slow-cooker including some amazing ribs and a flavorful posole. There are several recipes featuring pork chops, and plenty of creative meals starting with ground pork. We even have a terrific, classic Cuban sandwich recipe layered with pork tenderloin and ham! We hope you find a few new favorites!
Recipes for bone-in and boneless pork chops:
Pan seared, oven baked Pork Chops with Mushroom Wine Pan Sauce – amazing comfort food!
Tender, juicy and deliciously thick, our flavorful chops are a real treat, especially when topped with this thyme infused pan sauce made with garlic, mushrooms, shallots, chicken broth and a nice dry white wine.  The sauce comes together in a few minutes, about as long as it takes to finish cooking the pork chops in the oven. Get the recipe for PORK CHOPS WITH MUSHROOM WINE PAN SAUCE.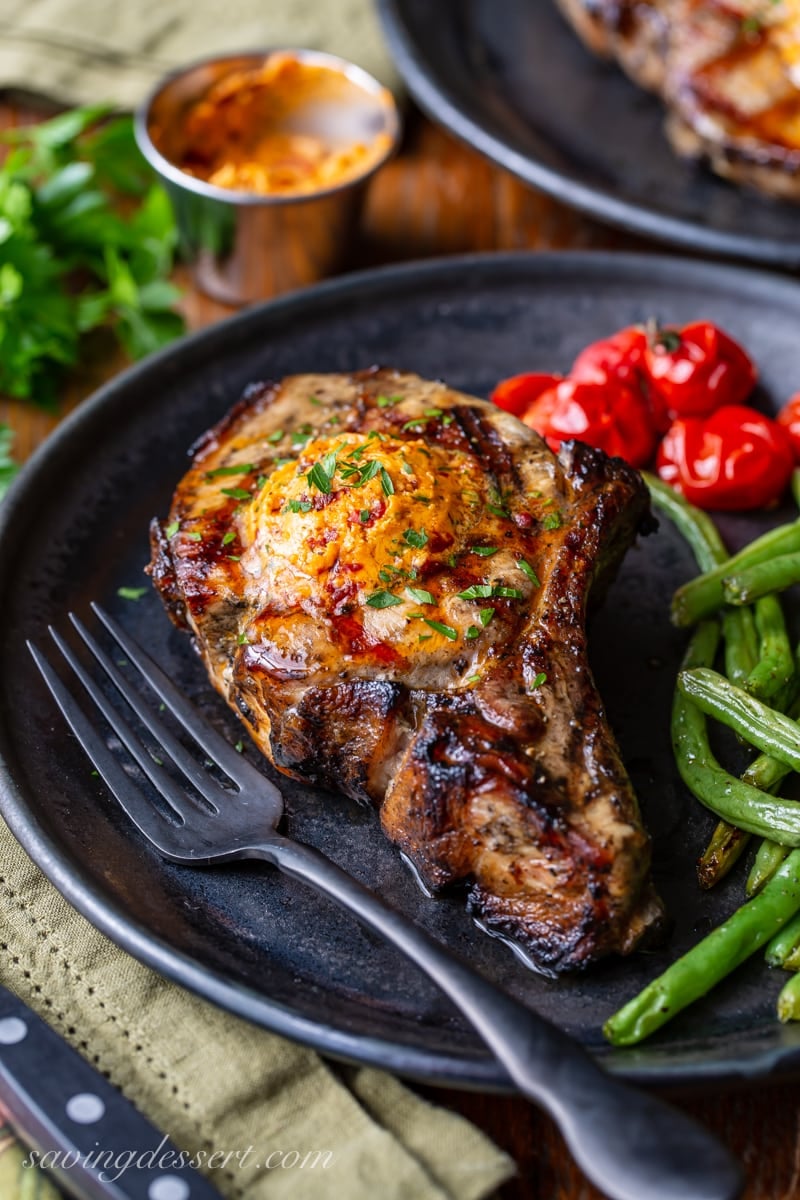 Dust off the grill and get ready for the summer season with these juicy Grilled Pork Chops with Chipotle Butter.
Who can resist a juicy, thick-cut, char-grilled tender pork chop hot off the grill? Not me! Slathered in a flavorful butter adding just a hint of smoky spice, these grilled pork chops are a winner you'll want to make all summer long. Easy is the name of the game here, with minimal hands on time! Get the recipe for GRILLED PORK CHOPS with CHIPOTLE BUTTER.
Grilled Pork Chops with Peach Agrodolce
An easy and delicious main course quick enough for weeknights, and sophisticated enough for special occasions. Get the recipe for GRILLED PORK with PEACH AGRODOLCE
Pork recipes for the slow-cooker or crock-pot: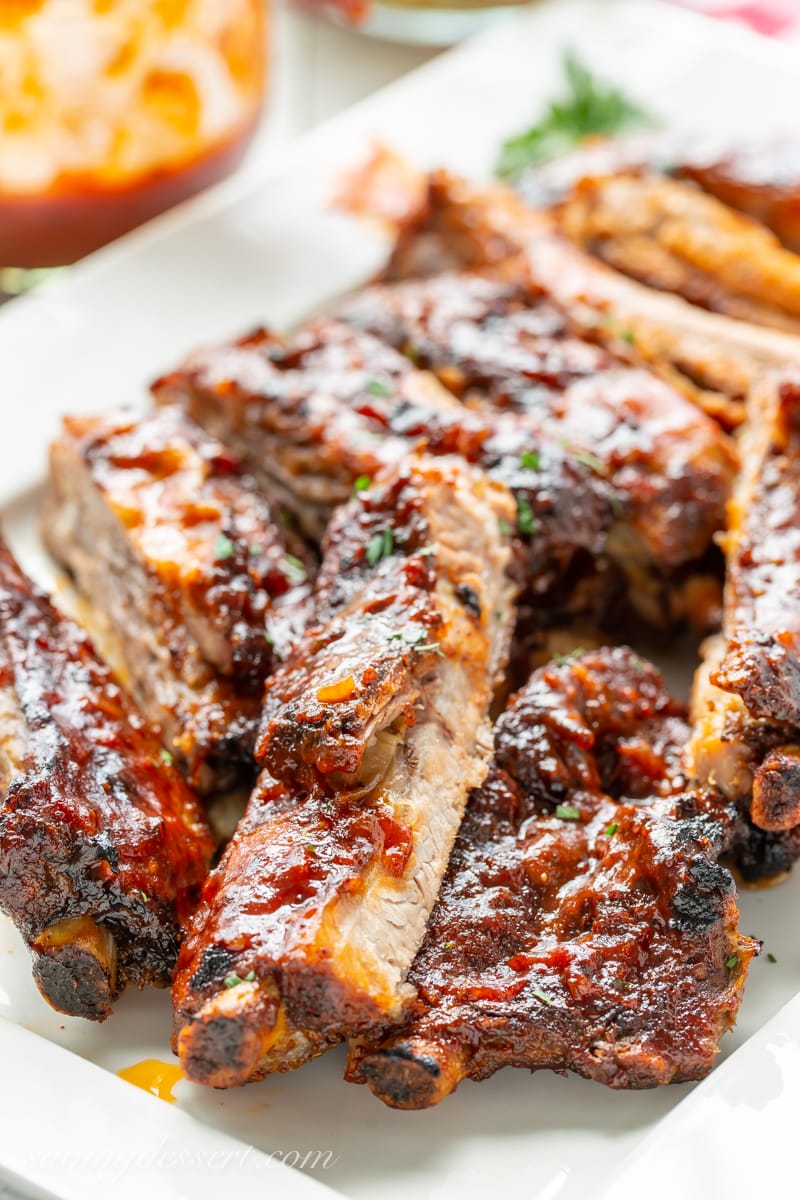 Slow-Cooker Ribs – juicy, tender and flavorful St. Louis-style pork spareribs slow-cooked then grilled or broiled for the perfect char.
If you don't have time to babysit the smoker, I highly recommend you try these slow-cooker ribs. I think you'll be very happy with the results!  Get the recipe for SLOW-COOKER RIBS.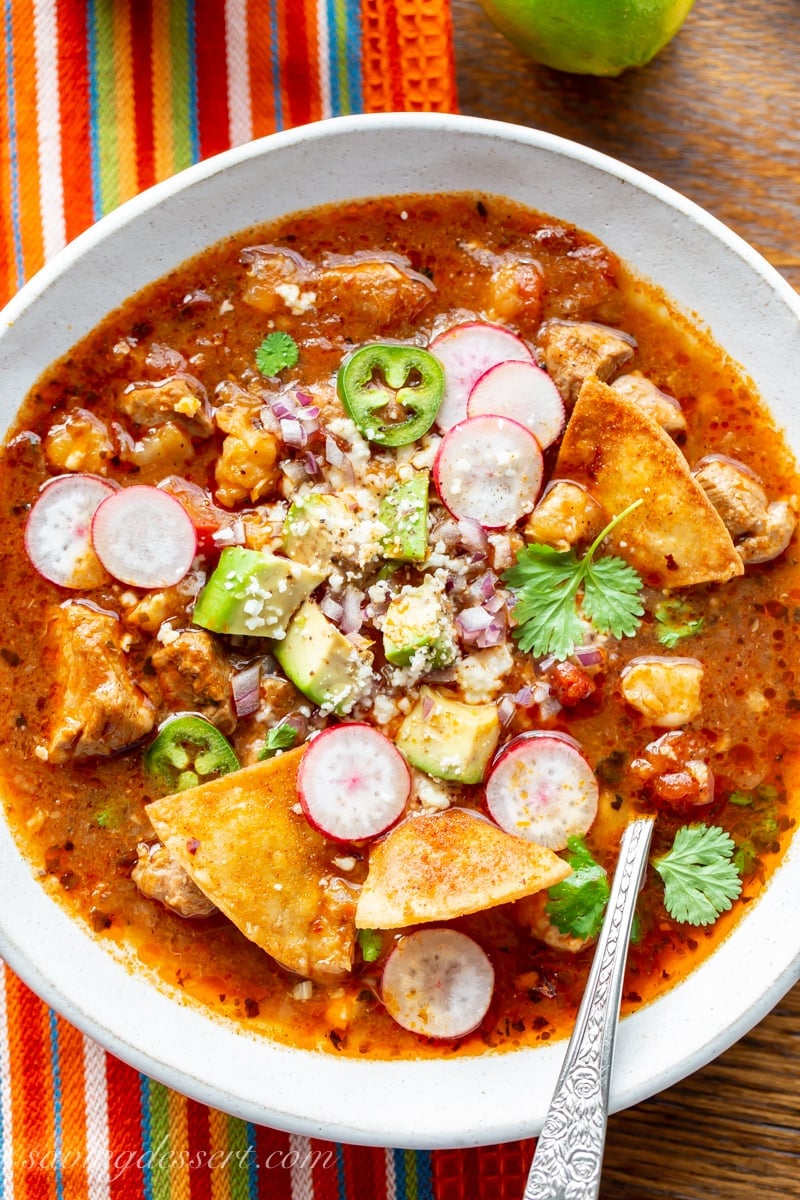 Try this robust Slow-Cooker Posole Pork Recipe next time you have a craving for a flavorful, hearty and comforting Mexican stew!
This popular Mexican stew has a deep rich flavor and a warming heat from the earthy chipotles in adobo sauce. While canned chipotles are not typically used in a posole recipe, it's a great shortcut in place of the hard-to-find dried ancho and guajillo chiles that must be toasted and rehydrated. It may not be overly authentic, but it sure is tasty! Get the recipe for SLOW-COOKER PORK POSOLE.
Pork recipes using tenderloin: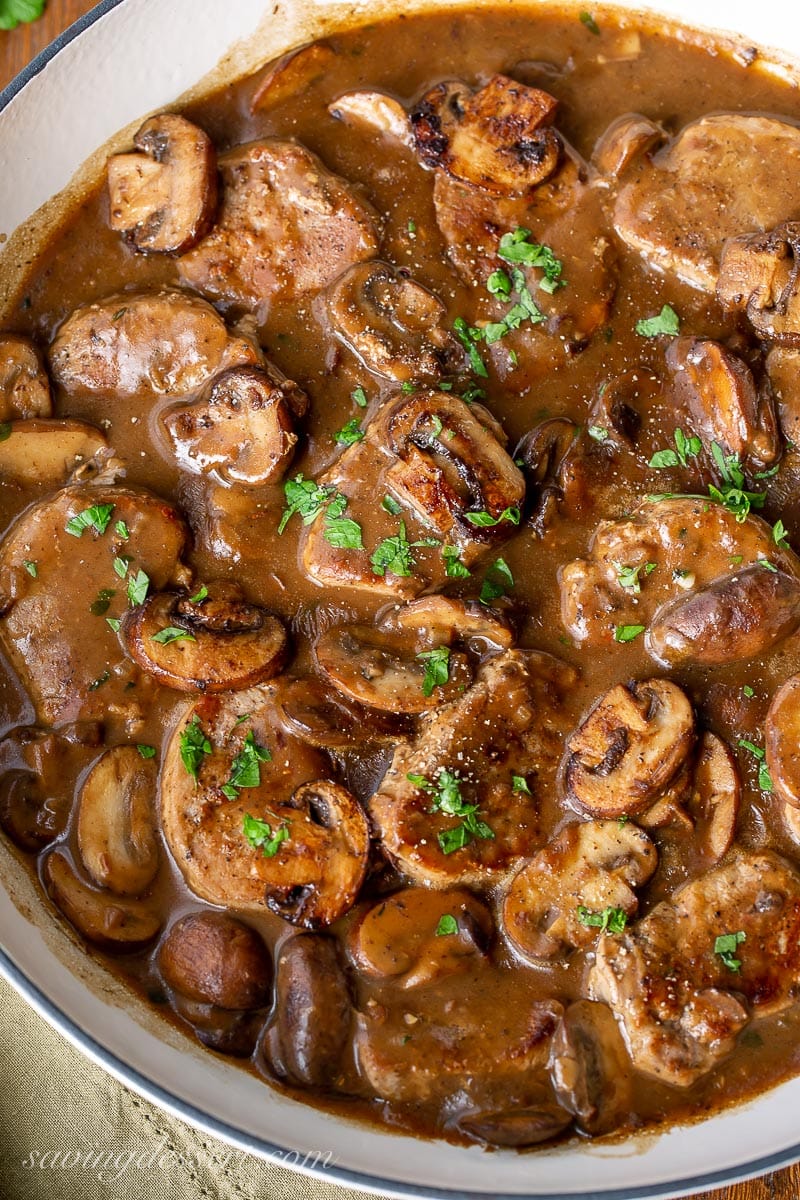 Tender, juicy Pork Medallions with Mushroom Gravy
Transform pork tenderloin into juicy, tender quick-cooking pork medallions nestled in a rich and flavorful mushroom gravy. Once the ingredients are prepped, this tasty entrée can be on the table in about 30 minutes. A company worthy, restaurant quality pork recipe you can make at home! Get the recipe for PORK MEDALLIONS with MUSHROOM GRAVY.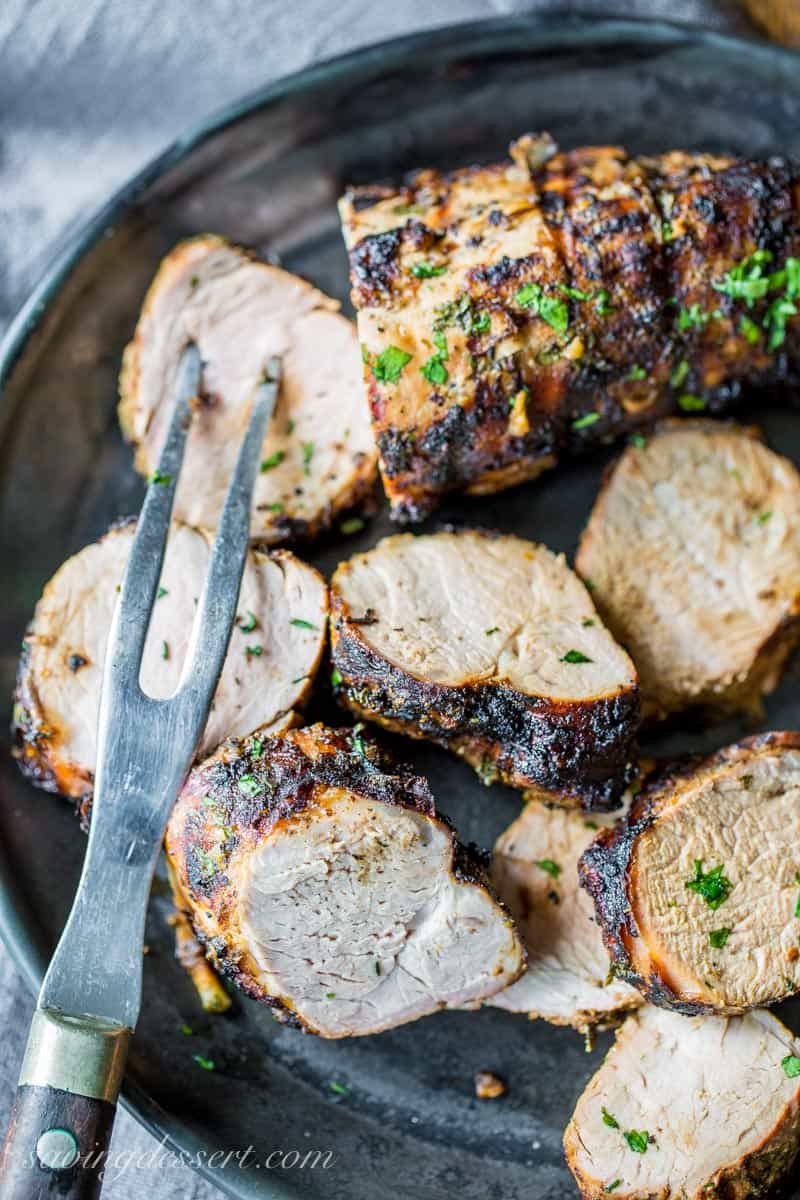 Grilled Cuban Mojo-Marinated Pork Tenderloin ~ an easy and delicious overnight marinade with powerful flavors from the garlic, citrus and herbs.
Grilled to perfection, this tender pork will garner praise from your grateful dinner companions! Use leftovers to make our wonderful Cuban Sandwich. If you love foodie movies, you may recognize this recipe from the movie: The Chef. Get the delicious recipe for GRILLED CUBAN MOJO-MARINATED PORK TENDERLOIN.
Grilled BBQ Pork Tenderloin
Marinated in our homemade sweet and spicy Honey BBQ Sauce then grilled to juicy perfection, this simple main course is a summer staple. Get the recipe for GRILLED BBQ PORK TENDERLOIN.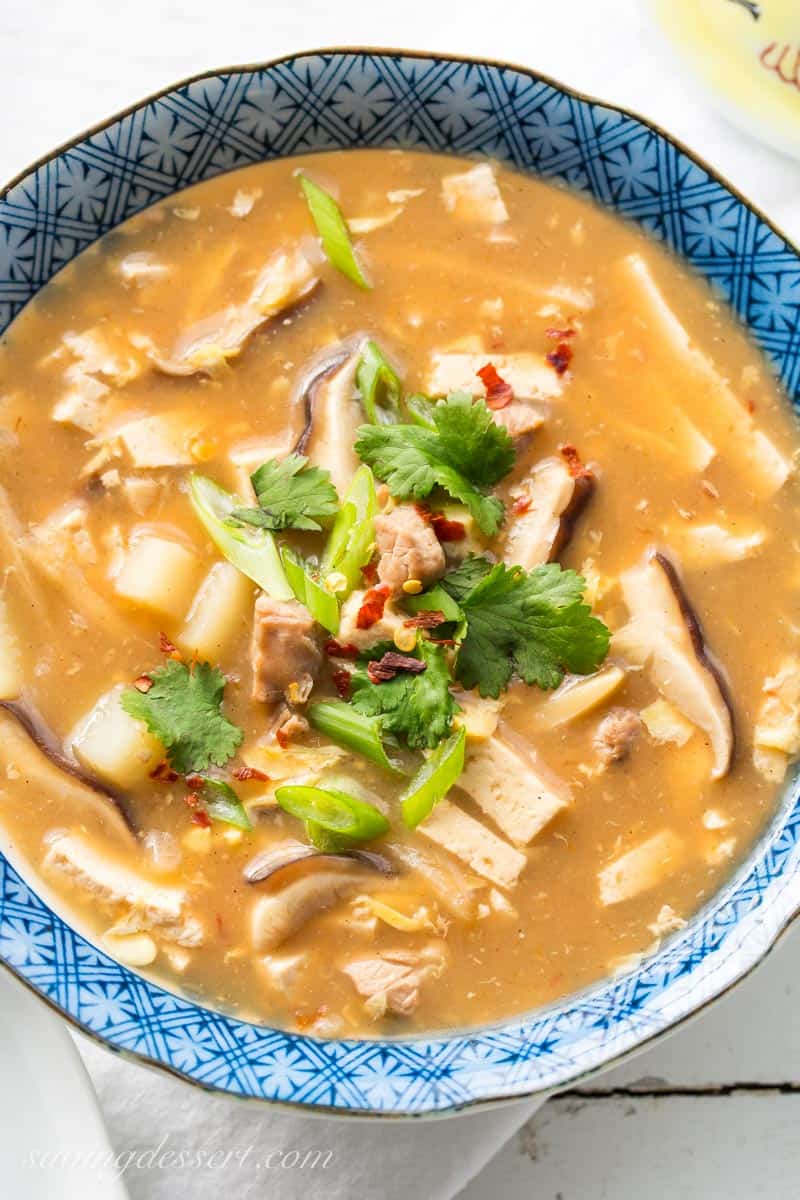 Easy Hot & Sour Soup with pork
Fresh and delicious, this Easy Hot & Sour Soup Recipe is loaded with tofu, mushrooms and bites of pork tenderloin simmered in a rich, full flavored broth. Homemade Hot & Sour Soup is so much better than take-out and easy tio make too! Get the recipe for EASY HOT & SOUR SOUP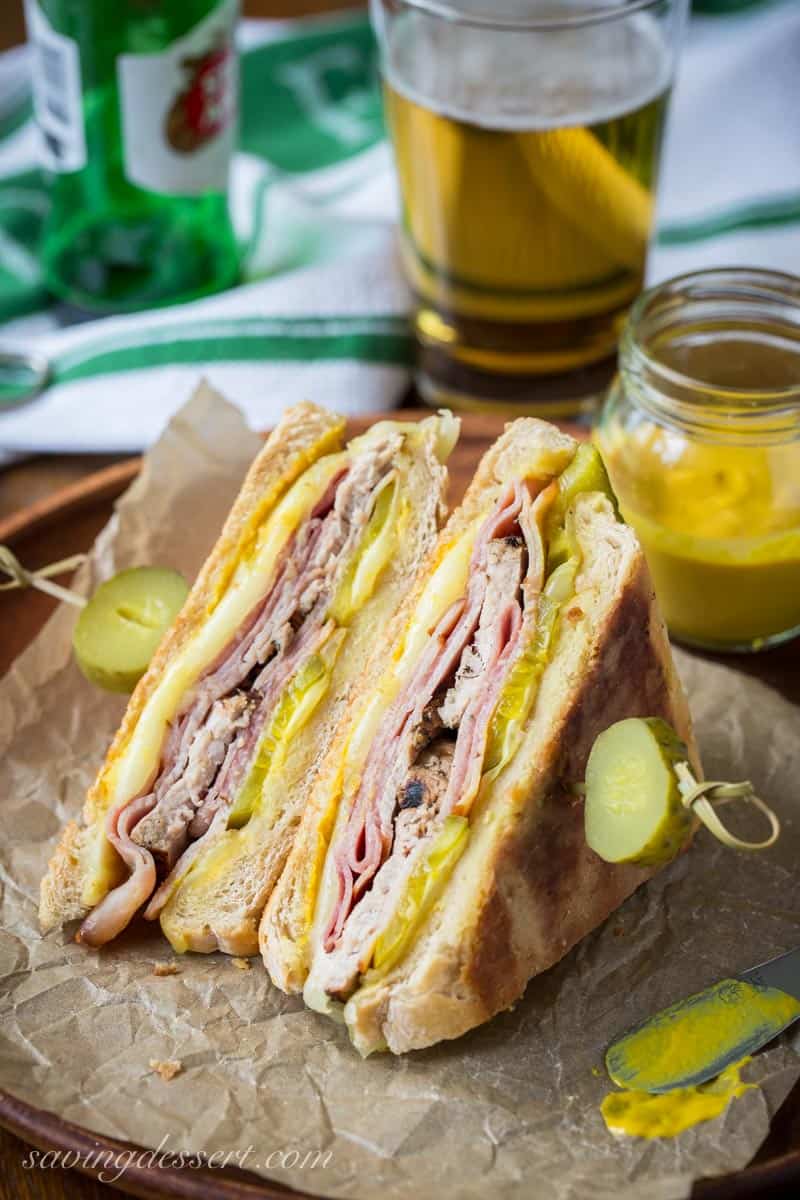 The classic Cuban Sandwich (Cubano)
A hearty and delicious combination of sweet ham, juicy tender pork, melted Swiss cheese, dill pickles with a nice bite from a slathering of yellow mustard. Get the recipe for the classic CUBAN SANDWICH.
Ground pork recipes:
Spicy Sichuan Dan Dan Noodles with Pork!
This popular, flavorful Asian dish is the rock star of Chinese Sichuan street food. Made with a spicy, savory sauce, minced pork, chili oil, vegetables and noodles. Get the recipe for DAN DAN NOODLES.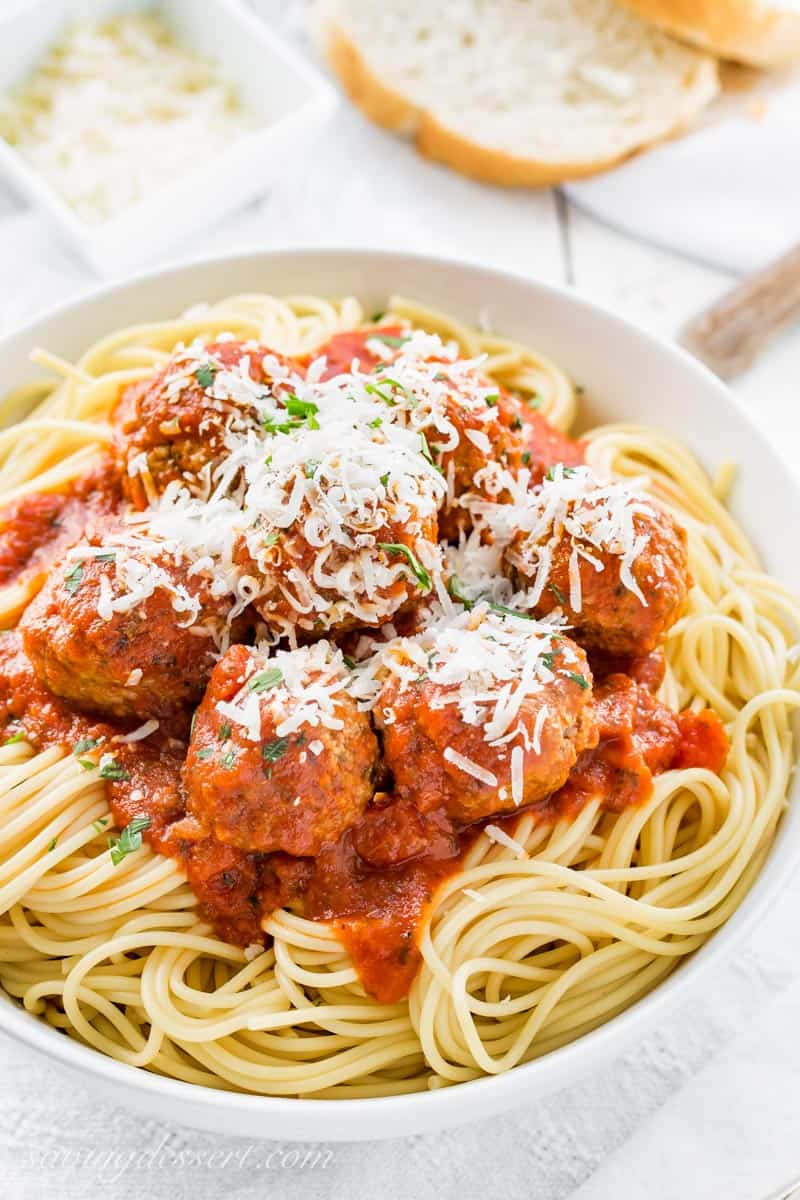 Everyone needs a great Italian Meatball Recipe!
Our well tested recipe is easy to make and the results are consistently terrific. These Italian styled meatballs are super juicy, tender and delicious, with easy make-ahead and freezable directions too! Get the recipe for ITALIAN MEATBALLS.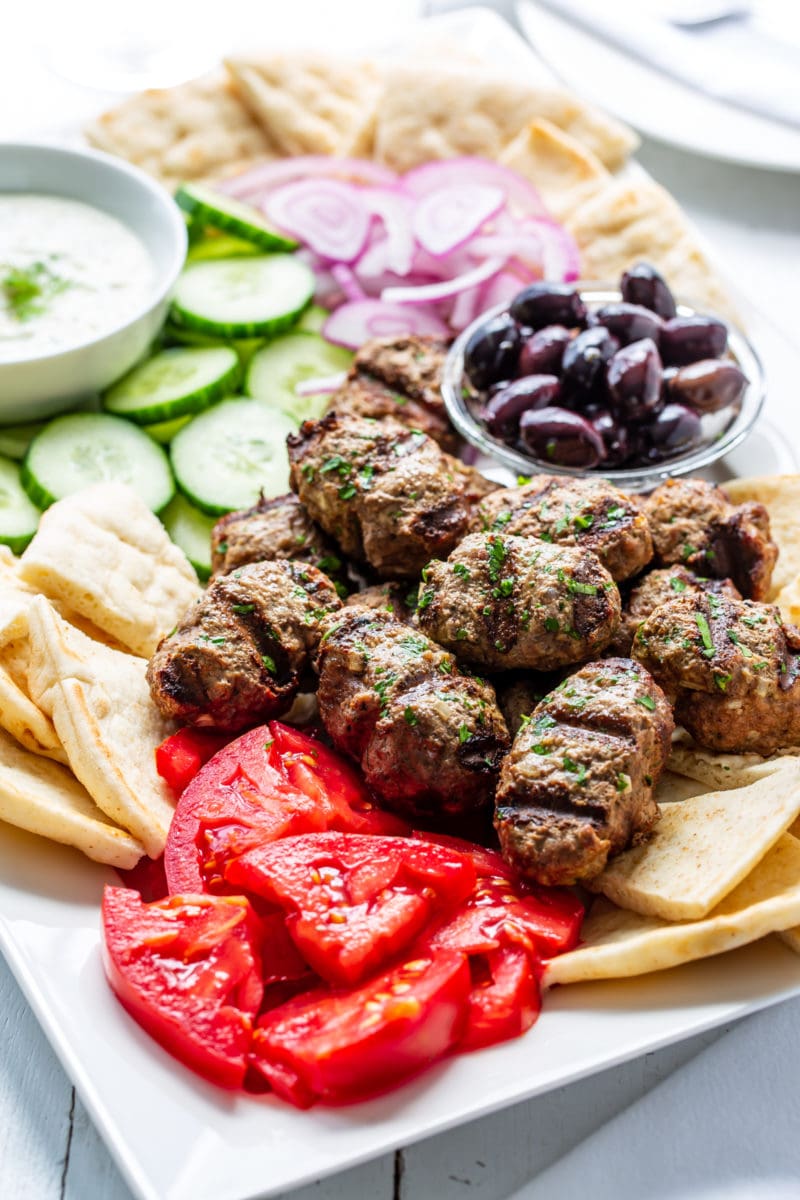 Try these authentic grilled kebabs made with pork, beef and lamb at home!
Served with a cucumber-yogurt sauce, pita wedges and plenty of fresh vegetables just like they do in Greece. Get the recipe for PORK BEEF & LAMB KEBABS.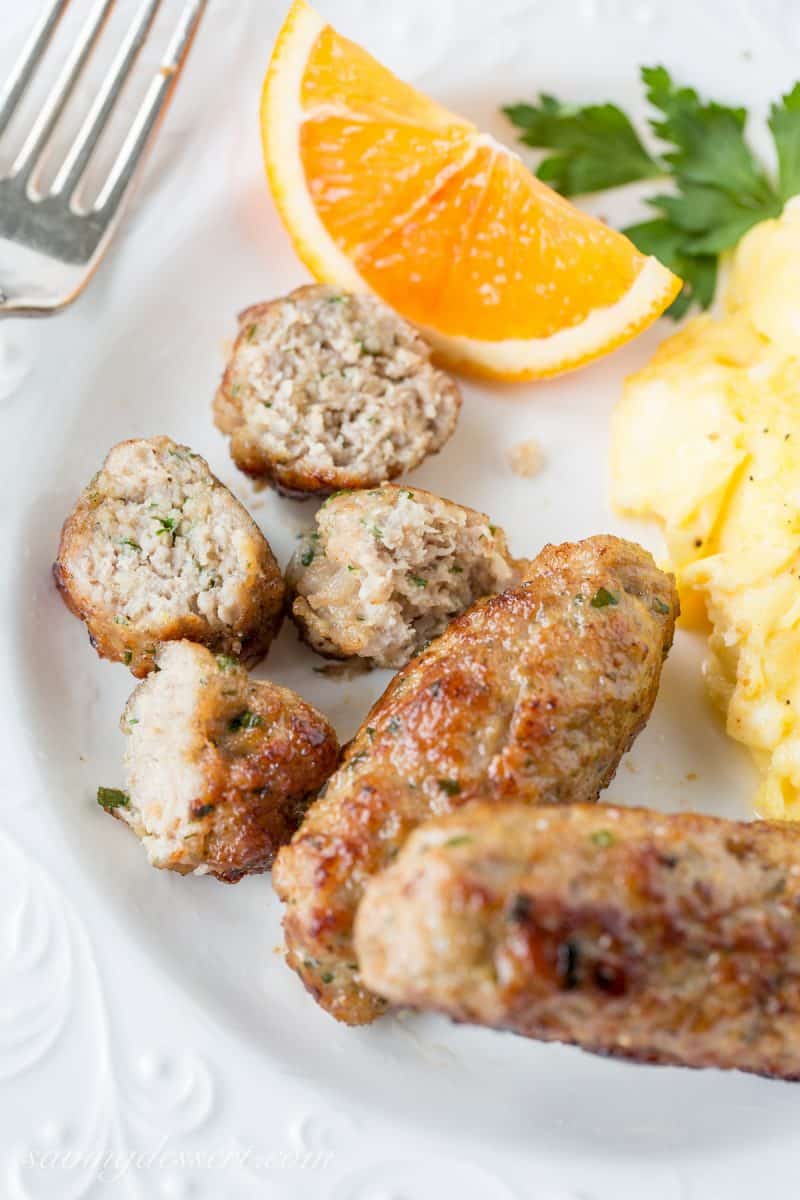 Homemade pork breakfast sausages are incredibly easy to make and delicious too.
There's no need for special equipment (grinders and stuffers) or casings when making these sausages.  They come together in minutes with just a few tasty ingredients.  Get the recipe for PORK BREAKFAST SAUSAGES.
Thanks for PINNING!
Let's be cooking friends! If you make our recipe please feel free to leave a comment on this post. I'm sure your experience and insights will help all our readers, and it helps me too. Also, if you're on Pinterest feel free to leave a comment and photo there if you have one! If you share on INSTAGRAM tag @savingroomfordessert so we can stop by and give your post some love. And we'd be very happy if you'd FOLLOW Saving Room for Dessert on FACEBOOK| INSTAGRAM| PINTEREST | TWITTER  and subscribe to our YOUTUBE channel for all the latest recipes, videos and updates. Thank you!!!