This post may contain affiliate links. Please read my disclosure policy.
Today I'm sharing 23 Favorite Christmas Cookies, Candy & Cake Recipes in one convenient post to help you jump start your holiday baking!
I'm hard at work in our SRFD kitchen this week, baking up a storm getting ready to share some brand new recipes with you!  But before we bring out the new recipes, I don't want you to forget these terrific treats we've enjoyed over the years too.  We have a wide variety of cookies, a little candy, and delicious cakes that are sure to satisfy your holiday sweet tooth.
Some of these recipes are perfect for gifting, shipping, and sharing, while others make a stunning statement on your Christmas table.  Be sure to pin your favorites so they'll be easy to find in the weeks ahead!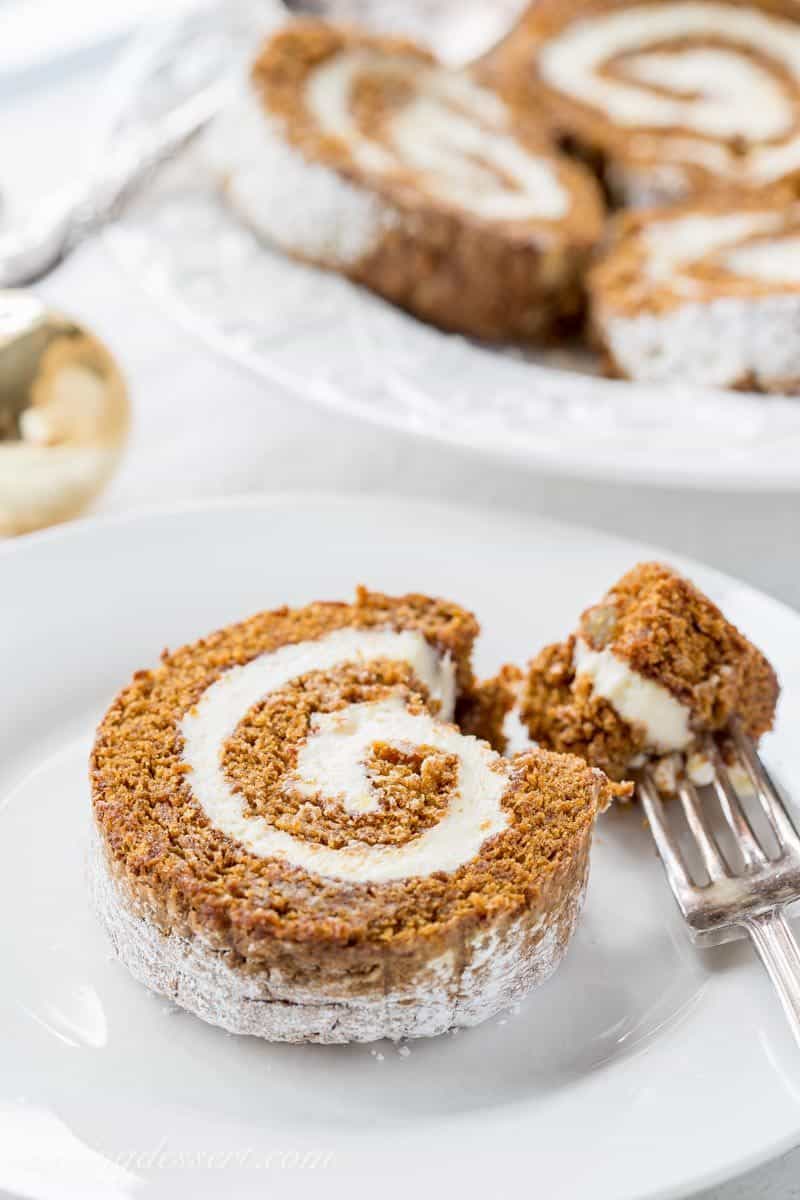 Gingerbread Roll with Lemon Cream Cheese Filling – a delightful dessert that's not too sweet, loaded with warm, aromatic spices and flavored with just the right amount of molasses.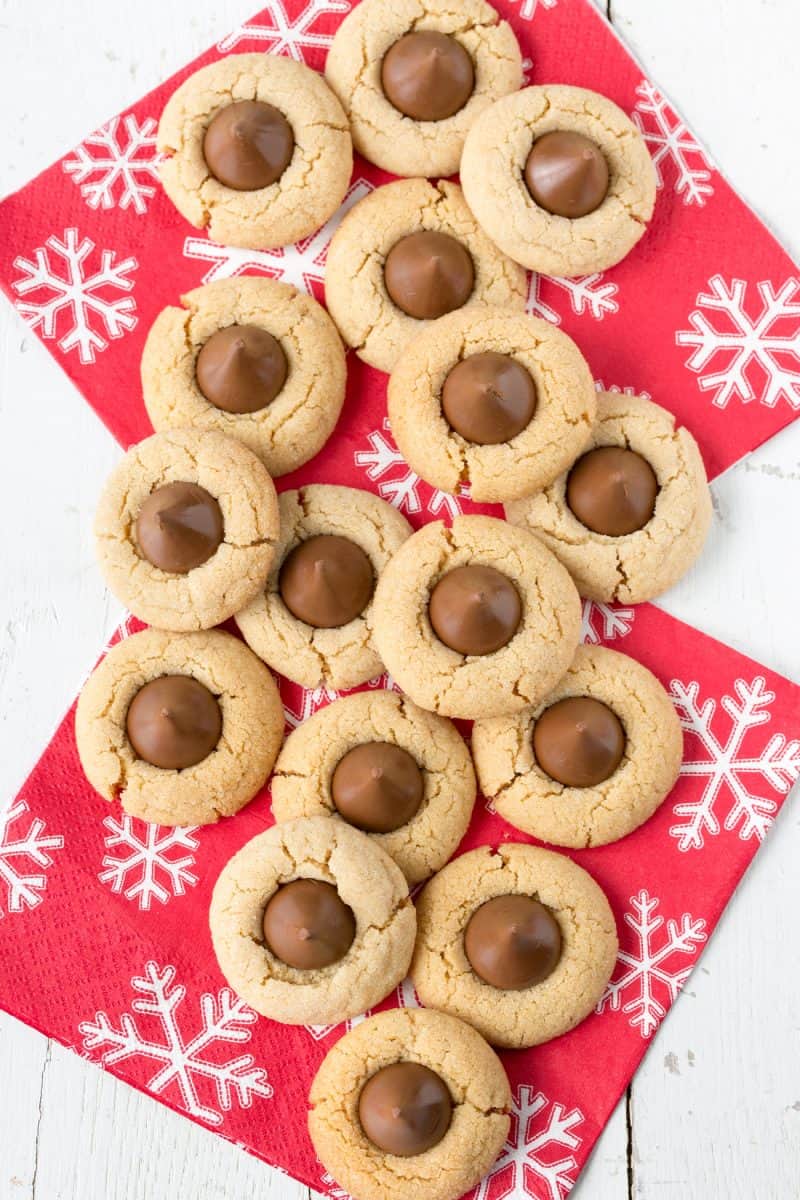 Peanut Butter Blossoms – a family favorite for generations! Who can resist the classic combination of chocolate and peanut butter?
No Bake – Apricot Coconut Balls – easy to make and great for gifting!  Made with only 4 simple ingredients.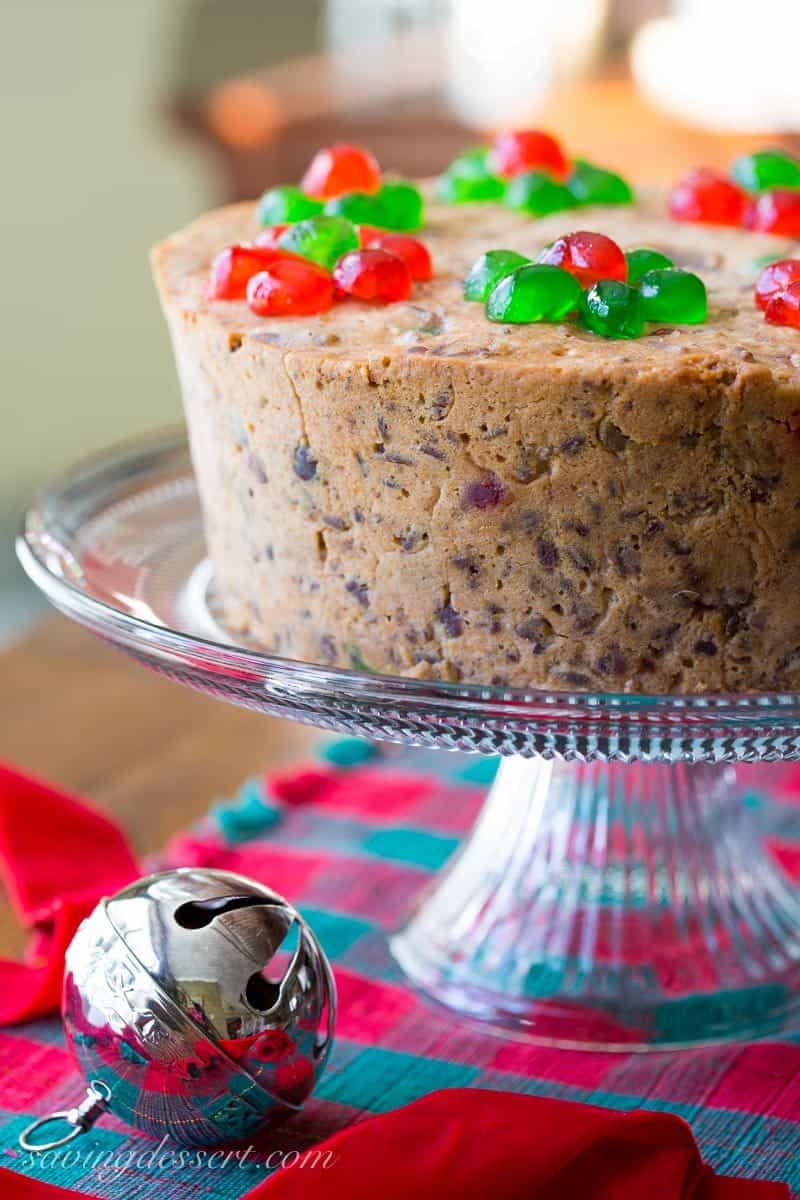 Mammaw's Eggnog Cake – part fruit and nuts, and the other part bourbon soaked cake ~ this delicious treat will put the "nog" in your "eggs!"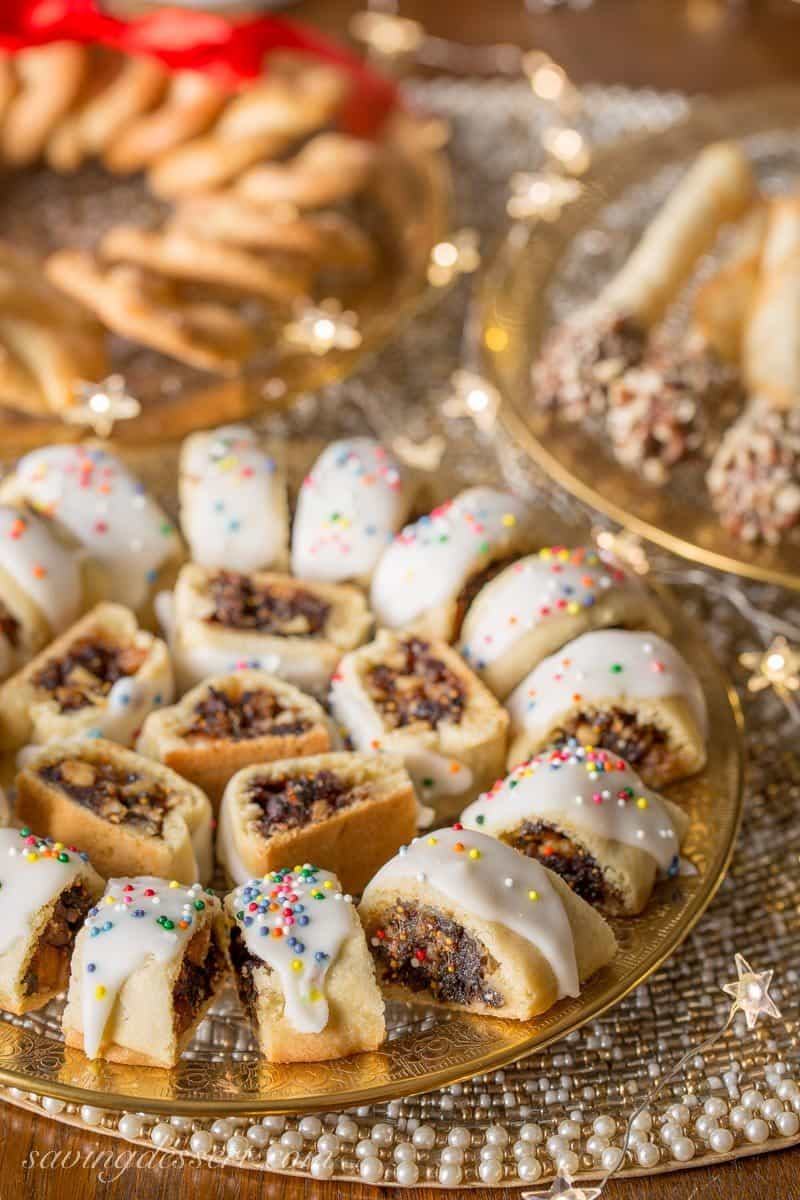 Italian Fig Cookies – the BEST Christmas cookies! Cucidati, Sicilian Fig Cookies, or Christmas Fig Cookies are a few of the names you might find for this deliciously moist, tender and sweet, fruit filled cookie.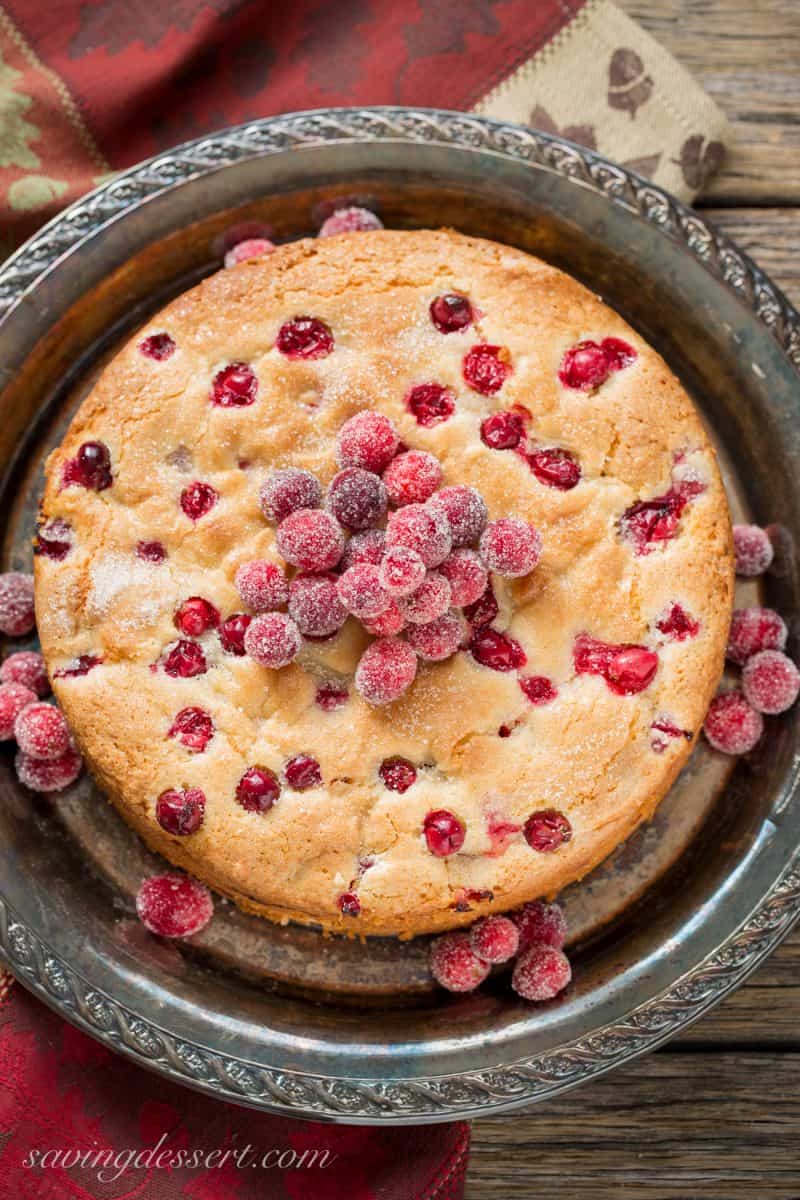 Cranberry Almond Cake – Lightly sweet, moist and delicious, this easy treat is perfect as a breakfast (coffee) cake, a light dessert after lunch or an anytime snack cake.
Gingerbread Whoopie Pies – with Lemon Cream Cheese Filling – soft and sweet and loaded with gingerbread flavor with the perfect lemon filling!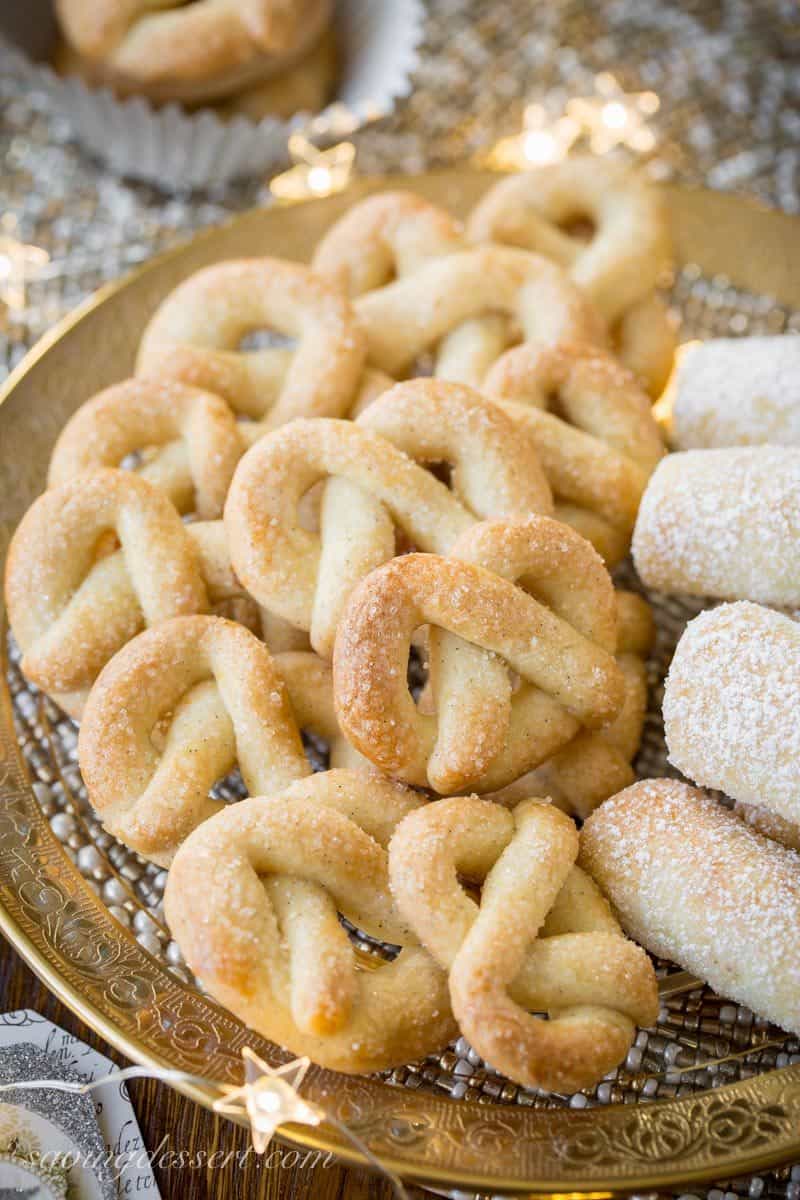 Vanilla Pretzel Cookies – a crisp little butter cookie loaded with vanilla beans and topped with sparkly coarse sugar in a fun festive shape!
Gingerbread Cookies – classic and delicious, always a favorite on the cookie tray!
Tuile Cigar Cookies – also known as pirouettes, these crisp, delicate little cookies have a perfect vanilla flavor and buttery crunch.
Old World Linzer Cookies – jam and simple butter cookies are the perfect Christmas cookie!
English Toffee – a delicious vintage recipe that's super easy to make – a family favorite year after year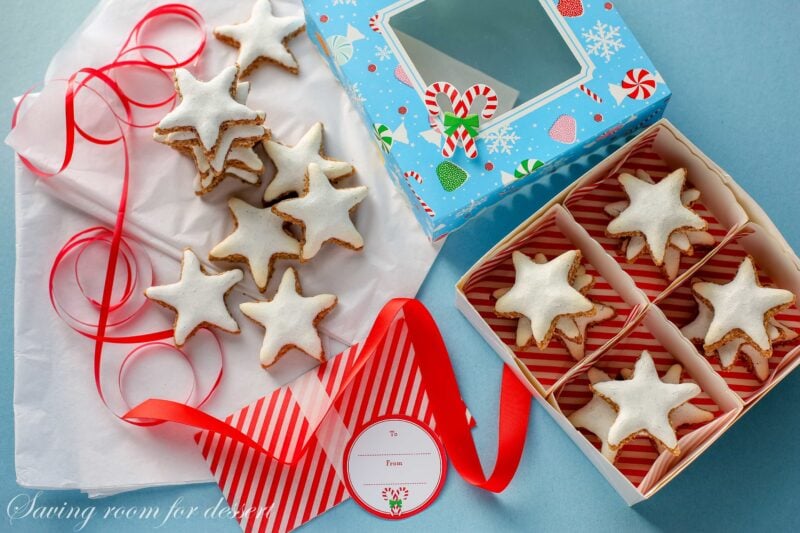 Zimtsterne – Cinnamon Stars – A delicious blend of ground almonds and cinnamon topped with a sweet meringue glaze. A traditional German Christmas cookie that travels well!
Almond Butter Sticks –  a melt-in-your-mouth delicious, tender cookie made with a cream cheese dough and an almond extract sugar filling.
Gingerbread Cupcakes with Lemon Cream Cheese Frosting – A robust ginger flavored cupcake with a sweet lemon buttercream frosting. Topped with a gingerbread cookie these make a fun presentation for the holidays – great for parties!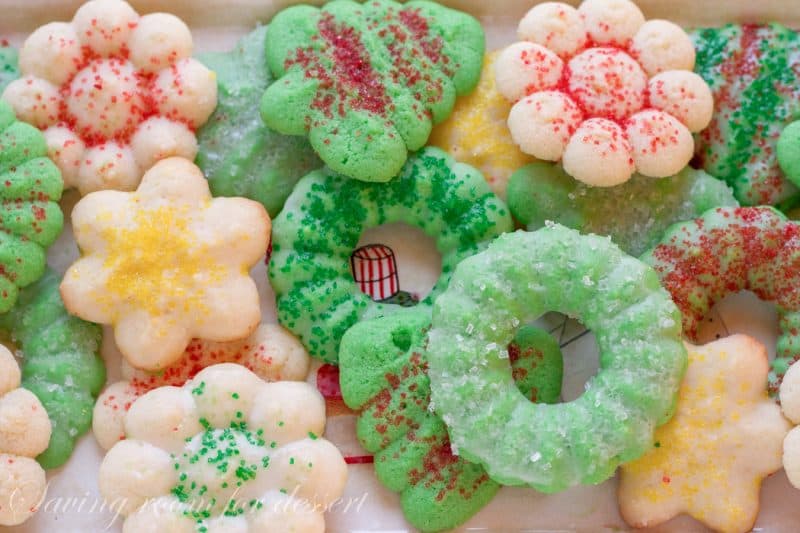 Spritz Cookies – delicate, yet crisp, little cookies with a deep buttery flavor and a hint of almond.  Spritz is a German word meaning 'to squirt.'  We Squirt the soft dough through a cookie press, fitted with various designs, directly onto the baking sheet.  The dough can be tinted with food color and decorated with candy, sprinkles, fruit pieces, chopped nuts, currants or raisins.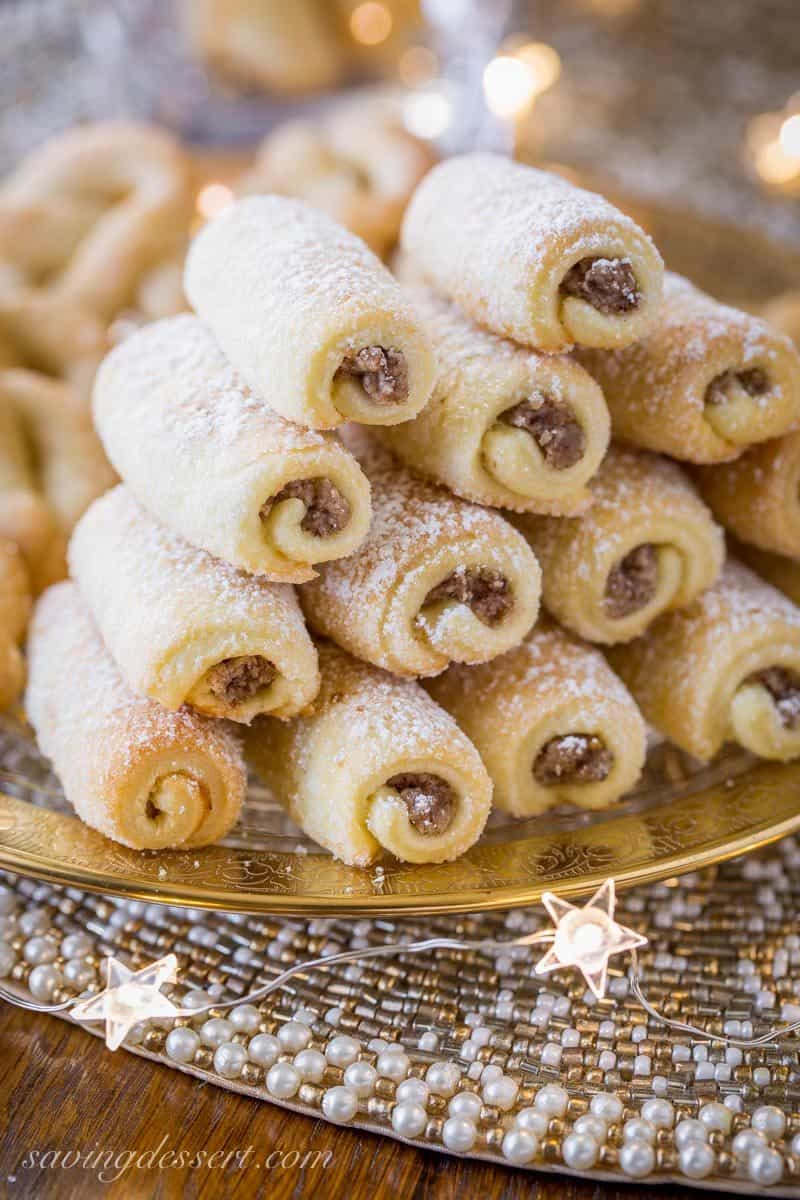 Roczki Cookies (Kolacky) – made with a tender, yeasted dough rolled up in a cigar shape with a simple, lemony, ground nut filling.  Typical of older recipes, these cookies are not terribly sweet but have a wonderful, unique and simple flavor.
Raspberry Almond Shortbread Thumbprints – the most popular Christmas cookie recipe on SRFD, year after year.  A classic delicious cookie everyone loves!
Dulce de Leche Sandwich Cookies with Cinnamon and Cardamom – a sweet, soft cookie coated with the warm flavors of cinnamon and cardamom then filled with a silky rich caramel.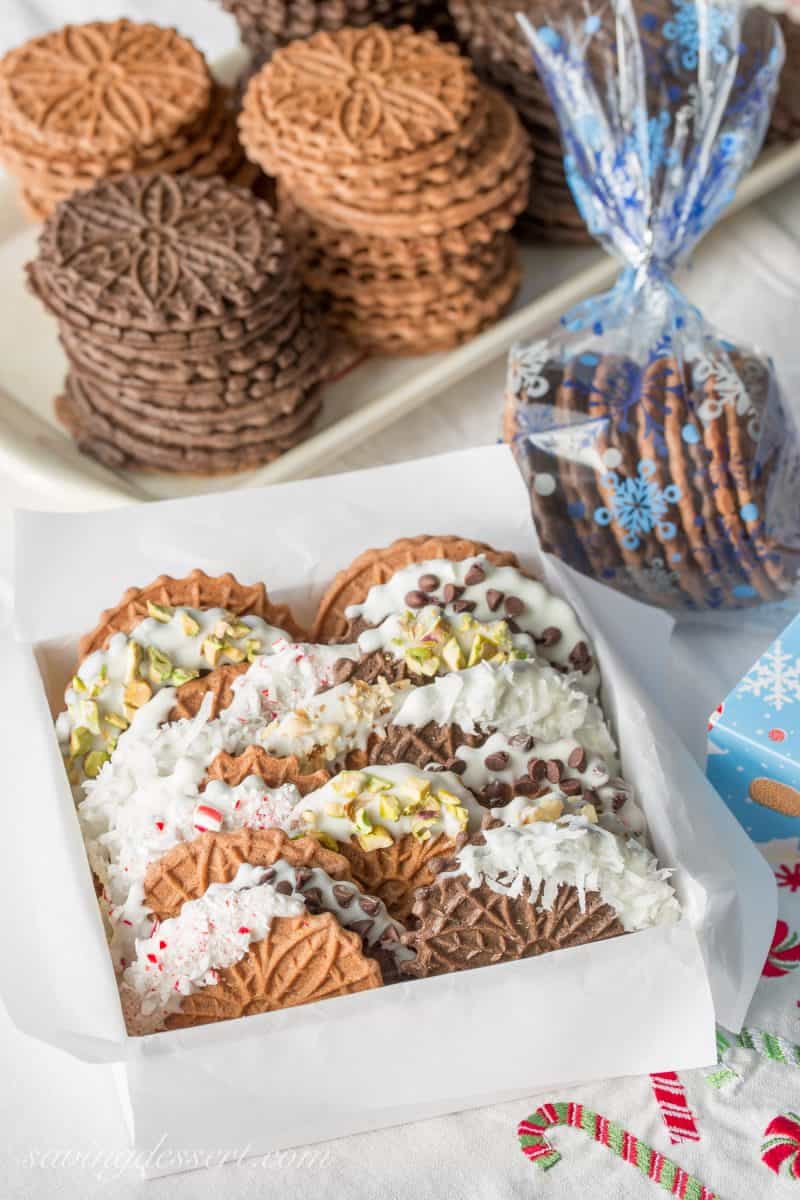 Chocolate Pizzelles – dipped in white chocolate with peppermint, walnuts, chocolate chips, coconut and pistachios for a special holiday treat
Lebkuchen – German Spice Cookies – old world Christmas cookies where the spices, nuts and citrus take center stage instead of sugar and chocolate.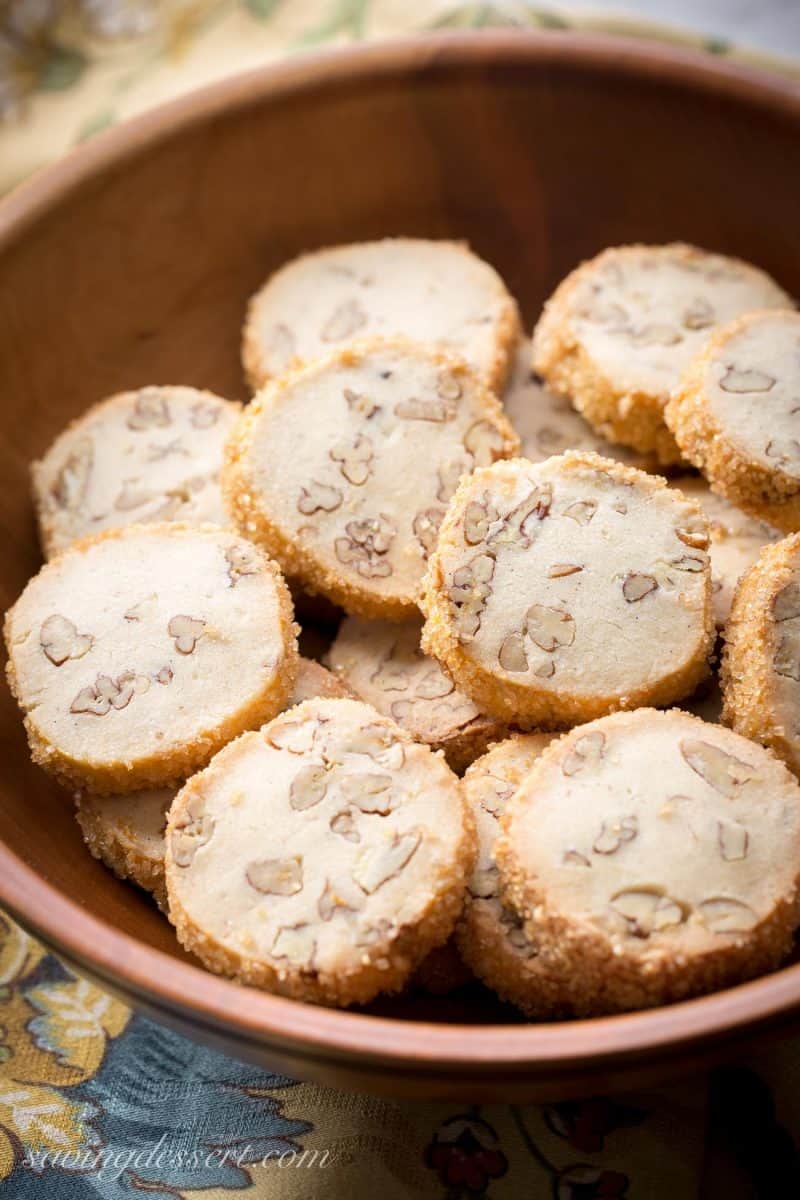 Pecan Sandies – Classic shortbread cookies filled with toasted pecans and vanilla beans with a crisp coating of coarse sugar.  They travel extremely well and have an easy make-ahead dough. Slice and Bake!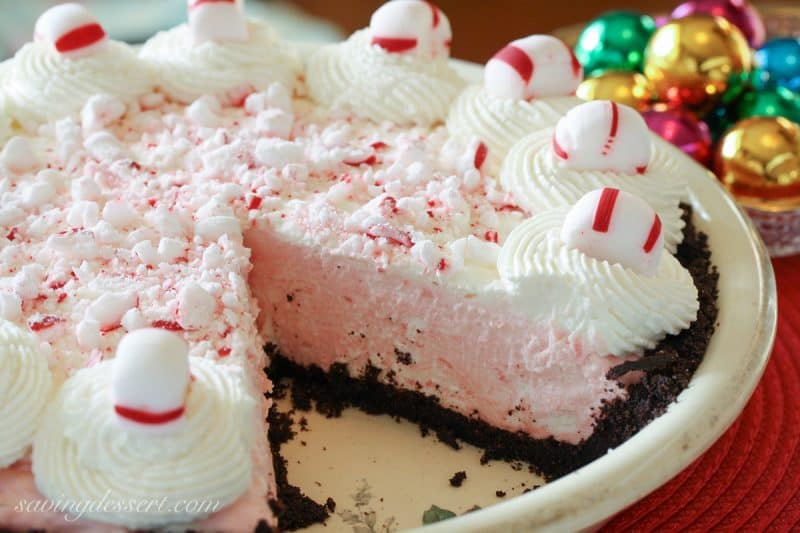 Peppermint Pie – light and fluffy, simple and sweet, with all the flavors of the holiday season!
Thanks for PINNING!
Let's be baking friends! When you try our recipe please feel free to leave a comment on this post. I'm sure your experience and insights will help all our readers, and it helps me too. Also, if you're on Pinterest feel free to leave a comment and photo there if you have one! If you share on INSTAGRAM tag @savingroomfordessert so we can stop by and give your post some love. FOLLOW Saving Room for Dessert on FACEBOOK| INSTAGRAM| PINTEREST | TWITTER  and subscribe to our YOUTUBE channel for all the latest recipes, videos and updates. Thank you!!!