This post may contain affiliate links. Please read my disclosure policy.
We've rounded up some of our favorite and BEST breakfast foods for you to try. These recipes go a bit beyond your basic scrambled eggs and oatmeal but many are make-ahead and weekday friendly!
Each recipe is great anytime but especially perfect for weekend brunch, holiday breakfast, special occasion or just because you deserve a great start to your morning! ☀️
---
The BEST Breakfast Foods for all occasions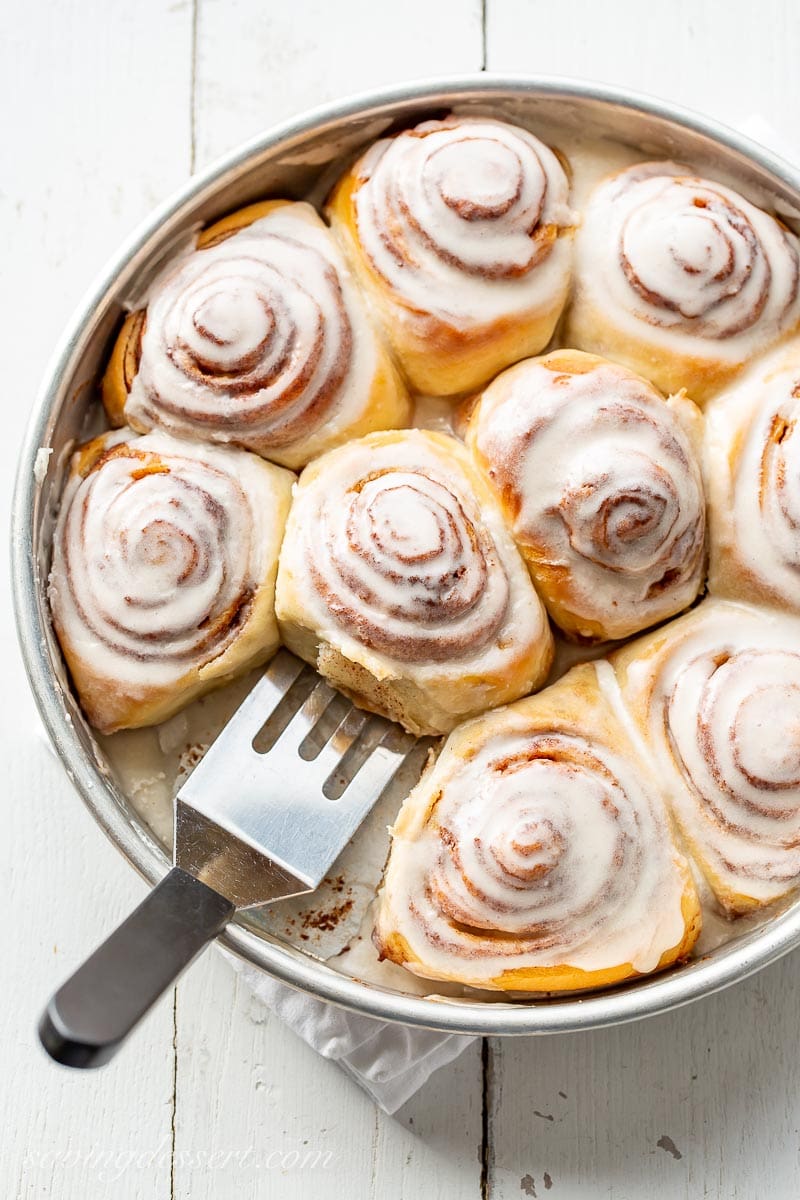 Let's kick off this breakfast roundup with the most amazing cinnamon rolls we've ever had.
The first time I made Pioneer Woman's Cinnamon Rolls in January 2011 and they've been a family favorite ever since. My daughter makes them now for her family during the holidays.
---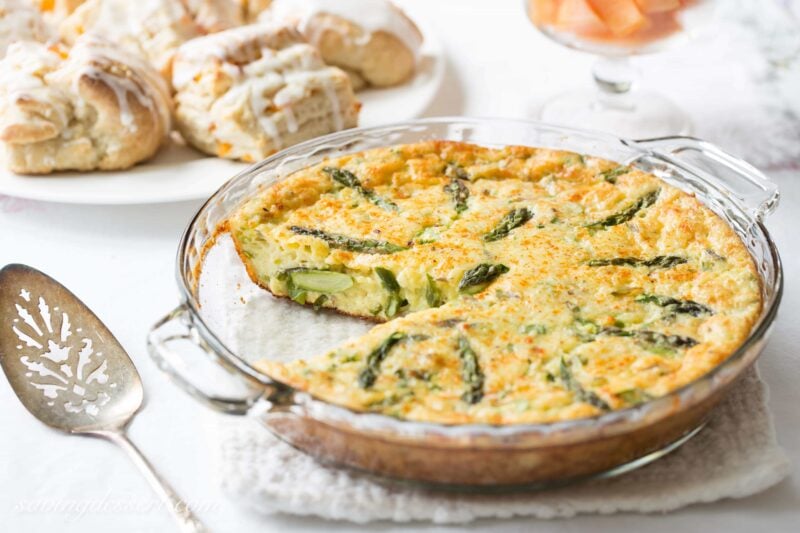 A great crustless quiche perfect for breakfast or brunch. This recipe that can be eaten warm or room temperature.
I serve this to all our out-of-town guests because it's easy to make and sure to impress. Serve with a bowl of fresh berries or diced melon and a nice fresh baked scone. Your guests won't want to leave!
---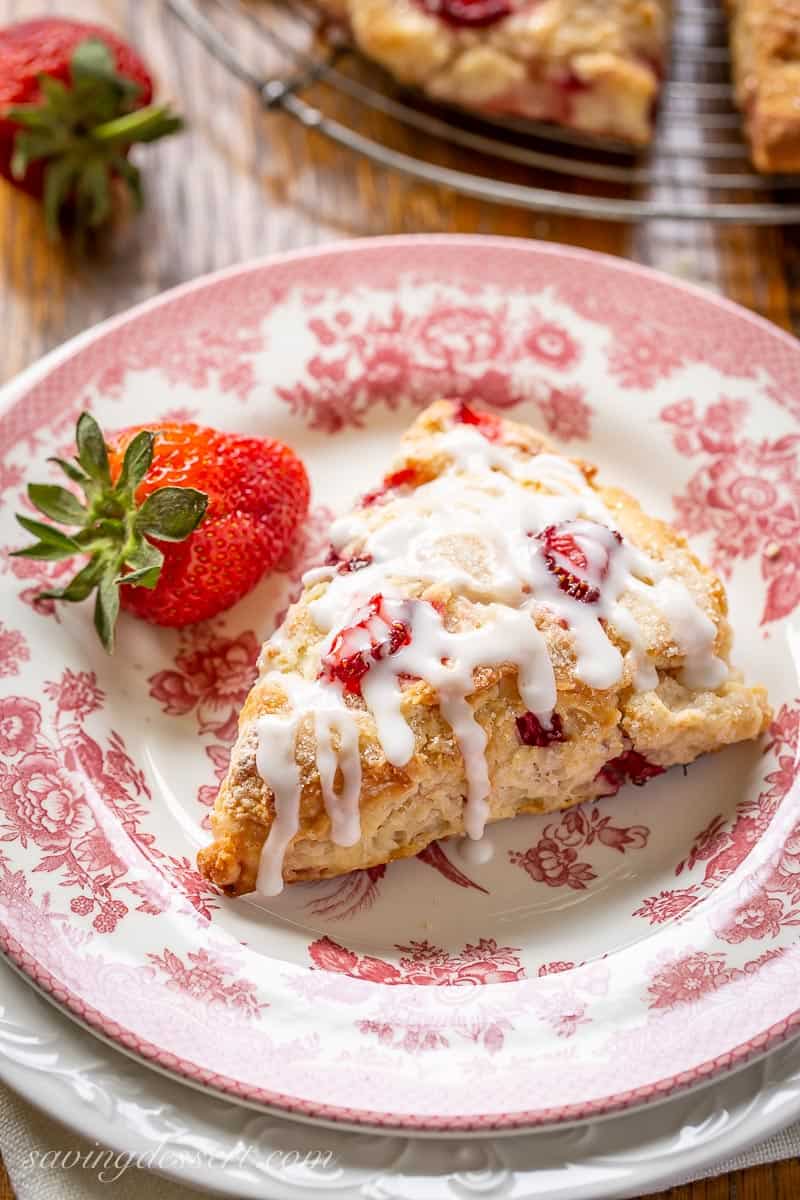 These scones are buttery, flaky, lightly sweet and packed with juicy, ripe strawberries. If strawberries aren't in season, no worries. We've also shared recipes for Apricot, Lemon Blueberry, Peach, Apple Cinnamon and Almond Cranberry scones. Bake the season and enjoy 😋
---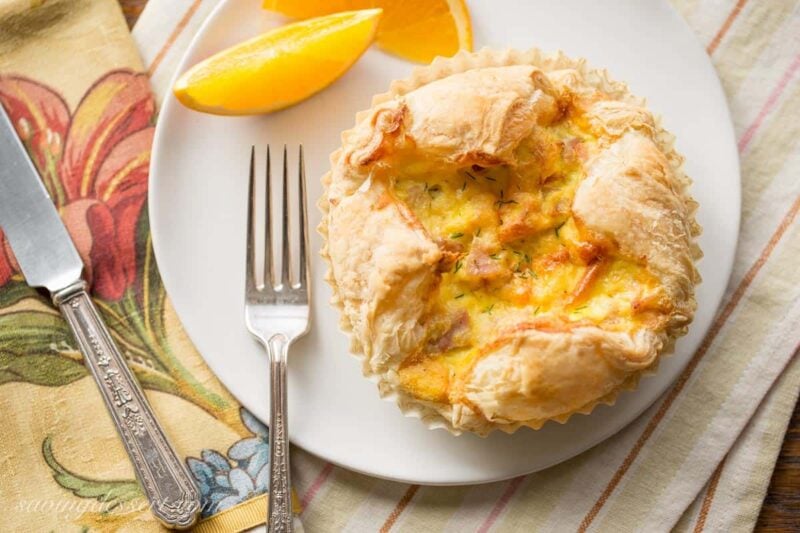 An easy and delicious Ham & Cheese Breakfast Soufflé loaded with smoked Gouda, diced ham, eggs and salty Parmesan cheese all wrapped up in a puff pastry shell. This recipe is similar to the soufflés you'll find at Panera Bread.
The filling is easy adapted to your favorite cheeses or vegetables. Watch the VIDEO and see how easy these come together!
---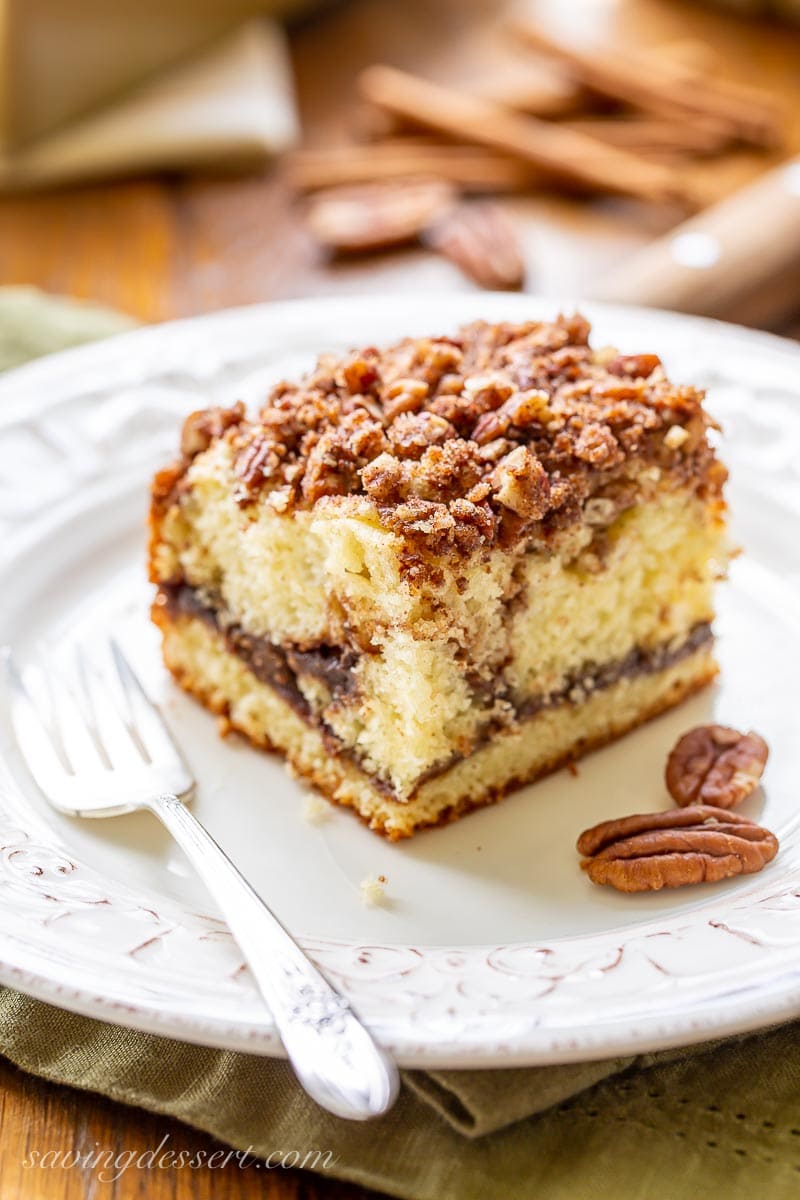 We adore this Sour Cream Coffee Cake with the moist, tender crumb and loads of cinnamon and pecans.
When I hear the words 'coffee cake' I think of a buttery, tender cake with a crunchy, nutty topping and a thick ribbon of brown sugar cinnamon running through the middle. This recipe for Sour Cream Coffee Cake has all that and more making it great for the weekend, potlucks or gatherings of any kind.
Try different kinds of nuts like almonds and walnuts, or throw on a few mini chocolate chips.
---
Let's hear it for one of the best breakfast foods ever invented… pancakes!
Our family has always loved fluffy Buttermilk Pancakes especially with a pat of butter and plenty of warm maple syrup drizzled over the top. We often serve these pancakes topped with fresh sliced bananas, raspberries, blackberries or blueberries.
Pancakes and waffles were a frequent Saturday morning event while our kids were growing up. A hearty breakfast of the best buttermilk pancakes is a great way to kick-start the day!
Try our light and fluffy Ricotta Pancakes, Blueberry Greek Yogurt Pancakes and Pumpkin Pancakes. All delicious and easy to make.
---
Hard to resist and incredibly easy to make, these biscuits are buttery, flaky, soft and may be better than grandma's! Our Buttermilk Biscuits recipe is fool-proof with plenty of tips and tricks for tall, moan-worthy, drool-inducing biscuits made from scratch.
Here's a few more great biscuits recipes you might enjoy: Cheddar Bay Biscuits, incredibly light Angel Biscuits and delicious Blueberry Buttermilk Biscuit Recipe.
---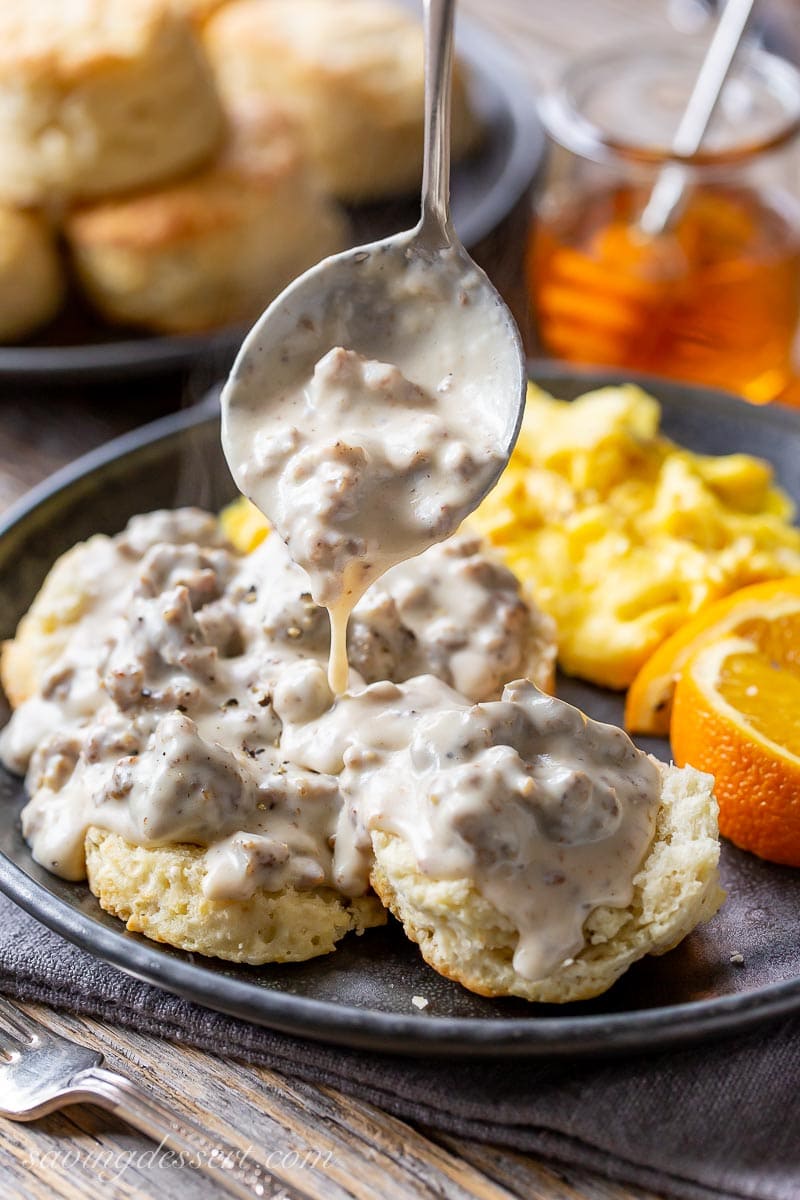 If you're going to have biscuits, you'll want this gravy, too!
Our sausage gravy is one of the easiest country-style recipes you can make at home.
This is another one of those comfort foods I've been making my entire life. I was about 12 years old the first time I made homemade sausage gravy and biscuits for our family on Christmas. It wasn't often I took on the role of chef at that age, as sous chef was my typical position in mom's kitchen.
Anybody can make great gravy!
---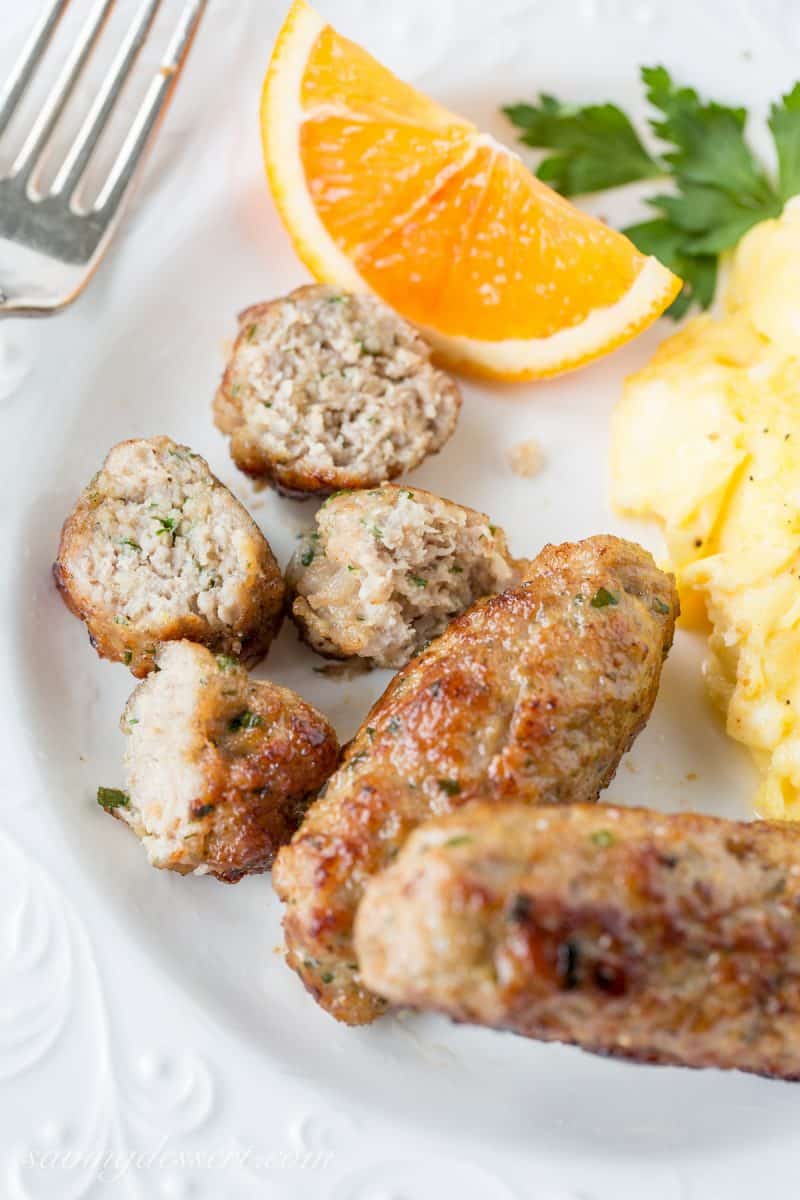 Homemade pork Breakfast Sausages are incredibly easy to make and delicious too
There's no need for special equipment (grinders and stuffers) or casings when making these sausages. They come together in minutes with just a few tasty ingredients.
In addition, these sausages are easily adapted to suit your taste and can be formed into patties, meatballs or links.
---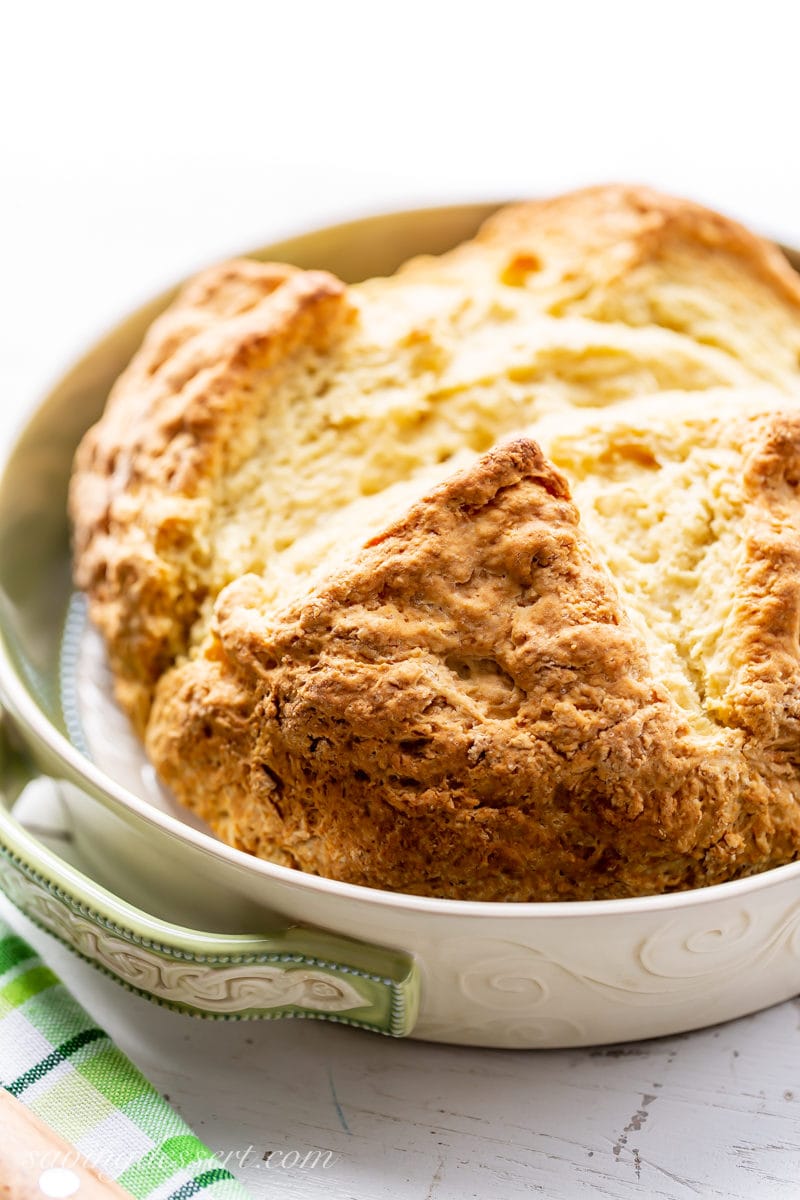 Classic Irish Soda Bread is one of the easiest, most rewarding quick breads you can make at home.
I love a shaggy, craggy beautiful loaf of Irish Soda Bread. I can seriously hurt myself (and have) on this stuff especially when served slightly warm slathered with butter.
However, it doesn't help that it takes just minutes to mix up and is made with typical pantry ingredients you probably have on hand. Brew some coffee, slice a tomato and scramble an egg or two, and you're set for an incredible Irish breakfast!
---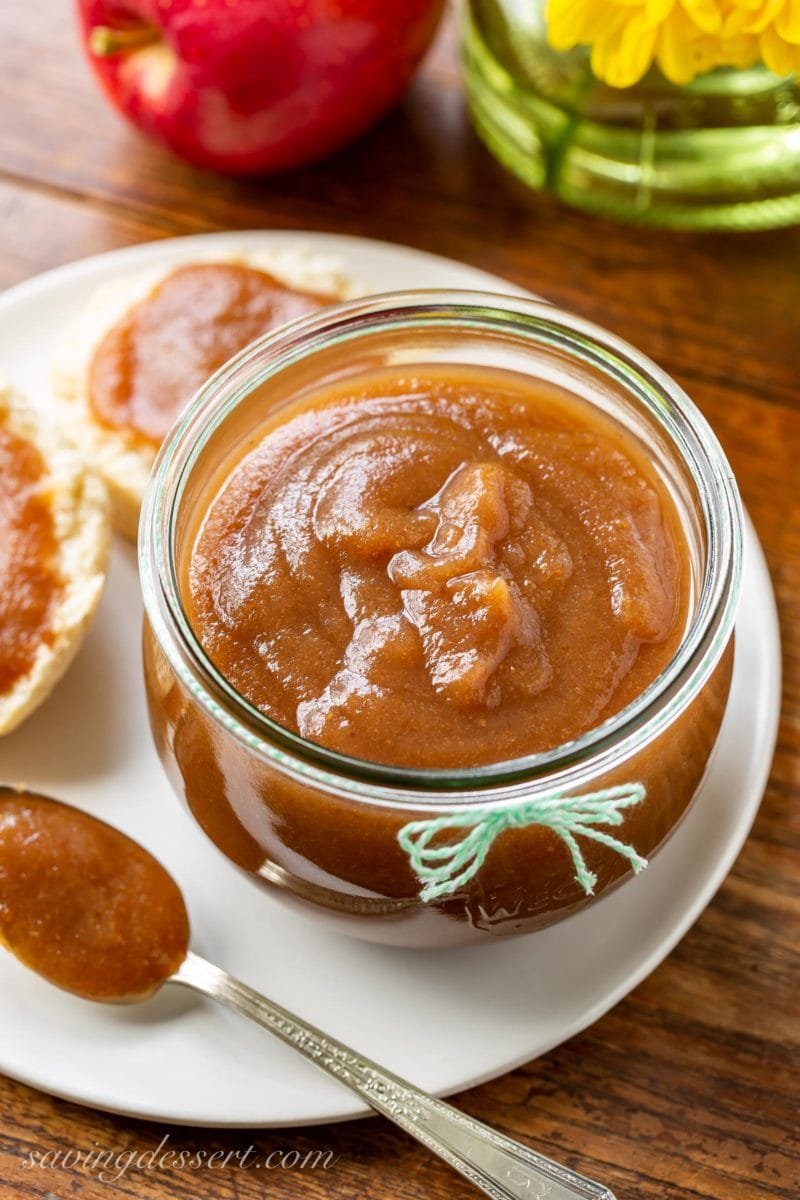 Maple Pear Apple Butter with a deep, rich flavor and velvety smooth consistency
This easy recipe makes delicious Maple Pear Apple Butter with a special homemade taste. It only takes a few minutes to prep the ingredients, then simmer for an hour and a half.
Slater on all your favorite breakfast foods like toast, biscuits, pancakes or stir into a bowl of oatmeal. Perfect for gifting although you might want to keep it all for yourself!
---
This simple cake is perfect for breakfast, brunch or a light dessert. The cake is a deliciously moist, lightly sweet and bursting with juicy ripe blueberries and a hint of lemon.
The crisp sugary top seals the deal… it's one of our favorite recipes! 😁
---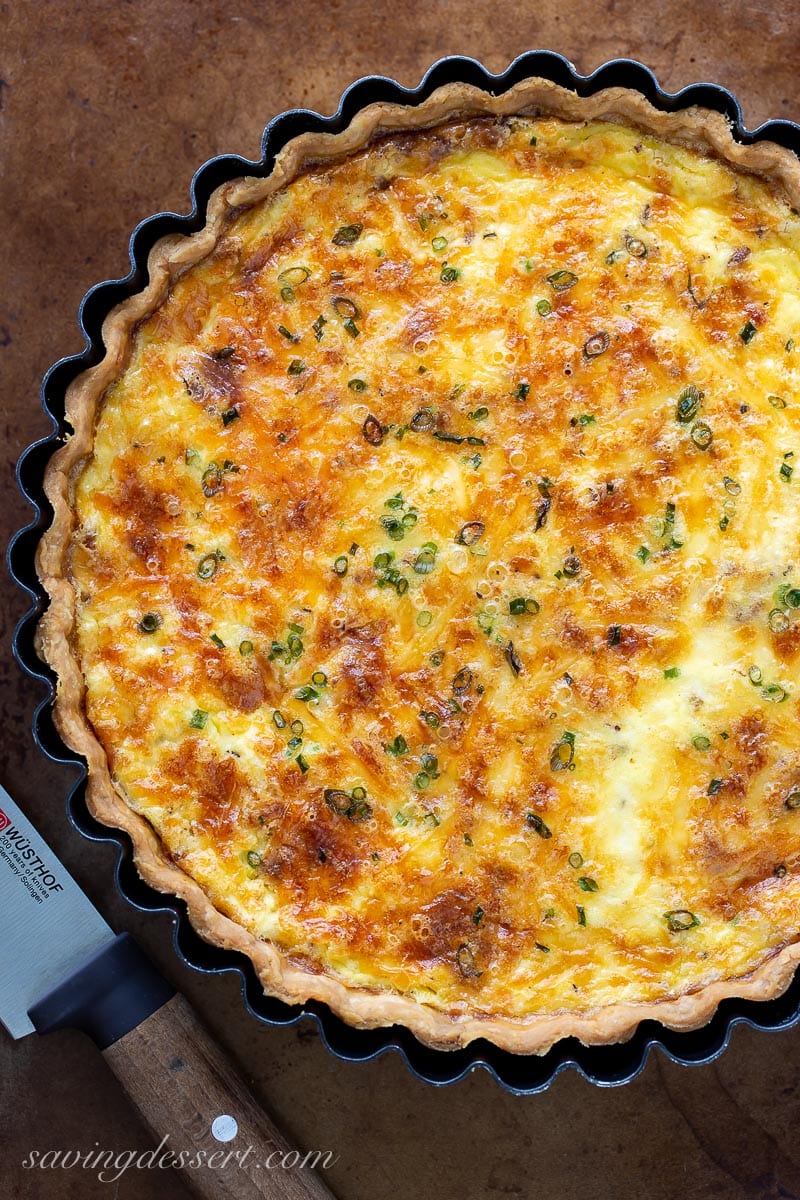 A classic French tart filled with a delicious savory custard is among the best breakfast foods
Quiche Lorraine is a simple tart with a flaky pastry crust and a rich custard filling jammed with smoky bacon and creamy cheese. This recipe is a keeper!
---
Chewy homemade English Muffins with plenty of nooks and crannies
Who doesn't love a great English Muffin for breakfast?! These muffins are easy to make, have terrific flavor and are so delicious toasted.
These muffins make a great base for a breakfast sandwich. We also enjoy them toasted with a smear of nut butter like almond butter or peanut butter.
Although you may not consider yourself an experienced baker, you can make these yeasted English muffins. The recipe is pretty fool-proof and is worth every minute you spend in the kitchen.
---
Blueberry Overnight French Toast Casserole
Try this delicious weekend brunch favorite which is easily assembled the night before and baked in the morning.
This Blueberry Overnight French Roast Casserole is great for any weekend, and terrific served at more formal events like a wedding or baby shower brunch. If you have house guests, a group of school age slumber party kiddos or an upcoming office breakfast potluck, you need this recipe!
---
Bakery-Style Blueberry Muffins
The best Blueberry Muffin recipe ever! The blueberries don't sink to the bottom, the texture is soft and moist but not crumbly, and the crust is sweet and crispy. You're going to love these! Pinky promise 😁
---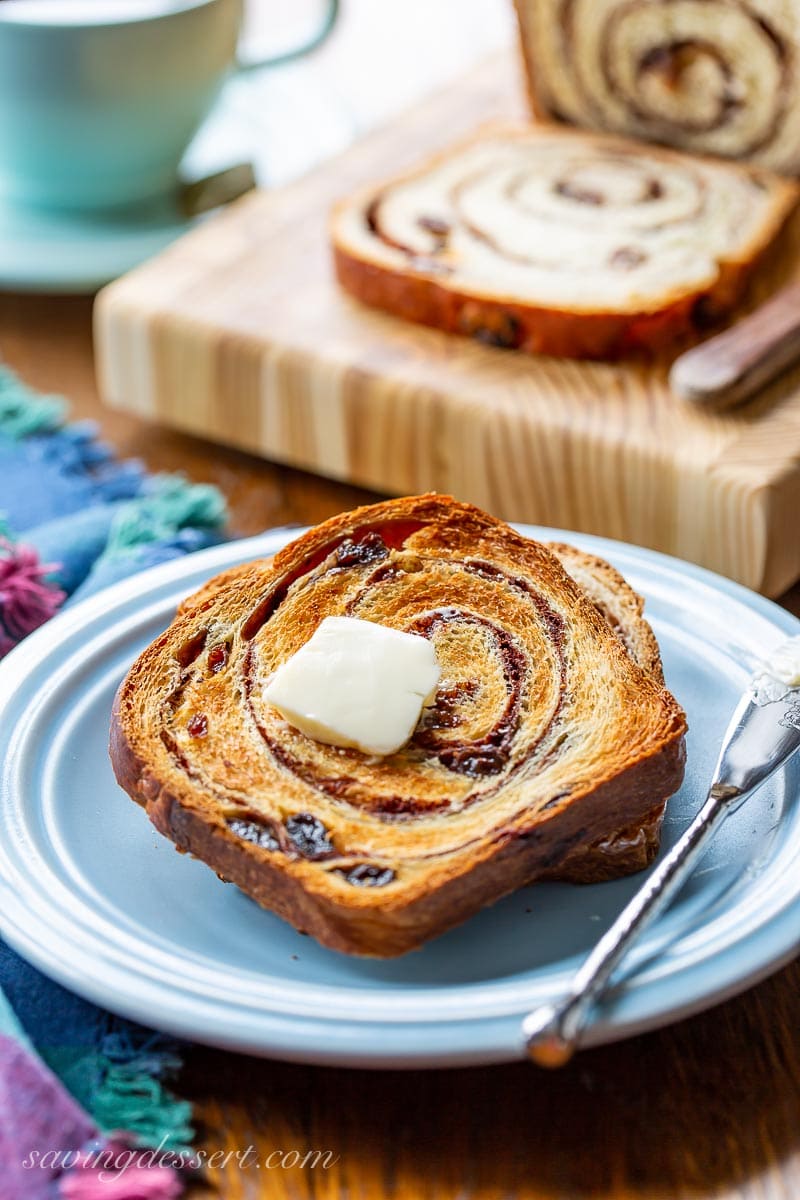 Light and airy, homemade Cinnamon Swirl Bread with raisins
I've said it before, and I'll say it again, making homemade yeast bread is a soul satisfying experience! This recipe for Cinnamon Swirl Bread yields two incredibly soft and flavorful loaves of buttery, sweet bread filled with ample amounts of cinnamon and raisins.
---
Baked Chocolate Doughnuts – rich and luscious and completely delicious!
We adore these soft little, tender cakey chocolate doughnuts with the velvety chocolate icing or simple sweet buttermilk glaze. If by chance you really need a chocolate doughnut, these will absolutely, without a doubt completely and totally satisfy your craving!
---
A healthy slice of pumpkin pie in a cool and creamy smoothie
A protein packed Pumpkin Pie Smoothie makes the list as one of our best breakfast foods. You don't have to wait for October before enjoying this smoothie. It's great year-round and so delicious. Nobody needs to know it's healthy too!
---
Flaky Homemade Strawberry Pop-Tarts
The ultimate grab-and-go breakfast for those of us from the pop-tart generation! You can eat them for breakfast in a car, as an afternoon snack or even as dessert (think hand-pie).
And, of course, homemade strawberry pop-tarts are so much better than store-bought. These pop-tarts are flaky, buttery and packed with strawberry jam. With or without frosting, it's all good!
---
Healthy Baked Egg Muffins
Make-ahead, freezable and super easy to make Baked Egg Muffins are a brilliant way to start the day and one of our best breakfast foods.
These egg muffins are easily adapted to your favorite fillings, cheese or veggies like bell pepper. Add a slice of whole grain toast and you're all set for a filling and delicious breakfast. Egg Muffins are the perfect grab-and-go breakfast for the whole family.
The printable recipe for egg muffins can be found below ⬇️
Healthy, delicious and perfect for a grab and go breakfast. These egg muffins are also great for serving a crowd.
Ingredients
1

cup

cherry tomatoes

quartered with excess seeds removed

2

ounces

feta cheese

crumbled

1

cup

fresh baby spinach leaves

loose packed and chopped

2

tablespoons

red onion

minced

7

large eggs

1

tablespoon

milk

¼

teaspoon

paprika

⅛

teaspoon

cayenne

optional

⅛

teaspoon

garlic powder

¼

teaspoon

salt

½

teaspoon

fresh ground black pepper

fresh parsley or basil leaves

for garnish

hot sauce

for serving
Instructions
Preheat oven to 325°F. Coat a 12 cup muffin tin with vegetable cooking spray.

Divide the tomatoes, feta, spinach and onion between the 12 muffin cups. In a medium bowl whisk together the eggs, milk, paprika, cayenne, garlic powder, salt and pepper. Divide the egg mixture evenly between the muffin cups.

Bake until the eggs are set, about 25 minutes. Cool for 5 minutes before serving.
Recipe Notes
To store leftovers, cool completely before refrigerating in an airtight container.
Refrigerated egg muffins will keep for up to 4 days or may be frozen for up to 3 months.
Reheat in the microwave on 50% power in 30-second increments until steaming.
Nutrition
Calories:
54
kcal
|
Carbohydrates:
1
g
|
Protein:
4
g
|
Fat:
4
g
|
Saturated Fat:
1
g
|
Polyunsaturated Fat:
1
g
|
Monounsaturated Fat:
1
g
|
Trans Fat:
0.01
g
|
Cholesterol:
100
mg
|
Sodium:
143
mg
|
Potassium:
86
mg
|
Fiber:
0.2
g
|
Sugar:
1
g
|
Vitamin A:
468
IU
|
Vitamin C:
4
mg
|
Calcium:
44
mg
|
Iron:
1
mg
Thanks for PINNING!