This post may contain affiliate links. Please read my disclosure policy.
You can never really have enough Great Grilled Recipes! Here are some of our favorites for you to try this summer
Whether you're serving chicken, seafood, pork, beef or even vegetables, we've got you covered with some terrific Great Grilled Recipes.
Summer seems to be loaded with great reasons to grill. Graduations, weddings, vacations at the beach, and let's not forget the 4th of July!  My favorite excuse to grill includes a cold beer and a comfy chair on the deck, I'm a simple girl. Weekends should be celebrated and there's no better way than to get out of the kitchen and throw something on the grill. These recipes are all favorites, good enough to make again and again. We hope you'll find a new-to-you favorite too!
Fresh off the grill! This Orange Barbecue Grilled Chicken Recipe is deliciously different and a breeze to throw together in a flash.  We love the bright orange flavor and the hint of ginger and pineapple juice in the sauce.  It's lip smacking good!
It's easy to make delicious Grilled Lobster Tail at home! Buttery, rich and succulent, lobster tail on the grill is a real treat at a fraction of the cost you would pay when dining out.
Cheesy Grilled Taco Burgers – all the authentic Mexican flavors you love, in one tasty burger. These burgers are cheesy and juicy with plenty of flavor; a must try recipe!
Sriracha Grilled Mahi Mahi Fish Tacos – made with mild, flaky fish, grilled tortillas, and served with a sweet corn salsa, cheese and cabbage. One of my favorite tacos ever!
Grilled Portobello Burgers with Blue Cheese and Onions – a terrific meatless Monday meal that's inexpensive, quick, easy and will make the burger loving people in your family very happy. You won't believe how meaty this burger tastes!
Grilled Chicken with Nectarine Relish – Lightly marinated, grilled chicken breasts are topped with a relish made with nectarines, red onion, fresh basil. This dish is delightfully delicious! Often overlooked, this recipe is a must try – another favorite of mine that's healthy, quick and delicious.
Grilled Salmon & Orzo Corn Salad ~ A light and refreshing orzo salad with fresh, sweet summer corn, tomatoes, basil, parsley, onion and a lemon vinaigrette served with a tender grilled wild caught salmon fillet. I can eat this dish at least once a week!
Tasty Grilled Buffalo Chicken Burger Recipe – all the flavors that you about a great Buffalo flavored chicken recipe in one easy burger! Try this spicy, juicy chicken burger with the classic celery stick topper and crumbled blue cheese. If you've never tried a chicken burger before, start here!
Grilled Pork Chops with Peach Agrodolce is an easy and delicious main course quick enough for weeknights, and sophisticated enough for special occasions. Grilled inside or out, you're going to love this easy-peasy flavor combination.
Grilled Cuban Mojo-Marinated Pork Tenderloin ~ made with an easy and delicious overnight marinade with powerful flavors from the garlic, citrus and herbs.  Grilled to perfection, this tender pork will garner praise from your grateful dinner companions! I practically drool every time I think of this great recipe. Use leftovers to make the BEST Cuban Sandwich! Two meals in one – love it 😉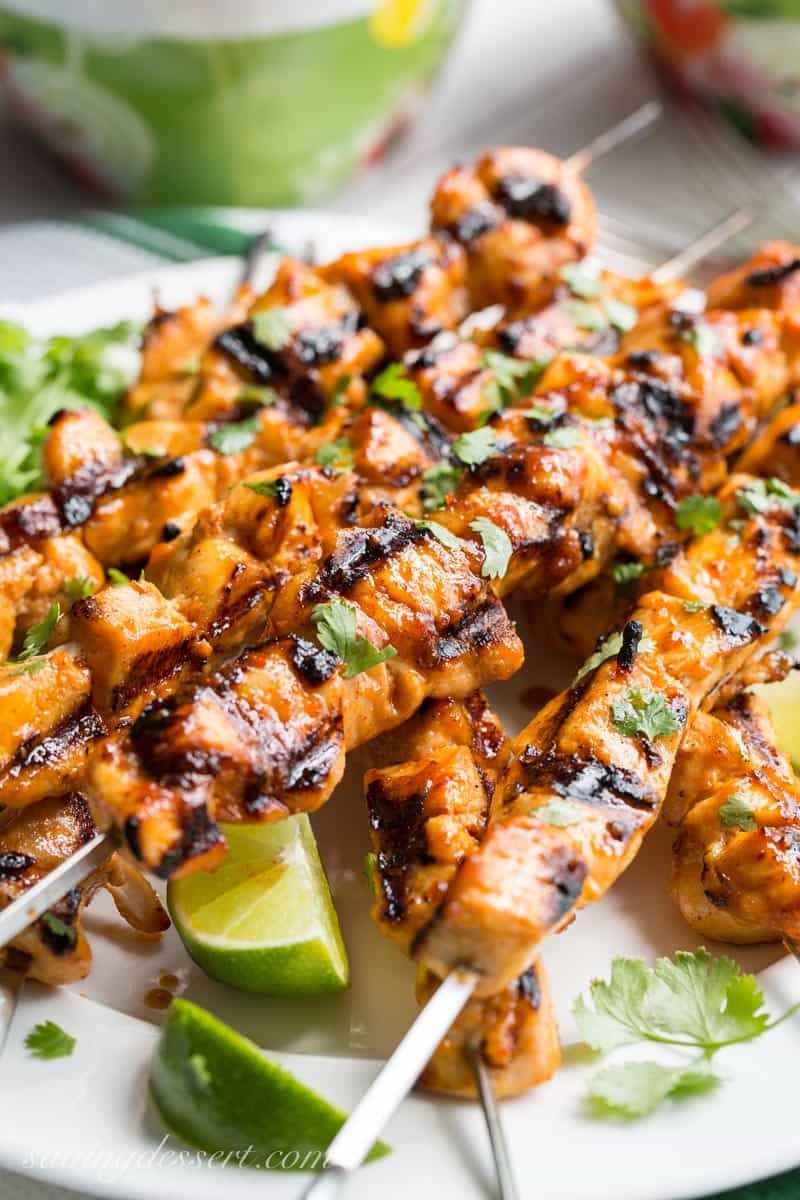 Grilled Chicken Skewers with a Sweet Sriracha Glaze ~ spicy and sweet is a fantastic combination but especially when slathered on tender chunks of grilled chicken.  This simple, sweet sauce caramelizes the chicken, leaving it tender and juicy with a just a little hint of heat.
Tri-Tip Roast with Chimichurri – a bright and bold green sauce often used as a condiment for grilled meat. The Tri-Tip Roast is a cut of beef similar to sirloin and pairs perfectly with the chimichurri.  Easy to cook and typically not expensive, this tender cut of beef also slices beautifully.
Grilled Blackened Grouper Sandwich ~ fresh Grouper seasoned with your favorite blackened spices then grilled and served on a soft bun with a simple purple slaw and a slice of swiss cheese. An easy lunch or light dinner, ready in minutes!
Grilled Salmon Tacos with Avocado Crema – delicious, healthy and easy tacos loaded with crunchy spicy slaw, a flavorful avocado crema and chunks of grilled tender salmon.
Marinated Burgers – A deliciously juicy home grilled burger that tastes like steak! This marinade is not at all overpowering, and in fact it enhances the flavor of the meat. These Marinated Burgers are good enough to eat without condiment camouflage!
Thanks for PINNING!
Thanks so much for stopping by! Have a fantastic weekend and happy grilling 😉
Tricia